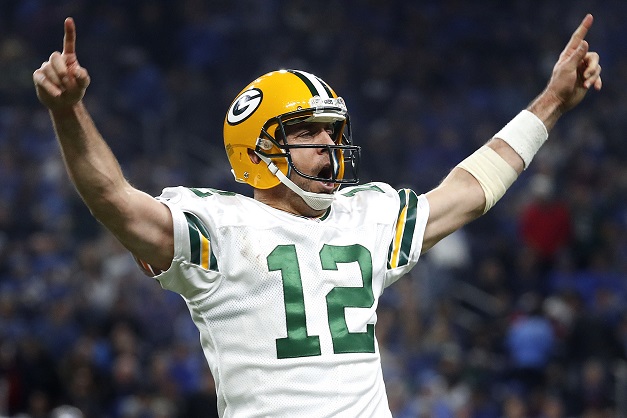 Written by Brian Murphy
11 January 2018
Take a look at my other early 2018 rankings:
1. Aaron Rodgers, Green Bay Packers
There aren't many issues that all fantasy football analysts will agree upon. I hope, however, that this is one of them. Rodgers played in only six full games this season and registered at least three touchdowns in four of them. 
2. Russell Wilson, Seattle Seahawks
Wilson was the No. 1 fantasy QB this season and it wasn't even close. He outscored the No. 2 man, Cam Newton, by almost three points per game. I wouldn't expect the Seahawks' to greatly improve their running game within one year, so Wilson will probably have to do everything once again in 2018.
Sad that the NFL season is ending? Don't be. Make your own offseason prop bets here.
3. Cam Newton, Carolina Panthers
He'll never be a polished passer, but Newton ran for at least 50 yards in seven of the eight regular-season games after Carolina traded Kelvin Benjamin. I also like what the presence of new offensive coordinator Norv Turner means for him -- and especially tight end Greg Olsen. As long as he continues being aggressive with his legs, Newton will have elite upside.
4. Tom Brady, New England Patriots
I thought this would be the season where we'd finally see some significant decline from the 40-year-old Brady. And I guess there were glimpses of Father Time's shadow in some of his late-season performances. However, he was still fantasy's No. 3 quarterback, so I'm now out of the business of saying the end is nigh for TB12.
5. Carson Wentz, Philadelphia Eagles
Assuming he is healthy for the start of next season -- given how players are recovering from ACL reconstructions these days, that shouldn't be too much to ask for -- Wentz is completely legit. He threw 33 touchdowns in just 13 games and supplements his fantasy box scores with about 20 rushing yards per week.
6. Andrew Luck, Indianapolis Colts
Don't forget about him. Of course, the saga of his right shoulder was Luck's story in 2017. But if he is finally healthy enough to play in 2018, there's no doubt that he is a rock-solid QB1 with easy 30-touchdown ability.
7. Deshaun Watson, Houston Texans
Here is the QB who will be the most debated player at the position this summer. How much stock should we put into Watson's ridiculous stats from Weeks 4-8? He has started only six games in the NFL, is still very much an error-prone passer and is another QB coming back from a torn ACL. But he is a dual-threat player with a top-flight wideout in DeAndre Hopkins and, for a minute there, was arguably the best quarterback in fantasy. You could move him up or down these rankings and I wouldn't gripe much. This ranking feels safest.
8. Kirk Cousins, Washington Redskins
Believe it or not, Cousins is the only QB to finish eighth or better in fantasy points at his position in each of the past three seasons. He was the game's No. 5 QB in 2016 and 2017.
9. Matthew Stafford, Detroit Lions
Another consistent if not spectacular producer, Stafford has been a solid fantasy QB over the past few years while seeing a drop in attempts. He is truly doing more with less. Led by Golden Tate and Marvin Jones, he is also surrounded by valuable receiving weapons.
10. Ben Roethlisberger, Pittsburgh Steelers
We'll have to see if he threatens retirement again, but Big Ben is still getting it done at age 35. Like Stafford, his value is buoyed by the outstanding roster of skill-position talent around him.
Just on the outside: Dak Prescott, Dallas Cowboys; Drew Brees, New Orleans Saints; Jared Goff, Los Angeles Rams; Philip Rivers, Los Angeles Chargers; Jimmy Garoppolo, San Francisco 49ers

You can follow, ask fantasy questions and yell at Brian on Twitter: @Spokes_Murphy
Never miss ASL's latest fantasy sports news. Send us an email at newsletter@advancedsportslogic.com and list the sports you are interested in (NFL, NBA, MLB, NHL, EPL) to start receiving ASL's newsletter.