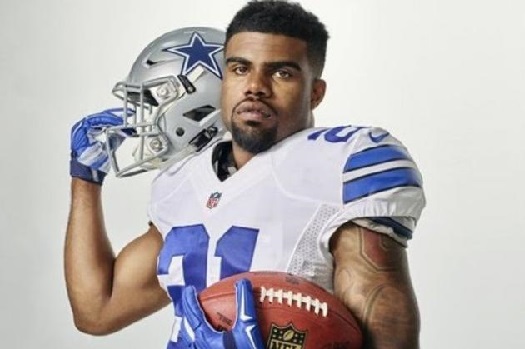 Written by Brian Murphy
17 August 2017
Cowboys RB Ezekiel Elliott's appeal scheduled for Aug. 29
I'll get to all of the injuries soon, but Elliott's suspension was obviously the top NFL story of the past week and it kept developing Tuesday when we found out that his league appeal will be heard Aug. 29. I think a two-game reduction of his original six-game suspension is the best-case scenario for Elliott and I'll be interested to see if he accepts that punishment or still files a grievance in circuit court. My thoughts have been all over the map regarding Zeke's fantasy value since word of his suspension broke. Initially, I thought dropping him to the third round was wise. However, reports that Elliott was planning on fighting his case through the judicial system gave me pause. We learned from Tom Brady just two years ago how long a player can delay the beginning of his suspension by going to court. I thought about not moving Elliott at all on my 2017 draft board. Then, in ASL's latest running back rankings, I placed Elliott sixth. I believe there's a better chance than not that Elliott will not serve his ban in 2017, but it should be a factor in his draft stock. ASL's Levi Andrew is more optimistic than me; he thinks Zeke is still worth a top-five pick.
WR Jordan Matthews gets traded to the Bills, gets injured almost immediately
Moving Matthews out of Philadelphia and over to Buffalo, where there is a dearth of talented wideouts, seemed like a positive for his fantasy value. It took all of 15 minutes for some cold water to be thrown on that line of thinking. That's how long it took for Matthews to get injured during his first practice as a Bill on Sunday. He has a chipped sternum and is listed as week to week. If I had a list of the 10 injuries I would most not want to suffer, a chipped sternum might reach into the top five. How are you supposed to sit up? How does it feel to breathe? Good lord.
Anyway, this opens the door wide for rookie Zay Jones, who has a legit opportunity to be Buffalo's No. 1 wideout, at least in the early going of this season. He won't have much competition for targets out wide anyway while Matthews and Anquan Boldin run near the seams. Jones should be moving up draft boards.
More red-zone opportunities coming for Falcons WR Julio Jones?
Here's a groundbreaking offensive strategy: Whenever your team gets close to the area where you score points, do whatever you can to get the ball to your best player. Brilliant!
This is apparently what the Falcons are emphasizing in camp, according to Kelsey Conway of the team's official website. Jones saw just six targets inside the 10-yard line last year and crossed the stripe six times in 14 games. Surprisingly, he has never exceeded 10 touchdowns in any season. Expect that to finally change this year.
Jaguars WR Allen Robinson balling out in practice
Robinson seems motivated to improve upon his disappointing 2016 stat line and it has shown in the Jags' recent practices. He is currently being drafted outside of the top-20 wideouts in ESPN leagues, so there is plenty of possible value here. However, if Blake Bortles continues throwing these types of passes, Robinson will probably have to succeed with a different face under center.
Buccaneers TE O.J. Howard: Primary blocker?
ESPN's Jenna Laine wrote Tuesday that Howard's run-blocking "is already making a noticeable difference in Tampa. That's likely where make his mark early on... ." Needless to say, that's not why fantasy owners are drafting Howard as a strong TE2 or even a low-end starter. Laine goes on to say that the Bucs can leave the pass-catching duties to Cameron Brate "for now." Those words should not be glossed over. While Howard might be a little slow out of the gates statistically, he is going to be on the field quite often and will be commonly involved in this offense before too long. Don't panic.
Jaron Brown is the Cardinals' current No. 2 WR
Head coach Bruce Arians made that announcement Tuesday. It's no huge surprise given that fellow wide receiver John Brown has recovered slowly from a quadriceps injury, due in part to his sickle-cell trait. J.J. Nelson is the much more exciting player and should probably end up as the Cardinals' second-most productive WR, but the point here is to watch this depth chart; the starter not named Larry Fitzgerald is going to be worth tracking for fantasy purposes. To his credit, Jaron Brown has looked strong after suffering a torn ACL less than 10 months ago.
Lions RB Dwayne Washington making big strides in his second year
Nice article in the Detroit Free Press from this past weekend about how much more improved and consistent Washington is this year compared to last. He's got all of the athleticism and measurables to be an impact player; he's just a raw, 23-year-old product who needs to learn his position after opening his college career as a wide receiver. But if you ever want to hear some good things about Washington, read just about anything from our Josh Rabbitt. I think his bedroom walls are covered in Dwayne Washington posters.
Handcuff alert: Giants RB Orleans Darkwa getting some first-team reps
I think the Giants would be foolish to not give Paul Perkins every chance possible to be their lead back. But it's worth noting that Darkwa appears to be right on his heels. Darkwa received some reps with the first-team offense last weekend and directly followed Perkins in the Giants' preseason opener. Still, he can't match Perkins from a talent standpoint.
Dolphins QB Ryan Tannehill officially done for 2017; QB Jay Cutler set to play Thursday
The Dolphins' former starting quarterback was placed on season-ending injured reserve Friday due to his torn ACL. Head coach Adam Gase said Tannehill will "absolutely" be ready for the beginning of next season. As far as this season is concerned, we will be treated to Cutler's first game action as a Dolphin tonight versus the Ravens.  He is likely to start. I am likely to watch.
Eagles cut RB Ryan Mathews
This was expected for some time. Do you care? We'll see if any other NFL team does.
And now, what you've all been waiting for: This week's injury report
I've already mentioned Jordan Matthews, John Brown and Ryan Tannehill. Here's the rest of the (long) list of notable stricken players:
-- Falcons RB Devonta Freeman (concussion): He entered the concussion protocol earlier this week. As with any concussion, there is no timetable for Freeman's return to the field. The Falcons aren't concerned about his Week 1 status. We'll just have to wait and see how his brain heals.
-- Jaguars RB Leonard Fournette (foot): He won't play in tonight's preseason game after missing a couple of practices this week. Fournette's history of foot and ankle issues have been well-documented, so I'd watch this one closely.
-- Colts QB Andrew Luck (shoulder): New week, same deal. Whether he will play in the regular-season opener on Sept. 10 is TBD. I think it will remain that way for a couple more weeks.
-- Packers RB Ty Montgomery (leg): He is not expected to play in Saturday's exhibition game, which means the man behind him on the depth chart, Jamaal Williams, will get a big chance to showcase himself. Montgomery has been out for a few days.
-- Redskins TE Jordan Reed (toe): Reed was fitted with a special orthotic to help alleviate his toe problem, which has apparently been nagging him since last season. He hopes to return to practice next week, but this being Jordan Reed, don't hold your breath.
-- Panthers QB Cam Newton (shoulder): He did some limited work in team drills this week as he continues to recover from offseason shoulder surgery. At least he has begun throwing again.
-- Titans WR Corey Davis (hamstring): The No. 5 overall pick in this year's draft remains week to week due to a hamstring injury he suffered on Aug. 3. There's no telling when he will be on the field next.
-- Jets RB Matt Forte (hamstring): His availability has been up and down this month due to a hamstring issue. He will likely miss Saturday's game.
-- Dolphins TE Julius Thomas (back): He sat out Monday's practice due to a tight back. The Dolphins think Thomas will be fine, but he may not play tonight.
-- Ravens WR Breshad Perriman (hamstring): Perriman suffered a Grade 2 hamstring strain back on Aug. 1 and has been out of action since. He is iffy to play at all in the preseason but could recover in time for Week 1.
-- Ravens QB Joe Flacco (back): Although he has been ruled out for the entire preseason, Flacco is expected to start for the Ravens when the regular season arrives.
-- Cowboys TE Rico Gathers (concussion): Another one of Mr. Rabbitt's faves, Gathers' fantastic preseason has been put on hold indefinitely. He suffered his concussion Tuesday.
-- Chargers WR Mike Williams (back): Injured from the day he entered the NFL, the latest on Williams is that he might be sidelined by his back injury into October. He is looking like a candidate for the Physically Unable to Perform list, which would force him to miss the season's first six games.
-- Jaguars WR Marqise Lee (ankle): He has the dreaded high ankle sprain, thus Lee appears doubtful at the moment to play in Week 1. That could force the Jags to place fourth-round rookie Dede Westbrook into the starting lineup.
-- Broncos WR Carlos Henderson (thumb): On Sunday, he had surgery to repair a torn ligament in his left thumb. The Broncos are officially calling him day-to-day, but that seems off. I'd be surprised if he played in the preseason from here on out.
-- Patriots WR Malcolm Mitchell (knee): Consistent knee troubles have restricted Mitchell to only individual drills in camp thus far. There is no timetable for when he will join his teammates on the field.
-- Colts TE Erik Swoope (knee): An intriguing deep sleeper, Swoope underwent a knee scope a few days ago and is looking questionable for Week 1.
-- Chiefs K Cairo Santos (groin): Even kickers aren't immune! He'll probably be healthy in time for Week 1.
On the bright side, players who returned to practice this past week include: Dolphins RB Jay Ajayi; Titans RB DeMarco Murray; Seahawks WR Doug Baldwin; Raiders WR Amari Cooper; Chiefs TE Travis Kelce; Jets RB Bilal Powell; Redskins WR Jamison Crowder; Giants WR Sterling Shepard; Bengals WR John Ross; Redskins WR Josh Doctson; Browns TE David Njoku; Curtis Samuel, Carolina Panthers; Steelers WR JuJu Smith-Schuster; Vikings WR Laquon Treadwell; Seahawks WR Paul Richardson and Colts WR Phillip Dorsett.
And just think: If this is what we have to deal with in mid-August, what's the injury report going to look like in October? It'll be longer than "War and Peace."
You can follow, ask fantasy questions and yell at Brian on Twitter: @Spokes_Murphy