With week 2 of the NFL preseason upon us, ASL has updated its June top-50 RB ranking and you can find the latest NFL betting lines here.
Ezekiel Elliott, Todd Gurley, and Dalvin Cook are ASL top-20 RBs that have the most uncertainty surrounding them and therefore are likely to present the most upside but also the most risk from where we ranked them.
Also see ASL's top-30 rookies, top-20 QBs, top-50 WRs, and top-20 TEs.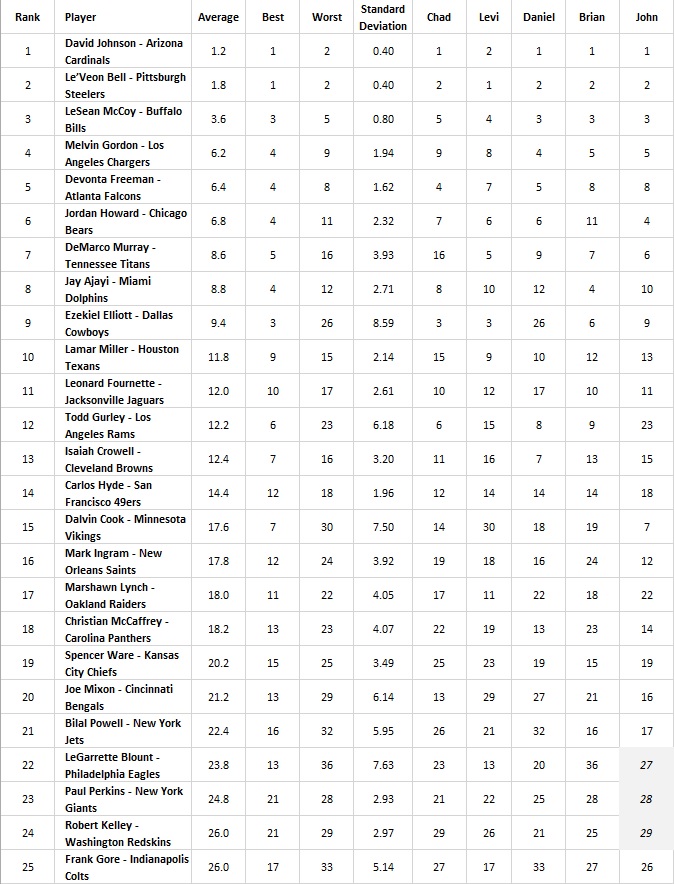 1. David Johnson - Arizona Cardinals
Chad Samuels' #1: Johnson's 2016 production was insane. He ran like a running back and also had enough receptions to produce like a solid wide receiver, showing that he belongs in the elite tier. Even though he's coming off a career season and it's reasonable to expect a reduction in his stats this season, draft him as the first running back off the board.
Daniel Brown's #1: Johnson should see a lot of work in both the running and receiving games. Palmer is getting older but still knows how to find his RB and Johnson has amazing ability to make a man miss.
Brian Murphy's #1: Talent plus opportunity minus major injury concerns equals David Johnson.
John Adams' #1: Cards RB David Johnson is head and shoulders above his peers, a tier unto himself, with the possible exception of Le'Veon Bell. But Bell is banged up all the time and Johnson has been an every down workhouse who pounds the ball and plays the role of outlet receiver with equal explosiveness.
Levi Andrew's #2: He was the #1 RB last year and is #2 in my rankings this year. He's Arizona's only proven weapon and they rode him hard last year. I don't expect much less this year, but the defenses will have him figured out and stack the box more. Defense only stacked the box 18.1% against him last year. He also had 5 fumbles with 3 of them being lost.
2. Le'Veon Bell - Pittsburgh Steelers
Levi Andrew's #1: Bell is one of the best bell cow backs in the league. He's put up big numbers every year he's played, while only playing 16 games once in his career. Don't worry about his hold out; he's gonna come back towards the end of August and be fine.
Chad Samuels' #2: He's in a contract year so I expect him to produce, produce, produce. Uncertainty from missed time due to injury and suspension keeps him from being number one on my list.
Daniel Brown's #2: Bell is dangerous and should be used a lot. The main reason I have him at #2 is that there are a lot of talented players in the Steelers offense and I think his TD tally will be impacted by these other players. If you have the second pick of your draft you should be pretty happy to take Bell there.
Brian Murphy's #2: I believe Bell is the best all-around back in the NFL. The only reason why I have him listed at No. 2 instead of No. 1 is he has a much longer injury history than David Johnson. Bell is currently recovering from offseason groin surgery.
John Adams' #2: Le'Veon Bell is the second best running back in the league when he's actually on the field. But between injuries and suspensions, he's hard to count on week in and week out. Bell underwent groin surgery in March. He is fully recovered, but is in no hurry to come into Steelers camp without a new contract. He will be ready for Week 1.
3. LeSean McCoy - Buffalo Bills
Daniel Brown's #3: McCoy moves up in my rankings from 4 to 3 due to the Watkins trade and the Elliot suspension. I think that trading Watkins will mean McCoy gets a lot of work. The only real question is whether he can remain healthy. Assuming he does, he should be able to put up big, and consistent, fantasy points and therefore he would be a great selection for you at #3.
Brian Murphy's #3: Consistently productive, the seemingly forever-young McCoy (he's still in his 20s) is as safe as they come after the truly elite RBs fall off the board.
John Adams' #3: With Sammy Watkins out of the picture, LeSean McCoy is expecting to be a BIG part of the passing game this year in Buffalo. McCoy had a bounce back season last year amassing 13 rushing touchdowns to go with 1,267 rushing yards. He may not equal that number this season, but will more than make up for in the passing game. A healthy McCoy is still fantasy gold.
Levi Andrew's #4: Rex Ryan is gone, which could make this #4 ranking high. On the other hand, Ryan's departure could also bode well for McCoy. With Watkins gone, Zay Jones and Jordan Matthews are going to need to open lanes for McCoy to run. Let's hope Tyrod gets on the same page with his new weapons. If you grab McCoy in your draft, make sure you also grab his handcuff, Jonathan Williams, in later rounds.
Chad Samuels' #5: It's awfully late for the Bills to be making changes to their receiving corps and have them ready for the start of the season. I expect another heavy dose of McCoy in 2017. He is 29 and has most likely seen his peak season already. I think he has one more year in the tank.
4. Melvin Gordon - Los Angeles Chargers
Daniel Brown's #4: Gordon improved last year and showed he could carry the load. Expect similar things this year and while Rivers is still QB the defense will not be able to simply crowd the box. Main danger is if they fall behind early in too many games, however they played better last year than their record showed, and it was late in games they lost a lot of leads so this shouldn't be an issue.
Brian Murphy's #5: Gordon was fantasy's No. 8 RB last season despite missing three games and averaging just 3.9 yards per carry. There is clearly room for improvement here.
John Adams' #5: With an improved offensive line, Chargers RB Melvin Gordon may be in line for another coming out party. In just 13 games last season, Gordon fell only three yards short of the 1,000 yard mark and scored a healthy ten touchdowns on the ground. The Chargers coaching staff thinks this is the year Gordon realizes his own potential and breaks out as one of the top five running in the league.
Levi Andrew's #8: Melvin was just 3 rushing years shy of a 1,000 last year when a hip injury claimed the final three games of his season. First-year head coach Anthony Lynn has come in saying he's going to take his game to the next level. Lynn has been a running backs coach most of his career, so I believe it. If Melvin can get his game going and ball out like he did in college, he could finish as a top-five RB.
Chad Samuels' #9: He has first round pedigree for the Chargers. He can put up the yards and a new running scheme should help him produce. He's still RB1 material but has yet to play 16 games. Odds are he plays all 16 this year.
5. Devonta Freeman - Atlanta Falcons
Chad Samuels' #4: There's often worry about production after a player signs a large contract, but in Freeman's case I'm not worried. He caught more balls than McCoy. He's still young and I think he stays motivated. I don't see any reason that 1500 all-purpose yards and 11 total touchdowns aren't achievable for him this season also. These factors give him the edge for the number four spot on my list.
Daniel Brown's #5: He has his contract and despite a new offensive coordinator he should continue to be a TD machine. Expect him to be active in the passing game as well as rushing and he should see the end-zone a lot.
Levi Andrew's #7: Freeman has finished the last two seasons as the #1 RB in 2015 and #6 in 2016. I ranked him at #7 since there is a new offensive coordinator in Atlanta this year. Hopefully Atlanta keeps the same blocking scheme so Freeman succeeds.
Brian Murphy's #8: He will share touches with Tevin Coleman, and I am curious as to what impact Kyle Shanahan's departure will have on this offense. Still, there should be plenty of points to go around in Atlanta.
John Adams' #8: Devonta Freeman is working his way through the NFL's Concussion Protocol, but should be ready for the start of the season. Freeman scored eleven rushing touchdowns last season to match his 2015 scoring output. Freeman also improved his yards-per-carry from 4.0 to 4.8. while catching 54 passes for 462 yards and two touchdowns.
6. Jordan Howard - Chicago Bears
John Adams' #4: With the exception of Johnson and Bell, the Bears Jordan Howard has the most upside of any running back coming into the 2017 season. He finished second in the league last year with 1,313 rushing yards while averaging 5.2 yards-per-carry. The Bears bet the farm on quarterback Mitchell Trubisky, who will need every single yard that Howard can churn out. Howard has slimmed down and will be the focal point of the Bears offense.
Levi Andrew's #6: Talk about an amazing rookie year. Howard ran away with the job in Chicago in 2016. Reports say he's slimmer coming into camp this year and also had vision surgery, which will only make him quicker. He is Chicago's workhorse. However, unless one of the Bear's QBs step up to create plays, Howard could be in for too much workload. Nevertheless, I expect a big year for Howard and #6 is the perfect spot for him.
Daniel Brown's #6: Howard is a good back on a team that it's hard to see them doing a whole lot offensively. I think because the Bears essentially will be starting a rookie (or near-rookie in Glennon's case) they will rely heavily on the run. The problem is that the defenses will know that. It will only take a few shots downfield to loosen the defense and I expect Howard to be the featured goal line back as well.
Chad Samuels' #7: Mike Glennon and Mitch Trubisky indicate a heavy dose of Howard this year. There isn't much on the depth chart to challenge his starting status. I'd like to see more receiving ability from him, but if he can maintain his 5.2 yards per carry average it won't matter.
Brian Murphy's #11: Can Mike Glennon or Mitch Trubisky keep defenses from loading the box to stop Howard? I would bet not, and the skill positions around this sophomore back possess an acute lack of standout talent. I wouldn't be surprised if Howard turned in a stat line reminiscent of 2016 Todd Gurley.
7. DeMarco Murray - Tennessee Titans
Levi Andrew's #5: DeMarco had a fantastic season last year after having a disappointing season in 2015. I would have him higher than #5, but I believe that the Titans will get Derrick Henry involved more this year.
John Adams' #6: Don't let DeMarco Murray's hamstring issue scare you away. He may be splitting time again with sophomore running back Derrick Henry, but having a two-headed running attack only helped Murray last season. This is a great one-two punch for the Titans offense and Murray is still an asset for your fantasy team.
Brian Murphy's #7: Murray won't quite repeat his No. 5 RB finish from last season, but if he can keep the injury bug away for another year, he will still be in the RB1 range as part of Tennessee's ground-based offense.
Daniel Brown's #9: Murray has been banged up in camp with a hamstring injury, however he should be able to repeat his success from last year. I think he will be dependent on TDs this year more than the yardage, and to that end the weapons on offense that the Titans have should see them in the redzone plenty. I think Murray has another good year this year despite the presence of Henry.
Chad Samuels' #16: Murray had a resurgence last season. I am not surprised as I think his down 2015 was a little of fatigue from 450 touches in 2014 and the total ineptitude of Chip Kelly to coach an NFL offense. I think Murray has one more year in the tank. I also think come later in the season to keep Murray fresh we will see more of Derrick Henry. Less touches in fantasy playoff time is bad.
8. Jay Ajayi - Miami Dolphins
Brian Murphy's #4: Ajayi looks primed to be a true workhorse for Miami and was praised for boosting his pass-catching ability this offseason. He averaged 4.9 yards per over his 260 carries last season -- although that number was addmittedly skewed by his three 200-yard efforts -- and if he can bump up his receptions total, we are looking at a stellar, high-end RB1.
Chad Samuels' #8: Ajayi is streaky. He can win a week for you with a 200-yard performance or he can lose it by putting up fifty yards. Until he shows some consistency he is not a set-your-lineup-and-forget-it player. He plays the Bills week 15, which is good for your playoffs.
Levi Andrew's #10: I should have Jay Ajayi lower due to him only rushing for 100 yards in four games last year and three of them were his 200+ yard games. He's also had more than 30 yards receiving only once. Things were looking up for Ajayi when the Dolphin's offensive coordinator  came out and said they will get him more involved in the passing game and give him 300+ touches, but he just missed 2 weeks of camp due to a concussion. I won't be drafting Ajayi.
John Adams' #10: Word around the campfire is that Fins running back Jay Ajayi is in for a much bigger workload coming into the 2017 season now that he is the team's undisputed starter. The Dolphins offensive line is nothing to write home about, but with a significant uptick in carries, Ajayi will be long gone in fantasy drafts before the third round roll around.
Daniel Brown's #12: Ajayi has the talent and showed last year he can run hard and get yards after contact. The issue this year is that he has already been in the concussion protocol and if he gets another one the time on the sideline could be significant. Thus he moves down in my rankings from 8 to 12.
9. Ezekiel Elliott - Dallas Cowboys
Chad Samuels' #3: He's an elite back. His six game suspension drops him from number two overall to number three. You can't discount Elliot much because of the suspension. He appealed his suspension on Tuesday. He could miss six games or could play all season. Realistically, it will be somewhere in between. The truth is, if he is back in time for your playoffs then you have a significant advantage with him on your roster. Two words for redraft leagues… BUY LOW.
Levi Andrew's #3: Zeke has dropped in my rankings from RB1 to RB3. I personally don't feel as though Zeke will see a suspension this year, as you can read here. However, even if he does serve a reduced 3 to 4 game suspension resulting from an appeal, Zeke will be playing with a chip on his shoulder and still put up big numbers.
Brian Murphy's #6: This is a small hedge as I slotted Zeke third in my initial RB rankings back in June. Honestly, as of Aug. 16, I'm having a difficult time judging his draft stock. We are all aware of his suspension, but if Elliott keeps his word and ends up taking his fight to the circuit courts, ala Tom Brady in 2015, there's a halfway decent chance that he won't miss any games this season. No one is exactly sure what Elliott's next move will be after his league appeal is heard later this month. It's his decision following that appeal which will determine where to rank him properly, but most fantasy leagues will have held their draft before then. So, we're in a bind. This ranking both acknowledges his suspension as well as the odds that he will be eligible for a full 16-game slate this fall.
John Adams' #9: The biggest question mark coming into the 2017 season is the very troubled Cowboys running back Ezekiel Elliot. He's been suspended for six games and has already filed an appeal. If his suspension is upheld, he wouldn't be on the field until Week 8. There is a chance he might defy the NFL ruling by taking the case to court, which MIGHT allow him to play this season without missing a game. However, the season is coming up fast and there is NO way to know what will happen until after your fantasy drafts.
Daniel Brown's #26: Elliot dropped from #3 to #26 and that might still be a little high. The hard part for folks drafting in the next couple of weeks will be the uncertainty surrounding Elliot. If the suspension stands then missing 6 games is a huge chunck of a fantasy season and you would be disappointed to have used your 1st round pick. However, if the suspension is reduced or even deferred (a la Tom Brady from a few years ago) then you might find he plays all games in which case a top 4 selection is appropriate. It's a gamble over the next couple of weeks until this is resolved.
10. Lamar Miller - Houston Texans
Levi Andrew's #9: Lamar Miller finally started getting the touches he needed to become fantasy relevant in Miami and also in Houston last year until he got hurt. My #9 RB can only go up. If Deshaun Watson wins the starting job and feeds the ball to DeAndre Hopkins and Braxton Miller, this will take the pressure off Miller. Miller could finish in the top 5 if everything goes right for Houston.
Daniel Brown's #10: Miller should help out Watson (assuming he starts which I think he will) by providing solid running game. Houston was good last year in this regard and if Watson can move the ball a little more than they were able to last year Miller should see more redzone opportunities.
Brian Murphy's #12: Even with fewer touches this season, Miller should be able to remain at least a solid RB2 in fantasy.
John Adams' #12: Texans RB Lamar Miller was a work horse for the struggling Texans last season, but his numbers didn't pan out as well as many fantasy owners would have hoped. Miller played through a slew of injuries last season rushing 268 times for 1,073 yards and just five scores, he is a solid RB2 coming into the 2017 season.
Chad Samuels' #15: He was productive in Houston but faded down the stretch. D'Onta Foreman is currently having trouble with pass protection. This means if Miller loses his job to Foreman it will be later in the season. I do think Foreman will eventually get a chance to start and it's very likely going to be this year. However, I would risk drafting Miller because Houston has two good matchups come playoff time.
11. Leonard Fournette - Jacksonville Jaguars
Chad Samuels' #10: I expect Fournette to be a 1000-yard rusher this year. He runs mean and I expect him to get the goal line work. My one concern is he missed games the last two seasons with injuries in college. Can he stay healthy for 16 games? Will the Jags unleash him or put him on a snap count? UPDATE - Fournette is currently dealing with a foot injury.
Brian Murphy's #10: Fournette is not Ezekiel Elliott, and I have concerns about his long-term viability due to a reportedly chronic ankle problem. However, he could be asked to carry the Jags' offense as a rookie, while his body can still handle it.
John Adams' #11: The Jags didn't burn the fourth pick in the entire 2017 NFL draft to have Leonard Fournette ride the pine, but the highly touted rookie is already dealing with the same foot issues that sidelined him at LSU. Fournette should see a monster load of playing time provided he can stay healthy.
Levi Andrew's #12: Leonard can take the Jags' offense to the next level. I have him at 12, just because we haven't seen him play in the NFL, but we know he can play. The Jags will ride him to take the pressure off Bortles.
Daniel Brown's #17: Fournette has the talent, whether he can stay healthy will be his big challenge. He's a little bit of a gamble because of being a rookie and how poor the running game was last year. I think it improves considerably with Fournette and also think they run quite a bit to try and take pressure off Bortles. I also think that the defenses will put extra men in the box and pin their ears back on blitzing Bortles.
12. Todd Gurley - Los Angeles Rams
Chad Samuels' #6: This is high ranking after a sophomore slump. I believe in Sean McVay and I think Sammy Watkins will help keep defenses honest. Gurley has the draft pedigree and talent. I'm expecting a bounce back season.
Daniel Brown's #8: Gurley moves up from 12 to 8 primarily because the addition of Watkins should free up the box a little and provide more opportunities for Gurley one-on-one. The key to his success will be how Goff progresses (or doesn't). If Goff can get the ball downfield accurately to the Bills Rams receivers then Gurley might be able to find his mojo against fewer defenders in the box.
Brian Murphy's #9: Workload, workload, workload. Only four running backs had more carries than Gurley in 2016.
Levi Andrew's #15: Todd Gurley finished last year as the #20 RB. I'm ranking #15 with hopes that Sean McVay can make him into the star he was. We know 7-9 Jeff Fisher didn't do him any favors. Let's hope he comes out and plays better then he looked in the first preseason game, or Malcolm Brown may steal the job. If you draft Gurley, grab Brown as a handcuff.
John Adams' #22: Rams RB Todd Gurley had 278 rush attempts last season and rushed for an underwhelming 885 yards and 6 touchdowns. It was a fall from grace after the lofty expectations coming into last season and fantasy owners should temper their expectations coming into 2017.
13. Isaiah Crowell - Cleveland Browns
Daniel Brown's #7: Crowell should see a lot of work this year given the shakey Cleveland QB situation. I expect him to get some work in the passing game which gives him added value in PPR leagues.
Chad Samuels' #11: He has the starting job and I don't expect him to lose it. His ceiling is a little lower than some names lower on this list. Still he is a safe bet to return points for you weekly. He is better as a high end RB2 value.
Brian Murphy's #13: Crowell, who once seemed to be persona non grata in fantasy, was one of our game's top scorers during the final month of last season. The Browns want to give more work in 2017.
John Adams' #14: The success of Isaiah Crowell in 2017 largely depends on how much the Browns are willing to lean on him. Cleveland went a long way to improving their offensive line during the offseason, but committing to the run is easier said than done. Crowell only had 198 rushing attempts last season, but still nearly reached the 1,000 yard mark to go along with 7 rushing TDs. Crowell is one this year's top high risk/high reward players.
Levi Andrew's #16: Hue Jackson wants a balanced offense. Isaiah Crowell may lose a few touches to Duke Johnson, but he is going to get work and he is going to get a lot of it. He finished 14th last year so I have him ranked #16 this year around where I believe he will most likely finish.
14. Carlos Hyde - San Francisco 49ers
Chad Samuels' #12: I don't believe the Joe Williams hype. Carlos does have the uncanny ability to miss time due to injury. He can get you to the playoffs, but I'm not sure if he can finish the deal for you. He won't add many receiving yards to your point total.
Levi Andrew's #14: If Shanahan uses Hyde as his Freeman, Hyde can be a top RB. However, maybe I am thinking a little too highly of him, because Joe Williams' presence gives me some trepidation about Hyde's fantasy prospects. Nevertheless, Hyde has turned it on in camp and with his work ethic, setting up to take his game to the next level. There's also Matt Breida lurking around, as he took the second team snaps during the preseason game. Here's to hoping Hyde can stay healthy and keep the job.
Daniel Brown's #14: Hyde remains the started in SF (for now). There was a lot of talk that he may not make the roster etc, I think he does and I think that he has a strong year. Should be active in run and pass and should see the endzone quite a bit.
Brian Murphy's #14: Admittedly, this is about as optimistic as one should be about Carlos Hyde since he may never be able to play a full 16-game slate. If that ever does happen, however, he'll be a workhorse-type player.
John Adams' #17: There are real concerns emanating out of the city by the bay about how 49ers running back Carlos Hyde will fit into coach Kyle Shanahan's run philosophy. But Hyde has proven he is the lead back, so the team is likely stuck with him as long as he is healthy.
15. Dalvin Cook - Minnesota Vikings
John Adams' #7: Many experts believe that Dalvin Cook was the most talented RB in this year's NFL Draft, but a poison cocktail of a bad combine, multiple injuries and a slew of off-the-field issues knocked him down to the second round. The Vikings are convinced that a change in scenery will help Cook smooth out the rough edges. Cook has been on fire at training camp and unless Latavius Murray can show the coaches something really special, he could be the team's lead back by the start of the season.
Chad Samuels' #14: The Latavius Murray ankle injury has handed Dalvin the starting job and he's looked good with the opportunity he has been given. With Cook's catching ability, he could end the season in the top 12.
Daniel Brown's #18: He could be higher … probably should be. I think he battles McCaffrey for OROY honors. He is exciting, quick and can score from anywhere. Kind of the running back version of Tyreek Hill! I will be trying to grab him wherever I can!
Brian Murphy's #19: He is the current favorite to be the Vikings' Week 1 starter. I could definitely see him gaining a firm grasp on that job, and Latavius Murray's body may not allow him to keep pace with this do-everything rookie.
Levi Andrew's #30: Dalvin Cook looks like the heir-apparent to AP. In the first preseason game the Vikings were feeding him the ball just as they would AP. I envision Latavius Murray and Jerick McKinnion watching from the sidelines, while Cook runs away with the job. The only shaky part of this situation is the o-line, which hasn't been the greatest in the last few years.
16. Mark Ingram - New Orleans Saints
John Adams' #12: Saints running back Mark Ingram is coming off an interesting season where he rushed for 1,043 yards on 205 attempts and pulled down 46 receptions for 319 yards. The burning question in New Orleans is how will the addition of Adrian Peterson impact Ingram's workload? If anything, having A-P as a teammate could work out in everyone's favor. Tim Hightower is gone and like it or not, Peterson is a tremendous upgrade.
Daniel Brown's #16: His success depends on just how much of a timeshare he is in. If the carries are split relatively evenly then this is too high for him. However I expect that he will get the bulk of the carries. He may be one where early in the season you are worried about why you picked him this high, but by mid-season I expect he will be rolling and putting up big points.
Levi Andrew's #18: If Adrian Peterson didn't land with the Saints, I would have Mark Ingram higher than 18. Ingram could turn into the most valuable third-down back in the NFL. He will make plays and be an asset to your team.
Chad Samuels' #19: I see a three-headed monster in New Orleans this year. It's hard to imagine the Saints will use Adrian Peterson as purely a backup to Ingram. For this season, Ingram is the best combo of rusher and receiver of the three and should give you multiple ways to put up fantasy points in a yardage league.
Brian Murphy's #24: Although Adrian Peterson is now in town, the Saints are still a pass-first team. That's where Ingram will pick up most of his value.
17. Marshawn Lynch - Oakland Raiders
Levi Andrew's #11: A year away from football did Lynch's body some good. He is bonding with his new teammates and the second best o-line in football will make him even better than he was in Seattle. Look for this offense to be a fantasy point machine.
Chad Samuels' #17: Ladies and gentleman Lynch mania has gripped Raider Nation. Despite a year off and being healthy Marshawn Lynch is 31 and running back skills start to erode at 30. The Raiders also have a solid passing game with a good young quarterback and a solid receiving corps. I can see Lynch putting up RB2 numbers, but I'm not convinced he will get good volume in Oakland to put him higher on this list. Add to this that he is an injury concern and I personally would not draft him. If you own him don't forget to get his handcuff.
Brian Murphy's #18: Lynch will probably pace the Raiders' backfield in overall touches, but he won't be alone; Jalen Richard and DeAndre Washington will be heavily involved between the 20s. Beast Mode will support his fantasy value by picking up basically all of the goal-line carries, and that should be sufficient to make him an RB2. This position becomes a test of faith rather quickly.
John Adams' #21: After a year off, Marshawn Lynch is one of the biggest RB question marks coming into the 2017 season. Is this the return of Beast Mode or Bust Mode? Lynch is at the top of the depth chart for the soon-to-be Vegas Raiders after Latavius Murray left for Minnesota, but fantasy owners are in a wait and see mode.
Daniel Brown's #22: Lynch has the O line of Oakland that has been solid. The big question with him is fitness and durability. Assuming he stays on the field, this is a good spot for him, but there is considerable risk given he missed all of last season.
18. Christian McCaffrey - Carolina Panthers
Daniel Brown's #13: McCaffrey moves up from 20 to 13. I was probably a little low on the initial rankings but since then his work in camp and the pre-season sees him move up my rankings. I think he sees a lot of work and will battle Dalvin Cook for Offensive Rookie of the Year honors.
John Adams' #13: Christian McCaffrey will be playing in a Carolina system that might be fully committed to build around him. He's has speed, power and can anything that is asked of him. As he adjusts to the speed of the game, McCaffrey may be a top tier contender for rookie of the year.
Levi Andrew's #19: Christian McCaffrey is my #1 rookie running back. I only have him at #19 because Jonathan Stewart will remain involved in the backfield. McCaffery will be a PPR stud for many years to come. If his rushing game is anything like it was in Stanford, he will also be a huge asset to the Panthers and your fantasy team.
Chad Samuels' #22: This is a yardage league list, not PPR. It's hard to be confident McCaffrey will consistently put up fifty or more yards per game receiving in his rookie season. That greatly limits his upside.
Brian Murphy's #23: This rookie is like a newer, shinier Danny Woodhead. He will probably be inconsistent, but he is also going to have some huge performances, especially in PPR formats.
19. Spencer Ware - Kansas City Chiefs
Brian Murphy's #15: Rookie Kareem Hunt is definitely a threat, but Ware has rightfully earned the top spot on Kansas City's running back depth chart. That's enough to put him in the RB2 range for now.
John Adams' #18: There's certainly been some off season noise about Chiefs RB Spencer Ware possibly losing his starting position to rookie Kareem Hunt. The reality is that Hunt has a long way to go before he even has a chance to knock Ware out of the starting lineup. Ware gained 943 yards last season playing in just 14 games. His 5 total touchdowns were a bit underwhelming, but should be good enough to keep him in the starting lineup.
Daniel Brown's #19: If the carry split from the first pre-season game is any indication then Ware is the undisputed started for the Chiefs. Ware would be a quality 2nd RB to have on your roster and a luxury if he is your third RB!
Levi Andrew's #23: This ranking of 23 is fully because Ware has run ahead of Kareem Hunt. However, once Hunt gets this job, Spencer Ware will become a change of pace back at best. With Ware struggled down the stretch last season, scoring 1 TD in 11 games, this could happen before the end of the season.
Chad Samuels' #25: Andy Reid has given a vote of confidence about Ware, but he's also spoken positively about Kareem Hunt. Look for Hunt to take over for Ware at some point. The question is when.
20. Joe Mixon - Cincinnati Bengals
Chad Samuels' #13: I expect Joe Mixon to be the lead back by week one or shortly thereafter. Right now he isn't listed there on the depth chart and that's the only reason he's not in my top 12. I am curious to see whether Mixon or Hill becomes the Bengals' goal line back this season, but either way, Mixon will produce plenty of fantasy points through combined yardage.
John Adams' #15: If he can stay out of trouble, and that's a big IF, Joe Mixon just might be able to showcase his impressive talents for the Cincinnati Bengals during the 2017 season. His personal issues and temper are probably worth the risk around the third round of most fantasy drafts.
Brian Murphy's #21: The Bengals can say that Jeremy Hill is their starter and while I'm sure he and Giovani Bernard will have their role, Mixon should be the lead back here in due time. His big-play ability is going to give him some week-winning box scores.
Daniel Brown's #27: After about 20 I think there are a bunch of RBs that I would put in a big group and wait to pick one until later in the draft.
Levi Andrew's #29: I have moved Joe Mixon down from #24 to #29. Jeremy Hill is still running in front of him. Joe Mixon will steal this job from Hill but this situation could be a bad running back-by-committee. I don't want any part of this back field unless it's Mixon in a dynasty league.
21. Bilal Powell - New York Jets
Brian Murphy's #16: He looked like a worthy RB1 last December and possesses three-down skills. Given Matt Forte's age, physical decline and disappointing numbers, the Jets would be better off giving Powell the majority of the work. Like Jordan Howard, I'm worried about defenses selling out to stop the run here, but drafting Powell as opposed to Howard will likely come with a significant discount.
John Adams' #16: The Jets say they are taking a wait and see approach to who will take the lead back role in 2017, but Matt Forte seems to have taken one too many hits from father time last season. Powell and Forte will likely split carries at the beginning of the season, but Powell is more than likely to get the majority of the carries.
Levi Andrew's #21: Bilal Powell had a great season last year. I think he finally surpasses Matt Forte for most carries on an offense that doesn't look to have many playmakers; Powell can be that playmaker.
Chad Samuels' #26: He will see the passing work for the Jets. Matt Forte should also see more decline this year and Powell could see an uptick in use by the end of the season. The Jets passing game should be a dumpster fire this season that will hurt their running game.
Daniel Brown's #32: Powell could be a steal of the draft. Forte is getting older and last year he appeared to lose his grip on the starting role, and with the struggles expected for this team this has running back by committee written all over it. I suspect at some point they will turn it over to Powell but that may not be until mid-season.
22. LeGarrette Blount - Philadelphia Eagles
Levi Andrew's #13: LeGarrette Blount finished last year with 18 TDs and 1,161 yards. You might say I'm crazy having him at #13, but I think the Eagles know how to use him. TDs will go down, but yards may go up. Don't read too much into the camp talk of him not performing well. Blount turns it on during game time.
Daniel Brown's #20: I moved Blount up from 25 to 20 because of the release (as expected) of Ryan Mathews. I think Blount takes his role but does it just a little better. Expect him to score plenty of TDs from close range!
Chad Samuels' #23: He should be the goal line back in Philly and receive the early down work. Blount is 30 and that is a red flag for decline. Also, the Patriots didn't re-sign him, which is another red flag. Don't be surprised if Blount underachieves this ranking.
Brian Murphy's #36: Blount will pick up some touchdowns, no question. But anyone who thinks he'll come close to repeating the success he enjoyed as a Patriot is fooling themselves.
23. Paul Perkins - New York Giants
Chad Samuels' #21: He was productive in college and came on at the end of 2016. Also, I'm not a believer in Wayne Gallman. Perkins should get the first shot to start in '17.
Levi Andrew's #22: Paul Perkins finds himself in his second season as a Giant. Ben McAdoo wants him to become the lead back in that offense. I may be high on him at 24 but I can see him turning it up and becoming the guy. If he does he will have value in both standard and PPR leagues.
Daniel Brown's #25: Perkins is a player that has upside at this point of the rankings. He is someone that could really go either way, the Giants have struggled to run the ball and rely more on the pass and big chunks. This could benefit Perkins as he sees a lot of redzone chances.
Brian Murphy's #28: I want to rank him higher than No. 28. However, I just don't think the Giants fully trust him yet.
24. Robert Kelley - Washington Redskins
Daniel Brown's #21: Kelley is in a crowded backfield, however he appears to be the starter and should be used often. The danger with him is that the Redskins fall behind too quickly in games and have to go to the pass much quicker than a fantasy RB owner would like.
Brian Murphy's #25: Kelley has a low ceiling, but I think he will hold off Samaje Perine for most of the year. He's an OK RB2 or a very valuable RB3.
Levi Andrew's #26: Robert Kelley has the 2 down back job locked down. Samaje Perine hasn't been showing much goodness in camp, letting Kelley run ahead with the starting job. Look for him to further excel on his stats from last year as a full time starter in 2017.
Chad Samuels' #29: News has been coming out of Washington that "Fat Rob" is going to be safe as the starter to open the season. Normally, I want points at the end of the season for a playoff push more than for the start of the season. He is ranked over Perine because I think when the season ends Kelley has slightly more fantasy points than Perine. If you draft Kelley, stay on top of your waiver wire to replace him later in the season.
25. Frank Gore - Indianapolis Colts
Levi Andrew's #17: Trusty Frank Gore is entering his 13th season. He is 34 now and many believe this could be his decline year. However, I haven't seen any bad reports on him through camp he has finished 10 of his 13 years in the league with a 1,000 + yards.  I'm confident he still has another 1,000+ yard season in him.
John Adams' #25: Even at the ripe old age of 34, Colts RB Frank Gore is still listed as the lead back in Indianapolis. He broke the 1,000 yard mark last season and scored 4 rushing and 4 passing touchdowns. He's old, but he really doesn't have any competition to push him out of the backfield.
Chad Samuels' #27: He is in decline with his last two years being the only years in his career where he averaged under four yards per carry. Expect more of the same. At some point he should break down and Robert Turbin or Marlon Mack will take over. Select him with your eyes open and prepare accordingly.
Brian Murphy's #27: Another presumed starter whom I don't love but need to place in flex territory simply because of his current job title. The end is near for Gore. Related: I am a big fan of Marlon Mack.
Daniel Brown's #33: Gore is getting on in years and thus he is ranked down this far. I suspect he will face competition during the season for the starting role and likely end up in a running back by committee scenario. Couple this with the concerns over Luck … he is a boom or bust pick.
26. C.J. Anderson - Denver Broncos
Daniel Brown's #15: Anderson is a good back and should own the backfield in Denver despite the presence of Booker and Charles (who may not make final 53). Anderson runs well and can catch the ball out of the backfield. With the struggles at QB I expect Anderson to be able to score consistent fantasy points each game.
John Adams' #19: C.J. Anderson only played in 7 games last season leaving many fantasy owners scrambling after he tore his meniscus. He has a history of injury problems and a very crowded Broncos backfield, but he's still the best of the bunch in Denver with a program that will have to run the ball.
Brian Murphy's #26: Like Robert Kelley, he doesn't have immense talent, but he deserves to be in this area because he will begin the season as the head of his team's ground-game committee. However, there is more competition for the job in Denver, and I'd rather wait on Jamaal Charles late in my draft instead of going after Anderson rounds earlier.
Chad Samuels' #32: He should probably be ranked higher than this. He is a big back and he looks the best he has in his NFL career. I still can't shake the injury history and think we're going to have more of the same. I am also worried about QB play hindering him.
Levi Andrew's #38: C.J. Anderson is going to be apart of a full time running back-by-committee in Denver. This could be a 3-headed monster with, Anderson, Jamaal Charles, and De'Angelo Henderson. If Charles and Anderson fail to compete, Henderson will take over.
27. Danny Woodhead - Baltimore Ravens
Chad Samuels' #20: Woodhead is old and coming off of an ACL injury. He's a dual threat back and I think he can put up as much yardage as Terrance West over a season. His dual threat lands him here at number twenty.
Daniel Brown's #24: Woodhead could probably be ranked higher. I just don't have enough faith in the Baltimore offense. With Dixon suspended early in the season Woodhead will have a chance to grab the starting role. I worry about his injury history and whether he has lost a step or two ...
Levi Andrew's #27: Is my love for Danny Woodhead showing? Once Kenneth Dixon went down Woodhead became a major player, even more so than he was already set to be. Woodhead will be a major red zone threat and pass catching back. If you're going with the Zero RB strategy, Woodhead should be a target.
Brian Murphy's #30: If Woodhead stays on the field, I have no doubt that he will finish higher than my No. 30 ranking. Alas, the confidence that he can last through a 16-game season shouldn't be high.
28. Ameer Abdullah - Detroit Lions
Daniel Brown's #11: Abdullah should be a solid RB this year if he can stay healthy. The Lions are a pretty pass happy team, and this can be a blessing and a curse for the running back. The upside is that they move quickly to the redzone, and potentially loosen up the defense in the process. The downside is that the running back may not get many carries to get points, and so becomes reliant on TDs. Abdullah may be a little high here in my rankings ... time will tell!
Brian Murphy's #29: He is the Lions' starter for now, but I fear the effects of last year's foot injury could linger. Also, he has scored just four times in 18 career games.
Chad Samuels' #31: The Lions have three backs and three roles for them. Ameer looks like the yardage eater. We will take that in yardage leagues. At 203 lbs we hope he stays healthy.
Levi Andrew's #33: Ameer Abdullah is set to be the Lions' feature back in 2017. Back healthy from a foot injury, he does look good in camp. I can see him being the main rushing RB, but Theo Riddick will still have his role on offense. That's why I have them ranked back to back.
29. Ty Montgomery - Green Bay Packers
Brian Murphy's #17: The Packers seem dead set on limiting Montgomery's workload, but he can handle at least 12-15 touches per game. If he gets even that much, he should meet this ranking.
John Adams' #24: According to the Packers, Ty Montgomery will keep his starting job in Green Bay. His best attribute in 2016 was his pass catching where he hauled in 44 receptions for 348 yards and should do even better this season.
Daniel Brown's #29: Montgomery could go anywhere from 20th to 35th RB off the board. He is good but will face competition for the starting role.
Levi Andrew's #32: Ty Montgomery played great in the second half of the 2016 season. Even after drafting three RBs, Mike McCarthy has said he's still the starter. Two of those new RBs have the potential to steal the starting role away from Ty. This will be a battle to watch until Aaron Rodgers and McCarthy find someone they both like.
Chad Samuels' #38: For the preseason, he has the lead for the starting role in Green Bay. However, I think early in the season he will lose touches to Jamaal Williams and will become a change of pace back for Green Bay. Remember, before last year he never worked as a running back.
30. Tevin Coleman - Atlanta Falcons
Brian Murphy's #22: Coleman was fantasy's No. 17 RB last year. Even if Atlanta's offense isn't quite as explosive as it was last season, he will probably remain in the RB2 conversation.
Levi Andrew's #24: If Atlanta keeps the same scheme as they've been saying they will, Tevin will still be heavily involved. Adding slight regression from last year's performance leads to my #24 ranking.
Daniel Brown's #31: Coleman will see some action and should be active in the passing game which puts him this high. There are probably other needs you will want to address before grabbing him.
Chad Samuels' #36: I think Murray has the starting job to lose this season. Henry should see some touches to keep Murray fresh. The Titans offense is getting better and I like Henry's potential to put up points later in the season. It's the uncertainty of when and how many that keeps him low on my list.
31. Jonathan Stewart - Carolina Panthers
Chad Samuels' #18: I'm many have Christian McCaffrey ahead of Jonathan Stewart. However, I see Stewart as filling the first and second down role and McCaffrey being the third-down back. Taking even more yeards away from McCaffrey, Carolina has other options for receptions including Kelvin Benjamin and Greg Olsen. Therefore, I'll take Stewart and the yards he'll put up on the early downs over McCaffrey.
Daniel Brown's #30: Stewart should be solid. However, with an injury history and the presence of McCaffrey I see him ranked quite a way down the RB list.
Brian Murphy's #32: Although Christian McCaffrey gets more press, Stewart should still be the Panthers' early-down back and the easy favorite to garner those oh-so-valuable short TDs.
Levi Andrew's #36: Jonathan Stewart has the experience in two-headed backfields to excel. I think Christian McCaffery will play more slot and kick outs, that's why I have Stewart at #36. I still think the Panthers work in some two-RB sets, kicking McCaffery to the outside and rushing Stewart up the middle. Stewart has value in the later rounds of your draft.
32. Mike Gillislee - New England Patriots
Brian Murphy's #20: Considering the Patriots' glut of running backs, this ranking may be too high. Conversely, if the Pats do trust him to be their LeGarrette Blount-like goal-line back, he should be able to crack the top 20.
John Adams' #23: Any running back who plays for the Patriots is a risky proposition. That being said, Mike Gillislee shined in Buffalo last season when LeSean McCoy was hurt. He rushed 101 times for 577 yards and 8 touchdowns and those numbers could spike in New England.
Levi Andrew's #28: Mike Gillislee has the best chance at filling the LeGarrette Blount role in New England, but due to a hamstring injury he has been losing snaps to Rex Burkehead. This only exemplifies that with the Patriot's unpredictable running back-by-committee you can't ever really trust a Patriot running back. They play too much to game plan, not stats.
Chad Samuels' #40: The hoodie, aka Bill Belichick, is a genius. However, I hate how he handles running backs. Any week any running back can be featured. If you want to play craps with running backs take Gillislee as he has the best upside. I just avoid the headaches and look elsewhere.
Daniel Brown's #41: A lot of hype this offseason for Gillislee. I think he, Lewis and White take away from each other rendering them all relatively limited from a fantasy perspective.
33. Eddie Lacy - Seattle Seahawks
Levi Andrew's #20: There are too many variables leading to Lacy being my #20 RB, the Hawks' o-line, his weight, and the fact Thomas Rawls is running with the 1st team while Lacy is running the 2nd team. However, the Seahawks didn't sign Lacy to be a backup RB, so if the stars align such that all these variables fall into place for Lacy, he could have a great season in 2017. Consider that he was averaging 5 yards a carry before he went down with injury in 2016.
Daniel Brown's #23: I was probably a little bullish on Lacy in the initial rankings and he moves down from 18 to 23 here. His usage is still unknown, but he appears to have his weight under control and assuming he is the featured back in Seattle he could be in line for some big points.
Brian Murphy's #40: Lacy was the No. 30 RB in my initial running back ranks. His fall to No. 40 coincides with his apparent fall behind Thomas Rawls in the backfield's pecking order. By the time the season begins, he may not even be in my top 50.
Chad Samuels' #41: I like the fact that Lacy is losing weight. I like his draft pedigree to keep giving him chances in the NFL. He is another candidate for taking a starter role mid to late season. We just need to watch who is winning the battle between him and Thomas Rawls for the starting job. Right now Rawls is winning.
34. Adrian Peterson - New Orleans Saints
John Adams' #20: The burning question in New Orleans is how will the addition of Adrian Peterson impact Ingram's workload? If anything, having A-P as a teammate could work out in everyone's favor. Tim Hightower is gone and like it or not, Peterson is a tremendous upgrade.
Brian Murphy's #31: I have a difficult time seeing how Peterson, now in his age-32 season, becomes a difference-maker for the Saints when they already have Mark Ingram and talented rookie Alvin Kamara. For those who expect more from him, you do have this fact going for you: He is Adrian Peterson.
Chad Samuels' #37: I think Murray has the starting job to lose this season. Henry should see some touches to keep Murray fresh. The Titans' offense is getting better and I like Henry's potential to put up points later in the season. It's the uncertainty of when and how many that keeps him low on my list.
Levi Andrew's #39: For some reason Sean Peyton hates Mark Ingram and seems to have brought Adrian Peterson in to push the kid. If Ingram is able to hold onto starting the job, then I feel AP only has TD-dependent value, which means he will be a flex play at best. I believe Ingram will outscore all RBs in New Orleans.
Daniel Brown's #40: He is a boom or bust pick, but the risk would be mitigated by taking him this late in the draft. He could be a hot waiver wire claim type player!
35. Doug Martin - Tampa Bay Buccaneers
Levi Andrew's #25: Doug is suspended the first three games this year. I think that when he comes back in week 4, he will run away with the starting job. It says a lot that Bucs have kept him around after his stint in rehab and his suspension, especially given that they would have no dead money if the cut him. I fully expect that Martin comes back to form and blows everyone away. When drafting Martin grab Jacquizz Rodgers for weeks 1 through 3.
Daniel Brown's #28: I only ranked him this low because of the suspension. I think Martin returns and has a big year.
Brian Murphy's #41: I will tentatively assume that Martin will regain his starting job once he returns from suspension in Week 4. He didn't do himself many favors with his 2.9 yards per carry last season.
Chad Samuels' #47: Doug Martin is suspended for the first three games of the year. He has the ability to be the Buc's starter and to get the touches as such. However, his value hinges on what happens during the first three games of the season. If his replacement, Jacquizz Rodgers, gets hot and successful, then odds are the Bucs stay with the hot hand. If you want him you will have to draft him higher than this. For me, the uncertainty hurts his value.
36. Derrick Henry - Tennessee Titans
Daniel Brown's #34: IF Murray goes down then Henry becomes a huge fantasy asset. Monitor the health of Murray prior to your draft and if you think he doesn't last, then move Henry up in the rankings.
Brian Murphy's #34: Even if DeMarco Murray stays healthy, Henry is still going to be an option at the goal line and pick up a handful or more of touchdowns. I think you will see him worked into the game plan a little more often in his second year.
Chad Samuels' #35: I think the starting job is Murray's to lose this season. Henry should see some touches to keep Murray fresh. The Titans offense is getting better and I like Henry's potential to put up points later in the season. It's the uncertainty of when and how many that keeps him low on my list.
Levi Andrew's #50: Derrick Henry has been running with the first team offense pretty much all of training camp with DeMarco Murray out with an injury. Henry had a role last year and I expect that role to grow more this year, especially with Marcus Mariota getting more comfortable with him.
37. Kareem Hunt - Kansas City Chiefs
Levi Andrew's #31: Kareem Hunt is my dynasty darling. He is the greatest Andy Reid running back since Brian Westbrooke. I think I'm giving Spencer Ware too much slack with my #31 ranking of Hunt for 2017. By the end of 2017 Hunt will have proven he is a top-10 RB option for next year.
Daniel Brown's #37: Hunt is exciting, but it is probably a little early for him this season. He is someone that I would stash on my bench and see what happens. If you drafted Ware you would be wise to grab Hunt in a later round as insurance.
Chad Samuels' #44: For many this is a harsh ranking for Hunt, but it's difficult to anticipate what Andy Reid will do with the running back position. For now he is behind Spencer Ware. He could be all season or he could replace Ware mid-season. His preseason snaps need to be monitored for how many and when to get an accurate read. For now I'ld rather draft him near his floor and be surprised if he reaches his ceiling rather than to draft him at his ceiling and have him bust.
Brian Murphy's #46: If Spencer Ware can't replicate his 2016 success, this rookie will be right there to pick up the pieces.
38. Theo Riddick - Detroit Lions
Levi Andrew's #34: Theo Riddick was a contributor rushing and receiving last year, until he dealt with double wrist injuries. The Lions' back field is a mess and they want Ameer Abdullah to be the workhorse back, but Riddick will still have his role.
Brian Murphy's #42: Once again, he's an injury to Ameer Abdullah away from being worthwhile, but more so in PPRs than in standard leagues.
Chad Samuels' #43: Theo is another third-down back in a three-headed monster and he is not as talented as Kamara. There are also some younger players around him and no one throws to their running backs quite like the Saints.
Daniel Brown's #43: Riddick is an upside type player here.
39. Latavius Murray - Minnesota Vikings
Daniel Brown's #36: Murray will get his TDs … but I see Cook as the primary back. Murray is a great  4 for your team with upside due to the TDs.
Levi Andrew's #44: Latavius Murray will be the change of pace back behind Dalvin Cook, when Cook needs a breather or on third-downs.
Brian Murphy's #37: I still believe in his talent. However, his brittle body, Dalvin Cook and the Vikings' porous O-line weighs against his chances of fantasy success.
40. Thomas Rawls - Seattle Seahawks
Chad Samuels' #24: At this point in the preseason Rawls is ahead of Lacy on the depth chart. That fuels his RB2 status. If the Seahawks look in another direction at running back his ranking drops.
Levi Andrew's #40: Thomas Rawls is running with the first team right now, ahead of Eddie Lacy. Rawls knows the offense so he has that up on Lacy. I still feel as Lacy learns and heals more, Rawls will lose the job to Lacy, bringing him to my RB40 ranking.
41. Matt Forte - New York Jets
Daniel Brown's #35: Forte is older and struggled last year. Don't expect that to change. His early season work sees him ranked here and not lower, however I expect that mid-season his usage will drop off.
Chad Samuels' #39: Though listed as a starter I don't think he will see starter volume by the end of the year. This is speculative but I see Forte as an eroding value. He is a decent depth running back with early upside but probably won't see your starting lineup come playoff time.
Levi Andrew's #49: Oh the J-E-T-S!!! Will they beat the Browns at tanking? Matt Forte is on the wrong side of 30 and has bad knees. He may just be a strictly change-of-pace back who doesn't play much. The Jets won't be a winning team this year.
Brian Murphy's #49: The Jets will see if he has anything left. I'm skeptical, but there's not much to lose by ranking him No. 49. He should be the clear backup to Bilal Powell.
42. C.J. Prosise - Seattle Seahawks
Daniel Brown's #38: Prosise was good last year in limited action. The addition of Lacy probably means he competes with Rawls for touches. His ability in the passing game gives him some upside and if Lacy goes down the Seahawks could turn to him rather than Rawls because of his explosiveness and versatility.
Levi Andrew's #41: Prosise will have more upside in PPR leagues than standard. He's a third-down back that could play early downs if Eddie Lacy or Thomas Rawls is hurt, which gives him upside potential.
Chad Samuels' #45: Seattle's backfield is yet another third-down back on a three-headed monster. There are some weekly guaranteed points but not a lot of them. It's hard to imagine him getting a bulk of carries in a game.
Brian Murphy's #50: The Seahawks should try to get him involved whenever possible, as long as he doesn't shatter upon impact. He is the most dynamic RB the Seahawks have by a considerable margin.
43. Samaje Perine - Washington Redskins
Chad Samuels' #30: He needs work with his pass protection. Washington is a pass heavy team and this hinders him. He is big and should take over for Rob Kelley at some point this season. He's worth stashing on your roster for a playoff push.
Brian Murphy's #45: Rob Kelley isn't an immovable object; one good year doesn't buy you much time in the NFL. A few bad weeks from him could lead to Perine taking over.
Daniel Brown's #46: Has huge upside but probably a season to early. He will be a waiver wire watch.
44. Terrance West - Baltimore Ravens
Chad Samuels' #33: I'm probably a little low on West as a starter. Early reports are that with Kenneth Dixon out for the year, West and Woodhead are going to be near 50-50 with carries. With his 220-lb frame, I expect West will get the goal line work.
Brian Murphy's #33: This is going to be a messy backfield sooner than later. But at least with Kenneth Dixon suspended for the first month, West's gig as an early-down rusher isn't threatened too much.
45. James White - New England Patriots
Levi Andrew's #42: James White will be a PPR asset, per Bill Belichick's game plan. He will lead the receiving backs in receptions in New England, but the most difficult part about predicting his fantasy value is the frequent per game RB changes that are typical in New England.
Daniel Brown's #44: I think he, Gillislee and Lewis take away from each other rendering them all relatively limited from a fantasy perspective.
Chad Samuels' #46: Here's a third-down receiving back, but this time with "The Hoodie" as coach. He is clearly an "avoid" player for me, but deserves a spot on this list.
Brian Murphy's #47: You know he is going to have some monster weeks, especially in PPR. Good luck guessing when they will occur.
46. Darren Sproles - Philadelphia Eagles
Levi Andrew's #37: Darren Sproles will always have his role on the Eagles and RB35 represents that role. He's a pass-catching back that can take it to the house anytime he gets the ball in his hand. I've heard the Eagles have been using Sproles and Donnel Pumphery lined up in the backfield together, that sounds like it could be lethal. Pumphery is the only person that is going to take snaps away from Sproles.
Brian Murphy's #43: Sproles is basically a lock for about 700 yards and 4-5 touchdowns. That puts him right in this range.
47. Darren McFadden - Dallas Cowboys
Chad Samuels' #34: He should be Zeke's replacement for six games… If Zeke misses six games.
Brian Murphy's #44: If Ezekiel Elliott ends up missing the first six games of this season, McFadden will have deserved a higher ranking from me. But, as I explained in my explanation on Elliott at No. 6, this situation is as clear as mud right now.
48. Jamaal Williams - Green Bay Packers
Chad Samuels' #28: It's hard to see Ty Montgomery keeping the Packers' starting job all season. Williams is pushing him and Montgomery didn't help himself week one of the preseason. My ranking is based on my projection that Williams beats out Montgomery sooner rather than later.
49. Giovani Bernard - Cincinnati Bengals
Levi Andrew's #43: Giovani Bernard has made a quick recovery from an ACL repair and, even with Joe Mixon and/or Jeremy Hill taking over, will see plenty of playing time.
Daniel Brown's #45: Bernard makes my list over Hill solely for his receptions. If you are in a standard league I would probably have Hill in the top 50 but in PPR I give the edge to Bernard. At this point most of the players taken are backups on your team.
50. Alvin Kamara - New Orleans Saints
Chad Samuels' #42: I love Alvin Kamara but hate the format for him. This is a yardage league ranking not PPR. This greatly limits Kamara's ability to put up fantasy points in his first season as a Saint. The only guarantee he has is receiving yards. There is upside if Adrian Peterson or Mark Ingram breaks down and is worth a later stash.
Levi Andrew's #46: Watching Alvin Kamara play at training camp is a thing of beauty, and if we can all see that, then Sean Peyton has to be drooling. Kamara is going to be the weapon of weapons for Drew Brees and company. I don't think he will get a full work load due to Mark Ingram and Ardian Peterson being there, but he may have some PPR value.
This article was sponsored by My Bookie.