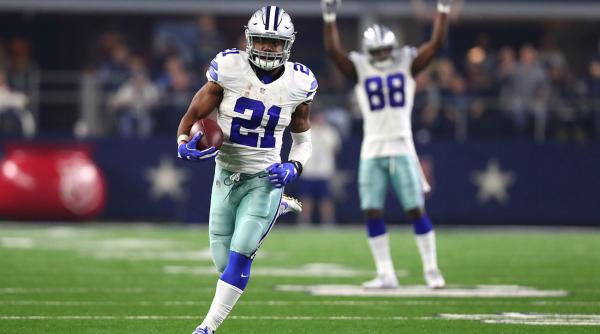 Written by Levi Andrew
12 August 2017
 Yes, you read that right. Zeke is still a top-five pick in my opinion. Let me elaborate.
The six-game suspension has everyone up in the air on Zeke now. People are now dropping him to the third round on their draft boards and bypassing other starting backs in drafts for Darren McFadden, all because of a drop of the hammer from Mr. Commish himself, Roger Goodell. Yes, if Elliott just accepted his ban without a fight, I would panic. As of now, however, I think Zeke has a great chance at starting Week 1 and possibly finishing this season without serving a suspension.
Let's look back at the 2014-15 playoffs and the birth of Deflategate, it started at halftime of the AFC Championship Game. Tom Brady's palms are sweaty. Knees weak, he's up by 17 already, but he felt the balls were heavy (Sorry, my inner rapper came out.).
On a real note, Brady was supposed to be suspended for the first four games of the 2015 season. May 11, 2015 was the exact date of that announcement. The appeal process started three days later, and the suspension was upheld by Goodell on July 28. The NFL Players Association then turned around and filed an injunction in Minnesota that prevented Brady from being suspended. A couple weeks later, Brady and the NFLPA met the NFL in U.S. District Court, where Judge Richard M. Berman tried to persuade each side to settle for a 1- or 2-game ban. After no settlement could be reached, Judge Berman threw out the suspension on grounds of a lack of fair due process for Brady. Although his suspension would be reinstated later and Brady would serve his penalty, the matter took more than 14 months to conclude from the date of that initial announcement. In that time, Brady played the entire 2015 season anyway.
With that in mind, hear me out on Zeke for the 2017 season. He has already stated he will appeal, which will either result in a reduced suspension or the six-game ban being upheld. My money is on the latter. We all know how Goodell works and he won't reduce it given the pure fact that the NFL has swung and missed on three previous domestic violence cases involving players. If the suspension is upheld in full, you know for a fact that the NFLPA will file an injunction in court, which would probably allow Zeke to start Week 1 and possibly for the whole year since the wheels of justice turn slowly.
This could become bad news for Elliott in 2018, not 2017, if he actually has to serve a full six-game suspension then. Hell, the court could overturn the ban due to a lack of evidence. Yes, the NFL is a private company with its own standards, but we should also remember that the league's Personal Conduct policy was thrown together less than three years ago following the Ray Rice and Greg Hardy controversies. It was never collectively bargained and the NFLPA has wanted to fight it for a while now.   
This is a crazy time in the football and fantasy football worlds. We have all been waiting for a decision on this for a while and now everyone is a little haywire. Let's slow down and remember that this story will travel a long road with many hurdles before reaching its end. For now, I'm moving forward with the opinion that Zeke will be Zeke, blowing the field up when he's on it, and I see him being on it in Week 1. Grab McFadden if you want as a security blanket. I know I'm trying to trade my shares of McFadden away.
Thanks for reading. As always follow me on Twitter @LeviAndrewFF