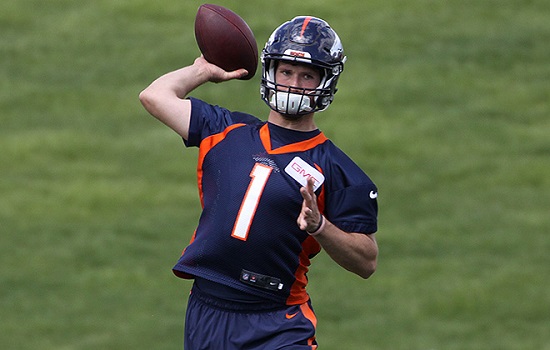 Written by Josh Rabbitt
16 August 2017
I can't believe we are already on to Week 2 of the preseason! Teams are starting to take shape, and breakout performers are hidden throughout the NFL. Last week was a great start to our look at some deep fantasy sleepers and potential breakouts. This week, we are going to try to uncover more gems and take a peek at some more well-known players. I'll spotlight a player from every team and include two Colts to make up for overlooking them last week.
Ryan Mallett, QB, Baltimore Ravens 
Mallett looked like the worst QB in the league last week. Joe Flacco is falling apart, ala Tony Romo, so I have to know if this is the Ravens' plan B. As a group, the Ravens might have the worst quarterbacks in the NFL. Yes, even worse than the Broncos'.
Damien Williams, RB, Miami Dolphins
Jay Ajayi is finally practicing after his concussion. Williams got the start last week but looked quite bad. Can he hold off Kenyan Drake for that No. 2 role? This is a very important handcuff as I project Miami's offensive line to be quite good in the run game, assuming center Mike Pouncey can play. Plus, Ajayi still has lingering injury questions.
Logan Thomas, TE, Buffalo Bills
This was going to be Jordan Matthews, but unfortunately, the injury bug struck him.  I'm curious to really dial in on Thomas, who has been reportedly blowing up camp. Charles Clay is pretty underrated as a tight end, but his contract is rather large and he wasn't selected by this regime, so Thomas has a chance to be a meaningful contributor this season.
Nelson Agholor, WR, Philadelphia Eagles
Here's the guy whom the Eagles laughably expect to replace Jordan Matthews. Philly had a really bad WR group last year, and I'm not sure this year's crop will be much better with an old one-trick pony (Torrey Smith), an injury-prone dude with weight issues (Alshon Jeffery) and this failed first-round pick. The good news is quarterback Carson Wentz is also terrible. So this should be really great to watch.
Mike Evans, WR, Tampa Bay Buccaneers
This dude is unreal. I probably don't want to watch anything else in a Bucs game, ever. Honestly though, why did he play at all last week?

Allen Hurns, WR, Jacksonville Jaguars
The injury to Marqise Lee might open up enough targets here for Hurns to matter again at the start of this season. Hopefully, Hurns entrenches himself early on enough to matter even after Blake Bortles gets mercifully sent to the bench. Remember when he was the next big thing?  Keep that in mind for my next discussion.
Dalvin Cook, RB, Minnesota Vikings
Yep, I'm on Cook in this game, much like everyone else. I think there may be some room for optimism here. Not because I misjudged Cook; he is most definitely whom I thought he was. However, Sam Bradford might set the NFL record for checkdowns in a single season, so I guess Cook could play a Theo Riddick-type role as he does a decent job of catching the ball and falling down. The major hole in this theory is that Jerick McKinnon is a top-five pass-catching RB if given the chance. Don't worry, Vikings fans, you will have a new head coach soon. I still don't think Cook is going to work as an NFL back, but I want to see if I am a little too low on him.
Eddie Lacy, RB, Seattle Seahawks 
Fat Eddie didn't look that fat last week. He also got stuffed at the goal line and ran behind Thomas Rawls. Why exactly is this guy is a fifth-round pick in fantasy drafts? Please actually watch him play before you draft him. Or don't if you are in my leagues.
Curtis Samuel, WR, Carolina Panthers
Now that we have officially enshrined Christian McCaffrey into the Hall of Fame, I want to see if there are even any other players on the field for the Panthers. Seriously, I can't stand the media hype of some of these guys. A few nice carries have never looked so good, I guess. Anyway, Samuel may be the only realistic Tyreek Hill clone in the entire NFL. Hopefully he has fully recovered from his hamstring ailment as I want to see how he is used. 
Taywan Taylor, WR, Tennessee Titans
One of my favorite under-the-radar dynasty stashes is getting on the radar. College Football Metrics mentions this cat in the same breath as Antonio Brown. There aren't nearly enough targets to go around in this offense and that becomes even more evident if Taylor can carve out a role.
Tyreek Hill, WR, Kansas City Chiefs
Did you see the first play of KC's game last week?  Probably not, but I did and oh, man, am I excited about what the future holds for Hill. It's one play in the preseason, I get that. However, him catching a 32-yard bomb from Alex Smith -- 37 yards from the point of release -- is a pretty big departure from where this offense was last year. How many times in the entire 2016 season did Smith chuck it 30-plus yards in the air? This year, the offense came out swinging, and the first two plays of the game were designed to get Hill the ball. If you aren't already on the Hill train, quickly climb aboard before it's too late.
Joe Mixon, RB, Cincinnati Bengals
Wow, Mixon looked GREAT last week. I have to take a second look at him because I think he is stealing the show in Cincy. I was really worried about whether he would get enough touches early on and his play behind a weak line. I am not worried about that anymore. I think I made a mistake in not taking Mixon early enough in my dynasty drafts as this kid looks ready for the NFL.
Robert Turbin, RB, Indianapolis Colts
I accidentally left the Colts out last week. Mostly because ... yuck.  This team looks just putrid, assuming Andrew Luck is going to miss some time. I think Father Time is finally going to catch Frank Gore this year, and it won't be the average Marlon Mack who picks up those carries. It feels like Turbin has been in the league for a thousand years despite still being just 27. I'm not sure he will have much upside until Luck returns, but you never know.
Scott Tolzien, QB, Indianapolis Colts
The Colts have repeatedly shown that they believe in Tolzien. Why? I'm not sure. I live in Wisconsin and have watched enough Wisconsin Badgers games with Tolzien at QB to know this is going to be a trainwreck. I'm getting ready to fire up the Rams' defense in daily fantasy if Luck is out come Week 1.  I just need a little more visual evidence to prove I am right.
Rico Gathers, TE, Dallas Cowboys
Yes, I am putting Rico on my watch list for the third straight week. Can you blame me? Rico may play his way into a meaningful role this year. I know everyone loves Jason Witten; I do as well. He is everything great about the NFL. However, he simply can't move around the field anymore. Gathers, on the other hand, can be a legit weapon. You can do so much worse with the bottom of your roster than taking a shot on this guy. Gathers may be the Cowboys' best red-zone weapon right now and that includes broken-down Dez Bryant. If he starts getting some run with the first team, watch out. His ADP is set to skyrocket.
Robby Anderson, WR, New York Jets
Here's another familiar face from my Week 1 preview. But did you see him play? I mean, the Jets are going to be awful this year; that is one of the things I loved about Quincy Enunwa before he got hurt. What game are the Jets going to be favored in? They are going to be trailing a ton. Opportunities are there for Anderson, who is really talented.  I think a top-30 finish among wideouts is quite possible for Robby. I was big on him before. Now, I just think the results are going to be even better.
Dwayne Washington, RB, Detroit Lions
I have a love affair with this running back. Top five in the entire NFL is on the table for him. You can keep your Melvin Gordons; I want my running backs to be freaks and this dude is a freak. He just needs some experience. You can see the talent every time he touches the ball. How will he look when he touches the ball against the Jets this Saturday.
Ty Montgomery, RB, Green Bay Packers
Ty didn't look great to me in the debut. Knowing the percentage of snaps he is going to see will be critical. Will he be an every-down back? If not, what role will he have? He is the passing-down back for now, but is he good enough in pass protection to keep that role for the entire year?
Samaje Perine, RB, Washington Redskins
So his debut wasn't good. At all. However, none of Washington's backs did anything against the Ravens last week. I am hoping that we see a little more from Perine this week. According to beat writers, he isn't making up any ground on Rob Kelley. I heard the same things about Jordan Howard vis a vis Jeremy Langford last year. By Week 3, Perine is going to matter in a big way.
Rex Burkhead, RB, New England Patriots
I should have figured that Burkhead would be completely held out with the Pats' starters. This week, I would like to see him play.  Rumor is he has been working as the goal-line back during practices. That would be icing on the cake to one of my favorite fantasy sleepers.
Tom Savage, QB, Houston Texans
Lost in the media's love for Deshaun Watson last week was the play of the better QB: Savage. Only in the crazy world of the NFL can a guy go 9 for 11 with a TD over two drives and be so ignored. What more did you want from the guy? Savage can actually play in an offense instead of scrambling around and hoping something happens. This week versus the Patriots will present a tougher test.
Kyle Sloter, QB, Denver Broncos
Check this out here and then come back. Yes, the wide receiver was wide open. How did he get wide open? Well, part of it was Sloter looking off the coverage. Next, notice the down and distance -- third and 17. He didn't check it down. He wasn't ever looking to check it down. He wanted to make a play. Finally, did you notice the that ball went 50 yards in the air? Not many undrafted free agents can sling it like that from 50 yards out. It didn't need to be a perfect throw but it still was. Denver put up 14 points on offense with Sloter and three points with their other QBs combined. Sloter doesn't have many more chances to convince his coaches that he is the right QB for them. As someone who bleeds orange and blue, I hope that happens. 
Trent Taylor, WR, San Francisco 49ers
Taylor may be the next big thing at slot receiver. In fact, he could be the best wideout on this roster, though that doesn't say a whole heck of a lot. There isn't room for a ton of fantasy production in San Fran this year, but Taylor may be Kirk Cousins' best friend when the two are 49er teammates next year.
Mitch Trubisky, QB, ChicagoBears
WOW. While all the media are swooning over the other first-round QBs, the second overall pick's amazing Week 1 performance is being mostly ignored. Why are people convinced that he can't play at this level? The last time I remember a rookie QB coming into a game and looking this good against my Broncos, his name was Russell Wilson. How did that work out?
Jaron Brown, WR, Arizona Cardinals
No, I didn't misspell the name of the terrible John Brown. It looks like the Cardinals' coaching staff is finally getting fed up with John's consistent injury issues and his lack of doing anything other than running a fly route. Jaron Brown could be a WR3/4 for fantasy this year if he can hold off J.J. Nelson for the No. 2 WR job in Arizona.
Sammy Watkins, WR, Los Angeles Rams
I could go with Cooper Kupp again here, but I want to see how Watkins performs in his first game with his new team. I really like the weapons Jared Goff has at his disposal now. Unlike many others, I haven't already decided that Goff can't play based on one season with terrible wide receivers and with Jeff Fisher as his head coach.
Seth Roberts, WR, Oakland Raiders
Cordarrelle Patterson didn't show me much last week, so this week, I'm going to take a peek at whom he needs to beat out in order to play a role in the Raiders' passing game. I'm not sure there is another aerial offense out there that gets so much hype and no one cares about the No. 3 target. Either Roberts, Patterson or tight end Jared Cook is going to matter this year. I want to know whom it will be.
Taylor Gabriel, WR, Atlanta Falcons
What is his role in this offense? I'm not convinced that Gabriel will matter like he did last year, although RC Fischer -- whom you know by now I love -- thinks he is going to be in an even bigger role. If that is the case, I am hoping to find out in a hurry.
T.J. Watt, LB, Pittsburgh Steelers
I took some good advice and avoided defensive players last week, but I can't avoid T.J. this week. This guy is absolutely everything I thought he would be coming out of Wisconsin. He isn't his brother J.J. But he is different in all the right ways. T.J. could be making teams rue the day they passed on him for the next decade. Am I putting too much weight on one preseason game? For sure. But right now, that's all I have to go on!
Alvin Kamara, RB, New Orleans Saints
Kamara's hype train is beginning to slow. Why? I want to really focus on how he looks in this week's game. I didn't see anything special when I watched him play in college, although he looked good last week from what I saw. I still don't think he dents Adrian Peterson's or Mark Ingram's playing time.
Tyrell Williams, WR, Los Angeles Chargers
Well, quarterback Cardale Jones was a flop in his first game with the Chargers, so I'll look at a sure thing this week. The one thing that is missing in Tyrell's game is chemistry with Philip Rivers. If Williams gets that going, good things will happen for my dynasty teams this year.
Davis Webb, QB, New York Giants
I'm coming around for another look-see at Webb. I thought that, outside of a couple poor decisions, he played razor-sharp football last week. If anything happens to Eli Manning, this is the Dak Prescott story all over again.
Corey Coleman, WR, Cleveland Browns
I'm really worried about Coleman. He just doesn't look like a superstar wide receiver when I see him moving around the field. He doesn't seem to have the same sort of game-breaking ability I saw in college. I am very concerned that we're never going to see what I expected from him when he entered the pros.