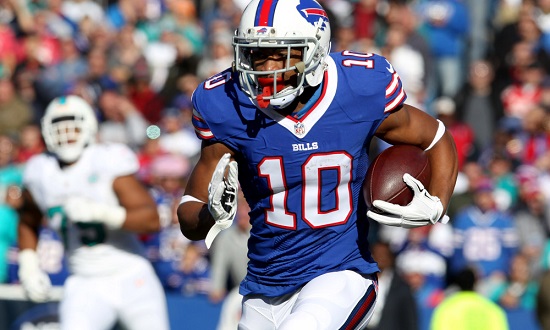 Last week, we presented 14 sleeper picks for 2017. This week, we are presenting our deep sleeper picks. These are players who, if events around them break the right way, will have considerably more value compared to their current average draft position (ADP). These are the all-or-nothing lottery tickets that you might want to take a chance on in the later rounds of your draft.
Here are ASL's 12 deep sleeper picks for 2017.
Brian Hoyer - QB, San Francisco 49ers
By Chad Samuels: The 49ers are not a sexy team, offensively. But if you are taking a quarterback-by-committee approach, Hoyer is your guy. He puts up solid numbers and will get the ball where it needs to go. He will also give you some 250-yard, two-TD games. He won't win your league, but he will be worth starting in your committee and is an excellent fallback option when other QBs have bad matchups. Early matchup projections see Hoyer as a decent bye-week replacement in Weeks 5, 6, 7 and 10. If you own Drew Brees, Kirk Cousins, Russell Wilson, Derek Carr, Dak Prescott, Matthew Stafford, or Carson Wentz, look to grab Hoyer. His ADP is 184 so you will not be breaking the bank to acquire him.
Jonathan Williams - RB, Buffalo Bills
By Chad Samuels: As long as he is healthy, LeSean McCoy is the starting running back in Buffalo. However, he is 29 years old. He is just as likely to miss time as he is to play a full 16-game season. This is where Williams comes in. Last year's backup, Mike Gillislee, left via free agency to New England, and Williams is next in line should something happen to McCoy. Williams is 5-foot-11, 220 pounds and has enough talent to fill in for the remainder of the season if needed.  With an ADP of 162 in redraft leagues on MyFantasyLeague, he is a good piece to have for the "what if" scenario in Buffalo
Devontae Booker - RB, Denver Broncos
By Chad Samuels: Redraft owners do not think much of Booker as his ADP is 202. It is understandable since Booker did little with his six starts and averaged 3.5 yards per carry. There is a new scheme in Denver following the retirement of head coach Gary Kubiak and it will benefit Booker more than what was in place last season.  Booker also got banged up in his rookie season. He did not miss time, but it also could have contributed to his poor per-carry rate. Booker is still behind C.J. Anderson, but he has shown he can not see healthy, meaning Booker may get another chance to produce in 2017. Booker is a late-round gamble that can pay well and is worth considering in your draft plans.
Chris Thompson - RB, Washington Redskins
By Levi Andrew: Thompson is going to keep his third-down role in Washington. The Redskins like his receiving and pass protection skills too much. Rob Kelley and Samaje Perine will fight for early-down work but neither one has great pass-catching ability. Thompson could be a great flex in PPRs this season. He finished 2016 as the 28th-best RB in PPR. I would look to draft Thompson late and sit on him depending on how your roster works out.
Samaje Perine - RB, Washington Redskins
By John Adams: Perine is the very definition of a deep sleeper. Forget being ranked as one of the top 50 players in the NFL; Perine just barely cracks the top 50 ranks at his own position. But here's the rub: The Redskins' presumed RB starter is Rob Kelley and he ranks just slightly better than Perine -- around the mid-40s. Say what you will, Kelley was awful last year and Perine, the Redskins' fourth-round rookie from Oklahoma, has pure bone-crushing power. The coaching staff in Washington says Perine has an unreal work ethic, and his talent is off the charts. Head coach Jay Gruden calls Perine the "total package." Kelley is still the lead back in Washington, but his days are numbered as this hungry rookie is poised to snag the starring role for the Redskins.


Jacquizz Rodgers - RB, Tampa Bay Buccaneers
By John Adams: Rodgers is a much deeper sleeper than Perine, but one thing is almost certain: With Doug Martin suspended, Rodgers is on track to be the starting RB for the Buccaneers during at least the first three weeks of the season, and the scheduling gods are smiling down on him. With games against Miami (ranked 30th versus the run last season), Chicago (27th) and Minnesota (20th), Rodgers will be lining up against some of the most porous run defenses in the league. Jacquizz is also coming off the best season of his NFL career, rushing for 560 yards and a pair of touchdowns. He won't set the world on fire, but he could really help Martin and Ezekiel Elliott owners, who might need a fill-in during the start of the 2017 season.
Marlon Mack - RB, Indianapolis Colts
By Brian Murphy: Frank Gore is almost old enough to run for president and has fallen short of 4 yards per carry in each of the past two seasons. Robert Turbin has been a hype machine for most of his career -- and that's continued this summer -- but he has yet to garner even 100 touches in any of his five pro regular seasons despite playing in 73 of a possible 80 games. Meanwhile, Mack is the best big-play back on the Colts' roster, by far. The fourth-round rookie, who broke off six touchdowns of at least 40 yards last year, is a swift, speedy player and can be used as a receiver. He also produced record-setting numbers at the University of South Florida despite playing being a sub-standard offensive line. That's important experience to have on your resume when you're playing in Indianapolis. The Colts are beholden to Gore for what he has accomplished. But his days as a workhorse should be over, and Turbin has been nothing more than a preseason darling. I think Mack will start multiple games in 2017.
Dwayne Washington - RB, Detroit Lions
By Josh Rabbitt: This one is the super sleeper of the century.  I thought about going Rex Burkhead, Austin Seferian-Jenkins, Chris Conley, or Robby Anderson here. But all those guys have ADPs around 200. BORING!  Let's get someone in here who NEVER gets drafted, and will be a nice write-in at your live draft party if you are going old school. I will admit that all credit here goes to R.C. Fischer of Fantasy Football Metrics if this one is correct. He has made me a believer.  
Let's play a game of "Name the Athlete."
No. 1
215 pounds
4.44 40-yard dash
37.5-inch vertical
127-inch broad jump
No. 2
225 pounds
4.47 40-yard dash
36.5-inch vertical
118-inch broad jump
No. 2 is Ezekiel Elliott. Any guesses on who No. 1 is?  If you guessed Dwayne Washington, you are correct and win a big bowl of You Are A Liar soup.  Why do I have these random combine numbers here?  Well, athletically, you can argue they are the same guy. Washington also put up some nice three-cone and bench press numbers, but they aren't comparable as Zeke skipped those events. Obviously, this is where the rookie comparisons stopped. Zeke finished the year as fantasy's No. 2 running back while Washington finished 71st. There is a reason this is the deepest sleeper of them all. Zeke will cost you a top-five pick. Washington's ADP is off the charts.  
I would argue there is a clear path to carries for Washington in Detroit and with it, a chance for him to take the reins of a pretty decent offense. First, let's look at the other backs in the Lions' den: Ameer Abdullah, Theo Riddick and Zach Zenner. Abdullah has been 100 percent unable to stay healthy and hasn't been that great when able. I have no idea why the fantasy community loves this guy, to be honest. Would it be wild of me to think he might get hurt again this year? Riddick is purely a third-down back. Heck, he's more of a slot receiver than an RB, so he is no threat to be a main-carry guy. Zenner has a similar story to Washington as a guy who doesn't get any respect. Zach is talented and pretty underrated in his own right, but athletically, Washington is just better. Looking at this roster, if one of these backs is going to prevent Washington becoming a "thing," it will be Zenner. My belief is if/when Abdullah goes down again, Detroit is going to hand the keys right to Washington. Don't believe me? Washington saw offensive snaps right out of the gate in Week 1 as a seventh-round rookie last season but promptly fell flat on his face. That would seem to pour cold water on my sleeper idea, but people forget that Washington was high school wideout who handled just 226 carries during his entire college experience. He was bound to struggle last year. If you listen to Detroit's coaches, they say his mistakes were mental and correctable. Just watch the tape of some of his preseason runs last year and tell me he doesn't belong in the NFL. This one is a pure Lotto ticket, ladies and gents. Don't waste your last-round pick on some low-upside dude you will drop within a week. Aim high!



Cordarrelle Patterson - WR, Oakland Raiders
By Josh Rabbitt: My favorite deep sleeper of the summer is a familiar name: Cordarrelle Patterson. Some of you who remember this name from a few seasons ago are smashing your monitors right now. Why would I even bring up these painful memories? It's not because I love to be heartbroken; it's because, with an ADP of 264, Patterson is a flaming-hot value. Most people would agree on the following: 1. The Raiders are an ascending offense with the potential to provide huge fantasy points. 2. Amari Cooper has disappointed so far in his career given his lofty expectations. 3. Michael Crabtree isn't that good (why does he keep being the focal point of the offense?). Enter Patterson from his northern exile. He is, in my opinion, one of the great undervalued talents in the NFL. Clearly, he can make plays at this level, as we remember from his rookie year with all of those explosive plays on special teams. The Raiders have a huge void at their No. 3 WR and questionable starting wideouts. Given the possibility that Patterson could carve out a full-time role, why is he being drafted behind guys who will never see the field? What's more, Patterson is the only wideout who can be more prolific when running with the football than Tyreek Hill, someone the Raiders saw up close and personal twice last year. Could Oakland be preparing its own version of Hill? Take Patterson in the last round of your fantasy draft and reap the rewards.

Robert Woods – WR, Los Angeles Rams
By AJ Schreiver: Woods wasn't a sexy, sought after free agent this year, but the USC alum did sign a five-year, $34 million contract to come back to L.A. this offseason. Clearly, the Rams think highly of this young wideout who is entering the prime of his career after four years with the Bills. With the loss of Kenny Britt, Lance Kendricks, Brian Quick and the four-game suspension of Mike Thomas, Woods should be primed to fill a big role in the Rams' offense. He has been working with quarterback Jared Goff this offseason in preparation for the No. 1 WR job and it is his for the taking. New head coach Sean McVay came over from Washington's pass-heavy offense and wants the Rams to play even more up tempo this season. Not to mention, the offensive coordinator, Nathaniel Hackett, is used to dialing up a bevy of pass plays after last year in Jacksonville. That type of attack is something far, far different than what Woods was accustomed to in Buffalo. Look for him (insert pun about woods here) toward the end of your draft as a highly valuable WR5.
By Brian Murphy: Someone needs to catch passes from Jared Goff this season, and it looks like the sure-handed Woods is in the best position to haul in the plurality. He appears to be the Rams' No. 1 wideout right now and wisely began developing his rapport with Goff less than a week after signing with the team in March. While he definitely doesn't possess the sort of boom-or-bust upside I typically prefer in late-round receivers, Woods could be the perfect safety blanket for a quarterback who often looked scared to throw deep last season. You can steal him in the 14th or 15th round. Those in point-per-reception formats, however, should have Woods higher on their board. Seventy catches are possible, especially with Kenny Britt now in Cleveland.
Tyrell Williams - WR, Los Angeles Chargers
By Levi Andrew: Williams finished as the Chargers' top wideout in 2016. Now in 2017, mostly all of their pass catchers are healthy. Everyone is super high on Keenan Allen but forgetting about Williams. Allen has made it through a full season just once in four seasons and has missed 23 of the team's last 32 games. Williams built a good rapport with quarterback Philip Rivers last year and I don't think that just fades away overnight because Allen is back now. Look for Williams to be the Chargers' No. 3 receiving option, at worst.
Austin Seferian-Jenkins - TE, New York Jets
By AJ Schreiver: ASJ has cleaned up his off-field issues since being cut by the Buccaneers last year. Now with the Jets, sober and 25 pounds lighter, ASJ will be a good player to keep your eye on either late in drafts or in free agency early in the year. He is suspended for the first two games but should move into a starting role in Week 3. A former second-rounder who runs in the 4.5s, he has the talent to put it all together; it may just rely on the QB situation. That situation should favor Seferian-Jenkins as Josh McCown is most ikely to start for the Jets. If you remember correctly, it was McCown who turned now-available TE Gary Barnidge into a Pro Bowler back in 2015 when both were on the Browns. I'll be keeping ASJ on my watch list, especially if I stream the TE position.