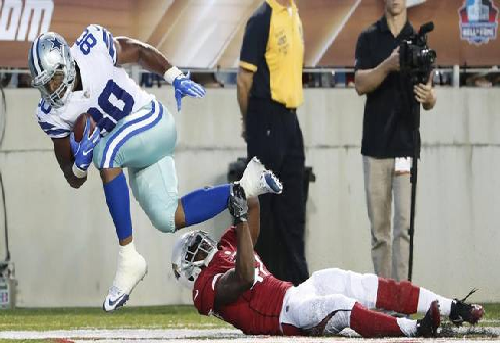 Written by Josh Rabbitt
09 August 2017
The Hall of Fame Game is in the books. We saw some of the things I was excited about and some big flops as well. Cowboys TE Rico Gathers was every bit what I was hoping he would be. I will tell you right now -- that dude is going to matter this year, although maybe not consistently in fantasy. We will have to wait and see how he develops. Those of you in dynasty leagues could do worse with a bottom-of-the-roster player. I was really excited to see a great performance from a guy I mentioned!
This week, we have a bunch more games to look at. Today, I will present a player to watch on every team (except the Colts) in every game this week. Some are big names you will recognize. Some are lesser-known dudes that I think just need a chance.
Texans at Panthers
D'Onta Foreman - Texans RB #27: Everything in the world has gone wrong for this cat since he was drafted. Now hopefully we get to see what he can do on the field. I am a firm believer that he is talented enough to eventually unseat Lamar Miller. Am I crazy or does he have a chance? If Foreman gets a bunch of carries, that is probably bad news. I am hoping Foreman gets just a few carries in the first half, makes some noise and then takes a seat.
Russell Shepard - Panthers WR #19: Shepard has garnered a ton of hype in camp. There has been a whole bunch of talk about how good he has been in practice. Is that more than just camp talk? There isn't going to be a lot of value to be had in this offense, so if Shepard is for real, that makes less room for Curtis Samuel and Christian McCaffery to be standout contributors.
Falcons at Dolphins
Justin Hardy - Falcons WR #14: The most talented wideout you don't know is hiding in Atlanta. Can he finally make a move up the depth chart there? Well, probably not. However, Hardy could be worthwhile with an injury or two in front of him. Does he still look like the same guy as I saw coming into the league in 2015? We'll see.
Jay Cutler - Dolphins QB #6: Obviously, we won't see much of Cutler, if we see him at all. That doesn't mean I'm not watching him though. Is he in shape? Does he look like he has command of the offense? How is he meshing with the team? This has to be the story of this game.
Vikings at Bills
Bucky Hodges - Vikings TE #84: I should say running back Dalvin Cook here, but he won't see enough time to give us a good look. Hodges, for some reason, has ZERO hype and zero Rotoworld blurbs during camp. He is 6 foot 6, 257 pounds and runs a 4.57 40-yard dash. I want to see how that translates on the field. Hodges is another sneaky-good pick in the late rounds of a dynasty league.
Zay Jones - Bills WR #11: Everything on Jones in camp has been positive, yet the Bills just signed Anquan Boldin. The question is this: Will Jones matter in fantasy this year? I think he could be the best WR on the roster, even including Sammy Watkins.
Redskins at Ravens
Samaje Perine - Redskins RB #32: This one is pretty obvious to me. I don't think Rob Kelley can hold him off for long. Samaje will have to earn it in camp though. A good game here is a good start to moving up the depth chart.
Michael Campanaro - Ravens WR #12: I have been waiting for this guy to do some damage for what seems like 100 years. He has been on IR a bunch of different times and never has really had any significant production. Yet, Baltimore keeps him around. Is this the year he breaks out?
Jaguars at Patriots
Brandon Allen - Jaguars QB #10: Allen may be the backup to Blake Bortles by the end of camp. That is a position that will matter sooner rather than later. Allen isn't that good, but Bortles threw a ton of TDs to Allen Robinson while not being very good either.
Rex Burkhead - Patriots RB #34: Rex is a weapon just waiting to be unleashed. I'm watching his usage and looking for clues into what could happen with him this year. Bill Belichick probably won't show us much, but we can hope.
Eagles at Packers
Nick Foles - Eagles QB #9: Here's the best non-starting QB in the league. Foles isn't going to unseat Carson Wentz, as everyone has declared. But hopefully Foles will play his way into an offseason open competition.
Brett Hundley - Packers QB #7: I guess I am watching two QBs in this game. I think both have the ability to be starters in this league. Hundley is basically Dak Prescott without the chance to show it. Can he get himself traded to Jacksonville? Can he earn a starting job somewhere next year?
Saints at Browns
Ryan Nassib - Saints QB #2: Three consecutive QBs on my list?  I guess perhaps that position might matter! Nassib has almost no shot to stick on the Saints' roster behind coach's pet Chase Daniel and wasted draft pick Garrett Grayson. Can Nassib play himself onto someone else's roster? I hope so because I love his talent.
David Njoku - Browns TE #85: Does he get the starters treatment or is he going to have to earn it? If he plays, how will he be used? Are his reported issues with drops visible?
Broncos at Bears
Kyle Sloter - Broncos QB #1: You've never heard of him? That's because you aren't from Colorado. There are whispers that this kid may be the best QB on the roster. Can he show enough to convince the Broncos to use a third roster spot on him? Can he make some magic happen in order to get a chance at starting? Stranger things have happened, like when this Trevor Siemian kid played himself into a starting role last year.
Adam Shaheen - Bears TE #87: Can he play well enough to send Zach Miller off the roster? I know almost nothing about Shaheen other than what I was told once he was drafted. I am excited to see what's here.
Steelers at Giants
JuJu Smith-Schuster - Steelers WR #19: Left him off my rookie list on purpose (because he's not very good), but here is a chance for JuJu to prove me wrong. I don't think he will, however.
Davis Webb - Giants QB #5: I am probably more excited to watch Webb than anyone else this weekend. I think he is already the best QB on this roster. There is obviously no chance he unseats Eli Manning this year, but if he can show something, he might get that chance next year.
Buccaneers at Bengals
O.J. Howard - Buccaneers TE #80: I assume that we won't get much of a peek at the rookie, but I want to see if he is used with the first-teamers. If so, that might be a sign that he could be a TE1 this year.
Joe Mixon - Bengals RB #28: Reportedly No. 3 on Cincy's running back depth chart, Mixon is going to have to earn his role. Can he do enough to be the starting tailback by Week 1? Bengals fans better hope so.
49ers at Chiefs
Trent Taylor - 49ers WR #81: Taylor probably won't beat out Jeremy Kerley for the starting slot role this year, but if this offense can become Falcons-esque in a few years with Kyle Shanahan's guidance, Taylor could be the guy manning slot for that team. I haven't seen much tape on him, so this is a good chance to find something new.
Patrick Mahomes - Chiefs QB #15: Most of what I want to see from the Chiefs involves their starters. That being said, Mahomes needs a good camp to have any shot at replacing Alex Smith by the end of the year. I really don't think that will happen, but he is obviously the future.
Titans at Jets
Taywan Taylor - Titans WR #13: This is probably the worst spot for Taylor. I don't see any way he is fantasy-relevant this year, but next year, I expect him to play a major role. Here is his opportunity to show everyone why he matters.
Robby Anderson - Jets WR #11: The Jets' de facto No. 1 WR is reportedly having a rough camp. I already had this guy pegged as a sleeper before Quincy Enunwa's season-ending injury, which just makes Anderson's opportunity even bigger. I'm not sure he can handle the pressure, but we are going to find out.
Cowboys at Rams
Rico Gathers - Cowboys TE #80: Obviously, I am going to be watching if Rico can repeat his performance from the Hall of Fame game. As a bonus, I am also hoping we get a chance to see what wide receiver Ryan Switzer can do.
Cooper Kupp - Rams WR #18: I firmly believe Kupp will be the Rams' No. 1 WR this year by a good margin. If so, he should pop off the screen in this game.
Raiders at Cardinals
Cordarrelle Patterson - Raiders WR #84: Does he get some work? Does he look better than Seth Roberts? Patterson is another one of my favorite sleepers this year, but he needs to shine in the preseason. 
Kerwynn Williams - Cardinals RB #33: Let's hope Williams doesn't experience the same fate that befell his teammate T.J. Logan, whom I mentioned in my Hall of Fame game article. This offense is obviously all about David Johnson. That means the preseason is all about finding Johnson's correct handcuff.
Lions at Colts 
Dwayne Washington - Lions RB #36: My super sleeper of the year (thanks, R.C. Fischer!). Washingon has to beat out another pretty good back in Zach Zenner in order to matter. That starts by blowing up the preseason. I predict a HUGE game from Washington as he starts to make his move behind Ameer Abdullah.
Kenny Golladay - Lions WR #19: A bonus Lions' player for you. It's my column; I can cheat if I want. I don't know much about Golladay. I really haven't gotten a chance to see him play before. However, he reportedly has been awesome in camp and is on track to grab the No. 3 WR role. Do we get to see why in this game?
Seahawks at Chargers
Trevone Boykin - Seahawks QB #2: Can Boykin keep the Seahawks from signing Colin Kaepernick? Boykin has reportedly been struggling throughout camp. That is a bad sign if you don't want your job taken away.
Cardale Jones - Chargers QB #5: I expect Jones to leapfrog Kellen Clemens for the No. 2 QB spot here. However, he needs to practice and play better when given the chance. Passing Clemens could be easy. Philip Rivers is old and will likely get hit a lot this year. Will we get a chance to see what Jones can do?