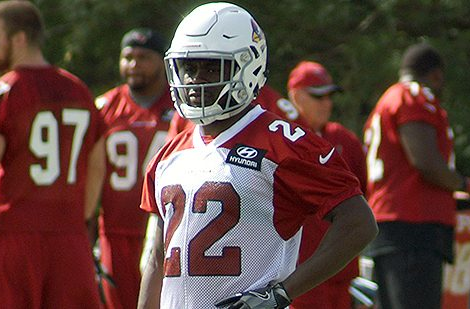 Written by Josh Rabbitt
02 August 2017
Do you realize we are only a few days away from actual football being played? Most people laugh at preseason games, but to me, you can always learn something from these games. No, we aren't going to learn anything about your first-round pick. However, we can learn quite a bit about some deep dynasty sleepers. As a lover of all things dynasty related, consider me all-in. Let's take a look at three guys per team I'll be watching Thursday.
Arizona Cardinals
1) T.J. Logan - RB, #22: This is probably the #1 guy to watch this week. Is he going to carve out a real role behind David Johnson? Can he show enough to be the primary backup ahead of ancient Chris Johnson? This is the most important fantasy football question no one seems to be answering. Logan has great wheels (4.37 40-yard dash) but questionable size and strength. If DJ gets hurt, will this situation end up in a committee? If so, neither backup RB, in my opinion, will have value. I will be focused on how Logan runs inside and handles pass protection. If he can do those things even marginally well, he should beat out old man Johnson for the backup role. My guess is Johnson, unfortunately, won't be able to hold up.
2) J.J. Nelson - WR, #14: I think J.J. is simply a better WR than John Brown. I am watching this year to see if he can take his game to another level and grab that #2 role. Someone needs to take some of the passing game volume away from Larry Fitzgerald, and JJ is the only guy who I think could do. I don't know how long he will be on the field Thursday; I'm hoping he is not considered a starter yet so we will get to see him do some work.
3) Chad Williams - WR, #16: I don't think he is very good. What I have seen of him hasn't impressed me. When I watched him in practice, I saw the same things: Big, slow body; maybe a guy who is just a red zone threat but who doesn't see the ball much otherwise; a No. 4 or No. 5 WR at best. Given his character concerns as well, I just don't think he is going to amount to anything in the NFL. I am looking to see if I am wrong here. I will be watching to see if he can create any separation at all.
Dallas Cowboys
I am super disappointed that wide receiver Ryan Switzer won't be playing as I really wanted to see if he looks as good as in-game as what I've seen from him in practice. Since we can't have nice things, I am going to be watching for a few other Cowboys.
1) Rico Gathers - TE, #80: Jason Witten is like 10,000 years old. Gathers is just a raw ball of clay after not playing college football. His 6-foot-6, 270-pound frame with pretty decent athletic scores for a big man has me just drooling. The TE position in the NFL has been a wasteland in recent years. Could Gathers join this year's excellent draft class as the group to transform it? Eventually he is going to have to put something on tape. Hopefully he can start in the HOF game. I am keeping tabs on his route-running more than anything else. It will be a difficult task for him to master.
2) Ronnie Hillman - RB, #37: Alfred Morris is apparently in trouble. If he gets released, someone other than Darren McFadden is going to have to step up and take his backup spot. Hillman may be the only real candidate to do so. Hillman's fall from grace happened in a hurry. After flaming out in Denver, he bounced around between San Diego and Minnesota last year without really doing much on the field. Still only 25, I wonder if Hillman is going to make the most out of this chance or if he is going to flame out. This might be of some interest to Ezekiel Elliott owners as the handcuff situation here appears to be as unsolved as Zeke's possible suspension.
3) Chidobe Awuzie - CB, #33: First of all, I know most of you don't play in IDP, but I don't care about this. Secondly, I am probably fooling myself into thinking Awuzie will get any significant reps. However, this is a guy who scout extraordinaire R.C. Fischer of Fantasy Football Metrics is all over. Awuzie could be a game-breaker wherever he lines up. Does the hype match his play? I'm not sure if I will get a chance to see, but I sent a note to Jerry Jones asking real nicely if he could play a quarter or two.