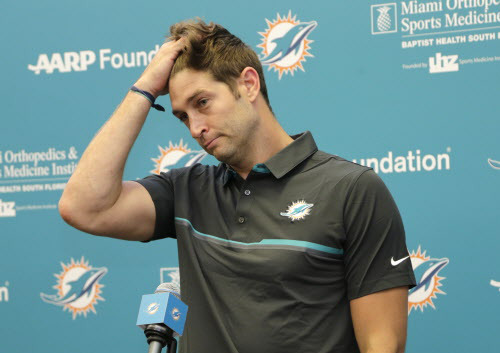 Written by Brian Murphy
10 August 2017
Dolphins sign Jay Cutler
This occurred over the weekend but I think it's still the top story of the week in fantasy football. The Dolphins brought in Cutler to torment their fans replace Ryan Tannehill, whose season may already be over after he re-tore the ACL in his left knee for the second time in eight months last week. A lot has been made of Cutler's relationship with Dolphins head coach Adam Gase since the latter was the former's offensive coordinator while with the Chicago Bears in 2015. Cutler threw for 21 touchdowns, more than 3,600 yards and 11 interceptions that year. Those are strictly fine numbers, but it shouldn't lead anyone to believe that Gase is a miracle worker. The 11 picks are Cutler's fewest in a season which he played more than 10 games, but the 34-year-old Vanderbilt alum remains a fairly low QB2 in an offense that should be carried, almost literally, by Jay Ajayi. Since Tannehill isn't great shakes either, I don't think this drastically changes the fantasy values of Miami's top wideouts. However, I'd be foolish to ignore the deep-ball potential between the gunslinger Cutler and uber-athletic youngster DeVante Parker. That will be something to watch.
Andrew Luck update: Week 1 status officially in jeopardy
Colts general manager Chris Ballard acknowledged Wednesday that Luck's status for the team's season opener on Sept. 10 is to be determined. The reality for such an announcement has been building for a while as multiple news outlets and even Luck himself have recently expressed uncertainty about his chances of playing in Week 1. Luck is coming back from offseason right shoulder surgery. Fantasy owners should proceed cautiously with him in drafts and expect Luck to miss at least one game. My latest QB rankings take that into account as I have moved Luck down to fourth. I placed him second at the position back in June. This story will be an NFL News Roundup staple for weeks to come.
Jets WR Quincy Enunwa suffers season-ending neck injury
If it wasn't for bad luck, the Jets would have no luck at all.
Enunwa suffered a neck injury during a scrimmage last weekend and has already been placed on injured reserve. Robby Anderson is probably the team's No. 1 wideout now, at least by name. Not that it really matters; Anderson and tight end Austin Seferian-Jenkins are worth late-round fliers but other than running back Bilal Powell, there is not a fantasy commodity here who needs to be on your draft board. It's a sad state of affairs for the J-E-T-S. 
Emptying the injury notebook
Fortunately, none of the guys below have ailments that give me as much dread as what's going on with Luck and Enunwa.
Currently, Panthers QB Cam Newton (shoulder), Titans RB DeMarco Murray (hamstring), Raiders WR Amari Cooper (leg), Titans WR Corey Davis (hamstring), Patriots RB Mike Gillislee (hamstring), Chiefs TE Travis Kelce (knee), Rams WR Tavon Austin and Redskins WRs Jamison Crowder (hamstring) and Josh Doctson (hamstring) are all currently dinged up. Lots of hamstring injuries on that list, which tells me that some players are using camp to still get in shape. That's fine. All of these players aren't in any imminent danger of missing regular-season games. I'm slightly worried about Newton's shoulder since it was surgically repaired during the offseason, but it was reported Tuesday that he was feeling better.
On the bright side, Vikings RB Latavius Murray was activated off of the camp PUP list this week. He had an ankle operation in March.
Dolphins WR Jarvis Landry being investigated for domestic violence
Although Landry and his ex-girlfriend have both denied the claims -- she said someone other than her called the police to come to the residence where she and Landry were arguing in April -- the Broward State Attorney's Office is looking into the incident, and you can bet the NFL will do the same. We'll see what comes of those investigations, if anything. Landry owners shouldn't be too worried right now.
Tom Brady looking often for TE Dwayne Allen in the end zone
Because it's about time the Patriots gave Brady some decent receiving weapons. Ah-hem. 
According to the Boston Globe's Ben Volin, Brady has looked for Allen "a ton" during red zone drills in camp. I don't want to overstate camp happenings; a lot of people read too deeply into these types of things when, in the end, there's really nothing there. But nearly 20 percent of Allen's receptions since the start of 2014 have ended up as TDs. He's a huge target at 6-foot-3, 265 pounds and with Rob Gronkowski's extensive injury history, Allen is a wise deep sleeper to consider.
Steelers WR Martavis Bryant cleared for preseason action
We're still waiting for Bryant to be reinstated to play in games that count, but that'll come as long as he stays on the straight and narrow. You can still grab him in drafts as a WR3, but he's really a high-upside WR2.
Browns RB Duke Johnson getting love for his receiving skills
Browns wide receivers coach Al Saunders said Tuesday, via the Akron Beacon Journal, that Johnson catches the ball as well as any wideout on the squad. The Duke caught 61 and 53 balls over his first two NFL seasons, respectively. Maybe he won't be as productive in the flat as David Johnson or Le'Veon Bell, but Duke Johnson's receptions total could be right behind theirs by the end of the season. There's a lot of PPR upside here and even in standard formats, I would love to have Johnson as an RB4. Browns coaches have talked multiple times this offseason about getting him more involved. Let's see if they follow through on that.
This could also serve as some veiled criticism of Corey Coleman and Kenny Britt by their position coach.
Bills add WR Anquan Boldin
Do you like wide receivers who can haul in 60-65 passes for maybe 800 yards and a handful of scores? Well, Boldin is back yet again to satisfy your hankering. The 36-year-old (!!!) signed a one-year deal with the receiver-needy Bills on Monday. He will inevitably create some value as a bye-week replacement for PPR enthusiasts. However, you can pass over him in standard drafts.
And finally, depth charts in August
Simply, they don't mean much right now so don't waste time trying to dissect them. Case in point, the Saints listed wide receiver Ted Ginn as a starter ahead of Willie Snead on their initial depth chart. And in L.A., the Rams' chart lists third-round rookie Cooper Kupp as a starter. He is a prototypical slot receiver, but his "starting" status probably has a lot to do with Tavon Austin being currently injured.
As far as the Saints go, Snead has also been somewhat limited by minor injuries lately. If this depth chart listing causes anyone out there to choose Ginn in front of Snead in a fantasy draft, I'll just say you are helping your competition more than yourself. Many players' placements on depth charts will be shuffled throughout the month. There's a reason why this tidbit is at the very bottom of this column.
You can follow, ask fantasy questions and yell at Brian on Twitter: @Spokes_Murphy