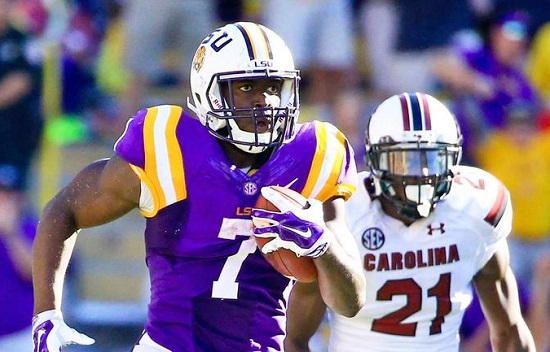 With pre-season starting, ASL has updated its 2017 dynasty league rookie rankings and here are the latest updates for online sports betting for the 2017 NFL season. Leonard Fournette remains ASL's writers #1 pick, but for most rookies, we have a broad set of views. We believe our consensus ranking is optimal for helping you navigate your dynasty rookie draft.
Also see ASL's top-20 QBs, top-50 RBs, top-50 WRs, and top-20 TEs.
1. Leonard Fournette - RB, Jacksonville Jaguars
Josh Rabbitt's #1: A majority of the credit for my picks once again comes from RC Fischer at Fantasy Football Metrics. If you play in dynasty leagues and don't buy this product, you are throwing money away. Fournette is the crown jewel of this year's dynasty draft. However, he is slipping to #2 or #3 in upwards of 40% of dynasty leagues. Don't be that guy. If you have the 1.1, take him with authority. He is the same guy as Todd Gurley. Why is he slipping then you ask? Well it's because he is in a similar situation to Todd Gurley. The Jags suck. Blake Bortles is terrible. Fournette isn't walking into a line like Dallas has where he is going to dominate from day one. However, the good news is he is going to get 20 carries a game, and probably have a few passes sprinkled in. Don't get cute. This is your guy.
Brian Murphy's #1: I'm still worried about Fournette's apparently chronic ankle problem. But as I said in my pre-draft rankings, he is the easy call at No. 1 if he stays healthy and fulfills his his potential. Let's hope the Jaguars put a good offensive line in front of Fournette.
John Adams' #2: Fournette isn't going into an ideal situation in Jacksonville, but his power and talent still makes him one of the top rookies in this year's draft. Fournette is going to be the centerpiece for the Jags as Jacksonville shifts to a run-heavy offense. Despite the downside of the Jaguars offensive line, Fournette is going to get the ball again and again.
AJ Schreiver's #2: The guy is a beast, but Jax's offense is in transition. Hopefully they are smart and lean on Fournette to ease the pressure off Bortles.
Daniel Brown's #2: Fournette remains at #2 despite the news of the retirement of Albert. I think in the long run Fournette will have a solid career and Jacksonville seems like a good spot for his power running style. In addition he appears to be showing that he is adept at catching passes out of the backfield, which in a PPR league gives added value to a running back. The gap between him and McCaffrey is a small one, so if you are faced with the #2 pick in your rookie draft I would not fault you for taking McCaffrey here.
Chad Samuels' #2: He's big and strong, and runs mean. He did not play all thirteen games the last two seasons at LSU. He should produce in the NFL but am concerned the injuries will continue.
2. Corey Davis - WR, Tennessee Titans
AJ Schreiver's #1: I believe he is a lock here at 1 with the least amount of questions and concerns. He should be able to grow with Mariota for a long time.
Daniel Brown's #1: Davis remains my #1 pick and the margin between him and Fournette probably grew a little more with the news this week that Branden Albert retired. In addition the signing of Eric Decker, in my mind, adds value to Davis as it potentially takes away #1 defensive backs who will need to focus on Decker which should free Davis up for some great fantasy matchups.
Chad Samuels' #1: He's got college production, draft pedigree, talent and a quarterback. Mix in that first round wide receivers have the best success rate to at least return one season of starter production and Davis is my number one overall pick.
Brian Murphy's #2: Davis might be the Titans' No. 1 wideout this season. He will be their No. 1 wideout for many years afterward.
John Adams' #5: Rookie receiver Corey Davis has seemingly overcome a preseason ankle issue and is practicing with the first team in Tennessee. Playing alongside the newly acquired veteran receiver Eric Decker while catching balls from Marcus Mariota is an ideal situation for Davis.
Josh Rabbitt's #6: I actually like my second WR as much as I like my first. Another reason why I'm comfortable trading down. Davis is a great WR talent. However, he enters a crowded passing game that was #28 in passing attempts last year. I am predicting (like everyone else) an uptick in this, but you still wonder about the potential ceiling for Davis, at least in the short term.
3. Christian McCaffrey - RB, Carolina Panthers
John Adams' #1: I flip-flopped my first and second ranked dynasty players in the last month. I was suffering from the herd mentality when I originally ranked Leonard Fournette as the best dynasty option coming into the 2017 season. I think either player is a welcome addition to any fantasy team, but because of his versatility, (running and catching) I give Christian McCafferey a slight edge over Fournette. McCaffrey may not be the best fit for Carolina, but he is a top-notch playmaker who has all the tools to become a heavy hitter on a team that it short on talent.
Josh Rabbitt's #2: For all of you who tuned in to see my ranking go insane and blow me up on Twitter, you are probably disappointed that I went chalk with my first two picks. Don't worry, the craziness is coming. I'm not going to talk much about McCaffrey. He is a good back. He will probably catch a lot of balls. However, the talk of him waltzing in and being a god are oversold. He isn't going to completely revolutionize the game. Especially not playing with Cam Newton who throws the ball in the short game about as accurately as I do. I don't' actually think you should take McCaffrey here. I think you should sell this pick. Preferably trade back to about 1.07/1.08 and pick up one of the hugely underrated dynasty guys out there right now. Think Tyrell Williams or Quincy Enunwa. Heck, trade the pick all together and get Tyreek Hill. Trade for the 1.07 this year, and a 1 next year. That is going to be my advice for every pick after this as well. Trading in lotto tickets for more proven commodities is all upside. You never know when you are going to get the next Bishop Sankey with your draft pick.
Brian Murphy's #3: How will the Panthers use him this year? We'll find out, but he should become their lead running back -- and a major PPR asset -- before long.
Daniel Brown's #3: McCaffrey moves up from 4 to 3 in my rankings due to the hype coming out of Carolina Camp and the videos posted on line, including today where he turned Luke Kuechly inside out multiple times. He appears set for a big role especially in the passing game and as a result he moves in front of Dalvin Cook primarily due to the likelihood of immediate impact.
AJ Schreiver's #4: I like CMC over Cook for PPR and he has a defined role standing next to Cam.
Chad Samuels' #5: He's talented but light weight-wise. He has intangibles. I think Carolina will have to scheme him touches. How many touches will he really see? He's an avoid player for me.
4. Joe Mixon - RB, Cincinnati Bengals
AJ Schreiver's #3: Mixon is ready to contribute right away. Hill is in the final year of his contract and Bernard won't be an every down back for the future.
Chad Samuels' #3: MIxon is talented and still was drafted day two with all of his off the field problems. He should win playing time early. Bet on the talent and draft him three overall.
Josh Rabbitt's #4: Another chalk(ish) pick here. Mixon is a very talented RB. He has an easy path to carries (even though a few years ago most dynasty pundits were telling you to draft Jeremy Hill). The concerns here are with the Bengals offensive line. I'm not that worried about Mixon as a guy. I don't condone what he did, but I hope he has learned from his mistake and will use his stardom for good. On the other hand, I thought Johnny Football was just a kid having a good time.
John Adams' #4: Joe Mixon is another uber-talented raw rookie who can't seem to keep it together off the field. I think Mixon carries slightly more risk than Cook because of what has been described a hair-trigger temper. Mixon has all the skills to make him an amazing back, but the NFL has an image problem and this volatile rookie is under the microscope.
Brian Murphy's #5: As long as he stays out of trouble and as long as the Bengals improve their O-line soon, Mixon has more than enough talent to be a fantasy star. He should be no worse than No. 2 on Cincy's depth chart this season.
5. Dalvin Cook - RB, Minnesota Vikings
John Adams' #3: So far, Dalvin Cook is flying under the radar in many fantasy drafts. It's certainly not a lack of talent that has fantasy owners steering clear, but they may not believe that this troubled rookie can fly straight. However, I think the change of scenery to the Twin Cities will do this kid a world of good and his talent will speak for itself.
Brian Murphy's #4: Latavius Murray kind of kills his 2017 buzz, but Cook should transition into being the Vikings' three-down lead back in a couple of seasons.
AJ Schreiver's #5: I still love Cook's abilities coming out of FSU. He may take a year or two with Murray there, but the kid has talent.
Chad Samuels' #6: Dalvin Cook hits a wide open depth chart but is well under 220 lbs. Vikings didn't solely use lightweight Jerick McKinnon when AP was hurt. They sprinkled in Matt Asiata. He may lose goal line touches.
Josh Rabbitt's #18: Here you go boys and girls. Most people's #2 or 3 RB clocks in at number 18 for me. Twitter, light me up! Honestly I simply don't see what everyone else sees here. Dalvin Cook simply isn't that good of an athlete. He also happens to play at the position where pure athleticism matters most. Dalvin Cook was a 9th percentile NFL athlete. That is scary bad. Cook had a 7.27 3-cone drill and a 4.53 shuttle drill. Garrett Bolles (offensive tackle) had a 7.29 3 cone and 4.55 shuttle drill. Those numbers are just staggering. Maybe I'm not as smart as some of the experts out there, but you sure hope your running backs agility scores are better than your tackles. Sure Cook is fast. But running really fast into the backs of your offensive line hasn't ever really worked in the NFL. If there is a nice clean hole, I'm sure Cook can run through it for a big gain. Unfortunately the Vikings weren't real great at making holes last year. Ask Adrian Peterson. I do think the Vikings will have better o-line play this year, but I think that is offset by having to split carries with Latavius Murray, and passing down work with Jerick McKinnon. I know I will never get Cook at #18. I also would probably be just drafting him to trade him at this position.
6. O.J. Howard - Tampa Bay Buccaneers
Josh Rabbitt's #5: Howard is very good. Great tight ends are a rarity in our league. This mitigates the slow starts TEs usually have in the NFL and lets me be pretty comfortable taking him this high. Long term I am very concerned as I think Jameis Winston is a terrible QB. However, I think that much like Mike Evans is good enough to overcome it, OJ will be as well. OJ is one of the reasons I love trading down to 1.07/08 when I have higher picks.
John Adams' #7: If a Dynasty owner is looking for a tight end, O.J. Howard is the man. It takes TE's a while to develop in this league, but he will be worth the wait. Big target, big guy and great hands for a quarterback like Jameis Winston who needs a second option in the end zone.
Brian Murphy's #7: You think Jameis Winston is happy? All he needs to do for the next decade is chuck it up to either Howard or wide receiver Mike Evans. They will be taller than all of their competition. Howard being a TE1 in fantasy in 2017 is not a stretch.
AJ Schreiver's #9: Like Engram, Howard impressed at the combine but I have concerns about his limited use in college, coupled with limited targets due to a talented receiver group and Cameron Brate who showed a lot of promise last year. 
Chad Samuels' #14: He will be drafted much higher than my spot at 14th overall. I think he is going to give average returns at TE at best. The average starting dynasty TE has prototypical traits…
7. Samaje Perine - RB, Washington Redskins
Josh Rabbitt's #3: Yes, I would rather have Samaje than Mixon, Davis, Cook, or anyone else who you want to put in this list. He is just as talented as Mixon, and only has Fat Rob Kelley in front of him for carries. Samaje should be the lead back right away, or worst case within the first few weeks. He also has the advantage of ending up in a potentially great offense with Washington. This is one of the few guys whose landing spot I loved. Samaje is usually available at 1.07/08, and is a great reason to trade down a high pick.
John Adams' #6: Samaje Perine is the biggest mover I have from my original Dynasty Rankings that I posted back at the beginning of May. I think Perine may be one of the most pleasant surprises of the year in the NFL. The Redskins had one of the worst running games in the league last year due to a lack of talent at the position. Perine is a raw power runner who represents a changing of the guard in the Washington rushing attack.
AJ Schreiver's #10: Jay Gruden loves to establish the run, Perine loves to run. This position battle is up for grabs this season and Perine is capable of taking control of that job.
Brian Murphy's #14: Another kid who might -- should -- start this season. His main competition is Rob Kelley, a man who is liked by the Redskins' coaches, but a man who was also an undrafted free agent one year ago.
Chad Samuels' #15: Perine has a real starting opportunity in Washington. I would have ranked him higher than 15 if he had been drafted on day two and not day three. Draft pedigree is against him to be a long term answer at RB. I think he is talented enough to break that trend but I can't justify round one status in rookie drafts. Unfortunately that is where he is being drafted.
8. Zay Jones - WR, Buffalo Bills
Josh Rabbitt's #8: Zay is another ignored talent trading in the second round. Zay Jones was among the most talented WRs in this class. He landed in what at first glance looks terrible with the awful Buffalo Bills passing game. However consider these two things for the future. #1 Sammy Watkins is a free agent at the end of the year leaving a gaping hole at WR with the Bills. #2 The Bills traded up to get him. I think they see him as their #1 for a good deal of time. Oh by the way, there are already a ton of stories out there about him blowing up camp.
John Adams' #8: The Bills moved up to snag Zay Jones in the second round and they really like what they see. This rookie has size and speed and the coaching staff is still trying to find something he doesn't do well. All that stands between this versatile rookie wideout and the top receiving spot in Buffalo is the injury-plagued Sammy Watkins, who has not played a full season since his rookie year in 2014.
Brian Murphy's #10: I'm very optimistic about Jones. The Bills need wideouts and will probably lose Sammy Watkins after this season. Nobody on the roster has his blend of athleticism and soft hands.
AJ Schreiver's #11: I'm a big fan of Zay who catches everything - he dropped only 3% of balls his way. With the Bills non-committal to Watkins, Zay has a future in Buffalo if they can find a way to just throw the ball close to this guy.
Chad Samuels' #12: Let's see if the Bills passing game is less dysfunctional in 2017. Often a receiver's production is tied to their QB. How elite is Tyrod Taylor? Do we really expect the Bills to actually draft an elite QB? I think his ceiling is capped. I also think owners drafting him high, expecting top returns, will be disappointed.
9. Evan Engram – TE, New York Giants
AJ Schreiver's #8: Evan has a ton of athleticism out of Ole Miss where last year alone totaled over 900 yards and 8 TDs. Lots of footballs to go around for this Giants team this year, but Engram should be an annual Pro-Bowler in years to come.
Chad Samuels' #8: Evan Engram is not your prototypical TE. He will be out on routes more often than not. He shouldn't arrive in 2017 but should give you many years of production.
Josh Rabbitt's #10: Like everyone else in the world, I am going to tell you Engram is a Jordan Reed clone. He is just a big WR who we get to classify as a TE. I'm worried about the number of targets to go around in the Giants' offense, but the upside here is worth the risk of a late #1 pick.
John Adams' #12: The Giants didn't burn a first round pick to let Evan Engram warm the bench. New York took Engram to give Eli Manning a viable tight end to work with. Even though he's a rookie, Engram should get his shot this season. The Giants haven't had a potential top flight tight end since the days of Jeremy Shockey.
Brian Murphy's #13: The tight end hasn't been a big part of the Giants' offense recently. But they haven't had a tight end like Engram since Jeremy Shockey. And Engram is more athletic.
10. Mike Williams - WR, Los Angeles Chargers
Chad Samuels' #4: Mike WIlliams is talented but not fast. His back issues should cause him to slip in rookie drafts He's a value. Keenan Allen can't stay healthy so there is room for production in LA. I like Williams In the four to six overall range of rookie drafts. Williams is my target If he is not there I am trading back.
AJ Schreiver's #6: Rivers wants to play till 2020, and he thrived with a big wideout when Vincent Jackson was around. If it's a dynasty league, Williams is still a great option.
Brian Murphy's #9: I know this is a dynasty ranking, but the possibility that Williams might not play at all this season due to a back injury is now real. That can't be good. Plus, the Chargers have a bevy of young, talented receiving targets in front of him. However, his size should make him a difference-maker in the future.
Josh Rabbitt's #21: Mike Williams is okay. He has the makings of an okay redzone/jump ball threat in the NFL. However, the fact that he was the #7 pick in the draft is a joke. He isn't even the best "Williams" at WR on his own team! Why are we excited here? That was even before the back injury scare. I don't know what people were doing all summer drafting this guy in the top 6 of rookie drafts. Now I don't know what to think about the dude. #21 may be too high, but at some point the Chargers are going to force him the ball to prove he was worth the #7 pick.
John Adams' #21: The Chargers' first round pick, Mike Williams, may need season-ending back surgery.
11. Kareem Hunt - RB, Kansas City Chiefs
Brian Murphy's #6: He might start as a rookie. Who's to say he won't own the job for years to come?
Daniel Brown's #7: Hunt is the big mover in my listing. He moves from 15 all the way up to 7 due to his explosiveness and his receiving ability out of the back field. Initially Hunt was lower on my listing because of the competition he faces to earn a starting spot, however the release of Maclin and the expectation that he will become the starter at some point this season sees him shoot up my rankings into the first round of rookie drafts.
John Adams' #11: It would be safe to call Kareem Hunt one of the most critical handcuffs in fantasy football coming into the 2017 season. For now, Spencer Ware is the starter in Kansas City, but whether or not he can hold off Hunt is another story altogether. Ware has struggled with injuries and Hunt has the skillset to be much more than just a backup if the starter goes down.
AJ Schreiver's #13: Andy Reid has been quoted saying he is a big fan of Spencer Ware, but I expect Hunt to take West's spot as the number 2 be a contributor on this frequent contending team.
Josh Rabbitt's #14: Hunt is a great talent. His biggest problem? He simply isn't as good as Spencer Ware. I'm still a buyer, as he should see some time as a 3rd down back and can be a great handcuff to Spencer Ware. Next year, I expect Ware to move on and Hunt to take over the job.
Chad Samuels' #16: He's a day two pick. He also is just under the 220 lb threshold. He has a 4.62 second forty yard dash at the combine. There are no sexy names on the Chiefs roster at RB. I think that's what's fueling his first round status in rookie drafts. Let someone else reach for him in round one. I would let him slip to round two.
12. Alvin Kamara - RB, New Orleans Saints
Chad Samuels' #7: Kamara comes in light but will be asked to take on the PPR back role in New Orleans. He should maximize his touches and be productive. The Saints like to throw to running backs. I am not worried about a Brees' retirement as long as Sean Payton is there.
Brian Murphy's #8: I wonder how Kamara's fantasy value changes once Drew Brees retires. I don't think it will be for the better. Still, I ranked him eighth because he has real three-down capabilities, and those kinds of players aren't in great supply these days.
John Adams' #9: Most fantasy pundits are moving Alvin Kamara up in their fantasy rankings while I'm moving him down. Playing behind Mark Ingram and opposite Adrian Peterson is NOT an ideal situation for a rookie RB. It might him in the long run, but you should temper your expectations coming into the 2017 season.
AJ Schreiver's #15: Redraft- Don't take him this year. Dynasty- He would be a 1st rounder on my board. The Saints will look for every opportunity to replace Ingram, so just give him a year.
Josh Rabbitt's #17: I don't love the talent here. I once again don't see a special player. I also have huge questions about usage. Ingram and AP are going to get carries. Is Kamara going to see all the passing game work? I just don't see there being much value here. He could be a lead back or Theo Riddick type back in a few years, but I don't see that happening year 1 and would prefer guys with more talent for my lotto tickets. I think there is just as much chance for him to become a flash-in-the-pan and there is him becoming the next big thing.
13. David Njoku - TE, Cleveland Browns
Josh Rabbitt's #9: I admit I'm being quite blind to some major issues when it comes to David Njoku. He seems to have issues with drops. He wasn't that productive in college. He plays for the Browns. However I am going to bet on the 21 year-old who absolutely BLEW UP the combine. The football coach in me just drools at the thought of finding ways to get this guy the ball. I imagine they are doing the same thing in Cleveland. There are tons of bust risk here and it will probably take some time to realize his potential, but I am willing to embrace the upside.
Chad Samuels' #10: He's good enough that the Browns let go of Gary Barnidge post draft. I like what the Browns are doing. They will get it right and build an offense that works. I like Njoku to produce long term. He is a little raw and might need some seasoning.
AJ Schreiver's #12: Talent? Check. Team? No check. QB? No check. Stability? No check. Osweiler does love to force feed the TE but I doubt he lasts long. Browns haven't had a QB in 18 years… Well, go ahead and caulk it up for 19.
Brian Murphy's #12: It will probably take him a bit to be fantasy-relevant on a consistent basis, given Cleveland's issues at QB. But if they give Njoku a competent thrower of the football, he is going to be peppered with targets.
John Adams' #16: Browns tight end David Njoku is an intriguing option at tight end, but he's struggling through some growing pains at camp. Njoku is having some real issues holding on to the ball. So far, the coaching staff doesn't seem too concerned, but his ball security is something to keep an eye on.
14. John Ross - WR, Cincinnati Bengals
AJ Schreiver's #7: Ross will be great for best ball leagues (leagues that automatically generate a starting lineup based on best scores). I'm not sure if he can establish enough targets to be fantasy relevant for a few years.
Chad Samuels' #9: He's fast but small and has had injury concerns. He won't be a number one in Cincinnati until AJ Green leaves.. First round wide receivers hit more often than not so he should be ranked here. HIs 9th overall draft selection also indicates he should get a second chance if he fails with the Bengals. He is really a second round rookie pick for me.
Brian Murphy's #11: We know he has speed to spare and that gives him immense upside. However, Ross falls outside of the elite group of rookie wideouts for me because of his worrisome injury past.
Josh Rabbitt's #16: Ross is a first round NFL pick. He is a first round pick in most dynasty drafts. My question is why? I know why he is a first round NFL pick. He is really freaking fast. Why is he a first round dynasty pick though? He is almost certainly going to beat out Tyler Boyd for the #2 job with the Bengals. But when has the #2 WR ever mattered for the modern day Bengals? The Bengals' offense lives and dies with AJ Green.
John Adams' #24: Expectations were sky high in Cincinnati when the Bengals used their 9th overall selection in the first round to select Washington wide receiver John Ross. But Ross has been dealing with a shoulder issue ever since the team signed him and has still not been cleared to practice. The more time Ross misses, the harder it will be for him to build any kind of chemistry with Andy Dalton who already has plenty of mouths to feed in the Bengals receiving corps.
15. D'Onta Foreman - RB, Houston Texans
Josh Rabbitt's #11: I actually think Foreman is at least as talented as Joe Mixon. I had him much higher than this before his recent bonehead business with pot and a gun. I'm sure the "drugs weren't his" like he says (insert eye roll). Guns and drugs are a bad mix. Hopefully he was just a stupid kid making a mistake. The positive is potentially great offense if they can find a QB. You also have a weak runner in front of him with Lamar Miller. Before you blow me up on Twitter about thinking Miller isn't that good answer one question. When did you see Miller do something really special on the football field? Just once? Is there one? Then there are 50 RB's in the NFL just like him. I respect the carries Miller gets, but not the player that he is. I think one injury to Miller opens the door for Foreman to be a much better full time back.
Chad Samuels' #13: Foreman tested Negative for drugs and that is HUGE! He will replace Lamar Miller sooner than later. Teams don't draft day two running backs to sit on the bench. Especially 230+ lb ones. His ADP is much lower than my ranking so you can get him at a discount.
Brian Murphy's #18: Foreman is in a good spot to produce, but I probably ranked him too high in my pre-draft rookie list. He really needs to learn how to catch and pass block in order to be a big-time fantasy commodity.
AJ Schreiver's #21: Foreman has impressed even Lamar Miller in camp, but Foreman will be a project for the Texans. He does not have PPR upside but his size and speed were enough to select him in the 3rd round.
John Adams' #30: Talk about trending in the wrong direction! Texans third-round pick D'Onta Foreman is making a name for himself, but for all the wrong reasons. He was recently arrested for pot possession and the unlawful carrying of a weapon in Austin, Texas. He hasn't done jack at camp and he's a running back who can't catch a pass. It would take an eternal optimist to put their faith in this kid.
16. Marlon Mack - RB, Indianapolis Colts
Brian Murphy's #16: He's not the best prospect in the world, but once Frank Gore retires -- which I assume will happen before the next century -- the Colts' running back depth chart is unimpressive, and the door will be wide open for Mack to own the starting gig.
John Adams' #18: Frank Gore can't be effective forever, or can he? Colts rookie running back Marlon Mack gets a great chance in Indianapolis to learn from an all-star while racking up some significant playing time. He's starting camp as the 4th string running back, but should have little trouble surpassing the likes of Robert Turbin and Josh Ferguson.
AJ Schreiver's #18: If the Colts bland offense can find a way to use this guy he could be special. I assume they drafted him for a purpose but after all I don't understand anything Jim Irsay does.
Chad Samuels' #20: Marlon Mack is a 213 lb tweener who should see some playing time. I have been waiting for a Gore decline for a few years now. Mack may be the beneficiary of that decline. Keep in mind despite being on a team where he can earn reps early, he is still a day three running back selection. They normally don't break out for long.
Josh Rabbitt's #28: I just am not sold on Mack. I am not sure he is better than Robert Turbin. I am also not sure the Colts will even move away from running Frank Gore into the ground. He seems to defy Mother Nature and keep on ticking year after year. I understand the appeal, and this is why he makes the list, but you also might be very disappointed.
17. Curtis Samuel - WR, Carolina Panthers
Josh Rabbitt's #12: Samuel is one of the few guys in the NFL who can be a Tyreek Hill clone. Samuel was an absolute stud at Ohio State. I think that Samuel gets used really creatively and makes a ton of big plays. The fear with him is the same as McCaffrey. Can Cam get him the ball effectively? Samuel won't get the same push for touches as McCaffrey though. There is a ton of upside here. Well worth a late 1 early 2.
John Adams' #15: The Panthers' second-round pick, Curtis Samuel, is dealing with a second hamstring issue since joining the team. Samuel has a chance to shine in Carolina, but his hamstring problems are starting to worry the coaching staff.
AJ Schreiver's #20: How he is used in this offense will be key to his success or failure in fantasy terms. Outside of Kelvin, Cam only completed 33% of his passes to his other wide outs.
Brian Murphy's #23: Samuel is a jack-of-all-trades guy with great speed. I think of him as a gimmick player, a Tavon Austin-type who could go all the way every time he touches the ball. I just don't think he'll get many touches every week.
18. JuJu Smith-Schuster - WR, Pittsburgh Steelers
Chad Samuels' #11: He's got size and production in college and should at least flash in the NFL if you want to flip him. Landing in Pittsburgh and working from the slot is not a bad thing. Antonio Brown is 29 as well.
AJ Schreiver's #14: Well, JuJu is a wide receiver from USC, should that scare you? If that doesn't, then does the loss of Big Ben in the near future? Not saying he doesn't have 1st round talent but buyers beware on short term success of this young stud.
Brian Murphy's #17: As with Alvin Kamara, I'm a big fan of his talent, but his quarterback is getting near the end of the line. Life after Big Ben is probably going to be rough for Steelers receivers.
John Adams' > #30: Steelers' rookie JuJu Smith-Schuster is getting far too much love from fantasy pundits coming into the 2017 season. We are talking about a receiver who is the 4th or 5th option for the aging Ben Roethlisberger. The Steelers are stacked with receivers like Antonio Brown, Martavis Bryant, Sammie Coates and Darrius Hayward-Bey. Unless one of these top 4 receivers goes down with a season-ending injury, I see no reason to rank this rookie anywhere in the top 30.
19. Cooper Kupp - WR, Los Angeles Rams
Josh Rabbitt's #7: Much like Samaje, this is where I really start to get different than others. Kupp isn't as talented as Corey Davis. He isn't as talented as Zay Jones. He isn't even as talented as Taywan Taylor. He is, however, light years more talented than future bust Mike Williams. Why do I have Kupp ahead of those cats then? It's pretty obvious. The Rams' WR depth chart is as barren as the Browns' Lombardi trophy case. Kupp should be the odds on favorite for top rookie WR stats this year instead he is trading in the second round. If you trade your #1 away, you can still snatch value like Kupp in round two.
Brian Murphy's #22: I like him more than the Rams' other wide receiver draft pick, Josh Reynolds, because he does a lot of short-range work and should be a nice safety blanket for Jared Goff.
AJ Schreiver's #26: Kupp could be a reliable target for Goff to grow with but I think we will find out a lot about him during the preseason when all the Rams young receivers sort themselves out.
Chad Samuels' #26: Kupp is a very productive small school special. He is a high floor play on a Rams team that needs playmakers. Goff needs to emerge for him to realize value.
John Adams' #27: Rams rookie wide receiver Cooper Kupp has a legitimate shot at making the starting roster for the Rams mostly because Los Angeles doesn't have any depth of talent at that position. Kupp has pretty good hands, but with 4.62 speed, he's very slow by NFL standards. Another striking drawback is his quarterback, Jared Goff, who can't seem to complete a pass even when there is NO pressure around him.
20. Joe Williams - RB, San Francisco 49ers
Brian Murphy's #15: I grossly overlooked Williams in my last set of dynasty rankings, but the new regime in San Fran absolutely love him. He looks like the starter here once Carlos Hyde departs at the end of the year, if not sooner.
AJ Schreiver's #17: If you haven't heard yet, Kyle Shanahan really likes Joe and if it weren't for William's issues of coping with an early tragedy he may already be a household name. When there are rumors of Hyde being cut, I'd say he is making an immediate impact.
John Adams' #20: Don't look now, but rookie Joe Williams, the 49ers 4th round draft choice from Utah, may get a shot at the starting running back position in San Francisco. The X-Factor here is head coach Kyle Shanahan. Shanahan personally selected Williams to lead his backfield and has made it clear that he has no interest in keeping running back Carlos Hyde in San Francisco once his contract runs out at the end of the season.
Chad Samuels' #27: Until Carlos Hyde is cut and or loses his starting job I won't believe the hype promoting his demise. Tim HIghtower is a capable RB as well. Shanahan pounding the table for him is a nice hype story. Ask yourself is he over 220 lbs(no)? When was he drafted (4th round)? Williams' profile is a longshot for long term production. Buyer Beware!
21. Carlos Henderson - WR, Denver Broncos
John Adams' #13: The Broncos may have that diamond in the rough every team looks for when it comes to their 3rd round rookie wide receiver. Henderson is having his first-year ups and downs at camp, but no one denies that his single greatest talent is to gain yards after the catch. Henderson spent the majority of his career playing running back and those ankle-breaking skills are on full display every time Henderson pulls the ball in. With pass defenses keying in on Demaryius Thomas and Emmanuel Sanders, Henderson has the potential to be an immediate impact player in the Mile High City.
AJ Schreiver's #16: I really like Henderson's playmaking ability, and he should fit nicely into the Denver 3 receiver sets.
Brian Murphy's #19: If one the Broncos' young quarterbacks actually develops into a competent starter, Henderson will be that person's best friend for a long time.
Chad Samuels' #30: Henderson is a day two wide receiver who can run some routes and needs to learn to run others. He can play special teams but still the wide receivers I draft after round one are few. Henderson is not on my draft list but should be drafted starting in this range.
22. Jamaal Williams - RB, Green Bay Packers
John Adams' #10: Sometimes a fantasy player's worth rests just as much on opportunity as it does talent. The Packers have BYU product Jamaal Williams pencilled in as the team's number two back behind Ty Montgomery. The bottom line is that this gives Williams a tremendous opportunity despite what some might consider a subpar skill set to be the lead back for team that always is able to penetrate the red zone.
Chad Samuels' #19: There is a wide open depth chart in Green Bay. Williams should have the first crack at it. It's hard to imagine after adding three running backs that TY Montgomery keeps the job for the entire season.
AJ Schreiver's #24: It seems the Packers aren't sold on Montgomery as a back. Jamaal Williams enters camp as the number 2. He doesn't contain break-away speed but has good size and ability to run downhill. Sounds a lot like Mr. Lacy, who don't forget, had a lot of success with his time in GB.
23. Chris Godwin - WR, Tampa Bay Buccaneers
John Adams' #14: The Buccaneers third round pick, Chris Godwin, is turning heads in Tampa Bay with circus catches and hard core determination. Tampa's coach Dirk Koetter compared Godwin's competitive nature and size to a young Roddy White while other see him as more of a Jermaine Kearse. Whatever the case, teammate and quarterback Jameis Winston calls Godwin an amazing young talent that he can't wait to throw to.
AJ Schreiver's #19 Chris Godwin: Despite the Bucs' crowded offense, Godwin has the upside to be a WR2 in the league. He is a physical receiver for his 6 foot frame which should bode well in the slot.
Brian Murphy's #21: The Bucs certainly don't lack for young, high-upside talent on offense. Give him time, but Godwin will be ready to replace DeSean Jackson in a couple of years.
Chad Samuels' #21: I love the talent, but dislike the draft pedigree (round three) and the landing spot. He is a long shot to put up stats this year and will be battling Evans for targets as long as they both are in Tampa. If you want him, then look to trade for him in a season or two when his value should be lower.
24. Jeremy McNichols - RB, Tampa Bay Buccaneers
Brian Murphy's #20: A possible three-down back with not a ton of fierce competition ahead of him. McNichols should see a good amount of playing time right away.
John Adams' #22: The Bucs' rookie running back, Jeremy McNichols, has dynasty potential, but this rookie season has warning signs posted all over the Tampa Bay area. At this point, even with Doug Martin suspended, the Bucs backfield is just too crowded.
Josh Rabbitt's #23: I love the talent, but hate the landing spot. The coaching staff loves Jacquizz Rodgers. Why? I don't know. A clean Doug Martin further muddies the waters. Your best case scenario here is a time share, and it doesn't have a clear way to work itself out any time soon
Chad Samuels' #25: McNichols' tweener size concerns me but he can catch the ball and with the mess that Tampa Bay running backs are, at some point over the next two seasons he could find himself as a temporary starter. I would not gamble on a day three RB long term but he can give you a stretch of production or make a great flip candidate.
AJ Schreiver's #28: Opportunity is there for McNichols, if he takes advantage of it he could play a third down role. If he develops his strength he could be a very effect all-purpose back.
25. Deshaun Watson - QB, Houston Texans
Daniel Brown's #14: Watson has shown early in rookie camp and training camp that he is talented and likely starts week 1 for the Texans. I am usually not a proponent of taking a rookie QB this early but I think Watson has the skillset and the pieces around him to be successful - similar to a Marcus Mariota in terms of a fantasy quarterback. Thus he actually moves up a few spots from 19 to 14 in my latest ranking.
John Adams' #17: It appears that Houston quarterback Tom Savage is in line to start the beginning of the 2017 season, but Texans rookie Deshaun Watson doesn't appear to be that far behind. Watson is drawing praise not just from the coaching staff, but from the players as well. Savage will have to play "great" football if he hopes to fend of Watson for any length of time.
Brian Murphy's #24: His upside isn't enormous, but being surrounded by DeAndre Hopkins and Lamar Miller certainly helps. I think he will be a solid bye-week QB in fantasy who can run enough to keep his floor high.
AJ Schreiver's #25: Bill O'Brien taking control of the offense should help that side of the ball but Watson may have a learning curve with the sophisticated system. Watson was a bit of a surprise fit for his system but they needed a QB badly. Watson isn't necessarily great at anything but can be a sold starting QB in this league.
Chad Samuels' #28: All three quarterbacks' high draft status were because of team need not scouts' projection of talent. I like Watson's intangibles and he has a team around him that he can succeed. That is important. I am not convinced he will become a top dynasty starter and that screams third round draft status for rookie drafts. Will Fuller's broken collarbone does not help for the short term either.
26. Patrick Mahomes - QB, Kansas City Chiefs
John Adams' #19: Patrick Mahomes has a decent chance at cracking the starting lineup for K.C. this year. He's a smart kid with a cannon for an arm and the heart of a lion. He's a project, but is also considered to the quarterback of the future in Kansas City.
Josh Rabbitt's #22: Mahomes has a cannon for an arm. Smith is a game manager. But he is a game manager with a potential nuclear weapon on offense. If Mahomes gets a shot to throw it deep to Tyreek Hill watch out, he could be a QB1 by this time next year. You want to get excited about this pick? Here's an NFL video so you can see my point.
AJ Schreiver's #23: Big Talent. Big arm. Andy Reid. I think he has the foundation to stay in this league as a starter for a decade. Can't say that about most of the other player being drafted around him in a rookie draft.
27. Wayne Gallman - RB, New York Giants
Chad Samuels' #22: Wayne Gallman is a day three running back who is tweener size and ran a 4.6 second forty. The Giants have RB issues and Gallman does not solve them. If you buy him flip him once he gets playing time.
AJ Schreiver's #27: Gallman had a great college career. If he can translate his running style to the pros he should be a good backup option to Perkins
28. Taywan Taylor - WR, Tennessee Titans
Josh Rabbitt's #15: This is an RC Fischer special. When RC puts the words Antonio Brown as a comparable to a player on the page, you better pay attention. Honestly, you can expect little to no return on your pick this year with Taylor. However, in the future you could be getting a top 20 WR. There aren't many 2nd/3rd round picks like this on the table. People were more than willing to burn the #7 pick on Mike Williams who also won't matter this year.
AJ Schreiver's #30: Taylor had a nice career in college, but with the signing of Decker he will have to take a back seat. I will be watching if he can beat out Tajae Sharp and Harry Douglas for the 4th spot on the depth chart.
29. James Conner - RB, Pittsburgh Steelers
Chad Samuels' #17: James Conner is a day two 233 lb back who if he was in Texas Hold Em would have a lot of outs to be a fantasy producer. Normally day two 230+ RBs are not drafted to sit. Pittsburgh may be the exception as they seem to draft best talent regardless of need. Don't gamble with Conner. Take him round three .and when he flashes, sell him immediately.
John Adams' #23: Hard to believe, but Steelers rookie running back, James Conner, has the top selling jersey in the entire NFL. Not bad for a player who has never taken an NFL snap. Once Pittsburgh sent DeAngelo Williams off to free agency purgatory, the Steelers needed a capable runner to back up the often injured or suspended Le'Veon Bell. Conner is a hometown hero who beat cancer and plays like every snap is his last. Given Bell's track record, Conners should have plenty of chances to prove himself on the field.
Josh Rabbitt's #25: What if Le'Veon Bell comes back and tweaks a hammy after missing some training camp? What if he gets busted for another drug problem? Who steps in to take over the Bell roll? In walks James Conner. Unfortunately for Conner his value lies totally in something happening to Bell.
30. Mitchell Trubisky - QB, Chicago Bears
Josh Rabbitt's #13: RC Fischer says his tape is one of the best QB tapes he has put on. The words Andrew Luck are mentioned many times in his write up for him. I think you have a probable red shirt here but even so what would you pay for a potential top 5 QB three years from now? I'm not going to go against the guy that told me to go out and get David Johnson, Tyreek Hill, Jordan Howard and Tyrell Williams way before anyone else.
John Adams' #29: It's still very early, but all signs point to Bears rookie quarterback riding the pine during his first season behind journeyman quarterback Mike Glennon and Mark Sanchez. Of course, all of that changes with an injury, but many of the concerns about Trubisky being NFL ready seem to be warranted.
This article was sponsored by My Bookie.