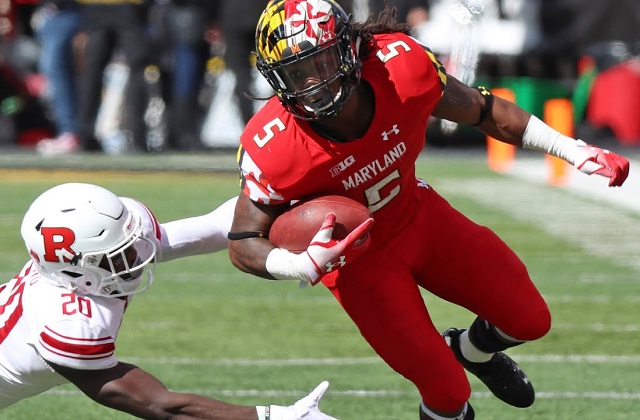 Written by Tyler Norberg & Chris Hexter
30 April 2020
Here are all of Tyler's and Chris's impactful player articles: Round 1 | Round 2 | Rounds 3-7
Players drafted in the first two rounds have more potential to see the field than those drafted in rounds three and beyond, and rightfully so. However, players in these later rounds can often be a better value than those drafted in the first two rounds. Why? The expectation and hype around the top round players are always astronomical. So much so that if you pay high draft capital for them, there are only two outcomes… they bust or you spent up and got the value. Congrats. But with great risk, comes greater reward, right? Players drafted after the second round tend to fall under the radar in fantasy drafts. If players like this succeed and breakout in their opening season, those who rostered them, got em' for next to nothing; making them a much greater value.
Our goal is to pinpoint what guys have a chance to be last year's top third round selection, Terry McLaurin or 2017's top third round selection, Alvin Kamara; someone who you can draft late in your fantasy draft, a waiver wire target further into the season, or an under-the-radar prospect for your dynasty team.


Tyler Norberg's Top 5 from Rounds 3 to 7
1. Antonio Gandy-Golden - WR - Washington Redskins
Once you get to the later rounds a lot of small school studs come out that would have been drafted higher if played at a big name school. Antonio Gandy-Golden is the epitome of that. He started two years at Liberty and reeled in 150 catches for 2,433 yards and 20 touchdowns. The Redskins needed a big body wide receiver to complement the steal in last year's draft, Terry Mclaurin. That's exactly what they got in Gandy-Golden. He is 6'4", 220 pounds and has an impressive 36-inch vertical to go along with that size. He is a little slower and needs to work on his burst off the line but if he can become more polished, Dwayne Haskins would have a big target to utilize who he can occasionally float the ball to in the endzone. With an underwhelming receiving corps, the Redskins got Gandy-Golden who they hope can develop into an every down starter and help bolster a passing attack that finished dead last in the NFL in 2019. Gandy-Golden has good upside and if he earns the WR2 spot, could be a sneaky flex for lineups in 2020.
2. Zack Moss - RB - Buffalo Bills
Just about every team needs a 1-2 punch at running back. The Bills drafted Devin Singletary in the 3rd round of the 2019 draft. He's a quick smaller guy who I view more as a 3rd down back. Zack Moss on the other hand (who was also drafted in the third round), can be the Bills powerback on first and second downs and also punch the ball in on the goal line. He runs with pure power on every carry and uses every bit of his 225 pound frame. He played all four years at Utah and crushed nearly all school records including most carries, yards and touchdowns. With Frank Gore on his way out of Buffalo, Moss fills the void at powerback and could possibly be an 8-10 TD guy pending on his goal to go usage. You should wait to see how he is used in the Sean McDermontt offense before you pick him up, but he could be a waiver wire steal as the year progresses.
3 James Proche - WR - Baltimore Ravens
SMU has a pretty solid track record when it comes to wide receivers, Emmanuel Sanders, Courtland Sutton and Cole Beasley are some of the best ones in recent time. James Proche had a better college career than all of them and the numbers back it up. He finished his career with more catches, yards and TDs than any other wide reciever in the school's history. With over 200 catches combined the last 2 years, Proche proved he can be a volume catch guy and that's exactly what the Ravens need. He's an average wide reciever when it comes to speed, size and route running but it's his ball skills that got him drafted. If he continues to develop into Harbaugh's offense, you could see him emerge as the WR3 on the team as the year goes on. With the high powered offense of the Ravens and the different schemes they run, Proche could see decent playing time and a possible starting role in the upcoming years.
4 Tyler Johnson - WR - Tampa bay Buccaneers
When it comes to the late round picks at skill positions you usually get picked for physical talent or production. Tyler Johnson doesn't have elite NFL speed or route running ability but he does have major production. He pulled in 164 catches for 2,565 yards and 25 TDs over the last 2 years at Minnesota. The Buccaneers offense is already loaded with wide reciever talent with Mike Evans and Chris Godwin, but they couldn't pass up the opportunity to grab a potential steal at the 161st pick. With Tom Brady at the helm and the recent trade for Rob Gronkowski, a possible Super Bowl run is in arms reach for the Bucs. Johnson could be a hidden gem in Bruce Arians' offense and could do your fantasy team wonders as a waiver wire pick up during the season.
5. Eno Benjamin - RB - Arizona Cardinals
When you are a 7th round selection you are just hoping to make the team come August, and I have no doubt Eno Benjamin will do so. After trading David Johnson away for the best WR in the NFL (yeah, no one can understand why the Texans did that), the Cardinals wanted another RB to add to their committee with Kenyan Drake and Chase Edmunds. Most scouts had Eno as a 3rd round selection and his numbers back that up. He had over 2,500 yards and 26 TDs in the last 2 years, but he doesn't have top end speed for the NFL (ran a 4.57 40-yard dash), which is probably why he dropped to the seventh round. He would fit perfectly in a spread offense with a zone-run scheme because of his ability to break tackles. If he makes the team and possibly overcome Chase Edmunds, Benjamin could be a great 7th round steal, such as Jamaal Anderson, TJ Houshmadzadeh and Donald Driver, who all proved that you can shine in the NFL as a 7th round pick.

Chris Hexter's Top 5 from Rounds 3-7
1. Anthony McFarland - RB - Pittsburgh Steelers
What a steal! Anthony McFarland is a small back (5'8") who has tremendous speed, lateral quickness and great hands who isn't afraid to blast through the tackles. Although James Conner will remain the Steelers' lead back, the Steelers targeted their backs 110 times and combined for 336 rushing attempts. Yet, the run game fell stagnant. The Steelers were 29th in the league in rushing in 2019 and part of the problem was Conner not staying healthy throughout the season. It doesn't help that Big Ben was out all year and they were forced to go back and forth between Mason Rudolph and Devlin Hodges. The pass game was nonexistent, so defenses stacked the box. I do see that changing now that the Steelers get their capable passer again and another weapon opposite of JuJu Smith-Schuster. But Conner can't handle the workload and there needs to be a better option behind him when the inevitable happens and he misses some games due to injury. McFarland is a great back who reminds me of Alvin Kamara, and I believe the Steelers will use McFarland and Conner like the Saints did with Kamara and Mark Ingram. McFarland will be a good flex option in PPR leagues, with the ability to perform as an RB2 with the right workload. He should be drafted in leagues of all sizes.
2. Ke'Shawn Vaughn - RB - Tampa Bay Buccaneers
Ke'Shawn Vaughn had a great college career. Bouncing from Illinois to Vanderbilt, Vaughn performed well when toting the rock, going for over 1,000 yards rushing and nine touchdowns in a struggling offense in 2019. Now, he goes to an up and coming offense loaded with talent. Mike Evans, Chris Godwin and newcomers Tom Brady and Rob Gronkowski round out a prolific offense with one hole… the running back position. Ronald Jones III has been shaky in his first couple seasons and head coach Bruce Arians doesn't see him as the lead back in this offense. Arians gets his true running back in Vaughn, who by mid-season, will be handling most of the first and second down work as Jones III will take over the pass catching role. Brady loves to dump it off to running backs and Jones III will mostly benefit from this, however, Vaughn has shown that he has great hands. In his last year at Vanderbilt, he caught 28 passes out of the backfield for 270 yards. I don't see Vaughn having a great role in the beginning of the season, but he will be a worthy stash who can return top-end flex numbers if he is given the lead back role in an offense that is poised to be top five. The Buccaneers were 24th in rushing last year, Arians knows that needs to change.
3. Devin Duvernay - WR - Baltimore Ravens
I went back and forth between these next two players but I went with Devin Duvernay first, and here is why. The Ravens offense is incredible, but due for regression. The Ravens are going to remain a run first offense that uses two-tight-end sets. However, the Ravens don't have a decent wide receiver outside of Hollywood Brown, who suffered from nagging injuries throughout 2019. Duvernay has the best chance to line up opposite of Brown and take advantage of passing work in Harbough's offense. The Ravens will draw out plays for Duvernay, who was a good receiver in college, but an even better runner when he has the ball in his hands. Reports are the Ravens want to run more screens in 2020 as they ran very few (that were mostly unsuccessful) in 2019. Duvernay is another speedster the Ravens will go out of their way to implement. There is a reason they took him in the third round. If the offense was so good last year, why use a third round pick on a wideout? Because when they needed to ramp up passing (e.g., Divisional Round vs. Tennessee), the receiving core fell short. Use the example from last year's Divisional game against the Titans, a game where Lamar Jackson was forced to throw almost 60 times! His top three receivers had stat lines that looked like this:
Marquise Brown - 7/126/0
Willie Snead - 6/56/0
Seth Roberts - 2/30/0
The Ravens need another stable wideout, and that is Duvernay. He'll be boom or bust this year and will be no more than a matchup-dependent flex play, if Brown misses time, Duvernay will become a consistent flex play. He is worth the roster in deep leagues of 12 or more teams.
4. Joe Reed - WR - Los Angeles Chargers
I like Joe Reed's talent and his college tape. He has great hands and has above average run-after-the-catch ability. He has terrific ball-carrier vision and you first saw that in high school where he was a running back, rushing for over 2,000 yards in his senior year. Reed was a terrific return man, the best in UVA's history, and will immediately jump into that role for the Chargers. However, different from the aforementioned Duvernay, Reed has some serious talent to overcome. He won't surpass Keenan Allen or Mike WIlliams on the depth chart, but he has the opportunity to be the WR3. We will have to wait and see how this offense changes without Phillip Rivers. However, whether Tyrod Taylor or rookie quarterback Justin Herbert lines up behind center, this team will try to lean on the run more than usual. Tyrod Taylor is a good quarterback who excels outside of the pocket and the same could be said about Herbert, who ran 129 times for six touchdowns in his two years as a starter at Oregon. The Chargers are building one of the best defenses in the league; to limit a lot of those last minute losses they endured throughout 2019, they'll need to control the ball. The Chargers were 6th in the league in passing last year, but this will be a different offense than the Rivers-led offense. This doesn't favor Reed or any other backup outside of Allen and Williams. He could be a decent stash in 12 team leagues or larger, but he is no more than an injury/matchup dependent option.
5. Albert Okwuegbunam - TE / KJ Hamler - WR - Denver Broncos
Yeah, that's six players… so what! Albert Okwuegbunam was my favorite tight end in the draft by far. I was shocked to see him drop to the fourth round and even more so that the Broncos drafted him after spending high draft capital on Noah Fant the year prior. The Broncos were 28th in passing last year and they made it clear they want to add more talent on the offensive side of the ball. They did just that. Drew Lock now has some of the best, young weapons with Courtland Sutton, Jerry Jeudy, KJ Hamler, Noah Fant and Phillip Lindsay. Because of this talented roster, you can expect the Broncos will want to pass a bit more this year. Yet, there are too many targets to go around to make an immediate impact and it would take an injury to Fant for him to be fantasy relevant. Fant has a better grasp of the offense and will see more of the tight end passing work, while the Broncos will develop Okwuegbunam behind him. He will still see the field plenty in two-tight-end sets, which Denver runs often. But with all the targets to be shared, Okwuegbunam won't have the chance to perform consistently for fantasy owners in 2020. He isn't worth the draft capital in any fantasy league besides dynasty rosters as a stash. He had his best days with Lock at Missouri, but don't believe the hype. His costly penalties and drops last year won't propel him in front of Fant. He's a terrific athlete with an ideal frame, but we'll have to wait on this for good a good return on investment. Stash him on your dynasty rosters.
Hamler is a speedster who can do some damage with the ball in his hands. I see the Broncos using him on some end arounds and screen plays, but he won't have a prominent role in this offense. He will be a field stretcher who may catch a long bomb every other game that may warrant him a worthy play, but he is too risky. He will have a limited route tree, see the field in a limited fashion, and won't have consistent target share to be fantasy relevant week in and week out. He will return more value than the aforementioned Okwuegbunam, but not enough to warrant solid WR3 numbers for fantasy. He's a risky boom or bust who will only be worth the risk if he gets the opportunity in this loaded offense.