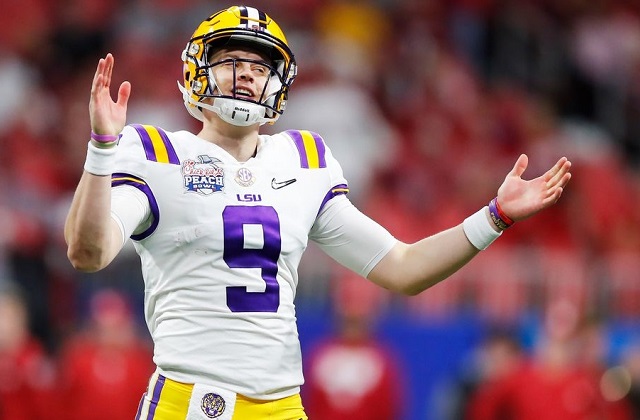 Written by Tyler Norberg

28 April 2020

Here are all of Tyler's and Chris's impactful player articles: Round 1 | Round 2 | Rounds 3-7



1. Joe Burrow - QB - Cincinnati Bengals

My choice here was easier than the Bengals' decision to take Joe Burrow with the number one pick. Burrow just screams franchise QB. He's got the ideal size at 6'4" and 220 lbs and his accuracy is impeccable. He threw for a record 60 TDs last year at LSU. 60! Most of the time when you are picked number one overall you are going to a talentless team, but that simply isn't the case with the Bengals. All they needed was a leader for their offense and now they have one. Bringing back AJ Green, they arguably have a top ten WR unit in the NFL, adding Tee Higgins in the second round, with Tyler Boyd who had a 1,000-yard season last year, and also a former top-ten pick, John Ross, who hasn't quite found his footing yet. With all the talent surrounding Joe Burrow, there is no doubt he will be a top-ten QB in fantasy football next year.

2. CeeDee Lamb - WR - Dallas Cowboys

It pains me to say this (as a Redskins fan), but the Cowboys got the steal of the draft in 2020. Like most people, I had CeeDee Lamb tied for the best WR in this class. Lamb is a clear number one WR with his size (6'2"), and his catching ability is second to none. He only ran a 4.5 40 at the combine, so that might be why he dropped; everyone wants the speed guy in today's NFL, but the Cowboys don't mind it because they had a future Pro Bowler fall to them. He started 3 years at Oklahoma and had over 3000 receiving yards and 32 TDs in his college career. The biggest reason Lamb will have so much impact is because he's a true number one WR, but won't have to be one because he'll have Amari Cooper on the other side. He won't see many double teams and that makes him even scarier. With this golden nugget, the Cowboys have one of the best WR duos in the league. Both Lamb and Cooper can be starters year round in your fantasy lineup.

3. Jerry Juedy - WR - Denver Broncos

If I had to choose between Jerry Jeudy and Lamb, I would take Jeudy in a heartbeat. The only reason Lamb is higher on this list is because of the situation he is in. The two are very comparable in height and weight, but Juedy has the edge on speed and route running ability. The Broncos have put together strong, young weapons this offseason for Drew Locke and Juedy is the cherry on top. In the two years Jeudy started, he accumulated over 2,500 yards and 24 TDs. His route running is so smooth, he looks like a 10-year vet and you rarely see a WR this polished come out of college. With a solid WR on the other side in Courtland Sutton, who had 1,112 yards receiving last year, and the Broncos first round pick last year, TE Noah Fant, Juedy can slide in the number two role nicely and open up the entire field. He will be a solid WR2 this year in fantasy with WR1 upside.

4. Justin Jefferson - WR - Minnesota Vikings

Exit Stephon Diggs, enter Justin Jefferson. Yes, Diggs is smaller and most would say faster but Jefferson actually had a faster 40-yard dash time in comparison to their respective combines. He also had a higher vertical and a better broad jump. Jefferson played a lot of slot in college and with his size the Vikings can put him wherever they want. He is 6'3" and has a 37" vertical so he can catch jump balls along with taking the top off the defense. Last year he was by far the best WR for LSU with 111 catches and over 1,500 yards with a whopping 18 touchdowns. Kirk Cousins won't lose a step when targeting his new receiving corps. Jefferson will be a solid flex play all year with WR2 upside if Cousins feeds him the ball.

5. Clyde Edwards-Helaire - RB - Kansas City Chiefs

With the Chiefs in need of a true RB1, here comes another LSU player (the 3rd one on this list so far). With the rich history of RBs to come out of LSU, Kevin Faulk, Leonard Fournette, Joseph Addai, Derrius Guice and many more, the Chiefs hope to have found a powerful RB with a little wiggle who can be on the field for all three downs. Last year as a full time starter, Clyde had over 1,400 yards rushing and 16 TDs while averaging over almost 7 yards per carry (YPC). He also proved he can be a reliable receiving back as he had 55 catches last year, which was third on the team. While being only 5'7", Edwards-Helaire weighs in at 210 pounds. He can be an all purpose back and if he takes advantage of his carries, he can end up the RB1 in the Chiefs offense and a solid RB2 on your fantasy roster.