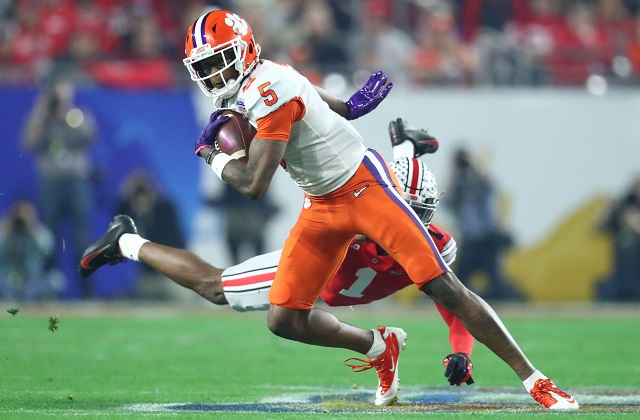 Written by Tyler Norberg
29 April 2020
Here are all of Tyler's and Chris's impactful player articles: Round 1 | Round 2 | Rounds 3-7
1. Tee Higgins - WR - Cincinnati Bengals
Once again the Bengals find themselves with a top talent on this list. I don't know what's happening, but Cincinnati fans should be ecstatic because their offense will be top 10 next year. I had Tee Higgins ranked as a first round pick and compared him to his now teammate, AJ Green. From a pure measurable standpoint, they are almost identical. Both standing at 6'4" and 215 pounds. Both have the same hand size but AJ Green's arms are just a quarter of an inch longer. While starting the last two years at Clemson, Higgins hauled in over 2,000 yards receiving and 25 TDs, scoring a touchdown on 20% of his catches. He needs to add strength at the next level to go along with his height so he won't lose press coverage battles at the line of scrimmage. Nonetheless, his upside is through the roof. Now, Joe Burrow has four solid WRs to throw to and if Higgins starts off hot, he could be a solid flex all year regardless the other options in Cincinnati.
2. D'Andre Swift - RB - Detroit Lions
The Lions now have a top 10 RBBC in the NFL. While Kerryon Johnson has been a solid RB over the past 2 years, he simply can't stay healthy for a full 16 games. D'Andre Swift will help take the load off Johnson, yet still provide adamant usage in the run game for Detroit. Swift had a total of 440 carries in college and averaged 6.6 YPC, tallying 2,885 yards. With a solid frame (5'8", 215 lbs), he can be a workhorse back and easily tote the ball 20-25 times a game if needed. He reminds me a lot of Ray Rice with his powerful running style and strength. Detroit has a nice 1-2 punch now and by the end of the season, Swift will be the lead dog in this offense. I predict he ends the season with a minimum of 10 TDs, which will make him a high-end flex with RB2 upside in 2020.
3. Jonathan Taylor - RB - Indianapolis Colts
Another team that now has a strong two-headed monster at running backis the Colts. The Colts traded up three spots to grab Jonathan Taylor. If you don't know who Johnathon Taylor is, all you need to know is that he had one of the best college careers ever. He carried the ball 926 times for 6,174 yards and 50 TDs! The only reason he dropped is because the value for the RB has diminished in the NFL (i.e. Leonard Fournette's contract situation). If this draft was 15 years ago, there is no doubt in my mind he would be a top-ten pick. He averaged over 300 carries a season and played every single game. If that doesn't scream workhorse, I don't know what does. Since I've done comparisons with the other players on this list, I'll keep that trend going. I would say the ceiling for Taylor is Arian Foster. They are both north-south runners with identical measurables and both are absolute powerhouses who can tote the ball 20+ times a game. If Taylor gets the bulk of the carries over Marlon Mack, he will be a solid flex play and workload pending, posing one of the highest ceilings in this draft class among RB's; especially behind one of the top ranked offensive lines.
4. Chase Claypool - WR - Pittsburgh Steelers
JuJu Smith-Schuster will get a solid receiver opposite of the field, which could be a nightmare for opposing defenses. Chase Claypool is so big (6'4", 240 pounds) that a lot of teams talked to him about moving him to tight end, but he can dominate outside at WR. He played in 45 games at Notre Dame and has gotten more polished at his position every year as he topped the 1,000 receiving mark in his senior year. He dominated at the combine this year with a 4.42 40-yard dash and a crazy 40.5' inch vertical. In comparison, Vince Carter (the best dunker in NBA history), had a 43" inch vertical. I don't know what the Steelers plan at quarterback is, but this might be Big Ben's swan year; what better way to go out than having another great option to throw to. Chase will be a solid late round pick for your fantasy lineup.
5. J.K. Dobbins - RB - Baltimore Ravens
This entire draft is full of possible future RB1s and J.K. Dobbins only adds to this list. He passed the great Zeke Elliot for second all time in rushing yards in Ohio State history. He ran for over 2,000 yards last year and 21 TDs. With 725 carries in his 3 year college career, he has shown he can be an every down back. While Mark Ingram is coming off a 1,000 yard campaign, he is entering his 10th career year and will act as a great predecessor to Dobbins. Dobbins also has more speed, so he will fit nicely into the Ravens high flying, run-first offense. If he starts to get hot, Harbough will be forced to keep this man on the field, which makes him an excellent back pocket player for your lineup with the opportunity to emerge as one of the best rookie running backs in 2020.