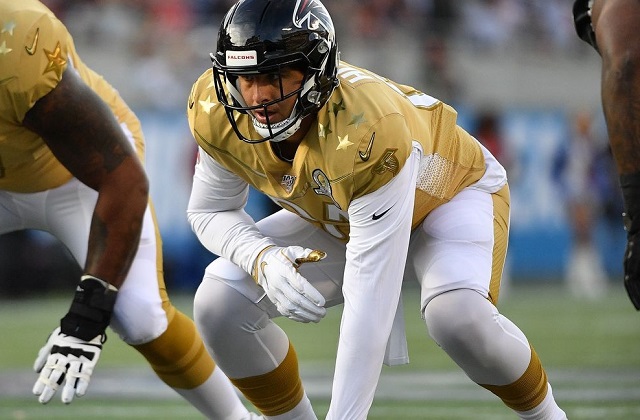 Written by Chris Hexter
06 March 2020
For Chris's other Musical Chair articles, click here: QB | RB | WR | TE
With plenty of teams looking for tight end help, this year's free agency is as good as any to get that help. Green Bay, Washington, New England, Chicago, Houston and many other teams have a desire to fill the gaps in their tight end position. Where will talented young tight ends such as Austin Hooper or Hunter Henry land? What about the potentials of Eric Ebron or Jake Hollister? And, does the aging Jimmy Graham have more productive football ahead of him? Let's find out!
Austin Hooper - TE - Atlanta Falcons
The Falcons essentially kicked Austin Hooper to the curb this off-season after he broke out in 2019, in which he went for 787 yards receiving and tacked on 6 touchdowns. Atlanta has no money to bring back the 25-year-old tight end (26 in November). Hooper should see plenty of contract opportunities but where would he be the best fit?
Speculation has been around the Redskins as of late, but with their money most likely going to other positions, I don't think they will be able to hit Hooper with a strong enough offer. A team that could make the move is the Packers; where Hooper would have tremendous opportunity to shine once more. I'm not too fond of the whole 'does Rodgers use the tight end' discussion because he does. He's had older tight ends in recent years in Jared Cook and Jimmy Graham, who are not merely field stretchers due to age but more so possession tight ends. Hooper is a vertical tight end who can also help in the blocking game. If Hooper ends up with Rodgers, he will use him… a lot. This offense needs another reliable pass catching option as Graham was no help to this offense last year. He failed to do what they needed him to do; Graham is a big frame who uses basketball methods to box out smaller defenders and win contested redzone catches, but last year he only hauled in three touchdown passes and two the year prior. Give us Hooper in Green Bay and he will provide top-5 potential while helping Rodgers return to the mean in terms of passing touchdowns, which has taken a dip over the past few years.
Hunter Henry - TE - Los Angeles Chargers
Hunter Henry is an incredible talent at the tight end position with elite pass catching abilities. The only reason he isn't above Hooper is, we all know it, injuries. Henry has missed 20 games over the past two seasons (missed all of 2018). This is a huge red flag for teams who may be interested in Henry's talent. Henry is one of the best all around tight ends in the NFL, but it is hard to debate that when he isn't on the field. But, Henry shouldn't worry about that as rumors are the Chargers are planning to franchise tag him.
If I were a betting man, I would put my money on Henry returning to the Chargers, but there is a landing spot that is in the realm of possibilities and would be amazing for fantasy purposes. Hunter Henry to the Indianapolis Colts. It would be a perfect scheme fit that heavily utilizes tight ends and would give Henry every opportunity to shine. The Colts have the money and with the loss of Ebron, this move would make too much sense for the franchise. A fear of Henry staying in Los Angeles is that there will be no Philip Rivers; who is known to target his tight ends early and often. The Colts in their current state would easily be able to sustain Henry as a dominant top-5 tight end, especially if he plays a full season. But if he stays, there is a smaller chance Henry is able to capitalize on his full potential (unless Brady goes to L.A., in which Henry becomes a top tight end option again).
Eric Ebron - TE - Indianapolis Colts
Ebron broke out in 2018, catching 13 total touchdowns on his way to receiving a Pro Bowl nod. Last year however, Ebron's lack of usage and frustration hampered his season to only 3 touchdowns and 375 yards receiving. Ebron is a terrific talent who can go onto any team and dominate if he gets the usage. Rumors are the Bears want a tight end but it doesn't make sense to pay another tight end a lot of money. They'll need plans to get rid of Trey Burton first, who has failed to pan out for Chicago since signing a huge $32 million dollar deal back in 2018. Spending more money on another tight end wouldn't make sense and relying on Burton for another year may not be the best route either, but they won't be signing a big deal contract to any top tight end this off-season. There have been rumors of Ebron going to his college hometown and playing for the Panthers. In hindsight, this makes no sense as they have a young Ian Thomas ready to go, but the Rhule administration didn't draft this tight end, so it remains to be seen his confidence in Thomas going forward.
The spot for Ebron is the New England Patriots. He would provide them a strong receiving tight end that could be a big factor when trying to lure Brady back. He would be schemed around and should see ample opportunity; so even if Brady does not return, Ebron can still provide impactful fantasy performances and end the season as a top-12 TE.
There is one more spot that makes sense. The Redskins could have some leftover money to bring in Ebron, especially if they get rid of OL Trent Williams. But this is highly dependent on who they bring in before him (rumors currently about Amari Cooper and/or James Bradberry). I could see him finishing as a low-end TE1 with the Redskins as Rivera makes it a point in his offense to utilize the position. This move would also help Haskins develop and even create more openings against zone defenses for McLaurin to take advantage of.
Jacob Hollister - TE - Seattle Seahawks
The Seahawks have made their decision on Hollister the second they brought in Greg Olsen. Hollister did enough in his time with Seattle after he was thrown into the starting role after Dissly's season ending injury. Hollister tallied 3 touchdowns on 349 receiving yards in his 11 game relief. The Seahawks want him back but he would only resume a stable role in this offense if Olsen or Dissly go down to injury.
Since Hollister is a restricted free agent (RFA), a team may have to pay up if they want to acquire his services. Although I thought the Redskins to be a feasible destination, they would much rather pay up for an Ebron or (if money was there) Hooper or Henry. The Steelers should bring in Hollister. Big Ben needs more receiving options and has been missing a reliable tight end for quite some time now. Hollister could immediately make an impact and help this offense get back on track. Vance McDonald has not been the answer for this team. This makes too much sense for the Steelers and they won't have to spend nearly the amount of money if they were to pursue any of the aforementioned tight ends. If the Steelers don't take the shot here, a team like the Texans could swoop in and steal him as a replacement for Fells.
Blake Jarwin - TE - Dallas Cowboys
Short and sweet, Dallas wants Blake Jarwin back and will mostly likely do so. It's being reported that the Cowboys will be putting a second-round tender on the free agent tight end. I don't see any team paying up for Jarwin. Jarwin should do fine as the Cowboys tight end, there are still unbalanced nuances to his game such as blocking and route running but I like his talent and he is super athletic for his 6-foot-five frame. He had a good season in 2019 behind Jason Witten, catching 31 passes for 365 receiving yards and 3 touchdowns despite playing less than 40% of snaps. The Cowboys will most likely feature him for the first time and he could be a late-round sleeper in drafts. In dynasty leagues, try to get him at a cheap price. Jarwin has sneaky upside and could finish within the top 12 at the position.
Tyler Eifert - TE - Cincinnati Bengals
Eifert's career has spent more time in a cast than on the field. Yes, that's an exaggeration, but the guy can never stay healthy. Eifert has always been a super talented tight end, but injuries have plagued his career. Reports out of Atlanta have mentioned Eifert but with the cap issues, this will most likely not be an option. The same goes for the Jaguars, who want and need a tight end but won't spend the money on a 30-year-old injury prone tight end. The Packers could go this route and spend less money on a talented (but slightly more aged option) and pair him with Jace Sternberger, who the team (and me) really likes. The Cardinals have the money and could use another option for Kyler Murray as he continues to develop.
I think out of all the teams that could cheaply get Eifert; the Bengals will be where he ends up. Keeping another solid tight end for the impending rookie quarterback, who we all expect to come in, would be a wise move. Eifert finally had his first 16-game campaign last year but wasn't utilized like we have seen in the past. I don't think the Bengals, or anyone for that matter, expects Eifert to return to his 2015 form, but if he takes a step in that direction and remains healthy, it would be a worthy investment. Eifert would be a high-end TE2 in this offense next year. I would predict the same for Eifert if he were to go to Arizona, who has the money and the need. Although, I don't see that happening. There are rumors about the Bears bringing in Andy Dalton, but let's not use that as reason for Chicago to spend more money on another injury prone tight end.
Darren Fells - TE - Houston Texans
Although I'd much rather talk about Jordan Reed or Jimmy Graham, there are factors that make it so they won't fit in this article. Reed should really take a step back from football and evaluate his health. We want these guys to live a long healthy life after football and Reed, although is extremely talented, has suffered his seventh documented concussion; this latest one lasted six months. He has control over his own life, so he can decide to play if he wants. But he won't get paid a lot and will most likely be a one-year deal. Not worth the health risk. Graham has yet to be released even though it is to be expected. He is still under contract and thus, is not a free agent... yet. I'm not too high on Graham, he has looked slow and could not find success winning on jump balls. Maybe Chicago is desperate enough. If so, they can get him for cheap.
Did I stall enough so that we forgot I had to talk about Darren Fells? No? Darn. Red Flag #1: Fells will be 34 when the new season starts. Red Flag #2: Before last season, Fells had never topped 311 yards receiving. Red Flag #3: Before last season, Fells had never topped 3 touchdowns. Red Flag #4: He is not athletic.
So, it may be obvious that Fells is not a player I am very high on. The best case-scenario for Fells is if he returns to Houston in a similar role. But don't assume he comes down with 7 touchdowns again. Fells would see similar yardage but will regress to the mean in touchdowns if he returns in 2020. However, I assume he won't be back in Houston. A team could unwisely spend money on the 34-year-old for a one-year contract but no matter where he goes, he will be touchdown dependent. Fells will be nothing more than a low-end TE2 or mid-level TE2 in standard formats heading into 2020.