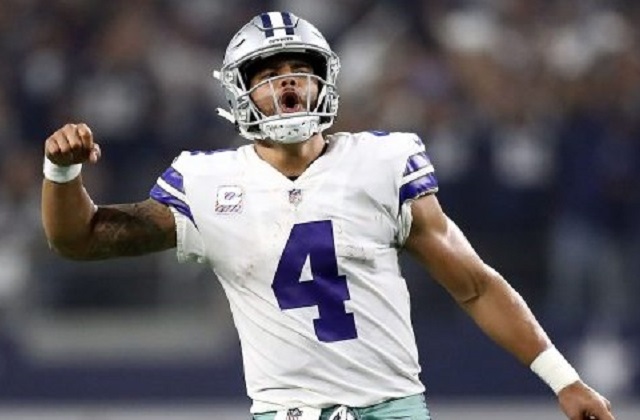 Written by Chris Hexter
19 February 2020
For Chris's other Musical Chair articles, click here: QB | RB | WR | TE

2020 has a lot of great free agent quarterbacks with plenty of well-known names floating around. A couple of those names have worn the same jersey for over 15 years. With Brees being one of those names, he can be taken off this article, as he confirmed his commitment to the Saints for the 2020 season. But what about Brady and Rivers? What destiny lies ahead for these future Hall of Famers? What about former first round picks like Teddy Bridgewater, Marcus Mariota and Jameis Winston? Well, I don't know. But, I can tell you what potential landing spots can seemingly make these quarterbacks relevant fantasy options in 2020!
Dak Prescott - QB - Dallas Cowboys
Yes, I know Brady is a free agent. But from a fantasy perspective, Prescott is the more interesting name. Dak has greatly benefited from sitting in a pocket generated by the Dallas offensive line and having elite running back, Ezekiel Elliott, behind him. We have seen bits and pieces of struggle from Prescott when said benefits are not around. But he has talent as a passer and strong rushing ability, which reigns king in fantasy at the quarterback position. In his four year career, Prescott averages just over 300 rushing yards per year and has accumulated 21 touchdowns on the ground.
So, where is the best landing spot for Prescott? Dallas. He has the offensive line and the talent around him to succeed and continue to grow. He had his best season last year under OC Kellen Moore and that wouldn't change (even with the head coach change). If Amari Cooper is re-signed, it's a recipe for success that will propel Prescott to yet another Top 5 fantasy finish.
Tom Brady - QB - New England Patriots
Brady suffered due to a severe lack of talent at the wide receiver position in 2019. Edelman isn't getting younger and Sony Michel couldn't get anything going on the ground. However, Brady still had a decent year, not comparing to his career average that is. If the Patriots add a strong wide receiver outside of Edelman and first-round hopeful, N'Keal Harry, then staying in New England would be fine and keep Brady in the consistent low-end QB1 discussion.
But is that the ideal landing spot for Brady? The Los Angeles Chargers. The Chargers have more talent on offense than one needs and having Brady would give them the piece they need to contend for a superbowl. Plus, L.A. can develop a young quarterback behind one of the best to ever do it. This move would put Brady in one of the best offensive situations in football. Brady throwing to Keenan Allen, Mike Williams, Hunter Henry, (presumably) Melvin Gordon and Austin Ekeler. The Chargers lost 9 out of 11 games by a one score deficit. Brady can solve this problem and become a Top 12 QB at the same time in this dream destination. 4,500 yards and over 30 touchdown passes is easily in the realm of possibilities.
Not to mention Mahomes v. Brady x2!!


Ryan Tannehill - QB - Tennessee Titans
Tannehill will no doubt regress closer to his career mean, but that doesn't mean he will be bad for fantasy. Tannehill had a career year in Tennessee's system and he fits the mold well. He has a good offensive line and terrific weapons with A.J. Brown, Corey Davis, Jonnu Smith and a backfield with Derrick Henry. Tannehill wouldn't blow up on the scene anywhere else like he did this past year.
His ideal landing spot is re-signing with the Titans. Tannehill showed that he can perform in his role with this offense. We should see a lot of the same games he had last year, however, scattered within will be some poor fantasy games for the Comeback Player of the Year winner. But I just said he fits the mold well and will succeed in this offense? Why, yes I did. But the Titans are also content with pounding the rock to win and use Tannehill as a game manager. Hamper expectations. I still believe he will be a borderline QB1 on the season. He'll be great for Tennessee, but will have some 'meh' performances throughout the fantasy season.
Jameis Winston - QB - Tampa Bay Buccaneers
Did anyone see Winston's 30 for 30? Oh, I'm not talking about the show but rather his 2019 performance.That game losing pick-six in week 17 was the perfect recap to his season. Start the game with an interception and then throw for 100000 yards in a game, to then only lose that game with another interception. For NFL purposes, Winston needs to clean up his interception prone habits. But for fantasy, he did really well.
Winston's best landing spot is to stay put in Tampa Bay. Will it prove beneficial for the team itself? Maybe not. But for himself and the players around him, most definitely. Winston will keep weapons like Mike Evans and Chris Godwin and continue to launch the ball and bolster their fantasy stats. We don't want to see what Winston would do if he had worse pass catchers… If O.J. Howard is dealt, it wouldn't hamper any performance of Winston's as he will still have Brate in town. I like Winston as a QB1 for fantasy purposes, but that's if he stays in the Arians system with those offensive weapons.
Phillip Rivers - QB - Los Angeles Chargers
What to do with old man Rivers? Since being drafted by the Chargers in 2004, Rivers is now looking for another place to call home. Rumors are that he will go to Tampa because he already moved his family there. But I don't see the benefit of replacing someone who went 30 for 30 to an older quarterback who went 23 for 20. Other rumors have Rivers going to the Indianapolis Colts. Although this makes sense, it doesn't really help Rivers and it wouldn't make a huge impact on the talent around him.
Old man Rivers fits in one place - down in Charlotte, North Carolina. Rivers is the check-down king and would help sustain another huge RB1 season from McCaffrey. He would also have great young talent around him such as target hog, DJ Moore and speedster, Curtis Samuel. He would have a young capable tight end in Ian Thomas, who would greatly benefit from having Rivers behind center. Rivers could help a young QB develop in his tenure and the Panthers could continue their rebuild in other positions. Rivers could easily end up a high-end QB2. As a Panthers fan, I hate this. As a fantasy football fan, we'd need this.
Teddy Bridgewater - QB - New Orleans Saints
Bridgewater was a more than capable quarterback in his brief stint as the starter in 2019. He showed flashes as to why he was a former first round draft pick and he'll make sure he has that on the resume when he is out visiting other teams. Obviously, quarterbacking in New Orleans is a fantastic destination, but Teddy wants his own starting gig. With news that Brees will return to the Saints in 2020, it's on to another city for Bridgewater. Where will that be?
The Indianapolis Colts. If you look at their career stats, Brissett and Bridgewater are almost the same human being… maybe they are? But Teddy has more NFL experience and has draft capital at his side. The Colts can dish Brissett and plug in Teddy in hopes he will do a better job at game management. This move would not change the performance of guys like TY Hilton or Zach Pascal. It may slightly deter the tight end targets but not the usage as Frank Reich heavily relies on this position; especially in the redzone. Bridgewater could become a low-end QB2 and continue to sustain this offense and maybe even bolster their win totals, but there would be no drastic change for the Colts in this move.
Marcus Mariota - QB - Tennessee Titans
Yes, I could have done Taysom Hill or Case Keenum but draft capital and age is the reason why Mariota's name is on here (and presumably most teams' radar). Mariota had an issue of holding onto the ball for too long and showcased limited flashes of the elite talent that was expected of him. He needs to go somewhere that will utilize the QB option and have a quarterback minded OC.
Do I see Mariota as a starter next year? No. But can he go somewhere with opportunity? Yes. The Bengals could dish-out Dalton, draft Burrow and use the former Oregon first round pick as a backup. He could come into a (bad) Zac Taylor led offense and have wideouts like A.J. Green (UFA), Tyler Boyd and John Ross III. A younger, but more injury prone version of Delanie Walker in Tyler Eifert (UFA) may return as well. One other place he could end up is, sadly, the Panthers. Carolina should draft Auburn defensive tackle Derrick Brown in the first round and not use their high draft capital on a quarterback. It remains to be seen if a quarterback will fall to them in the second round or if they will spend up to get one earlier in the second or back of the first round. Having a young quarterback who has only flashed bits of elite talent is a risk. But Mariota shouldn't cost much and Joe Brady could help with his development. Mariota could support the run game to keep defenses honest but will severely cap the upside of DJ Moore and Curtis Samuel. Either way, Mariota still has some developing to do if he wants to become a legitimate starter again in the NFL.
Stay tuned for the top running back free agents and which landing spots would be the best-case scenario for fantasy football.