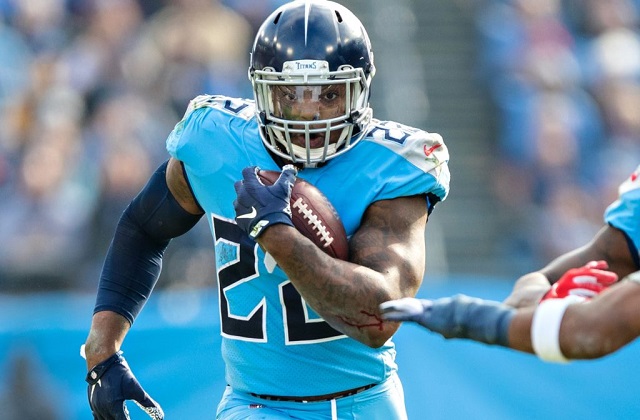 Written by Chris Hexter
22 February 2020
For Chris's other Musical Chair articles, click here: QB | RB | WR | TE
The 2020 running back free agency market is loaded with young talent. Names like Derrick Henry and Melvin Gordon await payday. Running backs who found new homes in 2019 such as, Hunt, Hyde and Drake, look to return for 2020. But, is re-signing with their respected team the best situation for fantasy? Are there other realistic landing spots that can create more fantasy value for these players and those around them?

Derrick Henry - RB - Tennessee Titans
What a year for the former Alabama Heisman winner. Henry was already having a good year but once Tannehill took over, Henry became unstoppable. Henry benefited from the QB change and has even squashed rumors about Brady coming to town, taking the side of Tannehill. But he wants top running back money, and it remains to be seen if Tennessee will fork over that money.
Henry's ideal landing spot would be right back in Tennessee. Tennessee should find a way to bring back Henry and Tannehill. If they do, the Titans offense will be an exciting offense to watch again. The issue in this situation, Tennessee may not have that money; as a result, Derrick could go to a team that has the cap space.
The Indianapolis Colts are the best fit if Henry does not return to Tennessee. The Colts have a terrific offensive line and putting Henry back there is a match made in heaven. Yes, Marlon Mack is still there, but the injuries he has suffered can make the team hesitant. If Henry goes here, the offense gets an upgrade and Henry stays as a top-5 running back. But, the possibility of this is slim. Expect Henry to return to Tennessee.

Kenyan Drake - RB - Arizona Cardinals
I have always been a fan of Kenyan Drake, but it hurt watching him play for Miami. Then, he was traded to Arizona and WOW. Finally, a team he can actually play football with. Drake scored 8 touchdowns in his eight games with Arizona. That's one less touchdown than the first three years he spent in Miami combined.
The best landing spot for Drake is back in Arizona. He fits the scheme perfectly and if you stat out his pace for a full 16 games, you get this: 246 attempts for 1,286 yards and 16 TDs - targeted 70 times with 56 catches for 342 yards. Now, that's simply taking the average from his 8 games played with Arizona, but it shows how valuable the position is in this offense and how well he fits in it. Kyler Murray would also benefit from this. Having Drake in the backfield would open up the quarterback option play and defenses would have to respect the run; opening up more passing lanes for the second year QB. If Drake returns, he is a top-12 running back in 2020.

Melvin Gordon - RB - Los Angeles Chargers
Gordon returned from his holdout and didn't look the same. The offensive line struggled this year and with Rivers out the door, check-downs may not be so persistent with whoever comes into town (unless it's Brady…a boy can dream). Gordon needs volume if we expect him to be a top running back again.
Best case scenario for Gordon, fantasy-wise, is a return to Los Angeles, however, I don't see them paying the man. Gordon could receive the money and plenty of opportunities from the Dolphins. This move would allow Miami to draft in positions like offensive linemen, defensive back and a quarterback. Gordon can handle the workload if given to him and that is what Brian Flores is missing on offense right now (not including some pieces on the offensive line). Will he be productive on a bad team? We'd have to see. But here, he could see a lot of volume to keep him in the low-end RB2 to high-end flex range.

Austin Ekeler - RB - Los Angeles Chargers
I like Ekeler's chances of staying with the Chargers compared to backfield mate, Melvin Gordon. Ekeler costs less and was more productive last year. Now, this doesn't mean Ekeler should be the lead back and carry the bulk of the workload. But I believe he can be brought back and continue to be a fantastic pass catching/change of pace running back. I don't think the Chargers will be satisfied with Justin Jackson and may draft a running back in the 2020 draft. If Gordon stays, Ekeler will still be ranked as a solid RB2; if Gordon does not come back, slightly bump up Ekeler, especially in PPR leagues.

Kareem Hunt - RB - Cleveland Browns
I would easily put Hunt around number two if he wasn't sitting behind Nick Chubb on the Cleveland Browns. Stefanski is a run-first minded coach and Hunt can get valuable touches in this scheme. The problem is the unknown factor of how many touches each running back gets. Will it be a committee? Will Hunt be the third down back? In fantasy, we like our running backs to handle the bulk of the load.
When I look at the best place for free agents to land, I try to think realistically. Obviously, if he landed on the Chiefs again, he would be a guaranteed RB1. But that won't happen. Honestly, as a restricted free agent (RFA), the Browns won't be matched when they present a contract to Hunt; and Hunt won't leave either. He still has to nurse his image after the incident in 2018. It makes sense for Hunt and the Browns to bring him back on a one or two year contract and feature him in the third down/pass catching role. After this, he should be able to cash in and sign somewhere else. Hunt will play in the aforementioned Ekeler type role and can end up a low-end RB2 fantasy performer in 'points per reception' formats. If Chubb goes down, Hunt becomes an easy RB1.

Jordan Howard - RB - Philadelphia Eagles
I have always been a fan of Jordan Howard since he came out of Indiana in 2016. He is a terrific runner but has hands like cinder blocks. Short and sweet, there is one place that fits him perfectly; and no, it's not in Philadelphia.
Howard would be a perfect compliment with Ekeler in Los Angeles. The Chargers need a bruiser at running back who can tire out the defense and help them win those closer games. Howard could get the majority of carries and not have to split touches with Miles Sanders and even Boston Scott. Howard would have plenty of volume to top 1,000 rushing yards and have ample scoring opportunity on the Chargers offense. With this move, you can count on Howard being a great RB2 in standard formats and a flex option in PPR leagues.

Matt Breida - RB - San Francisco 49ers
Breida had plenty of opportunity with the 49ers to demand the majority of touches. He has nice vision and incredible speed. The knock on Breida is health. He played 13 games in 2019 and one more than that in 2018. That's not bad, but that doesn't count the games where he started but left early due to injury. There are worse options in the market and, honestly, if Breida plays a full 16 games; he can be a locked and loaded RB2. But that won't be the case if he stays in San Francisco. Although it wouldn't be a bad idea for the 49ers to keep him around, he may want more money and more touches. With the loaded backfield in San Francisco, it is probably best, from a fantasy perspective, if he went somewhere else.
For a guy who averages 5 yards per carry in his career, a team should take a shot on Breida. The Buccaneers are an interesting team. Ronald Jones III is still there but he has been wildly inconsistent and they need a better 'between-the-tackles runner. Now, Breida isn't a power rusher, but his speed and vision would make him a fantastic fit with Arians' running scheme and Jones III could move to a passing down role. It would be a great addition for this offense and maybe help open up the field for Winston too.