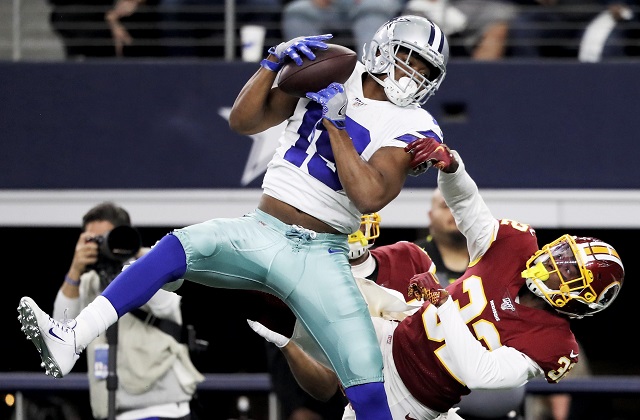 Written by Chris Hexter
29 February 2020
For Chris's other Musical Chair articles, click here: QB | RB | WR | TE

It's a good year for free agent wide receivers in the NFL. There are some great, young talents in names like Robby Anderson and Amari Cooper who await their inevitable payday. There are also some aged names we've grown to know over the past decade such as A.J. Green and Emmanuel Sanders. What are the best, realistic landing spots for some of these names going into 2020? Let's examine!

Amari Cooper - WR - Dallas Cowboys
Cooper is without a doubt the best wide receiver in free agency. Cooper really enjoyed his time in the Dallas offense and has even expressed he would like to stay there for a long time. Sadly, Dallas doesn't have the money to pay him and Dak Prescott their desired salaries. Still, I think Dallas will find a way to keep them both around (most likely via franchise tag). There are plenty of teams that can use Cooper's talents, so it'll be interesting to see what happens in the months to come.
Cooper will most likely stay around with the Cowboys. It's a good move for him and it's a great move for the offense. The Cowboys have an amazing ground game and keeping Cooper and Dak around for another year with OC Kellen Moore will make this offense an even bigger threat in 2020. The biggest issue last year was the road/home game splits. Cooper was a WR3 when Dallas was playing away from home. When they were in Jerry World, Cooper was a surefire WR1. If this weird will-they-won't-they games went away, you're looking at a strong WR1 candidate in 2020.

Robby Anderson - WR - New York Jets
A six-foot three, 4.34 40-yard dash wide receiver has entered free agency and is demanding at least ten million a year. Robby Anderson has flashed incredible talent. He has also shown his hands can be somewhat unreliable. Teams are looking at Anderson as a field stretching wide receiver who will be their WR2. He may get close to what he wants in terms of money, but his 54% career catch rate is nothing to be excited about. Although I think it is realistic that Anderson returns to the Jets, he doesn't want to go back; with Gase as the head coach, I understand.
Anderson could fit in very nicely with Carson Wentz in Philadelphia. DeSean Jackson has blown a hamstring every year of his career (exaggeration, I know) and relationships with Jeffrey supposedly are on the cusp. Anderson would not solve any problems if the Eagles don't retain a solid WR1. Either way, Anderson will be on a better team, with a better system and a way better quarterback. The Eagles also have one of the best offensive lines in football, thus creating more time for downfield passes to develop. Anderson would be a great WR3 with WR2 upside.

A.J. Green - WR - Cincinnati Bengals
I like A.J. Green's talent more than the aforementioned wide receiver. But age and injury history has put a hamper on his name. I would imagine a few teams would be willing to offer Green a solid one year prove-it-or-lose-it deal. However, Cincinnati really wants him back. I still believe there is a good season left in Green but where he goes would severely impact his fantasy output.
The Bengals will most likely keep Green on the team, although I would enjoy seeing him opposite of T.Y. Hilton in Indianapolis, they most likely won't spend the money here. If the Bengals let Green leave, they risk having a new quarterback throw to Boyd as the primary pass catcher. Any chance you can have Green on the outside, I think would be worth your while. He is still an incredible talent and could still perform as a low-end WR2 in this offense; especially if he plays a full season. However, I would still rank him inside the WR3 range due to risk and the offense.

Breshad Perriman - WR - Tampa Bay Buccaneers
After years of being labeled a bust and drop-prone, Perriman finally exhibited the talent that got him drafted in the first round in 2015. Perriman totaled more yards in 2019 with the Buccaneers than his entire time in Baltimore combined. But, does this mean he is suddenly Mr. Sticky Hands or Mr. Indestructible? No. But he showed promise. At least enough to warrant consideration from other teams.
The Buccaneers would be wise to bring him back as the down field receiver to compliment Jameis Winston's urge to launch the ball as far as he can with his eyes closed. If he returns, Perriman is a good WR3 play and would receive a bump up in standard formats. However, the 49ers would be interesting too. Shanahan likes the speedsters and I don't think it is likely they bring back Emmanuel Sanders, although, I do think it would be smart of them to. Perriman would likely take the Sanders role in this offense and would see more targets in San Francisco compared to Tampa Bay. He would still be a WR3 but much more consistent and valuable as he would have plenty more opportunity in San Francisco's offense.
Emmanuel Sanders - WR - San Francisco 49ers
As I said, I don't think the 49ers will bring Sanders back. But I know who might want him. Sanders isn't getting any younger, believe it or not, he is actually getting older. But this won't stop teams like the Saints from grabbing the soon to be 33-year-old. The 49ers have expressed they want him back, but it may not be possible.
The Saints make sense. Their offense is good even without a solid WR2. Michael Thomas proved he can handle all the targets but it won't take long for the passing attack to become one dimensional. Cook has been a great option for Brees too but adding a solid veteran like Sanders on the team gives this offense more depth; he could be the piece that keeps this offense on the up and up in 2020. Brees would have a reliable wideout outside of Thomas and Sanders could have one of the best QBs in the game targeting him. Sanders is no more than a low-end WR3 in this offense; if he can play a full sixteen, Sanders would end up being a fantastic late round sleeper.

Randall Cobb - WR - Dallas Cowboys
Cobb had a terrific year with the Cowboys, tallying 828-yards and three touchdowns. If he returns, which McCarthy said is his goal, I see similar yardage with a few extra scoring opportunities.
Dallas will be successful in bringing back the 29-year-old (turns 30 in August). Cobb finished as a WR4 in 2019 and I would predict he finishes around the same area again. He isn't going to rally behind explosive touchdown totals, but he should see consistent targets and be considered a flex-play in the right matchups during the 2020 season. Short and sweet, we'd like to see Cobb back in Dallas.

Devin Funchess - WR - Indianapolis Colts
Bunchess of Funchess signed a one-year deal with the Colts last off-season in a prove-it deal. Sadly, injury cost him the season and will most likely not be back in Indy for 2020. Teams will forget Funchess and just how huge the former Michigan tight end is. He is still a talented big-bodied receiver who can contest in traffic. Fortunately for NFL teams, he should not cost too much. The Jets will probably lose Anderson this off-season. But even if they don't, Darnold needs someone on that offense who can help with contested catches. Anderson is too inconsistent and Crowder was only used as a drag/flat route option. I like tight end Herndon IV, the issue is he can't stay healthy.
The Jets should sign Funchess to help Donald out. He won't cost much and the team could focus some funds toward the offensive line. Funchess would see a heavy dose of targets in this offense and would be the type of wide receiver Darnold needs as he continues to develop. The opportunity as the primary pass-catcher in New York could make him a WR4 in standard formats but nothing more.