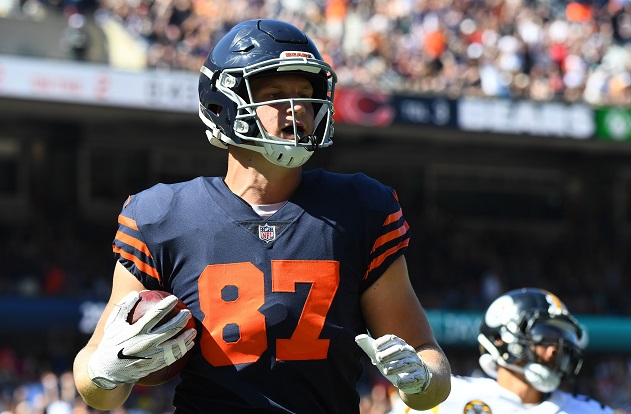 Written by Brian Murphy
08 February 2018
George Kittle, San Francisco 49ers
Kittle's 2018 breakdown potential depends on whether Jimmy Garoppolo re-signs with the Niners, something I fully expect to happen (Editor's note: Jimmy G signed a huge five-year deal with the 49ers on Thursday afternoon). With that, I also expect Kittle to build upon his surprisingly successful rookie season in which his targets (63), catches (43) and yards (515) trailed only Evan Engram among first-year TEs. Kittle became fantasy-relevant while Brian Hoyer and C.J. Beathard were under center, but we may have gotten a small preview of things to come in Weeks 15-17. In those three games, Kittle hauled in 11 of 14 targets from Garoppolo for 194 yards and a touchdown. He's not a dominant physical specimen like Rob Gronkowski, but Kittle does have 4.52 speed, good initial burst and enough athleticism to give defensive coordinators headaches. San Fran's offense is on the rise, and Kittle should play a prominent role moving forward.
Sad that the NFL season is over? Don't be. Make your own offseason prop bets here.
Adam Shaheen, Chicago Bears
Shaheen is the type of player we've seen often at this position: A big, raw, uber-athletic former basketball player. Can he block? Uh, let's not talk about it. Fantasy owners want to know what kind of stats this guy can accrue, and with a fresh slate with a new head coach, Shaheen should definitely see more playing time next season. He's 6-foot-6, around 280 pounds and can play all over the formation. His rookie season wasn't much to write home about -- 12 catches, 127 yards, three scores in 13 games -- but Shaheen possesses the ability to be a difference-maker in a receiving corps that sorely needs one. His rapport with quarterback Mitchell Trubisky will be something to watch this summer because if those two can get on the same page, Shaheen has a few tons of upside.
Tyler Kroft, Cincinnati Bengals
Hey, guess what? Here's another big, tall, athletic tight end! What a surprise! Kidding aside, here is something that probably is surprising to many: Kroft was the No. 11 TE in standard fantasy leagues in 2017. He should continue to be a significant factor in the red zone -- seven touchdowns this season -- especially with the eternally injured Tyler Eifert unlikely to be re-signed. Thus, Kroft should enter next season as a clear starter. He doesn't have as much upside as Shaheen or other up-and-coming tight ends who are a little more well-known (O.J. Howard, David Njoku), but Kroft has shown that he can be TE1-level productive and will almost certainly have the opportunity to improve upon his 42-404-7 line from this year.
Check out these other 2018 early sleeper articles:
You can follow, ask fantasy questions and yell at Brian on Twitter: @Spokes_Murphy
Never miss ASL's latest fantasy sports news. Send us an email at newsletter@advancedsportslogic.com and list the sports you are interested in (NFL, NBA, MLB, NHL, EPL) to start receiving ASL's newsletter.