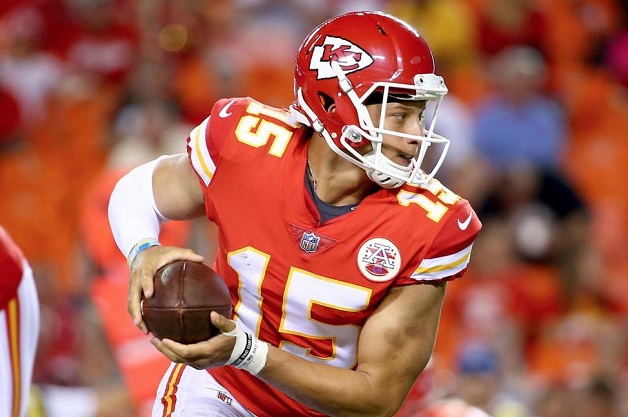 Written by Brian Murphy
06 February 2018
Patrick Mahomes, Kansas City Chiefs
Believe in Andy Reid. As much as he drives fantasy owners crazy with how he neglects his star running back from time to time, he knows how to create productive quarterbacks. This goes far beyond Alex Smith's career year in 2017. Reid was alongside Donovan McNabb while he kept turning in top-12 fantasy campaigns in every season but one from 2000-2009. Michael Vick became one of fantasy's top commodities in 2010 with Reid. Remember when the fantasy community was high on Kevin Kolb for about 15 minutes that summer? It was somewhat because of Reid. And now Mahomes is Reid's next prized pupil. There will be some obvious growing pains, especially since Mahomes is not a finished product as a passer. But he is a dual-threat athlete and Reid will put him in situations to consistently succeed. Having Tyreek Hill, Travis Kelce and Kareem Hunt at his disposal certainly helps as well. Mahomes will be drafted outside of the top 20 QBs, but his big arm, mobility and tutelage from Reid will result in a number of QB1-level weeks in 2018.
Sad that the NFL season is over? Don't be. Make your own offseason prop bets here.
Philip Rivers, Los Angeles Chargers
The definition of "sleeper" is subjective. Rivers isn't your typical sleeper; he's a 36-year-old seven-time Pro Bowler. You know who he is. Still, it looks like many people will be sleeping on Rivers despite the fact that he was fantasy's No. 8 QB this season. I'm seeing him listed between 15-20 in many early positional rankings. Why? Sure, he can't run, makes some mistakes that make you tear your hair out and no longer has that "new quarterback" smell. But what's wrong with just his raw production? He turned back the clock in his first season with offensive coordinator Ken Whisenhunt, and the talent surrounding Rivers should help him keep playing ball like a much younger man. Keenan Allen is an elite safety value, but this passing offense could be even better if it gets larger contributions from 2017 first-round pick Mike Williams and tight end Hunter Henry. Plus, Melvin Gordon is a solid pass-catcher. As long as he can keep the turnovers down -- his 11 giveaways this season tied a career-low -- Rivers can be an easy QB1 whom you will probably be able to draft after 15 or so other names are off the board.
Marcus Mariota, Tennessee Titans
We would all like to see Mariota run more, but the real reason for his 2017 downfall was the Titans' bland, unimaginative offense. In comes Matt LaFleur, the Rams' offensive coordinator from this season (hi, Jared Goff) and the Falcons' QBs coach from 2016 (Matt Ryan's MVP year). Those players' successes weren't solely because of LaFleur, but he unquestionably helped, and I think he'll be able to work his magic on Mariota. Like the other players in this article, Mariota has a handful of capable weapons around him -- Derrick Henry, Rishard Matthews, Corey Davis and Delanie Walker. What they need now is a fresh start. That's what LaFleur brings, and I am excited to see what Mariota can do in an offense that wasn't founded in the Stone Age. He's only 24 years old and has easy top-12 fantasy QB potential. Yet, because of how disappointing he was in 2017, he'll fall into the final rounds in many one-quarterback leagues.
Check out these other 2018 early sleeper articles:

Never miss ASL's latest fantasy sports news. Send us an email at newsletter@advancedsportslogic.com and list the sports you are interested in (NFL, NBA, MLB, NHL, EPL) to start receiving ASL's newsletter.