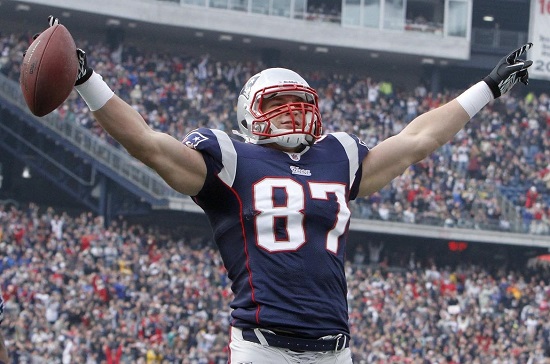 With only one more weekend of pre-season games to go, ASL has updated its June top-20 TE ranking and you can bet on NFL here.
Also see ASL's top-30 rookies, top-20 QBs, top-50 RBs, top-20 WRs and top-100 dynasty players.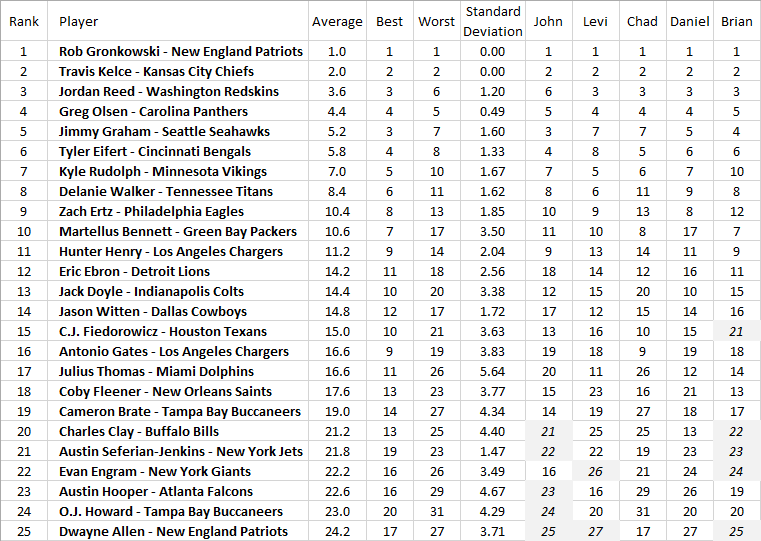 1. Rob Gronkowski - New England Patriots
John Adams' #1: Yes, the injury bug is a persistent problem for Rob Gronkowski, but there is no tight end in the game that even comes close. If you can get him, his fantasy potential far outweighs any concerns about injuries.
Levi Andrew's #1: Rob Gronkowski is one of the best TE's in NFL history. Let's hope he stays healthy this year. After the injury to Julian Edelman, Tom Brady has enough problems. If Gronk stays healthy, I can easily see him scoring 10+ TD's and 850-1000 yards in 2017.
Chad Samuels' #1: He is the top TE. He is injury prone, but if he plays a full season for you he can bring you a championship. He deserves this ranking, but he will not have a spot on my roster.
Daniel Brown's #1: Gronk remains my #1 TE option despite injury concerns. When he is on the field he is targeted heavily, especially in the redzone, and with the injury to Edelman it opens even more opportunities for him. I would take him comfortably as the #1 option.
Brian Murphy's #1: He is healthy now and although he might be hurt again by November, Gronk's 1,000-plus-yard, 15-touchdown upside still makes him the king of the tight ends.

2. Travis Kelce - Kansas City Chiefs
John Adams' #2: Chiefs tight end Travis Kelce is finally healthy again. He hasn't seen a ton of action in the preseason, but not to worry. Don't let his lack of touchdowns scare you off, this is the second best tight end in the NFL.
Levi Andrew's #2: You want to know who will be the biggest winner of the Jeremy Maclin release, Travis Kelce. With 76 targets gone, quarterback Alex Smith will need someone to throw to. Smith is the check down king, so he will be targeting Kelce multiple times per game.
Chad Samuels' #2: If you are going to invest in a top 3 TE this is the one that you want. He will see high volume from Alex Smith. He has also proven durable.
Daniel Brown's #2: Kelce should continue to be a major focal point in the Chiefs offense. Alex Smith likes to dump off short and Kelce runs a good TE stick route, as well as a good crossing route than often leads to yards after the catch. He is not as TD dependant as other TEs and as a result he is my #2 TE.
Brian Murphy's #2: I'm skeptical that Kelce can repeat his 1,125-yard effort from 2016, but he should remain a target monster and is destined to score more than five touchdowns one of these years. He just needs some TD luck.

3. Jordan Reed - Washington Redskins
Levi Andrew's #3: If Jordan Reed stays healthy this year, he could easily finish with 110 targets this during the course of the season. More targets equal more opportunity. Reed missed much of the preseason due to a toe injury. However, Reed says he has new insoles and is playing pain free.
Chad Samuels' #3: Jordan Reed is another receiving tight end that can't seem to stay healthy. He is wearing an orthotic for his injured toe and that should help keep him on the field and a top TE option. The injury concerns make him an avoid player for me. You can read about it here.
Daniel Brown's #3: Reed is a big target and when healthy an incredible fantasy TE. The problem is he struggles to complete seasons, often missing games due to injury. Drafting Reed ahead of Olsen is a little risk because of injury, but the upside is there for Reed which is why I have him ranked higher.
Brian Murphy's #3: A huge, athletic problem for opposing defenses, Reed will be leaned on heavily in 2017 following the departures of Pierre Garcon and DeSean Jackson. He has shown that he can be an elite fantasy player whenever he's available. However, since he has never made it through a full season, injuries will continue to be a concern.
John Adams' #6: Ever since Kirk Cousins took over the starting position, Jordan Reed has been an integral cog in the Redskins pass offense. He has a long history of injury problems, but Cousins trusts him completely and that makes him a top five or six fantasy tight end coming into 2017 when he is on the field.

4. Greg Olsen - Carolina Panthers
Levi Andrew's #4: Greg Olsen is the most reliable TE in all of fantasy football. Since 2012, he hasn't dipped under 800 yards and has only scored less than 5 TD's in 2016. Olsen is Cam Newton's security blanket and even with all the new additions on the Panthers offense, Olsen will still get his targets.
Chad Samuels' #4: Greg is still a solid TE at 32. With the arrival of McCaffrey to his offense, his numbers may dip a little. He is still a top choice.
Daniel Brown's #4: Olsen is Mr Consistency in terms of TE. He is a favorite target of Cam Newton and finds his way into the endzone often enough to contribute some big scores. He should represent better value than the Big 3 given he will go a little later in drafts, but not much. There is usually a run on TE and if you miss one of the top 5-6 then you are at a little bit of a disadvantage!
John Adams' #5: Greg Olsen has three straight seasons with more than a 1,000 yards receiving and there's no reason that won't happen again coming into 2017. His touchdown average was cut in half to only 3 scores last season, but he should bounce back for six more in 2017.
Brian Murphy's #5: Olsen may not have much upside left entering his age-32 season. However, he hasn't missed a game in nearly a decade and has become an annual lock for 1,000 yards and a handful of TDs. He's not the most attractive fantasy commodity in the top tier, but he is the safest.

5. Jimmy Graham - Seattle Seahawks
John Adams' #3: Seattle quarterback Russell Wilson is healthy and so is his all-star tight end Jimmy Graham. This is the first time we've seen these two players healthy at the same time. Graham is a top-flight tight end and should go no later than the fifth round in fantasy drafts.
Brian Murphy's #4: He performed better than anyone could have imagined following his major 2015 knee injury and finished last season as fantasy's No. 4 TE. Another year removed from that torn patellar tendon, it's reasonable to think that Graham could surpass his 2016 line of 65-923-6.
Daniel Brown's #5: Graham struggled in his first season in Seattle, however last year they seemed to figure out the best ways to get him involved in the offense and I expect that to continue this season.
Levi Andrew's #7: If the Seahawks continue to be a balanced offense, Jimmy Graham will have huge upside due to his presence in the red zone. If the Seahawks go to a more run heavy approach like they had when they won the Super Bowl, Graham could be asked to be blocking a lot more, due to his size and the O-line woes for Seattle.
Chad Samuels' #7: Seattle seemed to figure out how to use him last year. However, the Seahawks became more of a pass heavy team as the season went on. I wouldn't be surprised if Seattle attempts to run the ball more this season. If they do Graham may regress in stats.

6. Tyler Eifert - Cincinnati Bengals
John Adams' #4: Tyler Eifert is always hurt, but he definitely healthy now and when he's healthy, he's all about the touchdowns. Eifert is a touchdown dependent player, but because he's caught 18 touchdowns in his last 21 games, he must be viewed as a top tier tight end.
Chad Samuels' #5: Eifert is a top five TE. John Ross will help open things up for him underneath. He is injury prone but also entering his prime. If you are going to draft a tight end with an injury history that produces, Eifert is the value that you want over Reed or Gronkowski.
Daniel Brown's #6: Eifert needs to stay on the field and if he does, he can be a big producer in fantasy this year. When you look at the Bengals offense they really struggle for that #2 target to accompany AJ Green, and this is where Eifert should fit in this offense. If he stays on the field he can benefit from a large number of targets all over the field. He is the last TE I would be willing to "reach" for in my draft.
Brian Murphy's #6: I don't feel great about placing Eifert even this high, but i'm not in love with anyone behind him either. The major issue is his health or lack thereof. He missed half of last season and almost all of 2014 due to injury. On the flip side, Eifert is in the prime of his career -- he will turn 27 next week -- and has scored 18 touchdowns in his past 21 games. If he ever does stay healthy, there is no doubt in my mind that he will finish as a top-five tight end. He is truly a high-risk, high-reward gamble.
Levi Andrew's #8: Tyler Eifert is a touchdown scoring monster, having scored 18 times in the last 21 games. When Eifert is on the field, he has all the ability in the world that guys like Travis Kelce and Jordan Reed have to offer. Let's hope this back surgery fixed him and he can stay on the field.

7. Kyle Rudolph - Minnesota Vikings
Levi Andrew's #5: Kyle Rudolph had his best season last year. I attribute that to Sam Bradford. As long as Bradford is the quarterback in Minnesota, I will rank Rudolph as a top-five tight end.
Chad Samuels' #6: Rudolph gets a bump in the rankings as long as Sam Bradford is the VIkings QB. He has the upside to be a solid TE1 this season.
John Adams' #7: It took Kyle Rudolph five full seasons before having a breakout year, but that is exactly what happened in last year. Rudolph rang up 840 receiving yards last season to go with seven touchdowns and those numbers are likely to get even better in 2017.
Daniel Brown's #7: Rudolph is in a good situation in Minnesota and if the running game can flourish then it could result in additional time for Sam Bradford in the pocket, as well as open up play action downfield. Rudolph has had some injury concerns and doesn't find the endzone as often as I would like from a fantasy perspective which sees him ranked just outside my top 6.
Brian Murphy's #10: Rudolph might be Sam Bradford's biggest supporter. Fantasy's No. 3 TE last season, the Notre Dame alum won't repeat that success as the Vikings should be able to run the ball better (and more often) this season. But Rudolph is another one of those useful, steady tight ends outside of the top tiers.

8. Delanie Walker - Tennessee Titans
Levi Andrew's #6: The Eric Decker signing really hurt Delanie Walker's value in the red zone. I may have had Walker as a top 3 tight end before the team signed Decker. He will still have value being Marcus Mariota's TE. You can read my more in-depth piece on Mariota and Walker here.
John Adams' #8: During his 11-year pro career, Delanie Walker has only cracked the 1,000 yard receiving mark just one time. However, Walker has a strong nose for the end zone. The problem is that there are too many mouths to feed in the Titans pass offense and Walker could see his receiving yards dip again this season.
Brian Murphy's #8: How much will Eric Decker and rookie Corey Davis cut into Walker's target total? All those mouths for Marcus Mariota to feed in Tennessee could hurt Walker's value, but it might also lead to less defensive attention. He has been a top-10 fantasy tight end for three years running and is another safe bet.
Daniel Brown's #9: Walker has been solid since going to Tennessee. This year he has a little more competition for targets with the acquisitions made by Tennessee via the draft and free agency, and as a result I think he will see his production reduced when compared to the last couple of seasons. He is still a top 10 TE for me, and represents a guy that I would be happy to grab in the mid rounds of a draft but don't want to reach too early for him.
Chad Samuels' #11: Forget that the Titans drafted Jonnu Smith. The odds are he will not take Walkers job this year. Walker is a target that quarterback Marcus Mariota has worked and developed chemistry with. With wide receiver Corey Davis nursing a hamstring and Eric Decker new to the offense it is likely they will not start as fast as Walker will to start the season. He doesn't have much upside from what he has already done but he is very likely to repeat his stats from last year.

9. Zach Ertz - Philadelphia Eagles
Daniel Brown's #8: Ertz is, for me, in that second or third tier of TE. After the top 6 I think there is a bit of a gap and then I see about 4-5 TE that are somewhat interchangeable. The Eagles have made some changes to their personnel this offseason and it will be interesting to see the impact that has on Ertz's role in the offense. He has the ability but for me has lacked the consistency week to week. Whether that was offensive scheme related or something else is hard to tell, but this inconsistency sees him just outside my Big 6.
Levi Andrew's #9: Carson Wentz sure did like throwing Zach Ertz's way in 2016, 106 targets to the TE. The Eagles did acquire a whole new cast of skill players. But I feel like Wentz will still rely on Ertz. If he sees another 100 targets and a few more red zone TD's this year, Ertz's could finish as a top 5 TE.
John Adams' #10: Eagles TE Zach Ertz caught 78 passes last season for a shade over 800 yards and four touchdowns. Now that Jordan Matthews is out of the picture, I would expect a nice bump in his production coming into the 2017 season.
Brian Murphy's #12: The sheen has worn off. Ertz is never going to be a supremely special player, but he is dynamic enough to be a worthy low-end TE1 on a weekly basis.
Chad Samuels' #13: There always seems to be some buzz around Zach Ertz. I am not sure why people get excited for five fantasy points a game and a touchdown one out of every four games. He may see an uptick in usage with Jordan Mathers gone, but his value was hurt when the Eagles added Alshon Jeffery and Tory Smith via free agency.

10. Martellus Bennett - Green Bay Packers
Brian Murphy's #7: Bennett's yardage total may leave you hollow more often than not, but his touchdowns upside in the Packers' offense is monstrous.
Chad Samuels' #8: Bennett is a solid TE1 He is talented and Rodgers can spread the ball around. Still there are a lot of mouths to feed in Green Bay and that keeps him outside the top five. I expect him to produce better than Jared Cook.
Levi Andrew's #10: Aaron Rodgers has been talking about Two Tight End sets being used, I can see Martellus Bennett playing a huge part in the offense in Green Bay. He's a Huge red zone asset for Rodgers, I think he might be a tad TD dependent though.
John Adams' #11: Martellus Bennett traded in Tom Brady for Aaron Rodgers. On paper, that seems like a good idea, but the reality is that it won't boost Bennett's fantasy value too much. No one loves to target tight ends more than Brady and that is NOT the case with Rodgers. 
Daniel Brown's #17: Bennett to Green Bay appears to be a win for him, in terms of being the #1 option at TE, however I suspect that any uptick he may see will be somewhat limited as Rodgers has not favored passing to the TE position in the past. Whether that is personnel related or not is something that Bennett will show us. There's some risk picking him but the upside is there as Rodgers is one of the best at the position.

11. Hunter Henry - Los Angeles Chargers
John Adams' #9: If not for Antonio Gates, Hunter Henry would be much closer to the top in fantasy TE rankings. Henry has proven himself to be the best tight end in San Diego (now Los Angeles), but Philip Rivers often only has eyes for Gates, especially in the end zone. 
Brian Murphy's #9: The torch has been passed in San Diego as Henry has officially stepped in front of Antonio Gates. He scored eight touchdowns as a rookie last season and is bound to rack up more yards and catches this fall.
Daniel Brown's #11: Henry can be a solid producer in the Chargers offense, given that attention will be payed specifically to Keenan Allen and stopping Melvin Gordon. Henry showed last year he could handle the workload, the knock on him will be the presence of Antonio Gates. I expect that will reduce his TD number as Rivers to Gates in the redzone has been a Chargers staple.
Levi Andrew's #13: I just can't have Hunter Henry anywhere near my top 10. Not only does he have Antonio Gates to contend with, it also appears that the Chargers will be spending more time running the ball. Henry will not finish in the top 10 this year.
Chad Samuels' #14: Henry is the future of the TE position in Los Angeles. Unfortunately, Antonio Gates just will not retire and it seems Henry will have to wrest playing time from his cold dead fingers. Henry is a great upside play because he should see more usage as the season progresses to help keep Gates fresh. That is when you want your fantasy points.

12. Eric Ebron - Detroit Lions
Brian Murphy's #11: Sure, he has been disappointing because he hasn't lived up to his first-round draft slot, but if Ebron had caught just four touchdowns last season instead of one, he would have been a top-10 tight end in fantasy. That's not asking for much. He should be a red zone threat because of his size and athleticism. Plenty of upside remains here, and the Lions continue to throw the ball more than most teams.
Chad Samuels' #12: Hamstring injuries can linger and that is exactly what has happened to Eric Ebron this training camp. He has the talent and the draft pedigree to break out but I think the early injury will prevent that from happening this year. Let someone else draft him as a TE1 but if he falls in your draft take a chance on him as a TE2.
Levi Andrew's #14: Eric Ebron has never played more than 14 games although with each new season, his numbers have improved. He finished last year with 61/711/1. This could be his break out year where he lives up to his 1st round pedigree. However, he's had too many injury issues for me to take him seriously. 
Daniel Brown's #16: Ebron has promised so much … but hasn't really delivered on that promise. He appears to have the ability, and he should be a heavy target in this offense. I wouldn't be reaching for Ebron and would be looking to pair him with another TE with upside (maybe a Brate or Howard).
John Adams' #18: I do NOT draft tight ends who can NOT catch touchdowns. Lions, tight end Eric Ebron does NOT catch touchdowns.

13. Jack Doyle - Indianapolis Colts
Daniel Brown's #10: Doyle is a great option in Indy …. If Andrew Luck is under center. He showed last year he could handle the main role in Indy. He is a TE with a relatively high floor (when Luck plays especially), and also has upside whereby he can score multiple TDs in a game.
John Adams' #12: Colts tight end Jack Doyle is the ultimate boom or bust fantasy tight end coming into this season. If Andrew Luck manages to get semi-healthy, Doyle will be on fire. If Luck sits out multiple games, Doyle will likely fall more into the "bust" category.
Levi Andrew's #15: Before Andrew Luck's shoulder became an issue for Week 1, I had Jack Doyle at TE9, now I have moved him to TE15 due to the mystery status of Luck and his ailing shoulder.
Brian Murphy's #15: I want to move Doyle down because Andrew Luck's shoulder has me scared of drafting any Colts receiver, but perhaps Doyle will turn into a friendly face for Scott Tolzien for however long he starts. In Doyle's favor is the possibility that Indy will dial up a bunch of short passes if Luck can't play.
Chad Samuels' #20: Doyle has been a sexy name all offseason once Dwayne Allen went to the Patriots. The Colts can use him but it's very likely he will put up average numbers. You can pick him up but don't overpay for his services.

14. Jason Witten - Dallas Cowboys
Levi Andrew's #12: Dak Prescott relied heavy on his TE last year, feeding him 95 targets. Jason Witten finished as the 14th best TE last year. With Ezekiel Elliott facing suspension, Witten could get even more involved in the passing game.
Daniel Brown's #14: Witten is getting on in years, however much like other TE (Olsen, Gates) he has the ability to put up big numbers. I think Witten is a little more consistent than Gates and for that reason he ends up inside my top 15. Witten should be a solid week to week TE and one that you can grab a couple of rounds after the Big 6.
Chad Samuels' #15: Witten is another player who seems to defy father time. Unlike Antonio Gates, he does not see nearly as many touchdowns. He is safe to stash on the back end of your roster if you are planning to use a tight end by committee approach for matchups or an emergency stop gap if you own a Jordan Reed or a Rob Gronkowski.
Brian Murphy's #16: Although he signed a five-year contract this spring, it's creeping toward midnight for Witten. The 35-year-old has yet to finish outside of the top 15 in tight end fantasy scoring since 2003, but with my No. 16 ranking, I'll say he falls just short of continuing that streak.
John Adams' #17: Jason Witten was the cream of crop for many years in Dallas until father time finally ran him down. Nobody knows how long Witten has left to play, but he's a TE2 at best now and is no longer a week-to-week starter.

15. C.J. Fiedorowicz - Houston Texans
Chad Samuels' #10: Fiedorowicz has been a name that has been mentioned the last two seasons as a value TE that should emerge. Tom Savage will give better quarterback play than Brock Osweiler did last year. If the Texans move onto DeShaun Watson in season, he should be a safety outlet for him. It is reasonable to expect him to improve on his 2016 numbers.
John Adams' #13: Some fantasy owners like to carry two tight ends, some don't. If you do, C.J. Fiedorowicz in Houston is a strong insurance policy if you decided to draft one of those top tier tight ends that are plagued with injury issues.
Daniel Brown's #15: The challenge for Fiedorowicz will be the QB play. I expect Watson to be in the lineup sooner than later (maybe even week 1) and as a result the TE should be a position that provides a safety outlet. Whether Watson has the time and the mentality to find him will determine his fantasy success this year.
Levi Andrew's #16: What a breakout year for C.J. last year. This year may be a little different due to QB concerns. C.J. will get his share of targets from either Tom Savage or Deshaun Watson, just not knowing when will be the tricky part. He is also one of my Dynasty Buy Lows.

16. Antonio Gates - Los Angeles Chargers
Chad Samuels' #9: Gates keeps defying father time. At some point Gates will stop being fantasy viable. Until his skills decline (which can be at any time now) he will continue to be a reliable target for Philip Rivers. After all the years they spent playing together, Rivers should continue to look for Gates as he trusts him as a receiver. Just because I have him ranked in the top ten because of his history of reliability, it does not mean you have to draft him here. Draft him for his touchdown upside as a value play later in your drafts and grab a cheap upside tight end to back him up.
Levi Andrew's #18: Antonio Gates may be taking a secondary role to Hunter Henry this year, I just don't see him taking the whole TE job to himself. Gates is 1 TD away from the all-time touchdowns for a Tight End. Phillip Rivers will get him that and more. Due to the crowded receiving room, I have Gates low.
Brian Murphy's #18: He will have a few turn-back-the-clock box scores. Philip Rivers will make sure of that.
John Adams' #19: As long Antonio Gates suits up and hovers around the end zone, Philip Rivers will be on the lookout for him. Even at 37-years-old, he is always a threat to catch a touchdown in the red zone. Gates recorded 7 touchdowns last season and it would not be a shock to see him do it again.
Daniel Brown's #19: Gates has been on the decline over the past couple of years and the emergence of Hunter Henry has only continued that. Gates has shown that he can still produce and he is a decent back up option if you can get him later in the draft. Don't expect him to be a top 5 in points TE, but if things go right he could easily outperform his ADP.

17. Julius Thomas - Miami Dolphins
Levi Andrews #11: Head coach Adam Gase went out and traded for Julius Thomas. Gase knows how to use Thomas and will have plays designed just for him. Thomas may never be able to recreate his stats he had in Denver, but with Jay Cutler in Miami now, Thomas will get more looks then he would have with Ryan Tannehill.
Daniel Brown's #12: I really like Thomas despite his lack of production in Jacksonville. I expect that he will become a redzone favorite of Jay Cutler as the season develops, and I also think you will be able to grab him later in the draft than other lower ranked TEs.
Brian Murphy's #14: Even at his worst in Jacksonville, Thomas was a top-15 tight end when healthy. I have him at No. 14 because he is still in his athletic prime, the Dolphins are in need of another big target and have no better options at TE. If he plays even 14 games, Thomas should break into the top 12 here, perhaps the top 10. I will be targeting him in the late rounds often.
John Adams' #20: The glory days in Denver are long gone for Dolphins tight end Julius Thomas. Having Jay Cutler at the helm isn't going to help his case either. There are much better options out there for your fantasy team.
Chad Samuels' #26: A move from Jacksonville to Miami would normally be a good thing for a tight end. Then Ryan Tannehill went down with a knee and the Dolphins brought in gunslinger Jay Cutler as a replacement. Cutler should be looking downfield more than the dump off pass to Thomas.

18. Coby Fleener - New Orleans Saints
Brian Murphy's #13: Mock him all you want, but Fleener is going to be very fantasy-relevant for another year. The Saints throw more passes than almost anyone else and will need some slack picked up following the Brandin Cooks trade. He will definitely turn in some clunkers, but you will want Fleener in your lineup when he inevitably shines, thanks to Drew Brees.
John Adams' #15: Coby Fleener had some growing pains during his first year with Drew Brees and the Saints. Even so, Fleener managed 50 catches for 631 yards and three touchdowns last year and could build on those numbers coming into the 2017 season.
Chad Samuels' #16: His first season with the New Orleans Saints did not go as expected. With the addition of Alvin Kamara the odds are Fleener will produce similar numbers as he did last year.
Daniel Brown's #21: Fleener should have a decent role in New Orleans. Perhaps it will be a similar situation to Jimmy Graham in Seattle where it takes a little bit for him to become fully integrated in the offense. He's not someone that I am rushing out to draft.

19. Cameron Brate - Tampa Bay Buccaneers
John Adams' #14: Many pundits rank O.J. Howard above Cameron Brate in Tampa Bay and that is a mistake. Brate has proven chemistry with Bucs QB Jameis Winston catching 57 receptions for 660 yards and an eye opening 8 touchdowns. That chemistry won't evaporate just because the team drafted Howard.
Brian Murphy's #17: It sounds like Brate's role won't change much this season, at least in the early going. O.J. Howard is going to be a drain on his value, certainly, but Brate would be the TE I want out of this situation for redraft leagues.
Daniel Brown's #18: Brate would be higher on my list if Tampa Bay hadn't drafted O.J. Howard. Not to say I think he loses the job to Howard, but I do expect some of the TDs to be shared by these two which actually hurts both of their value. For me he is a TE with upside, but that upside depends on his being used as the primary TE with Howard used in spot situations ... and at the moment I don't know that will be the case.
Levi Andrew's #19: Cameron Brate had a breakout showing last year with 57/660/8. Finishing as the 6th best TE. Soo you're asking why I have him at TE19. Well that's where my TE20 comes in. O.J. Howard. The Bucs first round pick. He will cut into Brate's targets this year. Make them both low in the rankings.
Chad Samuels' #27: I don't like rookie TE. I would rather have the veteran on the roster who is more likely to produce fantasy points.

20. Charles Clay - Buffalo Bills
Daniel Brown's #13: Clay is a steady option for the Bills, however he has a tendency at times to disappear in games. He is targeted in the redzone and that may well end up being the determining factor for his success this year. I expect he will be heavily targeted by the QB (whoever that is) and see him putting up numbers just outside the top 10 for the position.
Levi Andrew's #25: Clay was the 18th best TE last year. The Bills have come out and said that they are concerned with his knee. Last year the not knowing if he was going to play every week due to him not practicing and being on the injury report, was a real headache.
Chad Samuels' #25: He is not exciting production wise. Tyrod Taylor looks to be on the hot seat and Buffalo is a passing offense with a lot of turnover. A heavy dose of running game limits his upside.

21. Austin Seferian-Jenkins - New York Jets
Chad Samuels' #19: The Jets passing game should be a dumpster fire this year. There are questions at quarterback. They lost both Brandon Marshall and Eric Decker at wide receiver. Then they lose Quincy Enunwa for the season. Either ASJ has an enormous year because there is no one else to throw to or he is pedestrian at best for the lack of talent in the passing game. The latter option is the most likely.
Daniel Brown's #23: The Jets are not going to be great … that is the general consensus and from fantasy perspective the real question here is how the O-line performs. McCown is decent, he's no Tom Brady, but he has his moments. The problem for us in fantasy land is trying to predict when those moments will occur ... and who the beneficiary will be. ASJ is a late round flier for me or more likely a waiver wire watch.

22. Evan Engram - New York Giants
John Adams' #16: It makes NO SENSE that fantasy owners are looking past Giants rookie tight end Even Engram. He's obviously an every down player who may very well become Eli Manning's favorite target in the end zone.
Chad Samuels' #21: Rookie tight ends rarely pan out their first season. Hunter Henry flashing last year helps create a false floor for Engram. The Giants have OBJ, Brandon Marshall and Sterling Shepard on roster for Eli to throw to. Unless one of these miss playing time, Engram is likely a bye week replacement for 2016. Engram will flash in games, but will he flash enough to start?
Daniel Brown's #24: The Giants have used the TE in the past in short passing situations from close to the goal line … or maybe it's just me that thinks Larry Donnell was always catching 1 yard TD passes. There are so many options in New York that I would be looking elsewhere for my TE.

23. Austin Hooper - Atlanta Falcons
Brian Murphy's #19: From all reports, the 22-year-old Hooper already has a nice rapport going with Matt Ryan. He is locked as the pass-catching tight end in Atlanta's potent offense.
Daniel Brown's #26: Hooper is a great late round option with upside. Ryan appears to prefer throwing to the outside rather than up the middle, however with Hooper it's possible to see an increase in targets - especially in the redzone.
Chad Samuels' #29: I ranked him 29 would like another year of seasoning for him.

24. O.J. Howard - Tampa Bay Buccaneers
Levi Andrew's #20: O.J. Howard is a great talent, he slipped to the Bucs in the first round. He makes the passing attack that much better NFL wise. But Howard won't do much fantasy wise this year. Howard will be asked to block a lot in Two Tight End sets, leaving Cameron Brate open for the passing attack.
Daniel Brown's #20: Howard is talented and for a rookie could present good value. I expect he will get some looks, especially in the redzone, however the presence of Brate knocks his potential down for me. I would probably draft him late in the draft as an upside type player but I wouldn't reach for him.
Brian Murphy's #20: Howard has got that first-round rookie gloss that makes him so attractive and although he will have some big weeks due to his natural athleticism, it won't be a smooth ride for fantasy owners. He edged out the Texans' C.J. Fiedorowicz for this spot.
Daniel Brown's #20: Howard is talented and for a rookie could present good value. I expect he will get some looks, especially in the redzone, however the presence of Brate knocks his potential down for me. I would probably draft him late in the draft as an upside type player but I wouldn't reach for him.

25. Dwayne Allen - New England Patriots
Chad Samuels' #17: He will occupy the Martellus Bennett role for the Patriots last year. His real value is in the weeks Gronkowski misses time. He might see a little more usage with Julian Edelman being lost for the season Friday night but he won't be the big winner in target increase. He is a "must" handcuff for Gronkowski owners.
This article was sponsored by My Bookie.