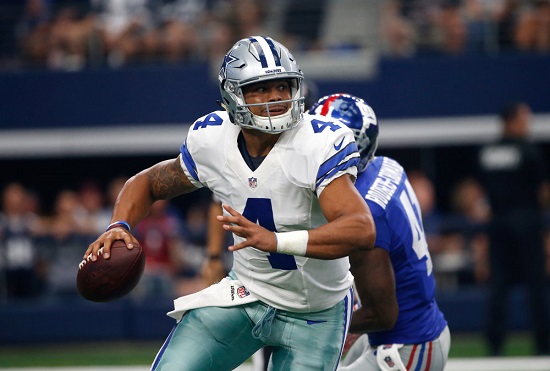 With NFL preseason having finally arrived, ASL has updated its June top-20 QB ranking and here are up-to-date NFL betting odds.
Aaron Rodgers is the obvious top choice. Dak Prescott and Andrew Luck are the players most difficult to agree-on.
For easy reference we are putting the table at the top of the article and the team's player analyses below. We included standard deviation ("Std Dev") in the table, which is a measure of how well we agree on the ranking of a particular player. A smaller standard deviation indicates greater agreement. Dak Prescott and Andrew Luck have the largest two standard deviations and are likely to present more risk, but also more upside potential. Check out our comments and decide for yourself.
Also see ASL's top-30 rookies, top-50 RBs, top-50 WRs, and top-20 TEs.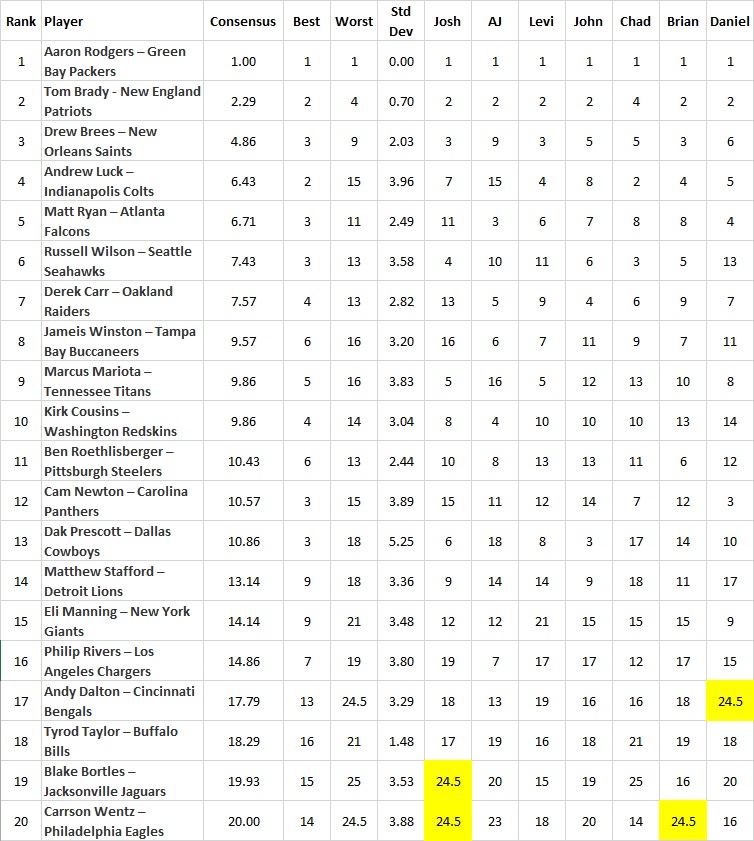 1. Aaron Rodgers – Green Bay Packers
Josh Rabbitt's #1: I'm flip flopping Rodgers and Brady. Why? It doesn't matter. Either will be awesome.
Levi Andrew's #1: Mr. Rodgers has finished the last three seasons as a top 8 QB; 1st in 2016, 7th in 2015 and 1st in 2014. He will always be a top 5 QB.
John Adams' #1: He's the best of the best – 40 touchdowns through the air, 4 rushing touchdowns and 4,428 passing yards. Year after year, he's in a league of his own.
Chad Samuels' #1: By far and away the number one quarterback this season.
Brian Murphy's #1: Rodgers has ranked either first or second among fantasy QBs in seven of his nine seasons as a starter, and I see no reason for a decline as he enters his age-33 campaign. He remains an elite-elite passer with plenty of weapons and actually set a career high in rushing attempts in 2016.
2. Tom Brady – New England Patriots
Josh Rabbitt's #2: Why the move down? So I would have something to change. I don't know how you can actually pick between those two. You can talk about Brady's age being a downside if you would like, but he doesn't look like a 40-year old. I think he is moving better at 40 than when he was 30.
Brian Murphy's #2: Brady was suspended for four games last season and still finished just a few points away from slotting as a top-12 fantasy QB. Chronos will come for him eventually, but I definitely don't see it happening this season, not with a ridiculous glut of pass-catchers at his disposal.
Levi Andrew's #2: If Tom plans on playing until he's 45, Bill sure did a good job surrounding him with even more weapons this off season. He got a great deep threat in Cooks; Gronk is back and healthy; and Bill added Gillislee and Burkhead in the RB department. That's not good for their target share but great for Brady, making him one of the FEW Pats I'm in on this season.
John Adams' #2: There's no denying that Tom Brady is one the most prolific quarterbacks ever to throw the football in the NFL. BUT… He turns 40 in August and father time is undefeated. The Pats have surrounded Brady with multiple weapons and barring injury, he should have a great season. But 40 is NOT the new 30 and a 40-year-old quarterback is always risky, even if his name is Tom Brady.
Chad Samuels' #4: Statistically Brady should be number two on this list. Despite taking care of his body, he is still 40. His body could begin to break down to where it affects him. From 2017 and beyond, skill or physical decline concerns will follow him. It also should take him longer to recover from little dings. Buyer Beware.
3. Drew Brees – New Orleans Saints
Josh Rabbitt's #3: Despite the loss of Cooks, Brees gets a move up to #3. He will finish in the top 5. He feels much safer than Luck at this point.
Levi Andrew's #3: Brees just won't go away. Hasn't thrown for under 4,000 yards since getting to New Orleans. He's consistently in the top 5.
Brian Murphy's #3: I don't feel great about putting Brees third, but will probably turn in another stellar statistical season based on volume alone; New Orleans' continuously poor defense will assure a high number of attempts. However, second-year man Michael Thomas is now his No. 1 wideout. Adrian Peterson doesn't really help matters from a receiving standpoint, and Ted Ginn (!!!) looks to have a very meaningful role in this offense. I know Brees has done big things with a rotating cast throughout his career. Can he do it again with this relatively lackluster crew and at 38 years old?
John Adams' #5: Coming into his 17th season, Drew Brees is another grizzled veteran who says he can play until he's 45-years-old. Brees finished last season as the 3rd best fantasy quarterback and he is a monster in the dome, but at 38-years-old, a slowdown could be just around the corner. Brees is always a lock for a great start, but last year, he really faded in five of his last six games.
Chad Samuels' #5: If Brady has a "Buyer Beware" tag so does Drew Brees. Brady is a little older than Brees in age but Brady has better weapons to cover it. Drew is still top five material in redraft. You just need to draft him with your eyes wide open for a potential down year.
AJ Schreiver's #9: Yes, the Saints have two new flashy RB's but they lost a lot at receiver. I think Brees and Payton can only make up so much.
4. Andrew Luck - Indianapolis Colts
Chad Samuels' #2: I don't want to be the guy who selects the second quarterback off the board this year. I think the top five all have their risks and can provide solid returns. Luck has a shoulder issue but at this point news is saying he might miss a game or two early but should miss the PUP list to start the year. I will take his talent and am okay missing a game or two to start the season. I really want my top quarterback for the playoffs.
Levi Andrew's #4: Andrew has his arrow pointing up. The Colt's new GM knows he needs to protect his franchise QB. Luck had his shoulder worked on this offseason which has him not participating in training camp. There's talk of him starting the season on PUP, which would require he miss the first six weeks. However, he may come off the PUP list before the start of the season, and in that case, he most likely will miss week one. Taking all this into consideration, I've moved him down from my QB2.
Brian Murphy's #4: Remember when his offensive line was the greatest concern for Luck's fantasy value? With each passing day, it seems like the news regarding his surgically repaired right shoulder isn't getting any rosier. This No. 4 ranking assumes he will miss just a game or two, but it wouldn't surprise me if, in a few weeks, we find out he will actually miss more than that.
Josh Rabbitt's #7: Andrew's shoulder issue has me super scared. If I knew he is going to play 16 games, he would be right back in at #3.
John Adams' #8: I had Andrew Luck as my #2 ranked quarterback back in June. The news coming out of Indy was all good for Luck's recovery after shoulder surgery, but reports of that recovery may have been greatly exaggerated. If Luck is still on the PUP list when the start of the season rolls around, he would automatically have to miss the first six games of the year. The Colts coaching staff is playing games with the media, so there is no way to know whether Luck will be ready or not. Luck went from a sure thing to a roll of the dice. If he's cleared to play for the season opener, he is a top five QB. If he's on the PUP list, he's nothing more than a "cross-your-fingers" stash.
AJ Schreiver's #15: The guy still finished in the top 5 last season, but the ailing right could hold him back to start the season.
5. Matt Ryan – Atlanta Falcons
AJ Schreiver's #3: Offensive-coordinator, Steve Sarkisian, might not be the Shanahans, but he is no stranger to creative NFL-type offenses. Atlanta returns with almost everyone, so I don't expect much drop off from Ryan.
Levi Andrew's #6: Talk about an up and down career in fantasy, since 2012 Ryan has finished 7th, 15th, 7th, 9th, and 2nd. I should've him ranked lower since he's had only one top-5 season. Atlanta has a new offensive coordinator, but they say they're going to keep the same scheme. So, if that's the case he should do pretty well.
John Adams' #7: Many experts believe that Matt Ryan has the tools to repeat his epic 2016 campaign where he threw for just a shade under 5,000 yards to go along with a dizzying 38 touchdowns. However, I don't think Ryan can repeat those numbers and will fall back to the earth in 2017. Julio Jones is now recovering from surgery number three on his left foot and Ryan lost his offensive coordinator. If you're looking for 30-plus touchdowns again, you will be sorely disappointed.
Chad Samuels' #8: Many have him higher. I do not think you can rank him on his 2016 numbers. They were career-year numbers and likely not to be repeated. Kyle Shanahan is also gone. They kept the system but it is not quite the same as actually having the offensive coordinator.
Brian Murphy's #8: This No. 8 ranking is a hedge. There's no part of me that thinks he can repeat last year's smashing success. But I don't think Ryan will be as mediocre as he was in 2015. The departure of offensive coordinator Kyle Shanahan should not be forgotten. Ryan will probably be overdrafted in many leagues.
Josh Rabbitt's #11: Finally you say! Wasn't this guy like #3 in scoring last year? Yes, but now there is no more Shanahan. I'm open to being wrong here, but Kyle has coaxed career years out of every QB he has ever had. I think he is more likely to finish QB #15 than QB #3.
6. Russell Wilson – Seattle Seahawks
Chad Samuels' #3: He is talented and should give you some rushing points. He is less of an injury risk than some of the others of the top five and is too young to worry about arm fatigue or skill decline. He has finished strong the last two seasons. His downside is lack of weapons. He has overcome it before. He may not have the upside of the other top five QBs but he also has the best chance, outside of Rodgers, to land there.
Josh Rabbitt's #4: Here is where I start to diverge from the pack. I am not a believer in any other QB option. I feel pretty safe about what RW can bring to the table. He's not going to kill me with turnovers, he plays through injury, and he is a safe bet for 4000 yards and 30 TDs.
Brian Murphy's #5: I'll write off Wilson's disappointing 2016 due to injuries. Like Andrew Luck, Wilson needs his O-line to step up if he is going to produce at a high level. If that happens, a fully mobile Wilson will undoubtedly finish as a top-eight QB yet again.
John Adams' #6: Provided he can stay healthy, Russell Wilson should be able to leave behind a 2016 season where he registered a 92.6 quarterback rating (the lowest of his career) and a career high 11 interceptions. Health issues plagued Wilson all season long, but he is apparently feeling much better and the Seahawks are looking at one of the easiest schedules coming into the 2017 season. The only problem is that the team's offensive line is one of the worst in the league.
Levi Andrew's #11: He's becoming a better pocket passer. That can either hinder or help him. I have him at QB10 because I think his rushing numbers will drop more than they already have. However, the Hawks will always be a run first team (with notably one of the worst o-lines in the league) so there is some possibility this could bring up Wilson's rushing numbers.
7. Derek Carr – Oakland Raiders
John Adams' #4: 2016 was a breakout season for Derek Carr and the Raiders. In his third season, Carr led the soon-to-be Vegas Raiders to a 12-3 record and fell just short of the 4,000-yard mark when he broke his leg during Week 16. Carr tossed 28 touchdowns last season and four 300-yard games. Carr seems to be 100% healthy again which likely played a role in his five-year, $125 million contract extension.
Chad Samuels' #6: Carr is a young and talented yardage machine. He could be higher than 6th by the end of the year. He hasn't had back-to-back monster years... yet. He also is coming back from a broken leg. For now we give the credit to the guys who have done it before and often.
Levi Andrew's #9: This kid is locked and loaded to be a great QB in the NFL. I personally think he could have given the Pats a run in the playoffs last year. But he got hurt and didn't get a chance. With great WRs and Lynch recently arriving, who will be a huge asset to his performance this year, look for Carr to finish as a top-10 QB. But to finish the season handing-off to Lynch to win the SUPER BOWL.
Brian Murphy's #9: Marshawn Lynch is in Oakland, but in the realistic scenario that the 31-year-old is rusty after a year-long layoff, Carr will probably be asked to throw more. I love everything about this aerial attack, and Carr is just now entering his prime.
Josh Rabbitt's #13: Another one most people have higher than me is Carr. I like the weapons, but I don't love the underlying stats when Carr throws the ball deep. I think a regression is coming.
8. Jameis Winston – Tampa Bay Buccaneers
AJ Schreiver's #6: If the Bucs' o-line can protect Winston this offense has a chance to be special.
Levi Andrew's #7: Winston probably won the off season next to Brady. The team brought in DeSean Jackson in free agency, drafted O.J. Howard to go with Cameron Brate, and they still have the one of the best WRs in Evans.
Brian Murphy's #7: We should be looking at a 4,000-yard, 30-touchdown season from Winston this year. With the pieces that are around in him in the Bucs' offense, he has no excuses. The arrow is pointing straight up.
Chad Samuels' #9: He has back-to-back 4000 yard seasons to start his career. He has the receivers to become elite if he can cut back the picks. If he does that he vaults up this list.
John Adams' #11: Jameis Winston has the Tampa Bay area in chaos because he was seen in a leg brace. Winston is brushing off those concerns as he gets to captain a team with even more receiving talent than he had a last season with the addition of DeSean Jackson. You can also expect Tampa to employ two tight end sets using the tandem of breakout player Cameron Brate and hot rookie prospect O.J. Howard.
Josh Rabbitt's #16: Winston, contrary to popular belief, is a terrible QB. I feel like every throw he makes is a close-eyed prayer to Mike Evans. However, now he also gets to make close-eyed prayers to OJ Howard and DeSean Jackson. He might climb higher than this, but the floor could come out from under him as well.
9. Marcus Mariota – Tennessee Titans
Josh Rabbitt's #5: Where is Matt Ryan? Matt Stafford? Kirk Cousins? Sorry kids. Marcus is the future. QB #12 in points per game throwing to the likes of Andre Johnson last year. The great Andrew Luck scare of 2017 has Marcus as a top 5 QB in my books.
Levi Andrew's #5: It's a big year coming for the big Hawaiian. Decker signed since I first ranked the QB's which is why I have moved him from QB11 into my top 5. You can read more on why I think Marcus will be a top 5 QB here.
Brian Murphy's #10: The Titans have prioritized giving Mariota a bevy of quality receiving options and I think those efforts are about to pay off. Last season's No. 13 fantasy QB despite missing one game, Mariota might deserve to be ranked a few spots higher than I have him here at No. 10. He is near the top of the list if we're solely talking about upside.
John Adams' #12: Marcus Mariota seems fully healed from a broken leg that ended his season last December. As a running quarterback, Mariota has endured a slew of injuries during his first two seasons, but he welcomes the addition of the Titans first round draft pick Corey Davis. Davis has also been slowed by injuries, but it does appear he will be ready for the start of the season.
Chad Samuels' #13: He is talented and he puts up numbers when he is healthy. There is the problem he has yet to play a 16 game season. If you are not concerned about the injuries then you can move him into the top ten, but for me he's thirteen overall.
10. Kirk Cousins – Washington Redskins
AJ Schreiver's #4: Cousins is still not getting enough love. If Pryor can become a red zone target, maybe Gruden will turn Kirk loose in all parts of the field.
Josh Rabbitt's #8: I don't trust him. I really don't. I love the weapons, but I feel like about any other QB could be doing the same with those weapons. What if he starts playing to avoid injury or starts thinking too much about the contract? I think he will finish in the top 10, but I don't see another top 5 finish for him.
John Adams' #10: The Redskins need to get the most out of Kirk Cousins this season, because he will NOT be around next year. Many teams would kill to get a top-10 talent like Cousins, but the Redskins gave him an offer that was easy to refuse. Cousins is a motivated player who could have the best numbers of his career, not only to better his position in the open market, but to stick it to the team that disrespected him.
Chad Samuels' #10: Another franchise tag for Cousins means another contract year. He is a yardage machine. DeSean Jackson and Pierre Garcon may be gone but there is still plenty of talent for Kirk to throw to.
Levi Andrew's #10: Cousins has had yet another off-season with no contract and will be playing on the franchise tag for the 2nd year in a row. I think this pushes him even more. He has some great tools around him, Pryor, Reed, Crowder and Doctson. He came out and said that he loves Pryor and he's going to feed him the ball, which very well can help Cousins. Pryor was a decent WR in Oakland and knows where the QB wants him to be. Look for this to be the same offense as before, just with a little more fire from Cousins.
Brian Murphy's #13: Losing DeSean Jackson and Pierre Garcon stings and having Terrelle Pryor pretty much locked in as your top wide receiver isn't a even trade. But let's see if 2016 first-rounder Josh Doctson can pick up the slack. There's no doubt in my mind that Cousins won't meet his standout numbers from last year. But he will likely end up being a fringe QB1 solely because Washington will continue to throw the ball a ton.
11. Ben Roethlisberger – Pittsburgh Steelers
Brian Murphy's #6: People need to understand just how much of an impact Martavis Bryant has on the Steelers' offense. It can be seen in Roethlisberger's splits with and without him, especially prior to 2016. I know it's risky to assume that all the Killer Bs will stay on the field. If they do, Big Ben is going to have an awesome season at a draft discount.
AJ Schreiver's #8: Ben's production comes down to his health. You'd better have a good back up option if you draft Ben.
Josh Rabbitt's #10: Big Ben would be much higher on this list if I didn't know I could count on him sitting out 3 or 4 games. He could easily get a top 5 finish, if he could ever stay healthy.
Chad Samuels' #11: Pittsburgh has a very good passing game. Roethlisberger can put up the stats but can he stay healthy for 16 games?
Levi Andrew's #13: Retirement is the talk of the town in Pittsburgh. If this truly is his last year, I see him going out with a bang. This team is built to win now. I can see him balling out this year for like 4,000/30+/13. He's just outside my top ten.
John Adams' #13: The bottom line is that Ben Roethlisberger has been missing games and playing hurt over the past two seasons and his fantasy numbers have suffered because of it. Ben is not getting any younger and has been pondering retirement as he adds a new set of injuries to his battered body each season. If he can stay healthy, and that's a "big IF" he can be a top ten QB again, but his style of play has taken its toll on his body over the last 13 seasons and he is close to the end.
12. Cam Newton – Carolina Panthers
Chad Samuels' #7: He has some new shiny toys in Samuel and McCaffrey and he still has Benjamin and Olsen. He is recovering well from his shoulder injury earlier in the offseason and should be a solid option at quarterback.
Levi Andrew's #12: If you were one to draft Cam #1 overall last year I feel your pain. I did it with Vick when he was on the Eagles. The coaches are really trying to bring his rushes down to save his body. He had surgery this off season to repair his shoulder. They also brought in the #1 rookie RB in my opinion. With McCaffery and Stewart rushing, now they can afford to let Cam throw more and rush less.
Brian Murphy's #12: Cam cratered as a passer last season and his current shoulder issue isn't helping things. He was never a special passer to begin with, but his incredible athleticism polished those blemishes. Now, if he (smartly) shies away from running as much in order to lessen the physical punishment he takes and can't rebound as a passer, what do we have?  Maybe a QB1, but one certainly on the low end of the scale.
John Adams' #14: Cam Newton is easily coming off the worst season of his career with a 19:14 TD:INT ratio and a career low 359 rushing yards. The constant beatings and sacks seem to have taken a toll on Newton and his productivity. However, the draft additions of versatile rookie running backs Christian McCaffrey and Curtis Samuel could provide the outlet Newton needs to get rid of the ball more quickly and have a bounce back 2017 season.
Josh Rabbitt's #15: Cam is the guy on this list that could easily repeat his bad performance, or bounce back and be a QB #1 again. I personally don't trust him. But as a high upside QB2, I love him.
13. Dak Prescott – Dallas Cowboys
John Adams' #3: Dak Prescott only threw the ball 459 times during his rookie season last year, but still finished as the 6th best fantasy quarterback. Now with a year of experience under his belt, expect more of the same from a quarterback who not only plays behind the best offensive line in football, but who is blessed to play alongside running back sensation Ezekiel Elliott. Even if Elliott has to miss a couple of games, Prescott is money.
Josh Rabbitt's #6: This will be the year of Dak unleashed. He was the #10 QB in total points last year, as a rookie, on a team that ran the ball a ton. This year I think Dak is asked to do more, and he rises to the challenge. Dak and Mariota represent huge bargains in fantasy drafts right now.
Levi Andrew's #8: There will be no sophomore slump for this guy. He has the tools to repeat his rookie season, including a good arm, a great o-line, and good legs combined with a great RB that will keep the defense honest. Look for Zeke and Dak to just keep growing together to become a great threat to defenses.
Brian Murphy's #14: Everything just went so perfectly for Prescott and the CowBoys' offense last season. Almost too perfectly. This ranking accounts for some understandable growing pains and regression. This is still a run-first, run-second team.
Chad Samuels' #17: Odds are this ranking is very low for Prescott. Think about it. He is a sophomore quarterback where as a rookie he had training wheels. When the wheels come off a lot of quarterbacks regress. Remember he was a day-three draft pick at number 135 overall. He has already overachieved his draft status. Also keep in mind Dallas is a run-first team. Even if he does not regress his ceiling will be capped in Dallas for 2017.
AJ Schreiver's #18: A top 10 finish as a rookie, Dak isn't by the sophomore 'slump' yet so I'm buying the come-back-to-earth Dak. It's not likely we will have 6 rushing TD's and only 4 picks this season.
14. Matthew Stafford – Detroit Lions
Josh Rabbitt's #9: Matt Stafford is going to give you a solid back-end QB1 performance week in and week out. He's not going to be spectacular, but he can be your rock.
John Adams' #9: Before a finger injury last season, Matt Stafford was having the best seasons of his NFL career finishing with 4,327 yards and 24 touchdowns. Now that the finger is healed, Stafford arrived at camp HUNGRY and in the best shape of his nine-year career. If he can stay healthy, the sky is the limit, even with his batch of so-so receivers.
Brian Murphy's #11: I was one of many who thought Stafford would suffer without Calvin Johnson. Instead, he flourished, seemingly no longer burdened by the feeling that he should force-feed Megatron. Spreading the ball around works for him, and I think that will continue to be the case. A reprise of his QB7 finish, however, isn't quite in the cards.
Chad Samuels' #18: He is a talented former number one pick. I just am not crazy about the weapons that are around him. He should put up decent numbers and do well in a QB by committee approach.
15. Eli Manning – New York Giants
Josh Rabbitt's #12: He is old. He is declining. I 100% get it. However, he has all the weapons in the world. I don't know how you can't be successful with all that talent to throw to.
AJ Schreiver's #12: Eli should bounce back nicely this year as he finally has some red zone targets to throw to this year.
Chad Samuels' #15: He can put up the numbers and is a solid veteran. He is a high floor quarterback and can put up 4000+ yards and 25 TDs numbers. But how high is his ceiling?
John Adams' #15: After an impressive 2014 and 2015 season, Giants quarterback Eli Manning fell back to earth last season finishing as the 22nd rated quarterback in fantasy production. So why do I think an aging quarterback can crack the top twenty again? It's simple, Manning does his best work when he has a dynamic tight end to lean on and that's exactly what he gets with rookie prospect Evan Engram. He's more receiver than tight end and has the hands to snag even the most errant passes that slip out of Eli's hands.
Brian Murphy's #15: He is running on fumes, but Eli has some fantastic end zone targets at his disposal, including perhaps the best wideout in the game. Brandon Marshall will be a difference-maker for him in the red zone as well, and rookie Evan Engram fills the Giants' lasting need for a dynamic, catch-first tight end. I could see Manning breaking into the top 10 here by season's end.
Levi Andrew's #21: Eli finished 22nd last year, but the previous two years he finished 10th. He has a great set of weapons in OBJ, Brandon Marshall, Sterling Shepard, and Evan Engram. If the Giants can get a running game going and take the pressure off Eli's arm, he may return to top-10 Eli.
16. Philip Rivers – Los Angeles Chargers
AJ Schreiver's #7: He is going to have plenty of options to target, the o-line will need to come together with a couple rookies for Rivers to shine this year.
Chad Samuels' #12: He has the weapons. If they can stay healthy he can put up the stats. He is often overlooked and is a value play as a starter.  
Levi Andrew's #17: Philip Rivers is about as close to a security blanket as you can get at QB. Top 15 QB every year since 2013. The last 3 years he's finished 12th, 12th, and 14th. Considering all the injuries he's dealt with at WR, RB, and TE, if he has a healthy set of weapons this year he's a good bet to finish in the top 10.
John Adams' #17: Many experts have Philip Rivers moving up their depth charts, but that's a mistake. The L.A. Chargers play the third most difficult schedule coming into the 2017 season and Rivers has made a real habit of fading down the stretch. He is a serviceable quarterback with tremendous talent, but he doesn't have the supporting cast to make a real impact.
Brian Murphy's #17: Like Blake Bortles, Rivers is a quarterback whom you shouldn't watch if you own him. It's not good for the heart. Yet if Keenan Allen stays healthy for once (please!) and gets to play alongside intriguing youngsters such as Tyrell Williams, rookie Mike Williams and tight end Hunter Henry, Rivers will at least be useful in most weeks.
Josh Rabbitt's #19: Rivers is clearly in the major decline phase. I can't trust Rivers to throw more TD's than picks.
17. Andy Dalton – Cincinnati Bengals
AJ Schreiver's #13: The Bengals have several players who can take a short pass and turn it in to big-chuck yardage. Not to mention Green and Eifert who he can just throw it up to if the offensive line can't get out of its own way.
John Adams' #16: Andy Dalton threw for more than 4,000 yards last season and 18 touchdowns last season, but he faded badly down the stretch. The Bengals wanted to boost the supporting cast around Dalton in the offseason and that's exactly what they did in the draft adding Washington wideout John Ross in the first round and running back Joe Mixon in the second. These high powered weapons can only help Dalton coming into the 2017 season.
Chad Samuels' #16: He's a solid backup who has weapons. He is not exciting but will fill the need of backup on your roster.
Josh Rabbitt's #18: Dalton is going to bounce back this year, and be a solid QB #2 like he has been for his entire career. However, I like more upside with my backup QB's.
Brian Murphy's #18: No matter what Dalton does, you always know he will end up as a midrange QB2. I guess that's nice. You are fully aware of what he is going to give you. No surprises. John Ross and Joe Mixon add a significant amount of speed to this offense. Not that it will make much difference to Dalton's year-end fantasy value. He is who he is. What happened in 2013 was a total outlier.
Levi Andrew's #19: This is the best spot for the red rifle. He could finish with better stats than last year. I just don't forecast him cracking the top 10.
18. Tyrod Taylor – Buffalo Bills
Levi Andrew's #16: Tyrod has to prove himself to a new regime again. He'll do it and with grace. Rex is gone which should equal more passing attempts for him. If Watkins stays healthy this year, with Zay Jones on the other side, I can see Tyrod blowing everyone away this year.
Josh Rabbitt's #17: QB is a minefield this year. Here is a guy that may end up giving you nothing. Or he could give you some decent performances. There's not much left.
John Adams' #18: Tyrod Taylor finished last season as the 9th rated fantasy quarterback stuffed between Blake Bortles and Russell Wilson. His passing accuracy would leave him outside of the top 20 quarterbacks looking in, but his 580 rushing yards and six rushing touchdowns make all the difference in the world. The Bills added some new weapons around Taylor by signing Zay Jones in the second round and 36-year-old Anquan Boldin, but his passing numbers can only go so high.
AJ Schreiver's #19: He doesn't win a lot of games but his rushing ability keeps him fantasy relevant, and if Sammy can stay healthy he can have a much better season.
Brian Murphy's #19: Taylor better hope his feet don't fail him because I'm not sure to whom he will be throwing the ball if Sammy Watkins gets hurt again. Second-round rookie Zay Jones might turn out to be his top target.
Chad Samuels' #21: Early rumors had him gone from Buffalo but he is still there. The Bills still have McCoy and will run him. Watkins is hurt again and they signed Anquan Boldin. Zay Jones is new. The beginning of 2017 is shaping up to be another dysfunctional year for the passing game in Buffalo. Draft accordingly.
19. Blake Bortles – Jacksonville Jaguars
Levi Andrew's #15: Many say this is his last year to prove he can be a capable NFL QB. But in our world of fantasy he's been a huge asset, finishing the last two years in the Top 15. Most of his points are garbage time but we don't care in fantasy. Fournette just arrived there, which in my opinion will take a huge defensive load off Bortles, vaulting him to the next level.
Brian Murphy's #16: He might lose his job at some point this season. So, there's that. But Bortles has been a top-10 fantasy quarterback in each of the past two seasons. It's not pretty at all, but it works for his owners. While the Jags would like to keep the offense on the ground all day with Leonard Fournette and T.J. Yeldon, their defense isn't good enough to allow them that. Thus, Bortles will have to keep doing what he does best: Racking up those junk-time points. They all count in our game.
John Adams' #19: Blake Bortles isn't turning any heads at training camp this season. He's throwing pick after pick, so at least that's consistent. However, due to large amounts of garbage time, Bortles has cracked the top ten in back to back seasons despite some very erratic play. However, adding Leonard Fournette to the mix would make any quarterback better and Bortles is no exception.
AJ Schreiver's #20: I think Bortles will have a better season this year, just not in terms of fantasy value. With a new offensive coordinator, a revamped D and run game, the Jags will try to scale back Blake's passing attempts.
Chad Samuels' #25: Jacksonville will be a run-first team and Blake will be a garbage time stat producer. Put it together and Bortles will not be a good choice to man a QB by committee for you. He could have some really good weeks but can you predict them?  
20. Carson Wentz – Philadelphia Eagles
Chad Samuels' #14: I love Wentz. I love his talent and I love his weapons. He did fade a bit at the end of last year and Philly has said they are going to manage him better. I think he breaks out and beats his ADP. He could crack the top 12 and be a starter this year, but I think it is more likely he will be the first option backup or part of a QB by committee for you.
Levi Andrew's #18: He has all the weapons around him to take that next step.  Wentz has been the talk of the Eagles' training camp, making plays with his new weapons. I'm still not comfortable having him in the top 15 yet.
John Adams' #20: Despite a non-existent running game, Carson Wentz threw 16 touchdowns and 14 interceptions last season. Not good and not terrible. The Eagles added LeGarrette Blount to boost the running game, but that probably won't help Wentz throw any more touchdowns than he did last season. He's not going to lead any fantasy teams to the playoffs, but could make a nice bye week plug in.
This article was sponsored by My Bookie.