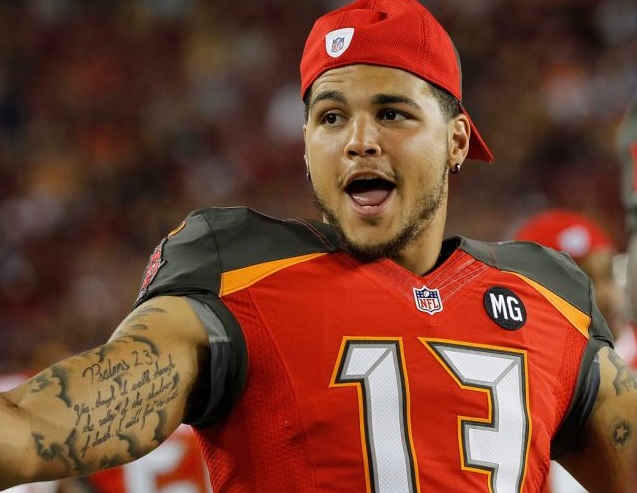 ASL's AJ Schreiver, Josh Rabbitt and Chad Samuels rank their top-100 dynasty players. For the players they rank significantly higher or lower than the general consensus, they also provide their analyses.
We broke the table into four 25-player sections, with the player analyses below each section.
Players 1 Through 25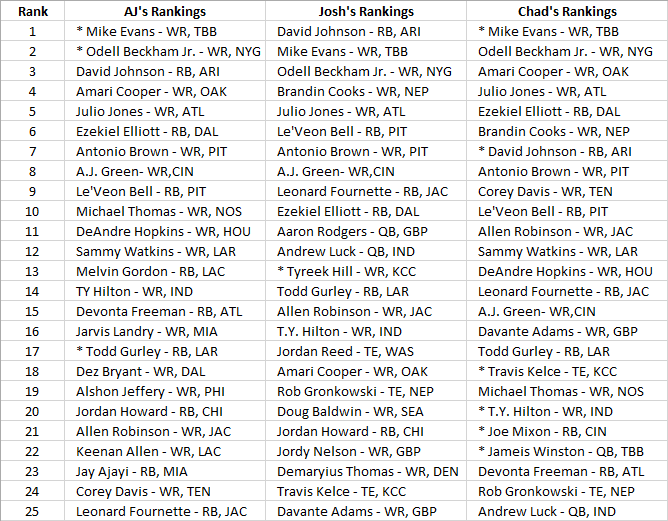 Mike Evans (WR, TBB) - AJ Schreiver's #1: Jameis Winston is entering just his third year and has an established relationship with Evans, whose size and ability makes him a constant red zone threat and pretty much always open. He gives you overall consistency on and off the field, year in and out.
Mike Evans (WR, TBB) - Chad Samuels' #1: I have Evans at No. 1 overall because, first, he's a wide receiver. Wide-outs give you more years of positive fantasy return than running backs do. I also ranked Evans ahead of Odell Beckham Jr. because of his quarterback. Through two seasons, Jameis Winston looks like the real deal. I expect those two will be together for a long time. Meanwhile, OBJ has Eli Manning as his quarterback, and Manning is 13 years older than Winston. Today's athletes take better care of their bodies, and a top quarterback can play into his 40s. However, you can not assume Eli will beat Father Time. Evans is the safer bet for consistent, long-term production.
Odell Beckham Jr. (WR, NYG) - AJ Schreiver's #2: Eli Manning will be 38 when Beckham becomes a free agent in 2019. The Giants' future at QB is uncertain, and Beckham is quickly becoming a high-maintenance receiver who can't stop fighting defensive backs, let alone kicking nets. The future is bright for Mike Evans. The future may be very bright for Beckham, but I love consistency at the top of my draft, and Beckham's future is a little murkier.
David Johnson (RB, ARI) - Chad Samuels' #7: It is safe to say Johnson had a career year in 2016. He should produce solid numbers again, but a repeat of his 2,118 total yards, 80 receptions and 20 scores is unlikely. Also, Johnson is just 4 years away from 30, the age when most running backs see a decline in their skills and, as a result, their stats. So, Johnson is outside my top five, behind Ezekiel Elliott and, more notably, Brandin Cooks.
Tyreek Hill (WR, KCC) - Josh Rabbitt's #13: There are many reasons why I am way higher on Hill than the average person. When assessing dynasty prospects, I like to find a great balance between athletic talent, age, and production. Hill is one of the few guys who has all of those factors and is being pushed by his team into an even bigger role. Yet somehow, the fantasy community refuses to latch on to him. What other 23-year-old wideout who scored 12 TDs last year are all the pundits putting a "Do not draft" or "Overvalued" sign on? This is similar to 2016, when the fantasy community told you that David Johnson was the most likely candidate to be a first-round bust. Why? Because, like Hill, he didn't have the best draft pedigree. Clearly, a fifth-round pick from West Alabama can't be as good as Michael Thomas, a second-round pick from Ohio State, right? What more do the Chiefs need to do to prove to you that they are going to push this guy? They literally cut their only other proven wide receiver, Jeremy Maclin. They are signaling that they will target Hill early and often. But the fantasy community has greeted this with a yawn. News of him blowing up camp gets no response, though every DeVante Parker reference leaves the masses breathless. Your window of opportunity to get in on the most unique talent to enter the league in a long time is closing.
Todd Gurley (RB, LAR) - AJ Schreiver's #17: Just a year ago, Gurley was the top running back in drafts. His talent hasn't gone anywhere. With more weapons around quarterback Jared Goff and a revamped O-line, Gurley will bounce back in 2017.
Travis Kelce (TE, KCC) - Chad Samuels' #18: The consensus has Rob Gronkowski as the top TE. He is elite, but I like Kelce slightly more. This ranking comes down to health. Kelce has been present for all 16 games in each of the past three seasons whereas Gronkowski has not played a full 16-game season since 2011. A long-term top tight end needs to be available to start for your team. Kelce has that track record. Gronkowski does not.
T.Y. Hilton (WR, IND) - Chad Samuels' #20: Hilton is a solid 1,000-yard receiver. He also hasn't put up a 10-touchdown campaign yet. If Andrew Luck can't stay healthy, odds are we will never see an increase in Hilton's TD production. Also concerning is that Hilton turns 28 this November. Thus, his window to produce a big season that would increase his dynasty stock is closing. Only 1-2 years remain before the savvy dynasty owner sells him at maximum value. That's why Hilton is my No. 14 WR and is ranked 20th overall.
Joe Mixon (RB, CIN) - Chad Samuels' #21: I have written about Mixon often this offseason about. He is talented enough to be the future of the Bengals. He is already sharing first-team reps in preseason games. Many like Christian McCaffrey more, but I disagree for several reasons, which you can read here.
Jameis Winston (QB, TBB) - Chad Samuels' #22: A major part of dynasty strategy is determining a player's upside and how his value will grow over time. While better QBs, such as Aaron Rodgers, are still around, none carry the combination of upside and youth like Winston. He has begun his career with consecutive 4,000-yard seasons. Unless injuries end his career prematurely, it looks like Winston will be productive for at least the next 15 years. He will likely put up some large numbers as he progresses. That's why he is my top dynasty quarterback, not Rodgers or Andrew Luck.
Players 26 Through 50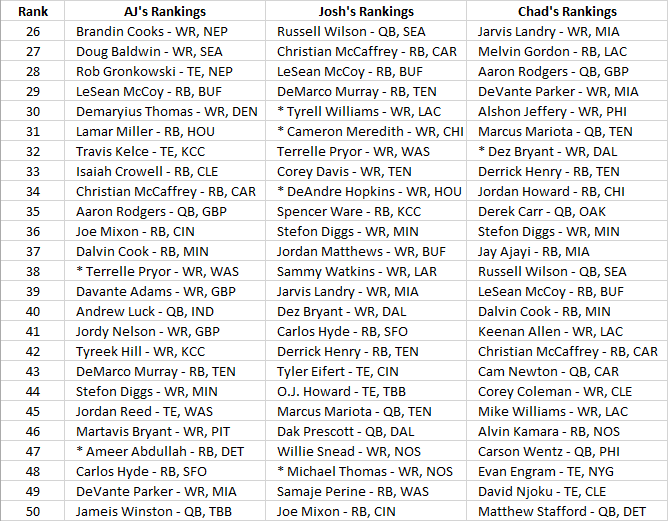 Tyrell Williams (WR, LAC) - Josh Rabbitt's #30: Let me give you two sets of pre-draft measurables:
6-foot-3, 220 pounds      6-foot-3, 205 pounds
4.39 40-yard dash          4.42 40-yard dash
38.5-inch vertical leap     39.5-inch vertical leap
135-inch broad Jump      127-inch broad jump
6.66 three-cone drill       6.74 three-cone drill
4.25 20-yard shuttle       4.17 20-yard shuttle
The first set of numbers belongs to Julio Jones. The second belongs to Williams. Anyone who studies those sorts of things will tell you those are undoubtedly elite-athlete numbers. So when you talk about Tyrell Williams, keep Julio Jones in mind because that's the kind of freak you are talking about. Unfortunately, Williams went to a small school, so he was under the radar and very raw coming out of college. But after forcing his way into the Chargers' starting lineup last year, he went on to rack up 69 catches, 1,059 yards and seven TDs as little more than a rookie. Somehow, the fantasy community hasn't latched on here either. Williams is a little older than your typical young prospect at 25 years old, but always give me the athletic freak who is still learning over the guy who is just in the right place at the right time. He is a locked-in WR2 at worst in L.A. and should be cashing in huge checks as an offensive centerpiece once he hits free agency.

Cameron Meredith (WR, CHI) - Josh Rabbitt's #31: Each and every reason I love Tyrell Williams can be copy-and-pasted into the same column with Meredith. Athletically, these guys are almost the same. Meredith is a little skinnier but has nearly identical athletic and short-area burst numbers. The advantage for Meredith is he is being pushed as the No. 1 wide-out in his offense, so No. 1 receiver-type numbers are much more possible with him right away. Meredith is also a little younger than Williams. So, why do I have him below Williams then, you ask? Mostly because John Fox terrifies me. He will find a way to waste this absolute beast of a talent. I can just feel it. Eventually, Meredith, like Williams, will be widely regarded as a top-10 WR. It is just a matter of time. And it's not just athletic numbers that I am looking at; Meredith quietly proved himself last year, putting up 66 catches for 888 yards and four scores while starting only 10 games. You will all soon be asking the fantasy community why they weren't higher on these two freaks instead of asking me why I was so high on them.
Dez Bryant (WR, DAL) - Chad Samuels' #32: Injuries have limited Bryant's production in each of the past two seasons. I expect him to play a full slate in 2017, but those two abbreviated years have reduced his dynasty value as time stops for no one. Dez will turn 29 this season, and on a run-first team, his ability to put up a peak season is lessened greatly. If Bryant posts stellar numbers while Ezekiel Elliott is suspended. It may be a good time to sell him for max value.
DeAndre Hopkins (WR, HOU) - Josh Rabbitt's #34: So here is the thing with Hopkins. What if he simply isn't as good as most people just accept? What if the 2015 season was just an outlier and he cannot repeat it? Athletically, Hopkins isn't really that special. He's not all that big, he's not that tall, he isn't really fast. What does he have then? He doesn't strike me as a great technical route runner that will only improve as he gets older. I'm just not so sure that this is the guy I want to invest a high pick on when there are so many good WR's in the league.
Terrelle Pryor (WR, WAS) - AJ Schreiver's #38: Pryor has made me a believer in his commitment to become an elite receiver. Finally with a team who loves to chuck it and a capable QB, I look for Pryor to have continued success in Washington.
Ameer Abdullah (RB, DET) - AJ Schreiver's #47: The Cardinals wanted Abdullah instead of David Johnson in the 2015 NFL Draft. Ameer has had some hard-luck injuries, but if he can put the past behind him, he can have the career he was meant to have.
Michael Thomas (WR, NOS) - Josh Rabbitt's #48: Thomas is the anti-Cam Meredith or Tyrell Williams. He simply isn't that great of an athlete. I truly believe that Thomas is headed toward WR3 status as early as this year. Yes, I know he plays with Drew Brees. However, the Saints are missing that receiver who dictates coverage. Brandin Cooks played that role last year, allowing Thomas to have a great season. I can't see a scenario where that repeats itself. Facing No. 1 cornerbacks along with some safety help is much different than picking on No. 2 and No. 3 CBs.
Players 51 Through 75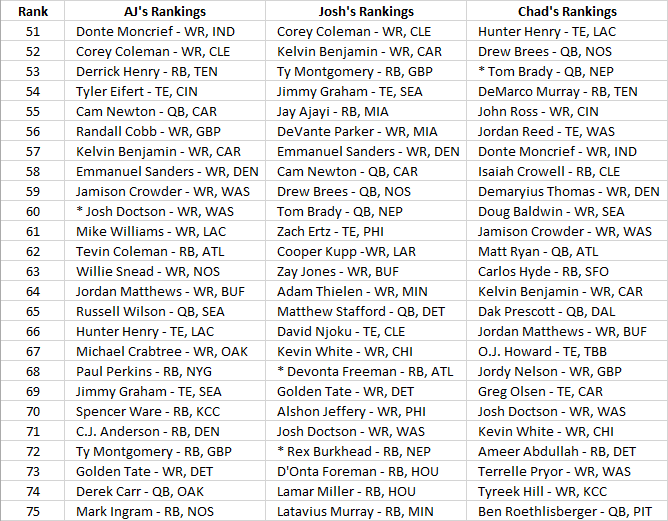 Tom Brady (QB, NEP) - Chad Samuels' #53: This ranking does not mean you should draft Brady at No. 53 overall or pay a high price for him in a trade. You can win your league without an elite QB, but having one sure makes things easier. If you don't own a top-five quarterback, try to add Tom on the cheap as a rental for the next season or two. That's what fuels his high ranking here. In 2018, he will be lower on my list.
Josh Doctson (WR, WAS) - AJ Schreiver's #60: Don't forget about this very young receiver who, like Terrelle Pryor, is looking to fill a void for the Redskins following the departures of Pierre Garcon and DeSean Jackson.
Devonta Freeman (RB, ATL) - Josh Rabbitt's #68: My question for all of you drafting Freeman in the top two rounds of dynasty startups or looking to acquire him is: Why? I mean, I get it. He burst onto the scene in 2015 and saved many a fantasy season by being a savvy, low-round pick that finished as an RB1 in PPR leagues. Last year, he was a top pick who panned out with a top-six RB finish. Why the heck would I not want to touch him then? Well, there are a few reasons. No. 1 is the regression of Atlanta's offense. I firmly believe Freeman's success was a product of Kyle Shanahan's system. I can't imagine he is a good fit for any other offense with his lack of "stud" RB features. Secondly, Freeman is simply a decent back who gets a lot touches. I have seen too many players whose draft stock was entirely built on touches disappear quickly to trust Freeman. Lastly, you can't forget about Tevin Coleman. Any way you cut it, Coleman is the better back. He is better out the backfield Stronger. Faster. The two even split the goal-line work. The only thing Coleman doesn't have is Freeman's low center of gravity and "barrel ahead for 3 yards" mentality. I don't want to invest a high pick in the second-best back on a team. What if Coleman starts getting more of the workload? Yikes. You take away some of those valuable touches from Freeman and he is just another guy. This is probably the pick I'm most open to being wrong about. I just can picture far too many scenarios in which he finishes outside the top-12 backs.
Rex Burkhead (RB, NEP) - Josh Rabbitt's #72: Burkhead is the biggest mover in my dynasty rankings. To be fair, I have always been in love with Burkhead. But I am sailing him up above a whole bunch of more well-known players because I honestly believe he might be a true workhorse back for the Patriots. If he gets that opportunity, he will lead all running backs in catches and score at least eight touchdowns. I know it's just the preseason, but Burkhead played starter snaps in New England's previous game. He was on the field for only 13 plays. Of those 13 plays, he caught three balls and had seven carries. The results? 70 yards and a touchdown. Get Burkhead now before everyone else catches up. It is probably already too late.
Players 76 Through 100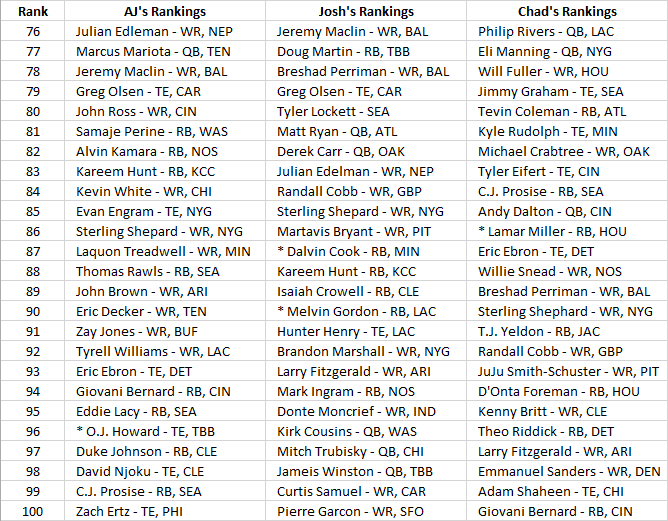 Lamar Miller (RB, HOU) - Chad Samuels' #86: If Miller has the ability to hold down a starting job, why didn't Miami re-sign him? Miller faded down the stretch last season, and head coach Bill O'Brien admitted to overusing him early in the year. To rectify the issue, the Texans selected D'Onta Foreman in the third round of the NFL Draft. Foreman has flashed this preseason and given the volatility of the position in today's NFL, it's reasonable to think Miller will lose his job to the rookie. Foreman still has to overtake Alfred Blue on the depth chart, but a change at the top is coming.
Dalvin Cook (RB, MIN) - Josh Rabbitt's #87: My argument against Cook is simple: I simply do not believe he has the needed agility to be a productive NFL running back. In my rookie rankings, you can read all about how Cook tested out at the combine compared to some offensive tackles. It's scary. I understand he can run really fast; that will be great for the one or two giant holes he sees this year. The rest of the time, he will probably be running really fast into the backs of his offensive linemen. People also continue to vastly underrate the presences of Latavius Murray, who should be the goal-line back, and Jerick McKinnon, who should be the third-down back. I understand Cook was a high draft pick of the current Minnesota regime and soon thereafter was anointed as both a savior and a starter. But how good is he going to be if he doesn't see the red-zone carries or the passing-game work? Will the next Vikings coaching staff -- which I predict will come in around Week 8 -- want anything to do with a subpar athlete at running back? These are questions I'm comfortable having someone else worry about.
Melvin Gordon (RB, LAC) - Josh Rabbitt's #90: This one is my favorite because I catch tons of flak for hating Gordon. You will question why I don't consider him worthwhile, but he didn't crack 4.0 yards per carry in either of his two seasons and failed to score a touchdown despite playing in 14 games as a rookie. My problem with Gordon basically revolves around talent. Outside of maybe Eddie Lacy and Marshawn Lynch, I think Melvin Gordon is the worst starting running back in the NFL. His fantasy value is totally propped up by his first-round pedigree and his 2016 TD count. With a new head coach, Gordon is officially on notice, and I believe he will start to lose red zone carries to either Andre Williams or Branden Olliver. Neither player is very good, but that puts them in good company with Gordon. Heck, there is even a rumor out there that the Chargers will sign Ryan Mathews which would be awesome. He can sit next to Gordon and they can talk about how all the experts thought they were something special.
O.J. Howard (TE, TBB) - AJ Schreiver's #96: I need to see some production from Howard for him to make me a believer. Young TEs take time to develop, so I'm not reaching for those kinds of players early in their careers.
Honorable Mention
Martavis Bryant (WR, PIT) - Chad Samuels' #101: Bryant is an excellent young receiver. He has a chance to be elite once Antonio Brown retires. He has also been suspended twice for violating the NFL's substance abuse policy, and I have a very low tolerance for substance abuse suspensions in my dynasty rankings. Simply, a player can't help you if he's suspended. I hope Bryant beats his addiction, but it will not be an easy road. For every season he does not get suspended, Bryant will rise in my rankings. For 2017, he is a high-risk, high-reward player who does not crack my top 100.