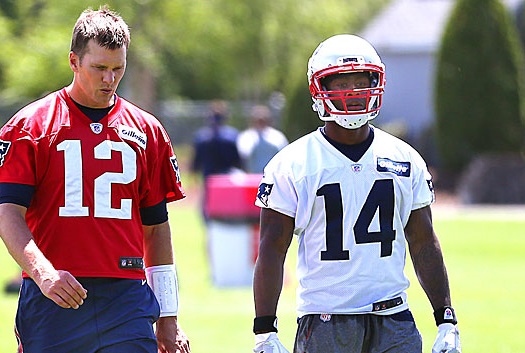 With fantasy football draft season upon us, ASL has updated its June top-50 WR ranking and you can see how wide receivers affect the betting odds here.
With all the weapons Tom Brady has, will Brandin Cooks be well fed? Will Amari Cooper rise to his potential or flame out like the last two years? Will Hopkins have a bounce-back season? ASL's analysts give their opinions on these questions and more in the following top-50 WR ranking.
Also see ASL's top-30 rookies, top-20 QBs, top-50 RBs, top-20 TEs and top-100 dynasty players.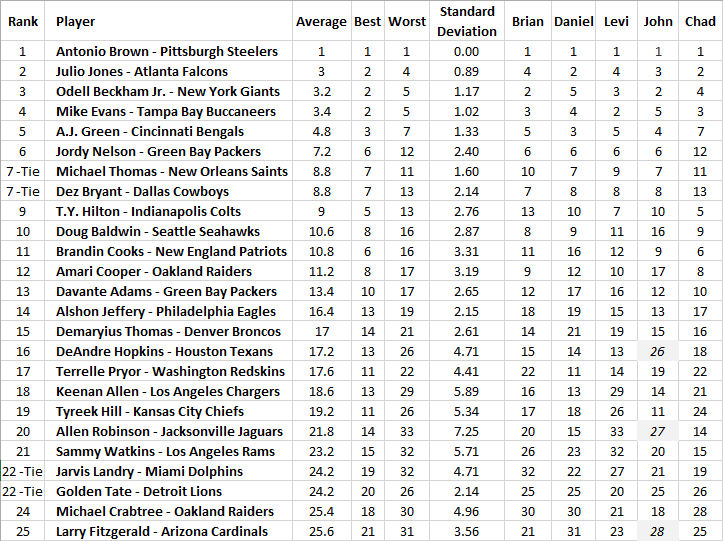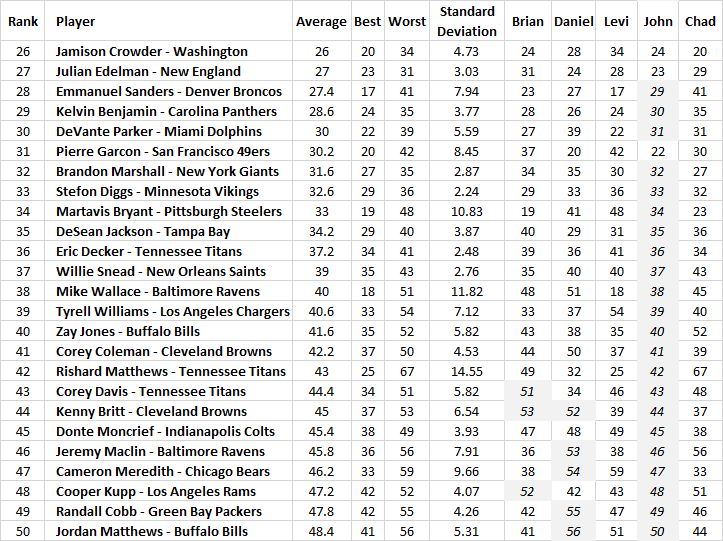 1. Antonio Brown - Pittsburgh Steelers
Brian Murphy's #1: Brown has accumulated a staggering four-year average of 120 receptions, 1,579 yards and 11 touchdowns.
Daniel Brown's #1: Brown remains the top fantasy wideout with Big Ben at QB. The Steelers have loads of talent that will stretch defenses again and Brown should replicate prior seasons form in terms of catches, yards and TD's. Take him with confidence.
Levi Andrew's #1: Fantasy's top WR is still Antonio Brown. Let's all give a huge thank you to Big Ben coming back to play this year. If you're in dynasty, this might be the year to start thinking about selling AB, he will turn 30 next year, and Ben is talking about retiring next year again.
John Adams' #1: Antonio Brown recorded his third straight season with double-digit touchdowns totals to go hand in hand with 4 straight 100-catch seasons. Brown doesn't have dazzling speed, but he is the best route runner in the NFL and will have another banner year.
Chad Samuels' #1: Over the last four years his lowest yardage total was 1284 yards. He has at least one more year to produce at an elite level. This year he gets receiver help in Martavis Bryant returning from suspension. His yardage totals should rise from his 2016 numbers as Bryant will force teams to double cover Brown less.
2. Julio Jones - Atlanta Falcons
Daniel Brown's #2: Julio is the main guy in Atlanta in the passing game. He has the ability to score from long range and Matt Ryan appears very comfortable in this offense despite the change of OC. The only slight concern for Jones is his ability to stay on the field. If he does play most, or all 16, games then he should be somewhere near the top of fantasy points.
Chad Samuels' #2: He is an elite WR who plays through injuries.
John Adams' #3: Somehow, during his most prolific passing season, Falcons quarterback lost site of Julio Jones in the end zone. Despite finishing the season as one of the top three wide receivers, Jones only recorded six touchdowns receptions after being targeted just nine times in the red zone. The Falcons insist those numbers were a fluke and Ryan will be working hard to find Jones in the end zone.
Levi Andrew's #4: Julio Jones is a great talent, now if they could get that great Talent catches in the end zone, I may move him up from #4. They say every offseason how they are going to get Julio involved more in the red zone. Does it happen? Not really. 6th best WR in both PPR and Standard scoring last year.
Brian Murphy's #4: The Falcons actually don't throw to Jones enough; he's the only one among this top quartet who averaged fewer than 10 targets per game last year. Can the Falcons' offense really be that good again?

3. Odell Beckham Jr. - New York Giants
Brian Murphy's #2: For my money, this is the most talented wideout in the NFL. I'm not yet worried about his ankle injury impacting his Week 1 availability.
John Adams' #2: Odell Beckham Jr. just barely dodged the injury bug in a preseason game against the Browns. Even though Beckham is seriously lacking in the maturity department, his talent is almost beyond compare. He's broken the 1,300-yard mark and cracked double digits in touchdowns every season since he's been in the league and this year will be no different.
Levi Andrew's #3: Odell Beckham Jr. gave us quite the scare on Monday night. There is now speak of him taking an insurance policy out in case of emergency if he doesn't get a new contract by Week 1. Beckham is a freak athlete. If you have seen any of his one-handed catches in training camp, you know what I am talking about. Look for Eli Manning to pepper Beckham with targets, producing high-end production.
Chad Samuels' #4: He might see a dip in touchdowns with the addition of Brandon Marshall. The early injury reports from Monday's injury are that he has a high ankle sprain. While it is not a knee injury, the high ankle sprain has a tendency to linger and limit the production of running backs and wide receivers. I originally had Beckham at three but dropped him down to four because of the sprain.
Daniel Brown's #5: OBJ is a great talent. However, he has started to pick up a few injuries and has a few more mouths to feed in New York. With the offensive line not looking fantastic early in the season the question is how deep into routes OBJ can get before Manning has to make the pass. He should feature heavily in the offense but he shouldn't be the one man show he was last year.

4. Mike Evans - Tampa Bay Buccaneers
Levi Andrew's #2: Mike Evans 2016 was not a fluke. I report not a fluke. Jameis Winston LOVES Evans, his targets in the first 2 preseason games have been 7 and 6, that's with minimal playing time. I can see Evans finishing 2017 as the #1 WR again in standard, if he can come down with more catches he could finish as #1 in PPR.
Brian Murphy's #3: Continued growth from Jameis Winston and the defensive distraction that is DeSean Jackson should help Evans post another big stat line. He's just 24 years old.
Chad Samuels' #3: Additional offensive help might affect Evans' yardage totals, but he still is an elite WR. Jameis Winston is a yardage machine and Evans will get his numbers. He is a top option in redraft formats.
Daniel Brown's #4: Evans looks to be the main target in Tampa Bay and with the addition of DeSean Jackson he might see less double coverage and it could also open up a number of underneath routes if Jackson can force the DBs to defend deeper. Evans should be a favorite of Winston and his targets and TDs should be sufficient to make him a strong selection in the late 1st round of most drafts.
John Adams' #5: With more weapons in the Tampa Bay receiving corps, Mike Evans will capitalize on fewer double teams and reap the benefits of single-man coverage.

5. A.J. Green - Cincinnati Bengals
Daniel Brown's #3: AJ Green continues to perform at the highest level. He doesn't have a lot of competition for targets which means that Andy Dalton should look his way a lot. If the Bengals ground attack is as good as the discussion about it, then that may open AJ Green up for some big plays down field off play action.
John Adams' #4: If A.J. Green can stay healthy; he can easily be one of the top three receivers in the league. Last season was the first time in his career that Green fell short of the 1,000-yard receiving mark, but that's because he missed 6 games with a hamstring issue.
Brian Murphy's #5: If you like consistency, Green is your man. If he plays in all 16 games, he's a mortal lock for at least 1,300 yards and double-digit scores.
Levi Andrew's #5: AJ Green was on his way to his best season last year till an injury took him out. When he went down he had 66/964/4. That was in 10 games Imagine what he would have done in all 16 games. Now that the Bengals added more talent around him, to take the pressure off him. Green being Dalton's Security blanket leads him to being #5 for me.
Chad Samuels' #7: He is consistently a 1,000-yard receiver. He is not on an exciting offense with Andy Dalton at quarterback, but it plays good enough for Green to be a WR1. John Ross should help reduce his double coverage. When Ross finally gets on the field.

6. Jordy Nelson - Green Bay Packers
Brian Murphy's #6: He was fantasy's No. 2 WR last season, but be aware that Nelson turned 32 years old this summer.
Daniel Brown's #6: Jordy has one of the best QBs in the league. He also has a little more competition from Davante Adams who came on strong last year, which could prove to be a blessing for Jordy as well. The running game needs to develop to ensure that the Packers can keep defenses honest and not become singularly focused on the pass. That being said they pass a lot and Nelson should be the favorite target again this season.
Levi Andrew's #6: Talk about a bounce back year. Jordy Nelson went from torn ACL to setting the field on fire again. Aaron Rodgers favorite target positions himself as a top 6 WR in my rankings. If the Packers can get a run game going, Jordy could finish in the top 5.
John Adams' #6: So much for the notion that Jordy Nelson wasn't going to make it back last season. Nelson punished the naysayers last season reeling in 14 touchdown catches to go along with 97 receptions for 1,257 yards. Even though he faded down the stretch, Jordy Nelson will be the man in fantasy football.
Chad Samuels' #12: Last year was the first year Jordy produced less than 15 yards per reception (13.0) since his rookie year. He is also 32. He is ranked this high because he has done it in the past when healthy and is deserving to be a top 15 WR. .He is an avoid player at this ranking.

7. Michael Thomas - New Orleans Saints
Daniel Brown's #7: Thomas showed last year he can be the main receiver for Drew Brees. So much so that the Saints felt comfortable trading their speedster in Brandin Cooks this offseason. I expect Thomas to be targeted heavily, and given the number of times the Saints seem to need to throw it, he should be in for a lot of work.
John Adams' #7: Saints second year receiver Michael Thomas is packed with fantasy potential coming into the 2017 season. After leading the Saints with 92 receptions and 9 touchdowns last season, his main competition for catches, Brandin Cooks, left for New England. Somebody has to fill that void and Thomas is the winning ticket.
Levi Andrew's #9: Hello, Drew Brees new #1 target. Brandin Cooks is Gone which freed up 117 targets. Most of those will come Thomas's way. Let's hope he doesn't have a sophomore slump, and Willie Snead outplays him or every fantasy writer will look stupid, me included.
Brian Murphy's #10: Hope he's ready to be the Saints' undisputed No. 1 target in his sophomore season. At least you know he will see plenty of looks.
Chad Samuels' #11: Brandin Cooks is gone. It is now the Thomas show in New Orleans. Thomas comes with some risk in redraft because he is now the man and will be drawing double coverage every week. I still like Thomas' chances for being a top 10 receiver this year.

8. Dez Bryant - Dallas Cowboys
Brian Murphy's #7: Bryant can still dominate a game, but the Cowboys' run-heavy attack does lower his ceiling. Maybe the offense won't be so run-heavy if or when Ezekiel Elliott has to serve his suspension this year.
Daniel Brown's #8: Dez Bryant will be the favorite target of Dak Prescott, however he will also continue to see double coverage. This means that week to week Bryant could be a little more inconsistent than some of the other WRs ranked ahead of him, which is why he is this far down the list.
Levi Andrew's #8: Dez Bryant had a down year last year. With injuries and a new QB. But if his playoff performance was of what's to come, he's going to be fine. There is already talk of Dak Prescott and Dez's connection growing in Year 2. Dez has huge upside this season to me. Don't be afraid to draft him.
John Adams' #8: The last two seasons have been a BUST for Dez Bryant fantasy owners. Not only did Bryant miss ten games during the past two seasons, he played several games at half speed due to a laundry list of injuries. He is supposedly 100 percent now and says he has developed great chemistry with Dak Prescott.
Chad Samuels' #13: Dez has missed time in each of the last two seasons. He is an injury concern. He also is on a run first team with a quarterback that could struggle this year. These risk factors keep him from being higher on this list.

9. T.Y. Hilton - Indianapolis Colts
Chad Samuels' #5: Hilton's production is constantly over 1,000 yards receiving and 7 touchdowns. He has achieved these numbers for the last four years with or without Andrew Luck. His consistency puts him in the top five of these rankings.
Levi Andrew's #7: T.Y. Hilton has been Andrew Lucks #1 target since entering the league in 2012. He posted a career high in yards last year. With talk of Luck being out Week 1, I have moved Hilton from 6 to 7 in my rankings. The Colts will also be missing the anchor on the O-line, Ryan Kelly for at least 8 weeks due to a foot injury.
Daniel Brown's #10: T.Y. Hilton is the main guy in Indy. The problem is that the guy he is supposed to be throwing the ball to him is yet to start throwing balls in practice, which means his ability to start the early part of the season is a big question mark. For that reason Hilton rounds out the top 10 rather than being higher up in the order.
John Adams' #10: Even if it is time to hit the panic button on Andrew Luck, there is no reason to downgrade T.Y. Hilton even though he's dealing with a hamstring issue. Hilton should build on his career-high 91 catches for 1,448 yards that he gathered up last season. He's a WR1, but it would help fantasy owners if he could snag a few more touchdowns coming into 2017.
Brian Murphy's #13: Hilton was ranked sixth in my initial top-50 WR rankings back in June, but Andrew Luck's ominous shoulder has me worried about all Colts receivers.

10. Doug Baldwin - Seattle Seahawks
Brian Murphy's #8: A top-10 fantasy wideout in each of the past two seasons, Baldwin suddenly has the look of a safe lower-end WR1. He's right in middle of his prime at age 28.
Daniel Brown's #9: Doug Baldwin continues to be a steady fantasy contributor and his chemistry, combined with the increased role for Jimmy Graham in the offense, should enable Baldwin to see plenty of targets in all areas of the field. He may lose some TDs to Graham and others, however he should see a few more big plays this year as defenses have to focus on all the talent available to the Seahawks.
Chad Samuels' #9: Baldwin has emerged as the go to receiver in Seattle with back to back 1,000 yard seasons. He is a late bloomer but for redraft that does not matter. It's hard to predict how many touchdowns he will produce but he does have the upside of ten or more.
Levi Andrew's #11: Doug Baldwin has finished the last two seasons as WR10 and WR7. If Wilson can keep up the play and the Seahawks don't go even more run first, Baldwin could reproduce those stats. I have him just outside my top 10 because I believe the Seahawks will try and go back to their run first ways.
John Adams' #16: Doug Baldwin is dealing with a minor foot injury, but he's still Russell Wilson's top receiver and should be ready by the start of the season. Despite hauling in 94 receptions for 1,128 yards and seven touchdowns last season, Baldwin was not an exciting fantasy option last season. He had some very big games that make his fantasy numbers look much more appealing than they really are. Take away a fluke game near the end of the season where he caught 13 balls for 171 yards against the Cardinals and he would have missed the 1,000 yard receiving mark by a country mile.

11. Brandin Cooks - New England Patriots
Chad Samuels' #6: From a talent standpoint, the Patriots have just as good players around him on offense as the Saints did. The Patriots can be very pass happy. If there is a production slip from being traded to the Patriots is it a very small one.
John Adams' #9: I'm going against the grain again here, but I like Brandin Cooks playing with Tom Brady. Brady hasn't had a real burner in some time and Cooks should see plenty of work opposite of Julian Edelman.
Brian Murphy's #11: Yes, the Patriots spread the ball around, and that makes Cooks a rather volatile fantasy commodity. On the flip side, you know his big-play quickness in that offense is going to lead to some truly monster weeks.
Levi Andrew's #12: Brandin Cooks has all the ability in the world to be the most dynamic play maker Tom Brady has ever had. But for now, I have him ranked #12 because I think most his value will come from deep TD's. Cooks will be fighting for targets in New England. You have Gronk, and Julian Edelman who is Brady's safety blanket, and the crowded running back room. I'm personally staying as far away from New England's receivers in any way.
Daniel Brown's #16: Cooks was traded this offseason and went from one future Hall of Fame QB to another. Cooks has speed and talent, and Brady can get the ball to him accurately and allow yards after the catch. In addition the Patriots have several other weapons they can use and this should enable Cooks a little more one on one coverage than he saw in New Orleans which should suit him perfectly.

12. Amari Cooper - Oakland Raiders
Chad Samuels' #8: Cooper has been stellar his first two seasons in the NFL. He has a high upside QB to throw him the ball. This is year three for him, so his fantasy production should improve. His average stat line so far is 1115 yards 4.5 touchdowns.
Brian Murphy's #9: One of the most underwhelming fantasy wideouts from Week 9 on in 2016, I have placed Cooper at No. 9 for his youth, pure talent and the high-scoring potential of the Raiders' offense.
Levi Andrew's #10: Amari Cooper is one of the best WR's in the game today. Derek Carr and he have great chemistry. Last year was a down year, Crabtree had only 7 more catches and 3 more TDS. This is Cooper's year, his 3rd year in the NFL, which is when they say WR really hit their stride. Cooper has the potential to take my # 10 ranking make it #1 if everything goes the Raiders' way.
Daniel Brown's #12: Cooper is a little bit of a hit or miss type receiver, which is not what was expected when he entered the league. The talent is there and his QB is capable of making the throws, the "problem" appears to be one of the Raiders running the ball for short TDs within the redzone as opposed to looking to their #1 WR as many other teams would do. This probably doesn't change this year if Lynch is in the game, which means Cooper will likely continue his boom or bust week to week scoring.
John Adams' #17: As a fantasy receiver, Amari Cooper is a tough nut to crack. He's now started back-to-back fantasy seasons with stratospheric numbers only to crash and burn during the second half of the season. But Derek Carr has returned with a vengeance after breaking his leg last season so Cooper is worth the risk, even if he flames out again at the end of the year.

13. Davante Adams - Green Bay Packers
Chad Samuels' #10: He had a breakout season last season and is likely of repeating it with Aaron Rodgers at quarterback. Most have Nelson around this ranking but I think Nelson declines this year and Adams gets some of his production to put him here. He's a great buy low candidate.
Brian Murphy's #12: I see a lot of non-believers in Adams out there, but he was fantasy's No. 7 wide receiver last season and could take on an even larger role as Jordy Nelson moves into what should be his decline phase. He saw just 7.6 targets per game in 2016.
John Adams' #12: Write this down, Aaron Rodgers loves Davante Adams and he trusts him. Despite his tendency to drop passes, Rodgers went back to Adams again and again helping him amass 75 receptions for 997 yards and 12 touchdowns.
Levi Andrew's #16: Devante Adams was a sleeper last year. Now no one is sleeping on him. Aaron Rodgers said they have been using more 2 TE sets in OTA's. I think that helps Adams even more. Look for Adams's TDs to decline a little bringing him to WR16 for me.
Daniel Brown's #17: Adams came on strong towards the end of last season and we expect a similar performance from him this year but from week 1 instead. With Nelson on the other side and Aaron Rodgers throwing the rock, Adams should see increased targets and more opportunities in the red zone ... he just needs to make sure he hangs onto the football!

14. Alshon Jeffery - Philadelphia Eagles
John Adams' #13: Due to the departure of Jordan Matthews from the Eagles, Alshon Jeffery really has no competition for the lead receiving role in Philadelphia. The problem is that he will likely be double-teamed during every contest. Also, keep in mind that Jeffery has health issues and hasn't played a full season since 2014.
Levi Andrew's #15:  Alshon Jeffery has a change of scenery and Carson Wentz just needed some weapons around him to take the next step. Alshon will lead the Eagles in targets. If the offense clicks Jeffery could end up finishing in the top 10 of WRs.
Chad Samuels' #17: The training camp injury hurts his value. It is likely Carson Wentz will develop further this year and Jeffrey will be the beneficiary of it. Alshon is also on a one year deal so he will be motivated to get paid.
Brian Murphy's #18: I don't think Jeffery's transition to Philly will go all that smoothly. But he can cover up so many of Carson Wentz's mistakes with his incredible range. Just chuck it up to him.
Daniel Brown's #19: Jeffery moves from a poor situation in Chicago to a relatively good one in Philadelphia. As long as Carson Wentz can continue to develop, Jeffery should be able to produce solid fantasy outings.

15. Demaryius Thomas - Denver Broncos
Brian Murphy's #14: Just the slightest improvement from Denver's QBs could be enough for Thomas to meet this rank. He possesses more than enough talent and big-play potential to be a strong WR2.
John Adams' #15: Demaryius Thomas says this is the best he's felt in a long time, but he is a question mark after having his worst season since 2011. Thomas played in all 16 games last season, but managed only two 100-yard receiving games and caught only two touchdowns during his last ten games of the season. The fantasy warning flags are everywhere!
Chad Samuels' #16: The quarterback play in Denver is questionable at best. Thomas can be great if he has the right quarterback. For this season, he is just another 1000 yard receiver.
Levi Andrew's #19: Demaryius Thomas will get his fair share this year. Trevor Siemian preferred Emmanuel Sanders when he played last year, but this offense will be a pass happy offense.
Daniel Brown's #21: Thomas is ranked quite low on my list primarily because of the QB situation. He is talented enough to be in the top 10 conversation, however given the play at QB last year, and the struggles observed in the first couple of pre-season games, it is hard to put faith in DT having an enormous year. He should be the main focus of the passing offense, but I expect this team to run the ball a lot and that could decrease DT's targets and production.

16. DeAndre Hopkins - Houston Texans
Levi Andrew's #13: DeAndre Hopkins was probably the biggest bust in 2016, next to Todd Gurley. I think he has the bounce back year. Houston has found there future QB in DeShaun Watson, but Tom Savage will be the starter Week 1, which is fine. Hopkins has come out and said he has a great connection with Savage. Most of Hopkins down year was due to him having Brock Osweiler as a QB for most of the season.
Daniel Brown's #14: Hopkins is the main game in Houston. It looks like it will be Tom Savage at QB initially, although Watson should take over that role at some point this year. This probably means that Hopkins will have some inconsistent weeks depending on the play at QB.
Brian Murphy's #15: Good riddance, Brock Osweiler. Nuk will be significantly more productive in 2017.
Chad Samuels' #18: Hopkins has the upside to be an elite receiver. With the Texans questionable quarterback play and Will Fuller breaking his collarbone in training camp. It might be difficult for him to realize his upside in 2017. Most other experts will rank him higher than this.

17. Terrelle Pryor - Washington Redskins
Daniel Brown's #11: Pryor should be the beneficiary of a move from a very average QB situation in Cleveland last year to a much better scenario in Washington. With the departure of Pierre Garcon and DeSean Jackson, Pryor should be the #1 WR in Washington and I expect him to repeat, or improve on, last season's efforts.
Levi Andrew's #14: Terrelle Pryor is going to be a god send to Kirk Cousins. Pryor has the knowledge from being a QB and has been studying and practicing with Cousins before OTAs and Training camp started. Pryor is going to be where Cousins wants him on the field. I may have him high at #14 but I believe Pryor will be a WR1 this year.
John Adams' #19: Terrelle Pryor gets a huge upgrade at the quarterback position with his move to the Washington Redskins. If anything, Pryor was held in check by the subpar team surrounding him in Cleveland. If he and Cousins can develop some chemistry, Pryor should have no problem surpassing last seasons' 1,007 yards receiving and four touchdown receptions.
Brian Murphy's #22: I see so many fantasy writers tabbing Pryor as a top-15 wideout this fall. I get that he is pretty much the lead perimeter weapon in a pass-heavy offense. But let's be careful of trusting someone who has just one full year of wide receiver experience at any level to immediately become an every-week fantasy starter while playing as the No. 1 WR in a new offense.
Chad Samuels' #22: Like Alshon Jeffery, he is on a one year "prove it" contract. Free agent wide receivers often take some time to get up to speed. With Crowder, Reed and Doctson potential targets for Washington's pass happy offense, he has less upside than Jeffery to be productive this year. It still may happen because the Redskins pass offense is very productive which is why he is ranked in the top 25. Be aware though that he might not score in the top 25 of fantasy wide receivers.

18. Keenan Allen - Los Angeles Chargers
Daniel Brown's #13: I like Allen... As long as he is healthy. Rivers can deliver the football all over the place with pretty good accuracy and this gives Allen the opportunity on both deep and short routes. The two main issues for Allen from a fantasy perspective are: 1. Health. He needs to stay on the field to capitalize on his skills and those of Rivers as well. 2. He plays the Chiefs and Broncos defenses twice. These two defenses will put a lot of pressure on the QB which will reduce the amount of time to get the ball out and on target. That being said Rivers has shown that he can still perform well in this situation.
John Adams' #14: Another player who is has nothing but upside if can possible stay healthy is Chargers wideout Keenan Allen. Allen tore his ACL during the opening game of the 2016 season and is chomping at the bit to try and restart his career. Coming into his fifth year, Allen is only 25-years-old and could set the world on fire with Philip Rivers, IF he can stay on the field.
Brian Murphy's #16: If only we could be assured that Allen will stay healthy. If that happens in 2017, I'll admit that my No. 16 ranking is too low. But we can't ignore his medical history.
Chad Samuels' #21: Keenan is a talented wide receiver who when healthy can win you fantasy games... Through four seasons he has yet to play a sixteen game season. It is hard to imagine he will play sixteen games this year either.
Levi Andrew' #29: You may look at that WR29 ranking and go "wooooowwwww", but hear me out here. Keenan Allen is coming back from an ACL injury; yes it was early during last year which has helped his rehab. This year he is coming into a crowd receiving corp. They have Tyrell Williams, Mike Williams, Travis Benjamin, Hunter Henry, and Antonio Gates. I just don't see Allen making the impact he was making before he got hurt.

19. Tyreek Hill - Kansas City Chiefs
John Adams' #11: The departure of Jeremy Maclin should allow Chiefs quarterback Alex Smith to clear out the cobwebs and start focusing on Tyreek Hill. Hill had great games as long as Maclin wasn't on the field, but now that he's in Baltimore, Hill gets a nice boost with top flight WR1 potential.
Brian Murphy's #17: I think Josh Rabbitt has converted me somewhat on Hill. I'm optimistic that he will be a "bang" much more than a "bust" this season. However, there's no way he scores 12 touchdowns again.
Daniel Brown's #18: Hill as the #1 receiver in Kansas City is a little odd because of his lack of height. But what he doesn't lack is speed, and I expect the Chiefs to work him into a variety of situations where he can make players miss (screen passes, reverses etc.). As a result I have Hill in my top 20. With a better QB and second WR, I could see Hill in the top 10-15, but lacking those things he is a solid pick in the late teens.
Chad Samuels' #24: Tyreek can run. This is a yardage league format and that will limit his production. There are no points for receptions, kick-off returns or punt returns. Travis Kelce should get a lot of the move the chains receptions and Hill should get a lot of the big play production. One can expect some big weeks from Hill and some weeks where he hardly scores anything. He is boom or bust profile for fantasy football.
Levi Andrew's #26: Tyreek Hill has been a hot name since Jeremy Maclin was released, leaving Hill to take over the WR1 duties for Kansas City. But after looking at the stats, I feel Hill could make a top 20 impact. Hill had his best weeks receiving when Maclin was hurt and off the field. Also, Andy Reid has never had a receiver other than Maclin ever finish with more than 80 receptions in a single season. I see Travis Kelce getting the bigger bulk of targets now that Maclin is gone.

20. Allen Robinson - Jacksonville Jaguars
Chad Samuels' #14: I think people discount him because he plays for the Jaguars. He still can put up numbers in garbage time. He also drew the most pass interference penalties last season. I expect his numbers to be better this year for that reason alone. A Blake Bortles benching could also help.
Daniel Brown's #15: The QB situation in Jacksonville is the problem for Robinson. He will be targeted a lot, however the quality of those targets is the question that needs to be answered. I expect that he will have some big weeks, but he could easily have a couple of very low scoring weeks as well. The fact that Jacksonville looks like they will continue their trend of being behind and needing to throw to come back should help Robinson (as it has in previous seasons).
Brian Murphy's #20: I believe in his talent. But no matter if it's Chad Henne or a demoralized Blake Bortles throwing him the football, owning Robinson probably won't be an easy ride yet again.
Levi Andrew's #33: Allen Robinson has fallen in my rankings from WR24 to WR33, Blake Bortles has zero confidence, which is leading tot he coaching staff have none in him also. With Leonard Fournette coming in, Head Coach Doug Marrone looks to be a run first team. He has a young defense to rely on. Bortles isn't a lock to be the starter and we don't know Chad Henne and Allen Robinson's connection on the field. These factors have pushed me to move him into the 30's.

21. Sammy Watkins - Los Angeles Rams
Chad Samuels' #15: He is the best wide receiver on roster and Jared Goff is beginning to play better this preseason. Stories out of Buffalo was Watkins was good in the classroom and a hard worker. Those intangibles will pay off eventually he just needs to stay healthy.
John Adams' #20: I also dropped Sammy Watkins in my first round of rankings after his trade to the Rams. I understand that Jared Goff may have improved some from last year, but Watkins will be catching balls from one of the worst starting quarterbacks in the NFL. Combine that with his jaded injury history there are some warning signs there.
Daniel Brown's #23: Watkins moves from a fairly weak passing attack in Buffalo to a very poor passing attack last year in Los Angeles. The good news for Watkins is that through a two pre-season games, I know it's only two, the Rams have looked better on offense. Watkins addition may be more of a blessing for Todd Gurley, which in turn could lead to improvement in the QB play if they can get more time to pass. Unfortunately for Watkins, his fantasy success depends on the QB play in Los Angeles ... which needs to be much better than last year if Watkins is to outperform this ranking.
Brian Murphy's #26: Just when we thought Watkins' chronic foot problems were the biggest red flag attached to his fantasy value, he gets traded to the Rams and will have to deal with Jared Goff. Hopefully the No. 1 overall pick in last year's draft can make some strides. I'm not betting on it.
Levi Andrew's #32: I have dropped Sammy Watkins from WR14 in my first rankings to WR32. With the trade it leaves Sammy with a bunch of questions, will he be targeted the most? Will Jared Goff gain a connection with him right away? Does Robert Woods still become the WR1 for the rams? Too many questions for me to have him anywhere near my top 20.

22. Jarvis Landry - Miami Dolphins
Chad Samuels' #19: While he does not score many touchdowns he will put up 1,000 yards in a season. This means he will always put up some points for you but not the huge scoring weeks that will win you games. Which is good enough for a back end WR2.
John Adams' #21: I dropped Dolphins receiver Jarvis Landry a few places because of a couple distractions. One is that his new starting quarterback is Jay Cutler and two because he's dealing with domestic assault charges. He denies the charges, but the whole situation has him in the doghouse in Miami.
Daniel Brown's #22: Landry doesn't appear to have the same chemistry with Jay Cutler as Devante Parker … at least from a couple of passes in the second pre-season game (and reports coming out of Miami). Cutler doesn't take the shorter throws nearly as much as Ryan Tannehill did, and to me that means that Landry will be less of a feature than he has been in prior years. I expect he will still have some big games, however I think with the change at QB it pushes Landry down the list a little.
Levi Andrew's #27: Here's to hoping Jay Cutler doesn't ruin Jarvis Landry's contract year. Landry's 5'11" frame doesn't necessarily fit a preferred target for Cutler.
Brian Murphy's #32: DeVante Parker could very well turn into the Dolphins' most productive receiver with Jay Cutler slinging it, and tight end Julius Thomas is probably going to cut into Landry's receptions total in the short-yardage areas where he does most of his work.

23. Golden Tate - Detroit Lions
Levi Andrew's #20: Golden Tate has been a great weapon for Matthew Stafford. With Jim Bob Cooter taking over the offense, it has seemed to prop up Tate even more. If his TDs go up, Tate could finish as a top 20 WR. 
Brian Murphy's #25: The WR2/3 borderline seems about right for Tate.
Daniel Brown's #25: Tate started out slowly last year and then came on strong during the season. Stafford is a quality QB and Tate should be the main focus. His overall success will be determined by how well he can start the season and whether he can be consistent week to week.
John Adams' #25: There was a great deal of hype after Marvin Jones blew up at the beginning of last season, but it was Golden Tate who was the difference maker during the second half of the season. Tate doesn't find the end zone very often, but averages better than seven catches per game and that makes him an asset in PPR formats.
Chad Samuels' #26: He has been pretty consistent over the last three years. He should be able to produce 1,000 yard and five touchdowns. With the emergence of Kenny Golladay, he may move to the slot.

24. Michael Crabtree - Oakland Raiders
John Adams' #18: Michael Crabtree is like a fine wine, he just gets better with age. He had 89 catches last season for 1003 yards and 8 touchdowns. There's no reason he can't repeat those numbers in 2017.
Levi Andrew's #21: Crabtree had a great season and outscored Amari Cooper in both PPR and standard last year. Not this year, Crabtree is going to take a backseat to Cooper in his 3rd year. He will still get his share of targets and be a great WR2 for your team.
Chad Samuels' #28: He is another player who should produce 1,000 yards and 5 touchdowns. He does have Amari Cooper to compete with. Cooper could out produce him as soon as this season.
Brian Murphy's #30: He won't be as good as he was in 2016, but the Raiders' offense will ensure that there are plenty of points to go around.
Daniel Brown's #33: Crabtree is in that WR 2-3 category. He is a boom or bust type player in the Oakland offense on a week to week basis. Last year he scored in only 6 games, however he did have three TDs in week 4 against Baltimore. Additionally he had 5 or more catches in 10 games last season, which if he was your 3rd receiver is pretty solid.

25. Larry Fitzgerald - Arizona Cardinals
Brian Murphy's #21: I grossly overlooked Fitzgerald in my June WR rankings. I expect Carson Palmer to play better football this season, so perhaps this slot is too low even though Fitzgerald is entering his age-33 campaign. He finished 17th among fantasy wide receivers last year.
Levi Andrew's #23: I feel a huge regression coming from the whole Cardinals offense. Mainly due to age and injury concerns. Larry finished 2016 as WR17 in standard. Arians will always be an air it out coach but he road Johnson hard last year, and his comments about only having 2 starting caliber receivers makes me cringe at the offense.
Chad Samuels' #25: He worked out of the slot a lot last year. Expect more of the same. He is still likely to put up 1,000 yards. He is a value at 25 overall.
Daniel Brown's #31: Larry is getting older, as is Carson Palmer, but he still leads the Cardinals in terms of focus on the WR position. David Johnson is the focal point of the offense, however Fitzgerald appears to defy father time as he continues to compile solid fantasy statistics. I think this year he slows down a little and the offense continues to evolve trying to get the young WRs involved in the passing game. He should still post a good stat line, but you don't want to be relying on him as your top or #2 WR.

26. Jamison Crowder - Washington Redskins
Chad Samuels' #20: Jamison has overcome his day three draft status. He should at least match his 2016 production. His upside is breaking 1,000 yards receiving this season. For those who want to discount him keep in mind he has logged the most seasons with the Redskins of all their viable receiving options.
Brian Murphy's #24: Given his familiarity with quarterback Kirk Cousins, Crowder may benefit the most of anyone in Washington's receiving corps following their offseason turnover at his position.
John Adams' #24: With DeSean Jackson and Pierre Garcon playing for new teams, you have to seriously consider a boost in production for Jamison Crowder coming into the 2017 season. Crowder faded down the stretch last season, but Kirk Cousins will be looking his way this season when Terrelle Pryor finds himself fighting through double coverage.
Daniel Brown's #28: Crowder should see more targets this year in Washington. On paper the Washington offense is set up for aerial attack (Crowder, Pryor, Josh Doctson and Jordan Reed), however in reality the main players in Washington have struggled to stay on the field together - if he stays healthy Crowder is a great WR 2-3 with upside.
Levi Andrew's #34: Jamison Crowder could end up being the 3rd in targets on Washington. Crowder will take the backseat to Terrelle Pryor, fantasy point wise. Look for Crowder to have a season somewhat similar to 2016.

27. Julian Edelman - New England Patriots
John Adams' #23: With the exception of Rob Gronkowski, Julian Edelman has been Tom Brady's favorite short yardage target and that is unlikely to change coming into the 2017 season. Edelman is on the wrong side of 30, but is still a viable fantasy option if you can live with his sub-par touchdown output.
Daniel Brown's #24: Edelman has slid down the board a little this year due to age and the addition of Brandin Cooks. With Gronk coming back into the lineup that is likely to take away some targets from Edelman, however since his bread and butter is the short to intermediate passes, he should still see plenty of work between the 20's but it's probable that his redzone targets will be impacted.
Levi Andrew's #28: Julian Edelman finished last year with the 3rd most targets for a WR with a 159. I don't see him coming anywhere close to those numbers this year. Edelman now has Cooks share targets with, Also a healthy Gronk is there to take back over as Tom Brady's security blanket.
Chad Samuels' #29: He will have to compete with Brandin Cooks and Rob Gronkowski (if healthy) for targets. Edelman's age (31) is such that there could be skill decline any year.
Brian Murphy's #31: With Brandin Cooks now in the picture, Edelman may turn into the Patriots' third- or fourth-most productive pass-catcher. He is being overrated in many drafts.

28. Emmanuel Sanders - Denver Broncos
Levi Andrew's #17: Emmanuel Sanders is going to have a nice 2017. Trevor Siemian was named the starter, Sanders and Siemian had a great connection last year. With the new OC in Denver, Sanders has come out and said they will be throwing it a lot. Sanders has also changed his die, and cut out fast food.
Brian Murphy's #23: It might be another close race between him and Demaryius Thomas for who will be Denver's most productive fantasy wideout.
Daniel Brown's #27: Sanders is likely to suffer from the QB play in Denver which could inhibit his production this season. If the QB play is solid (which it was not last year) then Sanders could be a value pick here ranked as #27 WR off the board, however the risk is that the passing game struggles and the team ends up relying heavily on the run. I still think Sanders gets his touches and probably has a couple of big weeks, however the possibility exists of putting up the dreaded goose egg as well.
Chad Samuels' #41: Honestly, I am not high on Sanders. His past production indicates I should rank him here for seasonal leagues.as a potential to produce 1,000 yards receiving. I am not confident he will produce 1,000 yards and five touchdowns with Demaryius Thomas on the roster and either Trevor Siemian or Paxton Lynch at quarterback.

29. Kelvin Benjamin - Carolina Panthers
Levi Andrew's #24: This is the year Kelvin Benjamin takes a huge leap. One year removed from ACL surgery. Kelvin has more talents surrounding him, including Cam. Which may equal less defensive pressure on him.
Daniel Brown's #26: Kelvin Benjamin had a down year for him, however I expect him to bounce back this season. The Panthers were not great last year, but they will be improved this year. The addition of McCaffrey should provide a matchup problem for defenses, which in turn should result in more freedom for Benjamin. I expect him to register double digit TDs this year and have a relatively consistent output.
Brian Murphy's #28: It's surprising that Benjamin finished last season as the No. 20 player at his position given how basically useless he was after Week 2. It's not difficult for me to see him surpassing this ranking, but it all depends on Cam Newton's balky shoulder.
Chad Samuels' #35: Benjamin has a high upside of 1,000 yards and seven touchdowns. The Panthers will still run the ball often. They also added Christian McCaffrey and Curtis Samuel through the draft. This indicates we could see a shift in how the Panthers execute the passing game this season. This ranking is banking Benjamin is still good for 1,000 yards.

30. DeVante Parker - Miami Dolphins
Levi Andrew's #22: Did I just blow your mind with DeVante Parker at 22???? Yea, you're yelling at me right now, telling me I'm crazy. With Jay Cutler taking over the starting job, Parker took a huge step forward. Cutler likes his tall receivers, and targeted him 4 times on 2 drives. Then Cutler came out and called Parker a "faster Alshon", Cutler is going to pepper him with targets all year. I could even be too low on him at 22.
Brian Murphy's #27: Given Jay Cutler's love for the deep ball, Parker could be on the verge of a true breakout season.
Chad Samuels' #31: Parker has been receiving lot of positive buzz this offseason. He is also entering year three of his NFL career. Players like Mike Evans and OBJ have spoiled us with instant results. Not long ago when you drafted a wide receiver you had to wait until year three to see if he was going to become big in the NFL. Parker is on the traditional wide receiver track and should not be ignored.
Daniel Brown's #39: Parker benefits from his own development from year 1 to 2, as well as the fact that Cutler has taken over at QB and likes to throw the ball deep... into coverage. If Parker can get his 6'3" frame into good positions he could be in for a big season. The real question will be how well Cutler plays and whether he favors Parker in the regular season as much as he appeared to in his first action during the pre-season last week. With the focus on the running game there is big play potential for Parker.

31. Pierre Garcon - San Francisco 49ers
Daniel Brown's #20: Garcon is a PPR monster … or at least he has been. I don't see that changing just because he is now in San Francisco. He has ability to get open, and more importantly catch the ball and get both feet down whilst being tight against the side-line. I think he ends up leading the 49ers in terms f targets, and assuming that the QB play is decent, he could be an under the radar type receiver on most people's draft board - which means you may be able to land him a round later than my projection would suggest.
John Adams' #22: The court of fantasy opinion is firmly divided on the value of Pierre Garcon. Some expect him to be a bust and others expect him to shine. He's in line for a ton of targets, but his potential quarterbacks don't offer much upside. Brian Hoyer and Matt Barkley are not exactly the cream of the crop, but should be good enough to make Garcon a viable WR3 option.
Chad Samuels' #30: Garcon is another wide receiver over the age of thirty. He has the upside of being the top receiving option in San Francisco this season. He should see a lot of targets. He is not sexy as wide receivers go, but he makes an excellent flex play for his potential opportunity in 2017.
Brian Murphy's #37: He looks like the No. 1 receiver on his offensively-challenged team right now, and it may not even be close. That should matter.
Levi Andrew's #42: Pierre Garcon had some of his best years under Shanahan. The 49ers just don't have a QB to produce. I think Garcon does well this year he just doesn't have an outstanding year. If the Niners find a QB in C.J. Beathard like Shanahan thinks he has, Garcon could finish higher than WR42.

32. Brandon Marshall - New York Giants
Chad Samuels' #27: At his age his peak season is behind him. He still has the size and veteran savvy to be useful in the red zone. Eli Manning is a quarterback upgrade for him.
Levi Andrew's #30: Brandon Marshall should finish the season as a WR3. He'll take a backseat to OBJ for targets, but should still see his share. Marshall should see his most work in the red zone. Making his TD ceiling high which also could make him very TD dependent though.  
Brian Murphy's #34: Although it may make him now more than a WR3, Marshall's presence in the red zone will be a godsend for Eli Manning.
Daniel Brown's #35: Marshall could see plenty of targets in New York, especially if OBJ were to miss any time with injury. The real issue for Marshall is whether Eli Manning can get the ball to him with the amount of pressure he is likely to face. I think Marshall represents great value if he lasts this late into the wide receivers during your draft.

33. Stefon Diggs - Minnesota Vikings
Brian Murphy's #29: The Vikings need to funnel targets to Diggs. His rapport with Sam Bradford in their second year together will be something to watch closely.
Daniel Brown's #30: Diggs has speed and talent and the addition of Murray and speedster Dalvin Cook, means that he should see more favorable defensive alignments than he did for most of last season. Diggs would be a very good WR2-3.
Chad Samuels' #32: Minnesota does not have the most prolific passing games. Diggs is a third year wide receiver as well. Diggs should reach the 1,000 yard club this season.
Levi Andrew's #36: Everyone and the kitchen sink is high on Stefon Diggs. I am for one that is not. Diggs finished 49th in standard scoring last year and 30th in PPR. He also must deal with Adam Thielen, Laquon Treadwell, Michael Floyd, and the leader in targets from last year Kyle Rudolph. I don't feel he gets anywhere near the same numbers from last year 84/903/3.

34. Martavis Bryant - Pittsburgh Steelers
Brian Murphy's #19: As long as Bryant stays on the field, he will be a top-20 fantasy WR. Perhaps more than that.
Chad Samuels' #23: Bryant is elite when he gets on the field. Unfortunately he comes with a lot of baggage. Substance abuse suspensions are frightening. If someone is addicted it is easy to fall off the wagon. If a player relapses and is tested he is suspended again. Everybody wants to see Martavis beat his addiction and thrive not only on the football field but in life as well. We just have to understand addictions are not that sort of quick fix. Martavis is a risk.
Daniel Brown's #41: Bryant is a great talent, and has the ability to be a top 20 receiver… if he can remain on the field. He is coming back from suspension and will need to reconnect with Big Ben to establish the chemistry they had prior to his suspension. The reason I have him this far down the list is that the risk of him slipping up again and being suspended is too high to draft him much higher than this. If he is on the field for all 16 games I think he blows this ranking out of the water.
Levi Andrew's #48: Martavis Bryant should have a splendid season if he stays clean. The Steelers cut Ladarius Green this off season, Which I think will lead to more 3 WR sets. I have Bryant as my WR47, due to Big Ben coming out and saying Justin Hunter has had a good camp while Bryant has been fighting reinstatement. He has a chance to get a good number of targets across from AB.

35. DeSean Jackson - Tampa Bay Buccaneers
Daniel Brown's #29: Jackson is a deep threat still, and with Winston at QB and Mike Evans on the other side, he should see opportunities. It's likely that Evans will lead the team in targets, and I expect Brate or OJ Howard to be big factors in the red zone which I think limits Jackson in terms of his TDs, however I think he will be able to put up good stat lines particularly early on in the season when Tampa Bay will be without the suspended Doug Martin.
Levi Andrew's #31: DeSean Jackson is set for a big year. Yes, he may be so hit and miss in fantasy, which is why he is at WR31 for me. But landing with the Bucs makes my mouth water a little bit. DeSean and Mike Evans are going to keep defenses honest. No double covering one because the other one is going to get you and take it to the house.
Chad Samuels' #36: Jackson is the clear cut number two in Tampa Bay. Winston has the good to make him productive. Jackson is thirty and since his game is as a deep threat he is more of a boom-bust producer for your lineup.
Brian Murphy's #40: There's no doubt that Jameis WInston can get the ball to Jackson deep down the field. Just how often is another story, however. Mike Evans is still the alpha receiver here.

36. Eric Decker - Tennessee Titans
Chad Samuels' #34: This is a judgment call. Decker has one more season of productivity. Corey Davis missed a lot of time in OTAs and training camp due to injury. Though Decker was signed late he has veteran experience to learn a new offense and be productive. Odds are he will be the top target of Marcus Mariota and should put up numbers of a number one receiver. I think he will produce higher than this ranking. Corey Davis, a new team, a shortened 2016 season and age are all risk factors that keep him from being higher on this list.
Daniel Brown's #36: Decker and the Titans is a good fantasy combination. With Marcus Mariota at QB, and several solid receiving options, not to mention a strong ground attack, the Titans are in good shape. I expect Decker to lead the targets for the team, and be heavily targeted in the redzone. The key to his ultimate success from a fantasy perspective will be how quickly Corey Davis gets up to speed and takes away the defenses attention from Decker. I think Decker is featured early in the season before Davis ultimately takes over that #1 receiver role, which would be a benefit for Decker in terms of matchups for the second half of the season.
Brian Murphy's #39: Marcus Mariota must love his situation right now in Tennessee as the Titans are packed with intriguing receivers. I'll pin my highest hopes on Decker for the purposes of these rankings, but Rishard Matthews or Corey Davis could just as easily take this spot.
Levi Andrews #41: Eric Decker went to the Titans after being released from the J-E-T-S. That brought Marcus Mariota's value up more than it did Decker's. Decker will be too TD dependent I feel, but thank goodness Mariota is the master in the red zone.

37. Willie Snead - New Orleans Saints
Brian Murphy's #35: He's not too exciting, but you could do a lot worse when looking for a WR3 or WR4. Plus, Snead will be there to pick up the slack if Michael Thomas gets a little bit of stage fright in his new role as New Orleans' No. 1 wideout.
Daniel Brown's #40: Snead had a great season a couple of years ago, and he still has Drew Brees throwing him the football. Unfortunately for Snead he will remain down the targets list in New Orleans and for that reason is he is ranked at #40 for me.
Levi Andrew's #40: Willie Snead has finished 2015 and 2016 as WR35. Most likely finishing around the same, or a little higher due to Brandin Cooks being gone. But there are more WRs with higher upside I would rather have, bringing him to my WR40 ranking.
Chad Samuels' #43: Drew Brees spreads the ball around. It is hard to get excited about any wider receiver on a weekly basis for the Saints except for Michael Thomas. He is worth a stash on your roster but that is about it.

38. Mike Wallace - Baltimore Ravens
Levi Andrew's #18: Mike Wallace finished 24th last year in standard scoring. That was with Steve Smith and Dennis Pitta taking 300+ targets away. Wallace finishes in the top 20 in 2017. I have him at WR18 even with the Jeremy Maclin signing. Let's hope Joe Flacco comes back soon and proves why he is elite because there will be plenty of targets to go around in Baltimore when Flacco gets back to health. Wallace is always a threat to take one to the house.
Chad Samuels' #45: He is just a vet on the Ravens He is not exciting or sexy but will round out a receiving corps well.
Brian Murphy's #48: You know the deal here: Deep threat, not much else. He is dependable for about 900 yards and a handful of scores.
Daniel Brown's #50: Wallace was strong last year and he should be a favorite of Joe Flacco again this year. There are more risky options out there with upside, but Wallace would be a safe late round selection.

39. Tyrell Williams - Los Angeles Chargers
Brian Murphy's #33: I want to move Williams up, but the wide receiver position is just that deep in fantasy. He finished 2016 as our game's No. 13 WR and with rookie Mike Williams already ailing, Tyrell is yet another Keenan Allen injury away from being a major value pick once again.
Daniel Brown's #37: Williams should outperform his current ADP. He and Rivers had great chemistry last year allowing him to go over 1,000 yards receiving. The return of Keenan Allen should see his targets drop but it should also loosen up defenses for Williams when compared to last year. He has upside and I think he will be an under-rated receiver this year and present good value in your drafts.
Chad Samuels' #40: This ranking assumes Keenan Allen will get hurt and miss time this season. With Mike Williams not returning to the football field until October there is opportunity for Tyrell to be a WR1.

40. Zay Jones - Buffalo Bills
Levi Andrew's #35: Zay Jones has just fallen into a great situation. Sammy Watkins got traded, Anquan Boldin retired, Jones just became the WR1 for the Bills. Yes, Jordan Matthews got traded to the Bills, but I don't personally see that doing much. The Bills will be a run first team, then Jones will get his targets. Making Zay a sneaking late pick value, unless his ADP creeps too high in the next few weeks.
Daniel Brown's #38: I'm probably a little higher on Zay Jones than most and the trade of Watkins only heightens the hype for me. If the Bills make a change at QB then I really like the upside for Jones, and even with Tyrod Taylor at QB he is a decent WR 3 type player with upside.
Brian Murphy's #43: Jordan Matthews is already banged up and if anything long-term happens to him, Jones will possibly be swarmed by targets. He is one of my favorite rookies.
Chad Samuels' #52: The Bills will be a run first team again this year. With the sudden retirement of Anquan Boldin and with the trade of Sammy Watkins there are a lot of targets available and Jones could be the beneficiary. Treat him as a rookie in redraft league. DO not overpay for him. If he overachieves, there is reason to be pleased.

41. Corey Coleman - Cleveland Browns
Levi Andrew's #37: Only person Coleman must compete with is Kenny Brit. Coleman is younger and a way better player than Kenny Brit. If Coleman can stay healthy and gets decent QB play out of one of the 4 QB's on the roster right now he should have a great season. May even break into the top 25. But for right now I have him at WR37 only because of QB problems and him missing camp time, but Pryor finished 18th with the Cleveland QB mess last year.
Chad Samuels' #39: This ranking as about the upside of Corey Coleman to seize the WR1 job from Kenny Britt. The Browns should only have one redraft receiving option in this range of players. Pick the one you like and roster him. Downgrade the other.
Brian Murphy's #44: Although Kenny Britt is holding down the No. 1 spot on the Browns' depth chart, I would rather bet on Coleman's upside once I reach this late juncture of a draft.
Daniel Brown's #49: Coleman or Kenny Britt … neither are great options but someone has to catch the football in Cleveland. I lean towards Coleman because of his upside. The safer pick is probably Kenny Britt, but if you are searching for a WR this far down the list I think you need to look at upside in a close call. I give that edge to Coleman.

42. Rishard Matthews - Tennessee Titans
Levi Andrew's #25: Rishard Matthews and Marcus Mariota found a connection last year. I don't think that just goes away with Corey Davis coming to town. Mathews finished as the 14th best WR in standard scoring. I think he improves on his catches and yards this year. He had 9 TD's last year which may regress, Matthews will be a beneficiary from Eric Decker coming to town.
Daniel Brown's #32: Matthews represents incredible value around this point of the draft, however to me it remains unclear on how much he will be targeted. He has the feel of a Sterling Shepard like player in that they are talented in their own right, but there are other receivers that will likely garner more targets.
Brian Murphy's #49: Don't just overlook Matthews due to the Titans' additions on offense. He was a top-15 fantasy WR when all was said and done last year.

43. Corey Davis - Tennessee Titans
Daniel Brown's #34: I expect Davis to assume the #1 receiver label in Tennessee at some point during the year. The Titans look like a team that is ready to explode in terms of production and I think Davis will be right in the middle of that.
Levi Andrew's #46: Everyone thinks Marcus Mariota is automatically going to have a connection with Corey Davis. I feel he will have some chemistry with him but Mariota will still lean heavily on Rishard Matthews and Eric Decker to start the season. Davis will finish as a WR4 very low end WR3.
Chad Samuels' #48: He is a rookie so his seasonal upside is limited. Missing time in OTAs and training camp limits his upside for 2017 further.

44. Kenny Britt - Cleveland Browns
Chad Samuels' #37: Britt is just a solid wide receiver. He is a former first round wide receiver who has not lived up to his potential yet. In Britt's defense he did play for the Jeff Fisher Rams which was mired in mediocrity. The Browns are going to be better than what one would expect a team that finished 1-15 the previous season to be. Britt has the edge over Corey Coleman in these redraft rankings because of his NFL experience. If it were dynasty they would flip flop their positions.
Levi Andrew's #39: Kenny Britt had his first 1,000-yard season last year. Having his best fantasy year since 2010. Britt will most likely play second fiddle/possession receiver to Corey Coleman. He will have a mediocre 500-700-yard season

45. Donte Moncrief - Indianapolis Colts
Chad Samuels' #38: Through three seasons Moncrief has yet to realize his upside as a dynasty player. With the uncertainty of Andrew Luck being able to play at the start of the season it increases the risk for Moncrief to continue this trend for 2017. Usually for two top wide receivers to produce there should be a top 8 quarterback on the roster. If Luck misses time or is nursing an injury it hurts his chances for production with Hilton also in Indianapolis.
Brian Murphy's #47: As much as I'm concerned for T.Y. Hilton's fantasy value right now, I'm simply petrified for Moncrief's stock. Donte has scored 11 times in his last 15 games with Luck under center. With all other quarterbacks, he has just five touchdowns in 26 career games.
Levi Andrew's #49: Donte Moncrief would have had a break out season last year if it wasn't for injury. This is hopefully his year. With Andrew Luck looking to be out for Week 1, I have lowered Moncrief in my rankings.

46. Jeremy Maclin - Baltimore Ravens
Brian Murphy's #36: Surely relieved to no longer be constrained by Kansas City's conservative offense and finally healthy, Maclin finds himself as the possible target leader on the team that led the NFL in pass attempts last season.
Levi Andrew's #38: Jeremy Maclin signed in a great place after being cut. He could end up being heavily involved later in the season, with Joe Flacco's injury they haven't had much time to build a rapport.
Chad Samuels' #56: This is his third team in four years for Jeremy Maclin. He is a vet and can produce but it is not wise to rank him over Perriman. Perriman has some upside where Maclin is what he is at this point in his career.

47. Cameron Meredith - Chicago Bears
Chad Samuels' #33: Meredith is the Bears default wide receiver one. He is a high effort player and will see stats through volume. His value hinges on Kevin White. White is still green but if he takes a step forward in his third season Meredith's volume will drop and so will his fantasy production.
Brian Murphy's #38: See: Pierre Garcon

48. Cooper Kupp - Los Angeles Rams
Daniel Brown's #42: Kupp has had a big pre-season and the hype train is building for him. I don't know if this is a season too early for him, but I would be willing to grab him as a solid WR 4 in my fantasy drafts. If Goff can produce this year (unlike last year), then Kupp could be in for a strong year. Watkins and Gurley should draw most of the defensive planning early on which would leave Kupp in favorable matchups ... again assuming the QB can get the ball to him ... on time ... and accurately.
Levi Andrew's #43: Cooper Kupp has lit up the preseason, bringing some fresh air to Jared Goff. Who knows who will be the WR1 for Goff. Kupp is a great dart throw though.
Chad Samuels' #51: Sean McVey's offense should be able to support three wide receivers for the Rams but it might not be in 2017 as it retools. Look for either Austin or Kupp to be the viable second wide receiver. Do not be surprised if the top second option varies from week to week. Austin has the advantage because he is the vet, but has missed time due to injury. That has allowed Kupp to catch up. Kupp was very productive in college and has a high floor as a rookie to produce. He is still a rookie and rookies are long shots for production.

49. Randall Cobb - Green Bay Packers
Brian Murphy's #42: Cobb's inconsistency can be maddening, but in this potent offense, there's always the chance that Aaron Rodgers can float all boats.
Chad Samuels' #46: Cobb has lots of upside to bet on. Unfortunately, it is difficult to rank three wide receivers on the same team high. Cobb is the odd man out because Nelson has the history of production and Adams broke out last year.
Levi Andrew's #47: Last year wasn't Randall Cobb's year. He finished out of the top 50. With Aaron Rodgers saying they have started using 2 TE sets in camp, I feel like that's not a good thing for Cobb. Having him at 47 with Adams break out year last year might be too high.

50. Jordan Matthews - Buffalo Bills
Brian Murphy's #41: By all accounts, he'll be over his sternum injury prior to Week 1. Tyrod Taylor should be looking for him often.
Chad Samuels' #44: This ranking is counting on him playing from the slot where he has been productive the last three seasons. With the retirement of Anquan Boldin Matthews is a solid sleeper for fantasy production.
This article was sponsored by My Bookie.