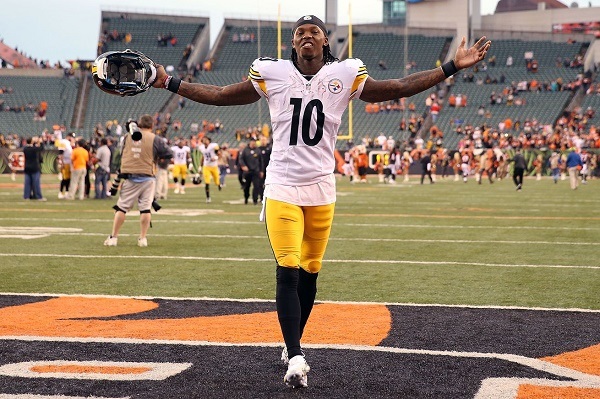 Written by Brian Murphy
22 June 2017
WR Eric Decker does indeed sign with the Tennessee Titans
No matter how well the Titans fare this season, you can't say they didn't try their best to surround Marcus Mariota with weapons. They added to the pile this week by signing Decker to a cheap one-year deal. As I said last week, Decker's fantasy value hinges on how he recovers from his hip and shoulder operations, but he has quite a bit of sleeper appeal once he gets a clean bill of health. He could be an every-week starter if first-round rookie Corey Davis needs time to acclimate to the pros. And it goes without saying that this is a big get for Mariota's fantasy stock.
Pittsburgh Steelers WR Martavis Bryant: Still a stud
That is according to Steelers QB Ben Roethlisberger via the Pittsburgh Post-Gazette. Talk doesn't mean much in June, but this is more of a note to remind you to not forget about this height-weight-speed freak after he was suspended for the entire 2016 season. In 2015, Bryant was a top-20 fantasy wideout on a per-game basis. As long as he can stay on the straight and narrow, I don't think there's much doubt that the 25-year-old will finish this season in WR2 territory. However, it looks like that opinion is standing on an island right now.
Carolina Panthers TE Greg Olsen might hold out of training camp
Olsen is due to make $6.5 million in salary this season and in 2018. Well, that's not good enough in his opinion. And given how consistently productive he has been ever since he arrived in Carolina in 2012, he's got a point. Olsen didn't rule out a possible training camp holdout if he doesn't get a new contract. Is this a major issue? Like the Bryant praise, not really. Olsen is entering his 11th season and hasn't missed a game since his rookie year. He doesn't need a full training camp to get ready for the upcoming campaign. But there is something valuable to take away from all of this: ASL's early top-20 tight end rankings, which were released Thursday.
Baltimore Ravens RB Danny Woodhead is up to his old tricks
Ravens beat reporter Jeff Zrebiec wrote that he "lost count" of how many passes Woodhead caught in last week's minicamp. This is standard fare given that Woodhead caught 81 passes in 2015, preceded by 76 receptions in 2013. His presence could very well be a drain on Kenneth Dixon's PPR value. However, keep in mind that Woodhead played in just three games and two games in 2014 and 2016, respectively. He tore his right ACL last year. You can't depend on him to stay healthy for an entire season -- or perhaps even an entire month. So while there is reason to be concerned about Dixon's upside in 2017, don't completely ignore him in your drafts.