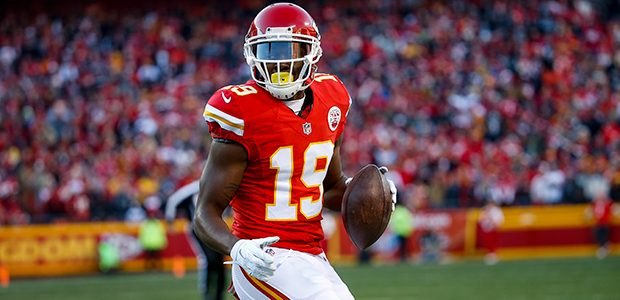 Written by Brian Murphy
15 June 2017
Baltimore Ravens add WR Jeremy Maclin
It took Maclin about two weeks to find a new home after the Kansas City Chiefs released him on June 2. And it's an intriguing one for his fantasy prospects. Baltimore has paced the league in pass attempts over each of the past two seasons. Maclin able to reach 1,000 yards in KC just two seasons ago and is still in his 20s. However, because 2016 was such a wash for him, fantasy owners will probably be sleeping on the former Eagle and he could bring home sizable dividends as a WR4 in drafts this summer. The Ravens have a couple of perimeter big-play threats in their wide receiving corps with Mike Wallace and Breshad Perriman. Maclin can stretch the field as well, but as he gets more comfortable with playing out of the slot -- he lined up there on 48 percent of his snaps last season -- he could see a lot of room to roam and plenty of targets over the middle. I ranked Maclin 44th in my early wide receiver rankings.
WR Eric Decker to the Tennessee Titans?
On Monday, the same day Maclin signed, Decker replaced him on the open market as he was cut by the New York Jets. On Wednesday, he visited and worked out for the Tennessee Titans. Decker, 30, played just three games last season due to hip and shoulder ailments that required surgery. Assuming he joins the Titans, which is far from a given, it would be a boon for Marcus Mariota to have him along with first-round rookie Corey Davis, Rishard Matthews and tight end Delanie Walker running routes. It would be another reason to upgrade the young QB. As far as Decker's fantasy value goes, although he posted 80 catches, more than 1,000 yards and 12 TDs in 2015, it's dependent on how he recovers from his dual operations. They had long recovery timelines and it's not completely certain that Decker will be 100 percent healthy by the start of the regular season. Of course, where he signs will play a big factor as well. 
The Jets minus Decker now have Quincy Enunwa, ArDarius Stewart and Robby Anderson lined up to be their top three wideouts. The former two are currently nursing injuries that are holding them out of mandatory minicamp while Anderson is being investigated for allegedly pushing and fighting with a police officer at a concert last month. Enunwa will probably be the first Jets wide receiver to come off of draft boards, but I personally favor Anderson, who scored a couple of touchdowns and averaged about 60 yards per game over the final five weeks of last season. For a Jets wide receiver, that's pretty good! Granted, with Josh McCown and Bryce Petty on tap to chuck it for New York this year, it's reasonable to believe that no one in this passing game may be worth your time in 2017.
Kirk Cousins wants to throw it deep to WR Terrelle Pryor often 
The new Redskins teammates are getting used to each other this spring, and there is one thing about Pryor that has stood out to the QB: He can go get the ball no matter how far Cousins throws it.
"Terrelle is really talented running down the field," Cousins said Wednesday. "I have been very impressed with his down-the-field skills with his speed. Being such a long strider, he can really cover ground when it doesn't look like he is. I want to throw to him every chance I get on those deeper routes and that's where in OTAs and minicamp I can experiment a little bit."
The Redskins really need Pryor to be their go-to guy on the outside following the departures of Pierre Garcon and DeSean Jackson. Tight end Jordan Reed may see more looks, but Pryor, who averaged 13.1 yards per catch for the lowly Browns last season, is primed to be Cousins' favorite when he wants to go down the field. And if there's one thing we know about Kirk Cousins, it's that he throws with little abandon, and head coach Jay Gruden will continue to give him the green light to let it fly. Pryor looks like a WR2 heading into this season. He was fantasy's No. 20 WR in Cleveland last year.