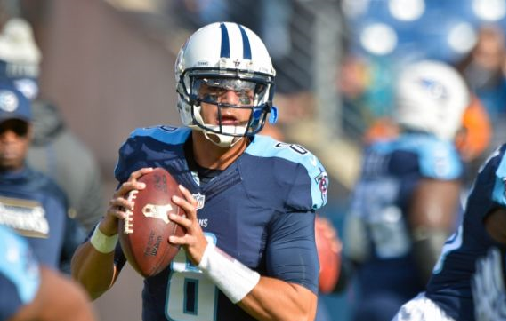 Written by Levi Andrew
20 June 2017
 Wow! What an offseason for the Titans. From adding Defensive playmakers in Free Agency to Adding Decker late in June. The biggest winner of the offseason was Marcus Mariota. He got a slew of new weapons around him. Corey Davis the best WR in the draft to another red zone weapon in Decker. Before breaking his leg, Mariota had 3,426 yards, 26 touchdowns, 9 INT, also adding 349 rushing yards and 2 touchdowns on the ground. That was with subpar WRs outside of Rishard Matthews.
This year Mariota's only struggle should be coming back from injury. Maybe with all his shiny new weapons, he won't have to worry about rushing. We know what he can do on the ground just watch his college film. He doesn't need it though. Over his first 2 years in the NFL his average QB rating is 93.55 and leads the NFL in red zone passer rating. Decker since 2012 has been 2nd in red zone TDs. 19 of Mariota's touchdowns came in the red zone, Matthews accounted for 6 of those, Walker 5, Murray 3. The other five TD's came from players no longer on the roster.
Let's break down all of Marcus's weapons he has this year and their value, then we will breakdown Marcus.
Rishard Matthews: I foresee Matthews starting as the #1 WR on the Titans. He has a connection with Mariota from last year when they combined for 65/945/9. I don't see Corey Davis cutting into his production as much as I do Decker. I can see Matthews getting more looks outside of the red zone this year. I have him at 26 in my rankings right now when he finished 14th last year. That was with the thinking of his TDs regressing and getting more yards.
Eric Decker: What a great signing by Tennessee. Starting in 2011 Decker has had 5 or more TD's every year until last year when he went to IR week 3. He had 2 TDs when he went down though. Decker could greatly improve this offense with his presence on the field and in the red zone. I had Decker at WR50 before the signing I will be moving him to the late 30s most likely. I can see Decker hurting Walkers TD's in the red zone.
Corey Davis:  Davis is an excellent route runner, can also sell double moves amazing. Watching some tape, he lacks a little acceleration, but when he gets going he excels. Watching him take some bubble screens to the house is a thing of beauty. With his first-round pedigree, it's kind of expected for him to be a Day 1 contributor. But with Decker being the same mold and type of receiver I feel they let him come along slowly. Let Decker teach him things and make him special. I have Davis as my WR41 right now, I may bump him slightly higher because coverage may focus on Matthews, Decker, Murray, and Walker.
Delanie Walker: Marcus's first year in the NFL he relied heavily on Walker. Turning in a 94/1088/6, in 2016, Walker finished with 65/800/7. But one of those TDs came with Matt Cassel in the game. I can see Walker's TD's improving a little bit with the weapons on the outside and in the backfield, he will be able to have the middle of the field all to himself. Mariota will still lean on his TE, which makes him my TE6.
Demarco Murray / Derrick Henry: Murray had 53 receptions last year, that's only 12 less the Walker and Mathews. But only coming up with 377 yards and 3 TDs. Henry had 13/137. Murray averaged 7.1 YPC and Henry 10.5 YPC. Yes, they are skewed but it proves Henry could have some impact in the pass game when he takes over.
All the rest, Tajae Sharp, Harry Douglas, Eric Weems, Taywan Taylor, Jace Amaro, Jonnu Smith:
I think the Titans will keep 5 WRs on the roster through the year, and Taylor is too good to go to the practice squad. So, Douglas and Weems are on the roster bubble.
Smith is an amazing player. He absolutely showed his freak athlete skills at the combine, running a 4.62-40 with a 38" vert, 10'7" broad. If he can learn to catch more with his hands and not his body, Smith and Walker could make an amazing TE tandem. Amaro could end up being cut during the preseason.
After all my gushing about the Titans skill players, I'm about to convince you why Marcus Mariota should be your Dynasty QB.
Marcus has never thrown more than 10 INT dating back to his first college season, he also never had less than 700 rushing yards in every college season. In 2014 his best college year he finished with 4,454/42/4 on 445 pass attempts with 304 completions. He also had 135/770/15. He also caught a TD that year. This was all without Chip Kelly.
Marcus has thrown for 451 pass attempts last year and only completed 276. That is horrible. But think about the reasons I just gave above. With his WRs and TEs he has this season I could see Mariota having a season like his last college season, throwing-wise, maybe not as high in the rushing.
The Titans are playing smash-mouth football and Mariota has players to catch the ball now. I had him at QB11, Now I think I may be moving him up to QB 5-7 area. Yes, Decker is on a one-year deal, but he has a home in Nashville and his wife is a country singer. If he pays off this season he could end up getting a contract to stay longer. Corey Davis is there for the next 5 years, Murray and Henry till 2019, Matthews and Walker till the end of 2018.
Now think of the possibilities of Marcus from here on out finishing with at least 4,000 passing yards and 30-35 TDs, 9 INTs, 350 rushing yards with 4-6 TDs every year. That is a Top-5 QB. Those numbers are all achievable for Mariota. He's proven he could do it with his old scheme in college, but with his 451 pass attempts last year, it's not like the coaching staff is holding him back from reaching those numbers. With his WR's even catching another 40 passes, could easily push him over those marks. Every arrow is pointing up for him.  
I will be buying every share of Mariota that I can get this year and in my Dynasty League.
Follow me on Twitter @LeviAndrewFF