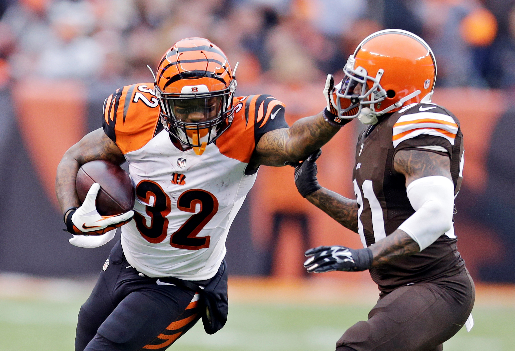 Written by Levi Andrew
15 June 2017
Mike Wallace- Baltimore Ravens
Mike Wallace has all the upside in my opinion. The Ravens don't have a stacked WR corps. He finished last year 24th in standard scoring and 22nd in PPR. WR2 numbers. Now that Steve Smith and Dennis Pitta are gone, the Ravens are missing 122 targets. Wallace averaged 7 targets a game last year - I can see that number going way up this season. Yet most everyone has him ranked in the late 30's-early 40's. Also, don't let the Maclin signing scare you away. Maclin hurts Perriman more. Flacco isn't afraid to throw it deep and Wallace has wheels underneath him. He can also catch a underneath route and take it to the house. This is the second article I've written with Mike Wallace included. I'm going all in on him being a low end WR1, high end WR2 this season.
Kenneth Dixon- Baltimore Ravens
Dixon is suspended for the first four games which created the buy low; however, when he comes back he'll take the lead back role. Woodhead will have his role on offense, but he's not capable of handling lead back duties. Coach Harbaugh loves the kid and is going to give him every chance to win the job. Dixon has all the tools to do it, he averaged 5.1 yards a carry from weeks 10-17 when they let him start out touching Terrance West. He added 4 targets a game in those same weeks. I can easily see you getting him for an early 4th late 3rd round pick.
Jeremy Hill- Cincinnati Bengals
Oh, the Mixon hype is real. Hill has finished 19,14,10 in standard scoring since entering the league. That's not bad RB2 numbers. Maybe Mixon will take the job over. The Bengals could look to trade him if they like what they see from Mixon during camp. Hill also only has one year left on his contract and I don't believe Hill just fades away. He has value and it may not be for the Bengals. Hill averaged 3.7 YPC last year. Not bad, but not great either. Crazy stat - Jeremy hill has gotten 222,223,222 rushing attempts since entering the league. Imagine what he could do with 275-300 attempts. Try a 4th rounder or your WR4 to a disgruntled owner.
C.J Fiedorowicz- Houston Texans
C.J. came out of nowhere last year to finish as the 17th best TE is standard scoring with 54/559/4. You might be worried about the QB situation, but looking at Deshaun Watson's stats, most of his completions came at 5 yards behind to 10 yards from the line of scrimmage. C.J. could become Watson's best friend if he takes the starting job, which we all expect him to do. Even if Tom Savage starts he's going to lean on his TE. C.J. could be had for a 4th round pick.
Robert Woods- Los Angeles Rams
I will go out on a limb and say I bet Woods isn't even rostered in most dynasty leagues. Snatch him up! He is set to be the Rams #1 WR this year. Yes, he never found success in Buffalo, but listen to this, the last two years the Bills only threw the ball on 51.38% in 2016 and 49.90% in 2015. That's not going to get a 2nd WR on an offense anywhere. Sean McVay and Greg Olson are pass heavy coaches. Last year McVay had Washington throw the ball 62.44%, Olson in Jacksonville threw the ball 62.74%. The Rams are now without 3 WRs from last year. Also, Woods and Goff have been working together outside of OTA's after Woods was signed. Woods is only 25 with 4 years' NFL experience.
Follow me on twitter @LeviAndrewFF