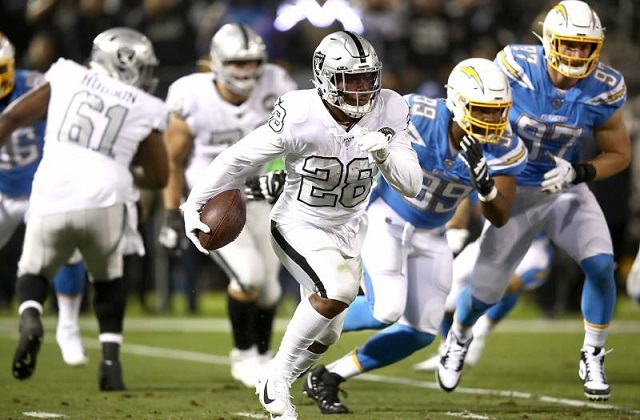 Written by Chris Hexter
14 November 2019
Week 10 is over and for most of us, bye apocalypse is over and we can take a deep breath. Luckily (at least for me), I got to watch my games in Key West and stress out in a warmer environment rather than the cold back home. So now, Week 11 approaches and the panic returns. Let's hope this helps! Here are 5 Starts and 5 Sits for Week 11.

Also view Cam Harper's Start'Em / Sit'Em advice.

Starts
QB - Dak Prescott | Dallas Cowboys (@ Lions)
Dak has been electric thus far in 2019. He threw for three touchdowns and fell just short of 400 yards against a tough Vikings defense. Even when the run game fell stagnant, Dak performed. If Stafford plays in this game, this should be a high scoring and more competitive game. Dak should be plugged in and have yet another multi-touchdown game with his usual rushing yardage tacked on.

HB - Josh Jacobs | Oakland Raiders (vs. Bengals)
Jacobs has been a powerful runner with tremendous vision and top-five rushing usage. This alone puts him in weekly RB1 conversations. In Week 11, he gets the Cincinnati defense that is allowing the third most rushing yards per game and is a no-brainer RB1. Play him.
WR - DJ Moore | Carolina Panthers (vs. Falcons)
Moore is finally flashing the abilities that made him a top draft pick in 2018. Kyle Allen is feeling more confident and targeting his outside receivers, mainly Moore. Moore has seen double digit targets for two weeks straight and should see close to that again for the third time in a row. Atlanta is still a bad defense but this should be a competitive and higher scoring game and should see Moore near the century mark with nice touchdown upside.
TE - Gerald Everett | Los Angeles Rams (vs. Bears)
The Rams offense has not been great this year. McVay looks like he is struggling to regain their identity. Although I believe this to be a lower scoring game, the Rams will find some room to run and get the ball in the hands of their tight ends. The Bears are still good against wideouts but have been exposed in the run game and over the middle by tight ends. Although Higbee gets some time, Everett is the player you want and sees the majority of the tight end passing volume. He also presents the most upside and is by far the more athletic option. Roll him out if you are in need of help at tight end this week.
D/ST - Los Angeles Rams (vs. Bears)
Yep. I like the Rams this week. This defense has been playing fairly well but their offense has been falling short in most cases this season. I think the offense finds some ways to help win this game but the game changer here is the good Rams defense against an awful Mitchell Trubisky. He will absolutely turn the ball over in this game and the Bears offense will not garner enough yardage to hurt this defense in fantasy. Roll them out in lineups this week.

Sits
QB - Carson Wentz | Philadelphia Eagles (vs. Patriots)
The positive I do want to point out immediately is that they are at home and Wentz plays well there. But I would advise fantasy owners to try to find a safer play or hell, if you are in a win now mode, an upside play. I want Wentz in all my leagues because he has a great stretch of games after New England. So if he underperforms, which I think he will, trade for him and roll him out for the next couple weeks. But this week against one of the best defenses against quarterbacks, I'll stay away.
RB - Adrian Peterson & Derrius Guice | Washington Redskins (vs. Jets)
Love the twofers! Peterson has been a nice play the past few weeks but that will come to an end this week. The Jets didn't let Barkley go anywhere on the ground and now the mixed backfield between Guice and Peterson makes me want to stay as far away as possible, even in a positive matchup. Look elsewhere this week.
WR - Allen Robinson | Chicago Bears (@ Rams)
I have a lot to say about this game. Allen Robinson will find no room against Jalen Ramsey and will have to receive targets from a pressured Mitchell Trubisky. No thanks. Robinson has been a bright spot on this poor Bears offense, but this week he'll be quiet. Do not play him. Even with his massive target share, this is not going to be a pretty game for him or this offense.
TE - OJ Howard | Tampa Bay Buccaneers (vs. Saints)

Howard enjoyed his season best game last week against the Cardinals and he's finally back! But not really. The Cardinals are just that bad against tight ends. Howard is simply not a part of Arians' game plan. So we shouldn't be looking at Howard as a top tight end like we used to. Drop or trade him if you have him, he can't be trusted in fantasy lineups.
D/ST - Denver Broncos (@Vikings)
The Broncos have been playing very well ever since they lost their young star, Bradley Chubb. However, even without Thielen, the Vikings offense has been red hot. Cook is a force to be reckoned with and Cousins is playing like he is actually worth the money Minnesota is paying him. Even against a tough Cowboys secondary, the Vikings performed and have proved to be a good all around offense that defenses will be weary of. Find another defense this week (I like the Bills and Steelers).