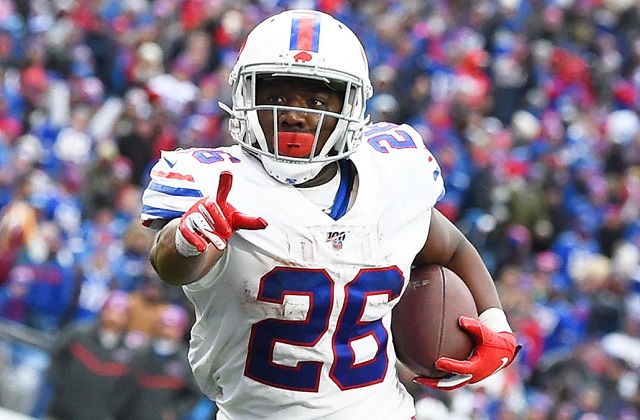 Written by Cam Harper
16 November 2019
Before getting into the starts and sits of week 11, I feel inclined to discuss the events of the Thursday night football game between the Browns and the Steelers. For those of you that haven't heard or seen what happened, Myles Garrett hit Mason Rudolph roughly 3 seconds after he had thrown the ball with 8 seconds left on the clock. The game was already over, making the hit extra unnecessary. Rudolph and Garrett scuffled on the ground, leading to Rudolph attempting to remove the helmet of Garrett. Seconds later, Garrett retaliates by removing Rudolph's helmet. Rudolph chases after Garrett as Maurkice Pouncey gets between them. Then, I kid you not, Garrett takes Rudolph's helmet and swings it at Rudolph's head.
You have to see it to believe it.
The fallout has been an indefinite suspension for Garrett, a three-game suspension for Pouncey, and a hefty fine towards both teams. What a mess. Personally, I feel as though being suspended for the remainder of the Browns disappointment of a season isn't an appropriate suspension. The suspension should carry into the following season, at the very least. If the NFL is going to uphold season-long suspensions for players smoking weed, that should be the minimum suspension for a player literally assaulting another player on the field. He would have served jail time if that happened anywhere else.
Anyhow, on to my starts and sits for week 11.
I'm going to try something new this week. I've gone into detail regarding three starts and three sits for the three primary skill positions: quarterbacks, running backs, and wide receivers. This week, I'm going to talk about two quarterbacks, running backs, wide receivers, and tight ends that you should start and sit. With all of the bye weeks and injuries occurring left and right, it is important to highlight tight ends as well.
Also view Chris Hexter's 5 Starts / 5 Sits advice.
Let's get into it.
Start 'Em
Derek Carr, QB, Oakland Raiders (vs CIN)
Let me go ahead and check the week 11 schedule. Ah, the Bengals play the Raiders? That means Derek Carr is a must start! The Bengals have arguably the worst team in the NFL, allowing opposing quarterbacks to score an average of over 25 fantasy points per game to the quarterback position. Nathan Peterman might be able to put up a respectable stat line against this defense. Needless to say, play Derek Carr this week.
Josh Allen, QB, Buffalo Bills (@ MIA)
Surprisingly, Josh Allen has never scored fewer than 25 fantasy points against the Dolphins in his career. That streak is likely to continue as, despite Miami's recent success, they still boast a mediocre defense. Josh Allen continues to find way to get the ball into the endzone with his feet, including two touchdowns last week. Allen should serve as a top ten QB in week 11.
Devin Singletary, RB, Buffalo Bills (@ MIA)
Despite seeing just 11 touches against the Browns, Singletary still outplayed and out touched Frank Gore. This has been the case for the past few weeks in Buffalo. The Bills clearly want to get Singletary the ball more often. A plus matchup against the Dolphins might be what it takes for Singletary to have his much-anticipated breakout game of the season.
Raheem Mostert, RB, San Francisco 49ers (vs ARI)
Matt Breida is out and Tevin Coleman appeared to get injured at the end of the game against the Seahawks. The 49ers chose to keep Mostert on the field over Justin Wilson at the end of the game. It's possible that the 49ers attempt to limit Coleman's touches due to a minor injury. Mostert should serve as a high-upside flex should you need a spot start in your lineup.
Tyrell Williams, WR, Oakland Raiders (vs CIN)
Starting Tyrell Williams in week 11 is more about how bad the Bengals are than anything else. They have allowed five receivers to haul in 73 or more yards that past three games, including four touchdowns in that same span. Derek Carr should be in for a big game, and someone is going to have to catch the ball for that to happen.
Terry McLaurin, WR, Washington Redskins (vs NYJ)
McLaurin is another good spot start option for week 11. There's much to be desired in Washington with Dwayne Haskins starting under center, but the Jets have been horrendous against the pass the past few weeks. The have allowed nine touchdowns to receivers in the past five games. If anyone is going to catch a touchdown pass in Washington, it's going to be McLaurin.
Jared Cook, TE, New Orleans Saints (@ TB)
Jared Cook and 6 catches for 74 yards on 10 targets last week against the Falcons. Hopefully that's a sign of what's to come as many, including myself, predicted Cook to be a top 5 TE this season. The Buccaneers are the second-worst team in the NFL against the tight end position. Hopefully the hot streak continues for Cook.
Jason Witten, TE, Dallas Cowboys (@ DET)
Despite just two touchdowns this season for Witten, he's still ranked as the TE12 for the season, making him a serviceable option available in most leagues. The Lions defense is pretty bad, allowing a tight end to score the past four weeks. Witten has TE1 upside this week if he can continue that streak.
Sit 'Em
Jared Goff, QB, Los Angeles Rams (vs CHI)
Jared Goff must be close to earning most disappointing uninjured fantasy player in 2019. He had a rough outing against the Steelers in week 10 and is in for a similar story against the Bears. He is missing multiple starting offensive lineman this week, so don't be surprised is the Bears blitz all game. Goff might fall outside of the top 20 quarterbacks after this week.
Kyler Murray, QB, Arizona Cardinals (@ SF)
This game will go one of two ways: Murray has a great game on his feet and continues to play as a top-five fantasy quarterback, or the 49ers completely shut the Cardinals down. The Cardinals made it a close game against the 49ers a couple weeks back, but that is unlikely to repeat itself. San Francisco is looking for a statement win at home after losing their first game of the season last week. It's tough to sit Murray when he's been playing so well, but there's a real chance that he's a bust this week.
David Johnson, RB, Arizona Cardinals (@ SF)
David Johnson is clearly injured but, for some reason, the Cardinals continue to throw him out there. He looked like he was in a ton of pain last week against the Bucs, and he only received six touches to boot. It's tough to sit a player that was likely drafted in the first round, but he might as well be listed as out. A terrible matchup against the 49ers offers no resolve to the issue either.
Jordan Howard, RB, Philadelphia Eagles (vs NE)
Jordan Howard has been an unexpected RB2 as of late. He's seen roughly 20 touches a game and a pair of touchdowns in the past couple games. However, a game against the Pats isn't going to create a game flow that benefits Howard. The Eagles are likely going to play from behind most of the game and look to Miles Sanders out of the backfield. Their bye week should help Sanders recover from his nagging injury as well. Howard might get a couple opportunities at a goal line touchdown, but that's the best case scenario.
Stefon Diggs, WR, Minnesota Vikings (vs DEN)
Diggs went from red-hot to ice-cold fast. He has just four catches for 53 yards the past two weeks in which the Vikings played well as a whole. It's likely to be a similar story against the Broncos as Diggs will be lining up against all-pro corner Chris Harris.
Allen Robinson, WR, Chicago Bears (@ LAR)
I had Robinson listed as a start last week and he didn't disappoint. He caught 6 balls for 86 yards, a serviceable stat line. It's hard to expect that in a bad matchup against the Rams though. The Rams held an equally inadequate offense to very little last week, and there's an argument to be made that Trubisky is worse than Rudolph. Try to find someone else.
OJ Howard, TE, Tampa Bay Buccaneers (vs NO)
Howard had his best game of the season last week, however, that likely won't be the case this week. He plays the Saints who have only conceded a single touchdown to the tight end position all year. That's not good for a touchdown-or-bust player.
Zach Ertz, TE, Philadelphia Eagles (vs NE)
Zach Ertz has rightfully earned his spot on a long list of fantasy disappointments in 2019. Despite having his best game of the season in week 9 against the Bears, he's set to return to his disappointing normal in week 11. The Patriots are known for shutting down the best weapon on the opposing offense and, right now, that is probably Ertz. You probably have to play him but, if you can, try to find someone else.