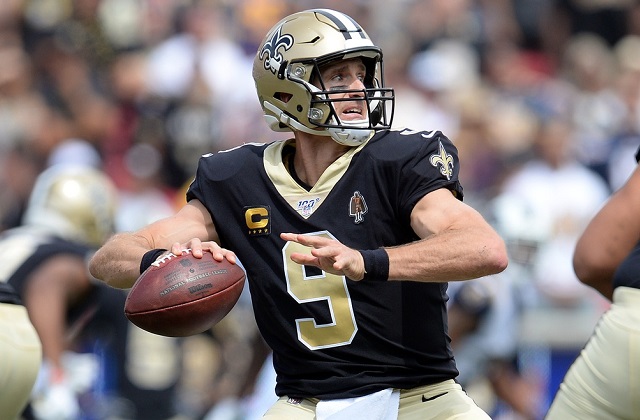 Written by Chris Hexter

07 November 2019

Also view Cam Harper's Start'Em/Sit'Em advice.

Here are Chris's 5 Starts and 5 Sits for Week 10:

Starts

QB - Drew Brees | New Orleans Saints (vs. Falcons)

This is easy. But Brees at home against division rivals who can't seem to get a grasp on defense? They just had their bye but will that just magically fix their problems? No. Well, at least let's hope not. Brees is a top-10 play this week and should throw for at least two scores against one of the league's worst passing defenses.

RB - Marlon Mack | Indianapolis Colts (vs. Dolphins)

Mack has been great so far this year and fantasy owners are loving the volume. Whether Brissett suits up or Hoyer is behind center, Mack will get his. Add in that it's against a defense that plays like me in a lawn chair, I'd say it's safe to throw him in your lineup.

WR - Keenan Allen | Los Angeles Chargers (@ Raiders)

Keenan Allen blew up in the beginning of the season but since Week 4, has really let his owners down. But an easy matchup against the Raiders, who I picked on last week with the tandem in Detroit, should let Allen enjoy a bounce back game and help his owners sleep at night. The Raiders secondary is allowing more yards to receivers per game than any other team in the AFC. I just wish I wasn't playing against him this week.

TE - TJ Hockenson | Detroit Lions (@ Bears)

I feel like I always have a Lion on this list. But the show must go on. Hockenson has not been good since week one. Owners are trading him and benching him across the board. He has severely struggled catching the football. Although I don't think that will change, he should have every opportunity to have a great game this week against a Chicago defense that lets tight ends garner 8 yards per reception. It's a great matchup, all he has to do is catch the ball.

D/ST - Baltimore Ravens (@Bengals)

So, the Ravens defense surprised us all Sunday night. It would be a true upset however, if they don't score double digit fantasy points for their owners when they get to follow up with rookie QB Ryan Finley. This defense is a top option and a guaranteed safe play.

Sits

QB - Kirk Cousins | Minnesota Vikings(vs Cowboys)

Cousins has been performing fairly well over the past few weeks. However, on the road against a stingy Dallas defense is not an ideal matchup, especially given that Cousins is without Thielen and will have to rely on the mystery man (Diggs) to carry the predominant workload for the receiving corps. There are better options here, I would stray away.

RB - David Johnson | Arizona Cardinals (@ Buccaneers)

Johnson is such a great talent but injuries have really capped his NFL career. Now, he says 'I'm 100%'. But he has Kenyan Drake there and it's not like the Cardinals gave up that draft capital so they could use him in one game. Given how well Drake performed, this game in particular may be more of a RBBC than you would think. Plus, the Bucs are still really good against the run.

WR - Mike Evans | Tampa Bay Buccaneers (vs Cardinals)

Mike Evans has been on fire! After taking his owners on a roller coaster ride, he has since been steadily performing at a high level. But a matchup with Patrick Peterson comes next and the Bucs will use more run plays and passing plays through either the middle of the field or underneath crossing routes to beat this defense, none of which are routes Evans seems to run much of. This seems like more of a Godwin game. Obviously, it's hard to sit Evans and you probably won't. Just temper expectations.

TE - Jimmy Graham | Green Bay Packers (vs Panthers)

Graham isn't playing like a reliable fantasy asset and I see that continuing this week against a Panthers defense that is doing well against the tight end. Plus, you can run on the Panthers and pass all you want so, there won't be a need for them to utilize Graham in this one. Graham won't get more than four targets. Look elsewhere if you can.

D/ST - Oakland Raiders (vs Chargers)

This should be a good game. And although Rivers occasionally enjoys throwing the ball to the opposing team, I don't see that being a huge case to play this defense who has really been porous on defense. I'm excited for this Thursday night game but not if you are playing this defense.