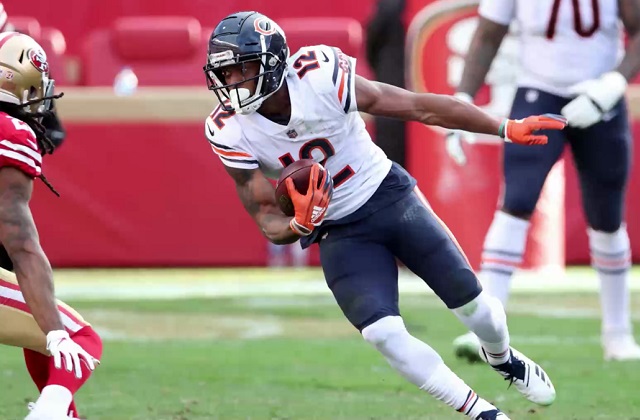 Written by Joe Buttgereit
05 September 2019
All Week 1 Sit/Start Articles: by Cam Harper | by Ben Muell | by Joe Buttgereit
We made it! Week 1 is finally here! No more draft analysis, no more ADP talk, no more sleepers, breakouts, steals, reaches; NO MORE!
We finally have real-life, meaningful football games to talk about, starting tonight with the Packers and the Bears. Luckily for me, my fantasy teams are loaded with Packers/Bears so I'll be watching every play (not that I wouldn't anyway).

This is the first installment of 17 weekly start/sit articles. I am intentionally choosing players that you may not necessarily play on the "start" side. Anyone can tell you to start DeAndre Hopkins in a dome against the Saints; it doesn't take a rocket scientist to tell you to start your 5th overall pick in a juicy matchup.

However, I may tell you to sit him one week. Ok, no I won't. But some of my "sits" will be higher-tiered players because that's what these articles are all about. I'm here to make you reconsider some of the guys that you think may be "must-starts" every week. While I give you the players that you may want to sit, you HAVE to check out ASL's weekly waiver wire articles to find who you can add each week to fill those open starting slots!

Starts

QB - Carson Wentz | Philadelphia Eagles

This is probably going to be the most obvious selection of this bunch. But, this matchup is too good to pass up. The Redskins are in complete disarray as a team. However, the best part of their team is their run defense. They are loaded up front with a pair of Alabama big men in Da'Ron Payne and Jonathan Allen. This sets them up to air it out and take on a younger secondary.

Wentz has arguably the most weapons at his disposal in his career, as well as being completely healthy. Who knows how long that health will last, but for one week, he can be as good (or better) than anyone. In three home games versus Washington, he's thrown for just under 300 yards/game, with seven touchdowns. He's averaged 21.3 fantasy points per game in those starts and I see no reason why that wouldn't continue on Sunday in Philadelphia.

Don't be surprised if the Eagles try to blow the top off the defense in the first few plays with newly acquired/returned DeSean Jackson.

RB - Tevin Coleman | San Francisco 49ers

The 49ers' backfield has finally ironed itself out. For much of the early stages of draft season, we weren't sure who to select between Coleman, Matt Breida, and Jerick McKinnon. Well, with the loss of McKinnon to the IR for the second year in a row, it has become clearer. Tevin Coleman will be "the guy". Breida will surely get his touches, as Coleman works best as part of a tandem, but he will be the back getting 2/3 of the work unless he coughs up the job (or the ball).

In a very favorable matchup against, perhaps, the worst defense in the NFL, Coleman should get off to a great start to his 2019 campaign. Tampa Bay, with Bruce Arians as their head coach, will be looking to air it out and score in bunches to make up for their woeful defense. San Fran's best course of action will be to slow the game down and keep Winston and co. off the field. Enter Tevin Coleman.

The Bucs were the 6th worst team in football against opposing fantasy running backs, allowing over 22 points per game. I targeted Coleman late in my drafts this season, and I'm very comfortable rolling him out in Week 1.

WR – Allen Robinson | Chicago Bears

Our one and only Thursday night pick! Allen Robinson was severely underrated in drafts this year. As a matter of fact, right before writing this article, I did a draft where he was selected in the backend of the seventh round. I couldn't believe it. I already have so many Robinson shares that I decided to go in a different direction with my team (free league), or I probably would have taken him late fifth/early sixth.

Anyway, he's the very clear #1 option on, what should be, a very good offense. Trey Burton may or may not play. Anthony Miller flashed his rookie year, but still has a lot of improvements to make heading into year two. David Montgomery is the new toy, and I expect him to get a lot of work; but when Chicago needs a first down, or wants to throw it up down the sideline, where do you think it's going?

If Mitch Trubisky wants to take this team where it should go (Chicago is my SB pick this season), he needs to rely heavily on his (healthy) stud receiver. It wasn't a fluke that Robinson managed to catch 14 touchdowns in a season with Blake Bortles. When healthy, he is that good; and right now, he's healthy.

TE – Eric Ebron | Indianapolis Colts

Following the sudden retirement of Andrew Luck, Colts offensive players took an ADP hit. I understand Jacoby Brissett isn't Luck, but he is a very solid quarterback in his own right. He's not flashy, nor will he enter a race for league MVP, but behind that beastly offensive line, he will be serviceable.

Eric Ebron, in my opinion, provides the safest of safety blankets for him in Week 1. A big, middle-of-the-field target should bring some solace to the mind of Brissett in his first game of the season. Ebron was 10th in the NFL last season in redzone targets with 21; 3rd among tight ends. Of those 21 targets, he only converted them into 12 catches. However, he did manage to snag 11 touchdowns on those 12 catches. A pretty good touchdown conversion rate if you ask me. You can't teach size and athleticism.

D/ST – Philadelphia Eagles

As I mentioned earlier, the Redskins are in disarray at the moment. Newly acquired Case Keenum won the starting quarterback job over rookie sensation Dwayne Haskins. Derrius Guice has seemingly supplanted Adrian Peterson as the bell cow back; and we've all seen how petty AP can be when he isn't getting the touches he wants. Their disappointing, yet most experienced and productive receiver, Josh Doctson, has been cut. Trent Williams is still not playing. Throw all this in a pot and you have an offensive recipe for disaster.

The Eagles, on the other hand, are poised to feast on this matchup. With Ereck Flowers at left guard and Donald Penn at left tackle for Washington, the Eagles' defensive line should have their way and put pressure on Keenum play after play. With no real outside threat to be overly concerned with, Philadelphia should play freely and cause havoc with regularity. I can realistically see six or seven sacks and a couple turnovers, while allowing less than 10 points.

Sit

QB – Ben Roethlisberger | Pittsburgh Steelers

It's no secret that Bill Belichick is arguably the NFL's greatest game-planner of all time. He knows how to truly eliminate the opposing team's best player. He does it time and time again, without fail (mostly). It's also no secret that Big Ben has struggled over the course of his career at Gillette Stadium. There's something about the Foxborough air that gets to him. Or it's the fact that Belichick has held his favorite targets (Antonio Brown, Hines Ward, Mike Wallace) in check over the years.

I expect the same result for JuJu Smith-Schuster this time-around. Without the use of his best weapon, Ben will struggle to get the ball downfield. He's played four regular season games in New England, and he's thrown just eight touchdowns to four interceptions. He's amassed an average of just 17.9 fantasy points per game in those starts.

Besides, let's not pretend Ben is getting any younger. For every Tom Brady there's.. every other quarterback that Father Time defeats. I see Belichick forcing James Conner to beat him, thus making life very difficult for Ben Roethlisberger and the Steelers' passing attack.

RB – Damien Williams | Kansas City Chiefs

Fantasy hell broke loose at the Chiefs' signing of LeSean McCoy. Shady shot up draft boards and you can see why. He obviously had his best years with the Eagles while playing for Andy Reid. Andy Reid certainly knows how to get the most out of his running backs. However, he has routinely said this offseason/preseason that they will be going with a committee-style backfield and I believe him.

With Shady, Damien Williams, and rookie Darwin Thompson, there's a lot of running back mouths to feed, and Reid will try to feed them all. They also have this guy at quarterback who's pretty good. This should be the Pat Mahomes show as it will be difficult to get any sort of rhythm going on the ground. Jacksonville boasted the league's 5th best defense against opposing fantasy backfields last season, allowing just 16 fantasy points per game. That's not many points to split among three guys.

I also believe this will be a closer, lower scoring game than people are expecting. Williams would benefit from a blowout Chiefs' performance allowing them to run it more frequently to run out the clock. I just don't see that happening.

WR – Julian Edelman | New England Patriots

This is more of a gut feeling than anything else. Josh Gordon is playing in his first game back since being reinstated and I feel that the Steelers' defensive minds will want to see him prove he's ready. Take away the short passing game that Tom Brady loves so much and see what Gordon's got.

I also love the New England backfield. James White figures to play a major role in the passing game again, taking a portion of the target share. Edelman, I believe, will be the guy Pittsburgh wants to contain. He's the most consistent pass-catcher of the group and should see the most attention with linebacker/safety help. Also, don't forget about Demaryius Thomas. He still has something to prove and I believe he will make a couple key catches in this game.

With more viable receiving options than Brady has had in recent years, I think it will be tough for Edelman to produce this week until the guys around him can prove that they need to be focused on as well.

TE – Austin Hooper | Atlanta Falcons

Allow us to continue the theme here: too many mouths to feed. Well, not necessarily, but when you have a mouth to feed like Julio Jones, it's hard for anyone else to eat. Ok, enough with the eating analogies. Honestly, this is a matchup thing. Minnesota is stingy against tight ends; they allowed just 5.9 fantasy points per game to the position a season ago. With Harrison Smith patrolling the middle of the field, it's tough for tight ends to find space up the seams where they love to make plays.

For what was seen as an explosive offense, the Falcons only ranked 16th against opposing fantasy D/STs. They weren't as dominant as they appeared to be a year ago. I can see that happening again. A good offense, an effective offense, but not a dominant offense. It's not necessarily an offense you need to stream a defense around, especially when the opponents' unit is as good as the Vikings'. I think this will be a hard-fought battle for Atlanta's offense, thus forcing them to rely on their studs, Julio and Devonta Freeman.

D/ST – Jacksonville Jaguars

Do I really need to explain this one? I mean, honestly; they're playing the Chiefs. Ok, I did say earlier that I thought this would be a lower-scoring game than people may expect; or at least the Chiefs will score less than people would expect. But, I still believe the Chiefs will be effective.

Pat Mahomes doesn't make many mistakes; and when you have downfield threats like Tyreek Hill and Travis Kelce, they're bound to connect on a bomb at some point. He also doesn't take sacks. He was sacked just 26 times last season, 7th fewest among quarterbacks with at least 12 starts, and 4th fewest with 16 starts. Jacksonville will play solid defense, as they always do, but the big fantasy plays (strip sack, pick-six, etc.) just won't be there.

As always, you can find me @joebuttgereit on Twitter and I'm always around to answer any start/sit questions or talk fantasy sports in general!