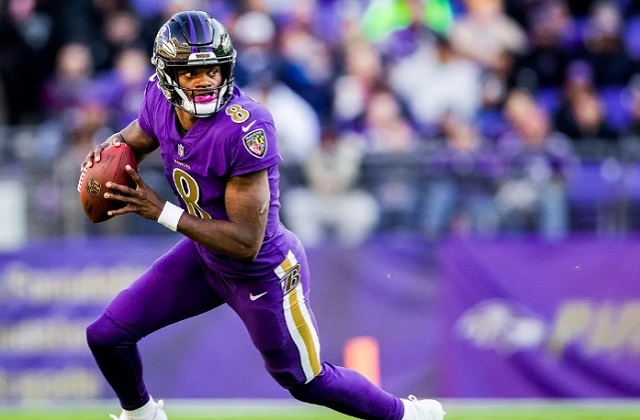 Written by Cam Harper
04 September 2019
All Week 1 Sit/Start Articles: by Cam Harper | by Ben Muell | by Joe Buttgereit
Week 1 of the football season has finally arrived and with that, the cheers and tears that come with it.
Week 1 is one of the most important weeks of the fantasy football season. This is the week that some of the best waiver wire options will appear. Last season, Phillip Lindsay, George Kittle, and Tyler Boyd all emerged as viable starting options after week 1.
Before we get too far ahead of ourselves, let's dive into what to do for all the Week 1 matchups. It might be better to start some of the players that would normally sit on your bench before the regular starters in your lineup.
Start 'Em QBs
Lamar Jackson, Baltimore Ravens (@ MIA)
Lamar Jackson is entering the second season of his young career, except this time he is starting Week 1. The Dolphins defense wasn't great last season and they just traded away Kiko Alonso. The Ravens ran the ball more than any other team in the NFL last season and they will likely have a similar approach this season. Don't be surprised if Lamar Jackson runs of over 100 yards in Week 1.
Ben Roethlisberger, Pittsburgh Steelers (@ NE)
This feels like a "prove them wrong" kind of outing for the Steelers. All offseason the Steelers have been listening to how they aren't going to be the same team without Antonio Brown and Le'Veon Bell. Ben Roethlisberger has had his leadership questioned. Big Ben has all the motivation he needs to come out firing and have a big game Week 1. The Patriots usually start the season off slow, so it could be a good opportunity for Ben to capitalize.
Philip Rivers, Los Angeles Chargers (vs IND)
The Chargers feel like they have too many weapons to contain, even without Melvin Gordon. With the likes of Keenan Allen, Mike Williams, a healthy Hunter Henry, and Austin Eckler, there is just going to be too many options for Rivers to sling the ball to. The lack of Melvin Gordon might encourage the Chargers to throw the ball more as well. The Colts middle of the road defense isn't going to be enough to lock down everyone.
Sit 'Em QBs
Matt Ryan, QB, Atlanta Falcons (@ MIN)
Matt Ryan might excel in a dome, but the Vikings defense is no joke. The Vikings are going to be fired up in front of their home crowd and will be looking to get after Ryan all game. Look for Matty Ice to bounce back in Week 2, but buyer beware for the opener.
Cam Newton, Carolina Panthers (vs LAR)
There's not a good vibe coming out of Carolina about Cam Newton. He already has injury concerns with his foot and shoulder. Word is that Cam is going to be fine for Week 1, but that's a big risk against the stout Rams defense. DJ Moore and Curtis Samuel might have been the camp MVPs, but they are both unproven in the games that matter. It might be better to play wait-and-see before putting Cam into your lineups.
Aaron Rodgers, Green Bay Packers (@ CHI)
It's hard to be optimistic about any player on the Packers heading into Week 1. They are taking a road trip to visit their arch rivals at Soldier Field. The Bears defense held teams to under 300 yards a game last season, and they didn't lose anybody important this offseason. With Khalil Mack and Co ready to roll, I'm putting Rodgers on my bench if I can afford it.
Start 'Em RBs
Mark Ingram, Baltimore Ravens (@ MIA)
I love Mark Ingram for the same reason that I love Lamar Jackson. Mark Ingram is the new toy in their run-first offense and the Dolphins might be fielding the worst team in the NFL with their recent trades. All on board the Raven train for Week 1.
Chris Carson/Rashaad Penny, Seattle Seahawks (vs CIN)
The Bengals had one of the worst defenses in the NFL last year, allowing 137.8 yards per game on the ground. They didn't do much to address the issue. They added Zac Taylor as their new head coach, an inexperienced, offensive-minded coach that won't fix their defensive woes. The Seattle offense is going to be pounding the rock early and often with the Cincinnati defense unlikely to have any answers.
Kerryon Johnson, Detroit Lions (@ ARI)
It just feels like the Lions are going to roll over the Cardinals defense. The defense allowed over 150 yards per game on the ground last season and, like the Bengals, did little to nothing to address the issue. The Lions new OC Darrell Bevell is going to look to bring his run-first offense to Detroit. Kerryon should get plenty of opportunities to run all over the field in Arizona.
Sit 'Em RBs
Aaron Jones, Green Bay Packers (@ CHI)
This is the second Aaron from Green Bay that people should be weary of on Thursday. The Bears had the best run defense in the NFL in 2018. Not only that, nobody really knows what to expect out of the Green Bay backfield. Aaron Jones is clearly better than Jamaal Williams, but the team continues to give Williams the ball. Aaron Jones feels like a flex play at best this week against a stingy defense with a potential committee approach.
Latavius Murray, New Orleans Saints (vs HOU)
The Texans run defense lost some of their might when Jadeveon Clowney was traded to Seattle. The issue here isn't that Murray isn't going to do well, it's that the game flow might not suit him. There's a real chance the game turns into a shootout. If that's the case, there is going to be a lot more Kamara in the backfield than Murray.
Devonta Freeman, Atlanta Falcons (@ MIN)
The Vikings still have a solid front seven that will be tough to move the ball against. Devonta Freeman might get enough targets out of the backfield to have a productive day, especially in PPR formats. But don't expect Freeman to rack up a lot of yards on the ground.
Start 'Em WRs
Kenny Golladay/Marvin Jones, Detroit Lions (@ ARI)
No Patrick Peterson? Check. Rookie Byron Murphy starting? Check. This game just feels too good for everyone on Detroit. DJ Swearinger is the only real threat that Matthew Stafford has to watch for. Look for the Lions receivers to get open early and often this game.
Julian Edelman, New England Patriots (vs PIT)
History would predict that the Pats are going to have a really good game at home against the Steelers. The Steelers have never beaten Tom Brady in Foxborough. Brady is going to be looking to carve up the Steelers zone defense, as he usually does. Edelman usually finds away to get open, and with the Patriots lacking other options in the passing game, he should see plenty of targets.
Emmanuel Sanders, Denver Broncos (@ OAK)
All the reports coming out of Denver say Emmanuel Sanders is healthy and looking great. It could just be typical coach talk, or it could be legitimate. The Broncos start the season against a fairly weak Oakland secondary. It's worth the risk to plug him into your lineup and look for the fireworks, especially if you're on the fence with another receiver.
Sit 'Em WRs
Robby Anderson, New York Jets (vs BUF)
Robby Anderson is about as inconsistent as they come. He has just seven games with five or more receptions in the last two seasons. He starts the season against the best passing defenses in the NFL. It's a hard pass for Robby this week.
TY Hilton, Indianapolis Colts (@ LAC)
Andrew Luck retiring really put a damper on the Colts season in every way. It's impossible to imagine that an offense under Jacoby Brissett is going to be anything close to dynamic. TY Hilton had one of the worst seasons of his career the last time Brissett was at the helm. A road visit to Los Angeles doesn't sound very appealing for a player that already has a lot of question marks. It might be best to play the wait-and-see game with TY.
DJ Moore, Carolina Panthers (vs LAR)
DJ Moore is the most likely candidate to be covered by Aqib Talib. DJ Moore might have a breakout game on the horizon, but that game isn't coming against one of the best shutdown corners in the league. A banged-up Cam Newton at the helm isn't helping Moore's situation either.
Start 'Em TEs
TJ Hockenson, Detroit Lions (@ ARI)
Kerryon, Golladay, and Marvin Jones are already on the start list, might as well add the Lions newest addition. Hockenson is one of the most polished tight ends to come out of the draft in a long time. He has good hands, good route running, and he can block. Stafford has always liked big targets and Hockenson's 6'5 frame fits that bill. A matchup against the Cardinals seems like a good time to roll the dice on this rookie.
Sit 'Em TEs
Jordan Reed, Washington Redskins (@ PHI)
Jordan Reed is recovering from concussion number 1,000 prior to this week's matchup. In all seriousness, it's only a matter of time before he hangs up the cleats for his own safety. He's injured all the time and that must be taking a toll on his body. He's already heading into the season below 100% and he is against a strong defense that didn't give up a lot of points to tight ends in 2018. It's best to keep him on the bench.