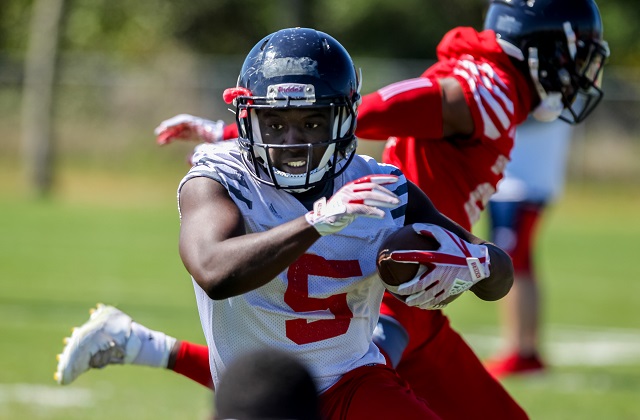 Written by Michael Bower
21 May 2019
See Michal's other dynasty rankings: Round 1 | Round 2
Welcome back to my final edition of 2019 Rookie Rankings. At this point, the proverbial cupboard is becoming somewhat bare. So while looking at the remaining players, know that you most likely won't be drafting immediate starters, but players who have upside and a chance at starting in the future.
25. Devin Singletary, RB, Buffalo Bills: The Bills have a loaded running back stable, but do they really? As of now, the starter appears to be LeSean McCoy, backed up by Frank Gore with some TJ Yeldon mixed in. However, McCoy could easily be cut or traded, and if Buffalo were smart, Gore should get released and Yeldon should begin the season as the starter. If that were the case, Singletary should have no issue taking the starting job sooner rather than later.
26. Damien Harris, RB, New England Patriots: Perhaps the Patriots are concerned about Sony Michel's lingering knee issues? If so, taking Harris is certainly a fantastic back-up and a great insurance policy to Michel. James White is primarily a receiving back, so if Michel were to miss time, Harris can give the reigning Super Bowl Champs steadiness and versatility.
27. Jalen Hurd, WR, San Francisco 49ers: All of a sudden, the 49ers have a plethora of talent on offense. Look out, NFC West. With the selection of Hurd, in addition to the prior Deebo Samuel selection, the 49ers now have a ton of receiving threats to cover (Kittle, Pettis, Samuel and Hurd), as well as the receiving backs they have. Hurd also brings versatility to the offense, as he had previously played running back at Tennessee.
28. Terry McLaurin, WR, Washington Redskins: If the Redskins were smart, Dwayne Haskins would be the day-1 starter, and if that were the case, McLaurin would benefit as they were college teammates. While McLaurin was drafted higher, most dynasty players are talking about Kelvin Harmon, but make no mistake, McLaurin is no slouch on the field.
29. Justice Hill, RB, Baltimore Ravens: Another team, another muddled backfield. In this case, Baltimore brought Mark Ingram in to be the starter, but he is clearly a stop gap. After taking the Oklahoma State product in the 4th round, he will get a chance in the preseason and if he shines enough he might get an opportunity by mid-season.
30. Foster Moreau, TE, Oakland Raiders: Quick, who is the starting tight end for the Oakland Raiders? Nope, Jared Cook is in New Orleans. With a glaring need, the Raiders selected Moreau in the 4th round from LSU. While he does not have the greatest collegiate statistics, his size (6'4", 253 lbs) and ability to block make him a versatile option for the Raiders. Remember, blocking ability is important because it gets players on the field.
31. Bryce Love, RB, Washington Redskins: Had Love not gotten hurt in the last game of the season, his draft capital would have been much higher. After rushing for over 2,000 yards in 2017 (2,118), injuries derailed his 2018 season and he only rushed for 739 yards. If Guice is not fully healthy, Love could be a steal in later rounds.
32. Myles Gaskin, RB, Miami Dolphins: After rushing for over 5,000 yards at Washington, Gaskin was picked up by Miami in the 7th round of the draft. While it's a late pick, it could be a valued investment with high return if the new coaching staff isn't completely sold on Drake or Ballage.
33. Dekaylin Zecharius (Dk) Metcalf, WR, Seattle Seahawks: Admittedly, I am not the biggest Metcalf fan, as I think he is a 1-route receiver. However, with the release of Doug Baldwin, Metcalf will get a shot to start and Russell Wilson can throw the deep ball as well as anyone. That being said, Metcalf looks to be a receiver that will have a game with a huge stat line and follow it up with an extremely below average game. Buyer beware.
34. Benny Snell, RB, Pittsburgh Steelers: A lot needs to happen for Snell to see the field, but if he does, look out. Benny is a bruising back that wears his opponents down as the game goes on. James Connor has never handled a full workload for a full season, and Jaylon Samuel seems like a jack of all trades master of none, so stash Snell on your taxi squad and wait and see.
35. Trayveon Williams/Rodney Anderson, RB, Cincinnatti Bengals: I lumped these two together because, again, a lot needs to happen for them to see the filed. Mired behind Joe Mixon and Giovanni Bernard, both will need injuries or poor play to see the field. Williams had a stellar 2018 season, but many people consider him too small. Anderson could have been one of the best backs coming out of college, but a multitude of injuries cause him to miss a significant amount of time. Stash and wait for both.
36. Easton Stick, QB, Los Angeles Chargers: If Tom Brady were ever going to retire, I would have put Jarrett Stidham here. But, I didn't. Drafted in the 5th round from North Dakota State, Stick is a raw prospect that needs time to sit and learn. That makes Los Angeles the perfect place to learn behind Iron Man Philip Rivers. Other QB's from this class will pay off sooner, but Stick may pay off more in the long run.
Well that's it for my rankings! I hope you all enjoyed them. Question? Comments? Find me on Twitter @Thembower85!