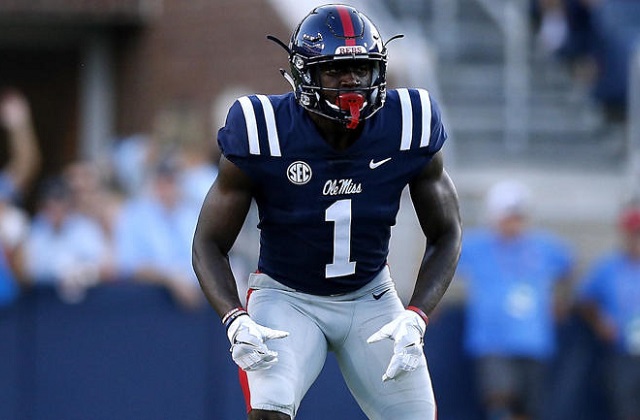 Written by Michael Bower
14 May 2019
See Michal's other dynasty rankings: Round 1 | Round 3
This week I am continuing with picks 13-24. Enjoy!
13. AJ Brown, WR, Tennessee Titans: Sigh. Oh AJ. You were my #1 receiver going into the draft. Then you went to one of the worst landing spots out there. But, did you really? Mariota has had trouble with the deep pass as of late, hindering Corey Davis's value, but perhaps AJ's skill set in the short game can help him. Maybe the limitations of his quarterback mean they can help each other. Time will tell.
14. David Montgomery, RB, Chicago Bears: I am sure I will catch flack for having Montgomery so low, but hehas the hardest path to start than the running backs I have above him (Jacobs, Sanders). Montgomery is stuck behind Mike Davis and Tarik Cohen. That being said, when Montgomery gets on the field, he is a three-down back that can catch and pass block. Once he seizes the starting job in Chi-town, there is no turning back.
15. Dwane Haskins, QB, Washington Redskins: Armed with a major chip on his shoulder after the Giants passed on him and took Daniel Jones at #6 overall, the 2018 NCAA passing leader is primed to make a huge splash in year 1. With Alex Smith out indefinitely, his only roadblocks to starting are Colt McCoy and Case Keenum. If I had to guess, Haskins is the week 1 starter in D.C.
16. Kelvin Harmon, WR, Washington Redskins: Haskins has great company in Kelvin Harmon. While Haskins was leading the NCAA last year with 4,831 yards, Harmon was leading the ACC with 1,186 yards. These two look to have the making of a prolific duo for years to come. With a 6th round draft capitol, other fantasy players may pass on him, so pounce on him if he is there late.
17. Marquise "Hollywood" Brown, WR, Baltimore Ravens: The first receiver off the board (25th overall), Antonio Brown's cousin goes to wide receiver purgatory #1. Well, that's what I call it anyway. I hated this pick; until I didn't. With Brown's unique combination of speed and agility, he might be just what Lamar Jackson needs to elevate his game to the next level.
18. Drew Lock, QB, Denver Broncos: Well-played John Elway. Well, we hope so anyway. Hope that he works out better than their last high quarterback pick, Paxton Lynch. With a huge arm and no pressure to come in and be a savior in year 1, Lock is in a perfect landing spot.
19. JJ Arcega-Whiteside, WR, Philadelphia Eagles: The best part about this spot is he gets to play with the player he is replacing, Alshon Jeffrey. With his big frame (6'3", 225 lbs) and his ability to high-point the battle and flat out destroy defensive backs for the ball, Arcega-Whiteside should quickly become a favorite of Carson Wentz.
20. Ryquell Armstead, RB, Jacksonville Jaguars: This selection could spell the end of Leonard Fournette. Bear with me for a moment. Fournette is either always injured, or in someone's doghouse. That coupled with his paltry 3.7 YPC over 2 seasons, and the Jaguars could look to part ways sooner rather than later. Armstead, at 5'11" and 215 lbs, can more than handle the load, although he did very little through the air while at Temple (29 catches for 175 yards in 4 seasons). Stash Ryquell for Fournette's imminent injury or suspension.
21. Daniel Jones, QB, New Your Giants: Mike, why is he not above Haskins on your list? He was drafted higher! Well, loyal reader, please do not put all your stock in draft capital. You also need to look at talent, scheme and circumstance. Haskins should be the starter, and Jones will be……eventually. As long as Eli keeps the Giants in playoff competition, Jones will ride the pine. While at Duke, Jones's paltry completion percentage can be attributed to his weak receiving corps. It will improve once he is checking down to Saquon Barkley on 3rd and long every drive.
22. Darrell Henderson, RB, Los Angeles Rams: The ultimate fantasy handcuff, Henderson is a stud in his own right. If Gurley's arthritic knees continue to flare up and Malcolm Brown can't produce, Henderson, with enough playing time, can be a low-end RB-1.
23. Hunter Renfrow, WR, Oakland Raiders: Collecting 2,133 receiving yards and 15 TD's over his 4-year career at Clemson, Renfrow adds speed to the Raiders offense. I am sure Gruden has proclaimed "THIS GUY IS A FOOTBALL PLAYER!" in meetings, and now is his chance to prove it to Gru-dawg.
24. Andy Isabella, WR, Arizona Cardinals: With a blazing 4.31 40-yard dash and 3,526 receiving yards (30 TD), over 4 years at UMASS, Isabella looks to be the perfect slot receiver for Kyler Murray. He can do it all, rushing, receiving and returning kicks, so look for Isabella to be on the field early and often.

That's it for this week! I hope you enjoyed my 13-24 rankings. Questions? Comments? Hit me up on Twitter @Thembower85!