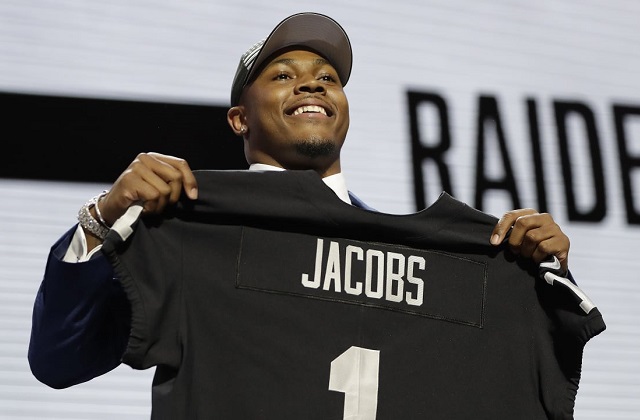 Written by Michael Bower
08 May 2019
See Michal's other dynasty rankings: Round 2 | Round 3
A small behind-the-scenes peak at the inner working of Advanced Sports Logic: each month the writers get a newsletter, talking about the articles we wrote and clicks per article. It is written by a fabulous man named Leonard. Leonard is the cog in the wheel of ASL, and without him giving me the chance to write, you wouldn't get to read my (hopefully) entertaining content. So, Leonard, thank you and the amazing work that you do!
I digress. In the last newsletter, Leonard asked for a writer to do some post-draft rankings. I took up the challenge and here we are. I took into consideration landing spot, scheme, and talent. These are players, ranked 1-12, who can give your dynasty team a boost!
1. Josh Jacobs, RB, Oakland Raiders: Isiah Crowell is done for the season, and even with Gruden and company re-signing the Muscle Hampster (Doug Martin), it would appear that Jacobs has a clear shot to earn the starting running back job in Oakland. While never being a bell cow back at Alabama, surely the Raiders think he can carry the load after selecting him #24 overall.
2. N'Keal Harry, WR, New England Patriots: Can anybody draft better than the New England Patriots? No. Many people had the 32nd overall pick to be either AJ Brown (WR Ole Miss), or Irv Smith (TE, Alabama), but instead the reigning champs selected 6'2" receiver from Arizona State. Projected by many to be a dynasty 1.01, Harry possesses the skill set to stretch the field, but can always run bubble screens and return punts, using his explosive speed to house anything when the ball is in his hands. Look out AFC, the champs just got better.
3. Kyler Murray, QB, Arizona Cardinals: What's wrong, is the "too short" quarterback ranked too high? Well, the only wins and losses that matter are yours, and Kyler looks to be in a system that puts up some serious points, which means wins for you. While his stature may be small, his arm and accuracy are not. A huge playmaker in a 5'10" frame, Murray can make every throw, and scramble when he needs too while not taking too many big hits. Loaded with plenty of weapons (RB David Johnson, WR Larry Fitzgerald, WR Andy Isabella, WR Christian Kirk and WR Hakeem Butler), there looks to be no disaster in the desert this year.
4. TJ Hockenson, TE, Detroit Lions: A three down tight end that can block as well as he can catch, is he the player that ends Detroit's tight end woes? While Brandon Pettigrew and Eric Ebron flamed out in the Motor City, Hockenson has a unique skill set that will get him on the field early and often. Can he and Patricia be the new Gronk and Belichick?
5. Miles Sanders, RB, Philaddelphia Eagles: This should be clarified now. The Eagles ran a running-back-by-committee out of necessity. Now, they finally have a three-down back that never has to leave the field. If not for being stuck behind Saquon Barkley, Sanders would have had more time to shine and would have been drafted much higher. With Jordan Howard in the way, it might be a year until Sanders makes a massive impact, but monitor him throughout the season.
6. Tyshun "Deebo" Samuel, WR, San Francisco 49ers: I couldn't think of a better landing spot to the 5'11" bully from South Carolina. With a 4.48 second 40 yard dash, great body control and route running ability, Samuel should be the perfect complement to Dante Pettis in Kyle Shannahan's offense. Be forewarned however; with and established receiver in the aforementioned Pettis, a slew of running backs and a game changing tight end in George Kittle, targets may be hard to come by.
7. Noah Fant, TE, Denver Broncos: If Fant was a better blocker, I would have him ranked higher than Hockenson. Clearly, Denver has little faith in their current tight end corps as both Jake Butt and Jeff Heuerman have struggled to stay on the field. If he can improve his blocking and learn to shake smaller defenders, Fant can be a perennial pro bowler.
8. Parris Campbell, WR, Indianopolis Colts: I really wish I was putting AJ Brown here, but he landed in WR purgatory #2 (#1 is Baltimore). Campbell has speed and moves, he can play in the slot and can return kicks. He is bigger (6'1") than the Colt's #1 receiver TY Hilton (5'10"), so he can be moved around in the offense.
9. Hakeem Butler, WR, Arizona Cardinals: OK, so just because this is the second Cardinal on the list, don't think I am predicting a playoff appearance. Butler is big, but very raw, hence the slide into round 4 (pick 1). At 6'5", he adds a big red zone threat, as the other receivers are smaller (Kirk 5-11, Isabella 5-10, Fitzgerald 6-3). Given a year to develop, Butler can develop into a starting fantasy WR.
10. Jace Sternberger, TE, Green Bay Packers: I have a new man crush, and his name is Jace. I swoon when I think of the Rodgers to Sternberger connection. It's been awhile since Green Bay had a legit tight end, and Jimmy Graham is past his prime. Last season, Graham posted 55 catches for 636 yards and 2 TD's (16 games). While at Texas A&M, Jace posted 48 catches for 832 yards and 10 TD's (13 games). Are you excited yet?
11. Mecole Hardman, WR, Kansas City Chiefs: If Andy Reid was as good at coaching in the playoff as he is at scouting talent, he might have multiple championships. Moving on, Mecole appears to be a direct replacement for pathetic excuse of a man Tyreek Hill. Not sold? Check the stats: (shown are collegiate scrimmage yards)
Hardman: 33 Games, 73 Plays, 1,058 Yards, 14.5 Avg 13 TD
Hill: 12 Games, 133 Plays, 815 Yards, 6.1 Avg 2 TD
So as we can see, Hardman was used slightly less, but more productive, Hill was primarily used as a runner and Hardman a receiver, but at the end of the day, Hardman is an explosive player who can slide right into Hill's spot. Buyer beware, I have seen Hardman drafted too high, so don't overpay!
12. Irv Smith, TE, Minnesota Vikings: Hey look, a tight end! Yet another landing spot that is perfect. Kyle Rudolph hasn't inspired much confidence in fantasy players as of late, and Smith looks to be an instant upgrade. Do not let his collegiate stat line fool you:
24 Games, 58 Catches, 838 Yards 10 TD's
Irv played at Alabama with a stacked offense. He can move defenders off the ball well enough, so the more he is on the field the better chance he has to get you points!
I hope you enjoyed my Rookie rankings. This is the first time I ever wrote my rankings out for others, rather than for only my own use. I feel more prepared for my rookie drafts than ever! I'll be back next week with some players you can grab later in the draft to help you win! Until then, hit me up on Twitter @Thembower85!