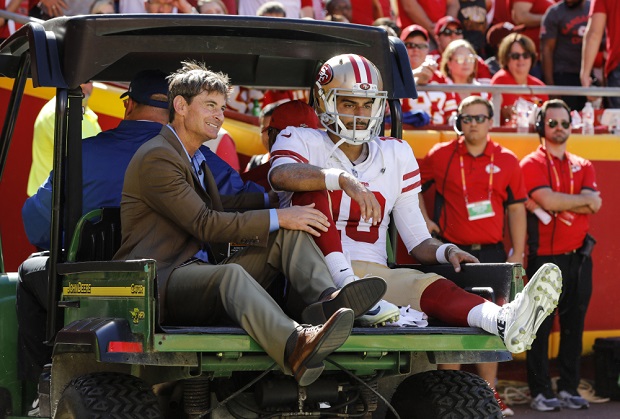 Written by Jimmy Williams
27 September 2018
An adage in football that still holds true is that on any given Sunday, any NFL team can win. Week 3 showed us this when the Buffalo Bills soundly beat the Minnesota Vikings, the Detroit Lions handled the New England Patriots, and the Tennessee Titans defeated the Jacksonville Jaguars at their own game. Think twice before trying to predict game script. in the end, we just don't know.


Build the best lineups with the power of The Machine for Daily Fantasy Sports.


If you're looking for a tiebreaker between who to start, Vegas can provide some hints. There are five games that are currently projected to have more than 50 total points: Chiefs-Broncos, 56; Bengals-Falcons, 51.5; Ravens-Steelers, 51; Saints-Giants, 50; Vikings-Rams, 50. High projected point totals can be a sign of fantasy goodness. By the way, three of the four games in Week 3 that were projected to reach at least 50 points did so.
Doesn't RB Kerryon Johnson look like a legit three-down back? The Lions are not going to be able to keep him off the field. I believe he is flexworthy already with high-end RB2 upside going forward. Johnson has the ability, talent and opportunity to be a fantasy-league winner this year.
Some notable injuries: 
-- 49ers QB Jimmy Garoppolo is obviously out for the season after tearing the ACL in his left knee last Sunday. This is a huge loss for the 49ers' offense, which will now be guided by the much less talented C.J. Beathard.
-- Falcons RB Devonta Freeman was on the practice field during a stretching period Thursday, but then apparently did not practice. Fire up Tevin Coleman again as an RB2.
-- Bengals RB Joe Mixon is practicing again as he makes his way back from minor knee surgery. However, it remains likely that Mixon sits out this week while Giovani Bernard gets another week to hold possible RB1 upside.
-- Cardinals WR Larry Fitzgerald was absent from Wednesday's practice but returned Thursday. He'll probably get plenty of rest during the week for the duration of the season. Hopefully Josh Rosen can help Fitzgerald's fantasy value rebound after a slow start.
-- The Eagles' backfield may be like two trains passing in the night with Jay Ajayi and Corey Clement. While Ajayi has returned to practicing fully after missing Week 3 with due to a back fracture, Clement was added to the injury report Thursday due to a quad issue. If Ajayi is active and can manage the pain while Clement is inactive, he'll be a fine RB2 against the Titans.
-- Giants TE Evan Engram could miss up to a month with a knee sprain. Rhett Ellison, who scored in Week 3, is a deep-league option for those in need at tight end.


Build the best lineups with the power of The Machine for Daily Fantasy Sports.


Week 4 brings the beginning of the bye weeks as Carolina and Washington are idle. Cam Newton, Christian McCaffrey and Devin Funchess cannot be in your lineup. Same goes for Jordan Reed, Alex Smith, Chris Thompson or Adrian Peterson. Prepare accordingly and it is recommended that you prepare for bye weeks a week in advance for any needed roster moves or waiver wire pickups!


Never miss ASL's latest fantasy sports news. Send us an email at This email address is being protected from spambots. You need JavaScript enabled to view it. and list the sports you are interested in (NFL, NBA, MLB, NHL, EPL) to start receiving ASL's newsletter.