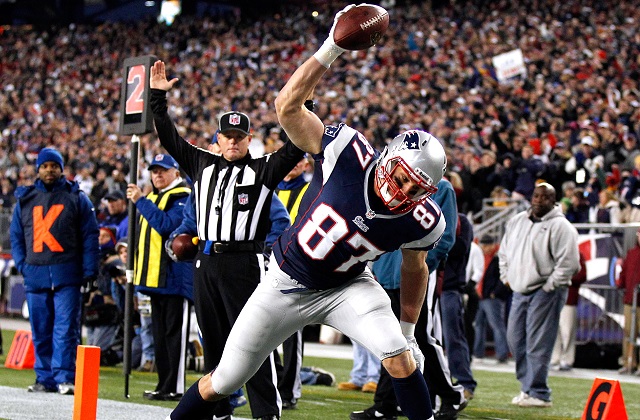 Written by ASL
29 August 2018
Want some help deciding which tight ends to target in your draft? ASL's writers rank the top 25 TEs for standard fantasy football leagues.
In the peak of fantasy football draft season, ASL is giving you its ranking of the top 25 TEs.
Go here to see ASL's consensus rankings of QBs, RBs and WRs.
To win your league, start by winning your draft. Draft Analyzer can make you a champion! New in 2018 - full sync to all leagues!

For easy reference, we are putting the table at the top of the article and our team's player analyses below. We included standard deviation ("Std Dev") in the table, which is a measure of how well we agree on the ranking of a particular player. A smaller standard deviation indicates greater agreement. Players such as O.J. Howard and Vance McDonald have large standard deviations and are likely to present more risk, but also more upside potential. Check out our comments and decide for yourself.
| | | | | | | | | |
| --- | --- | --- | --- | --- | --- | --- | --- | --- |
| Rank | Player | Ave | Min | Max | Std Dev | Jason | Brian | Josh |
| 1 | Rob Gronkowski - NE | 1.0 | 1 | 1 | 0.00 | 1 | 1 | 1 |
| 2 | Travis Kelce - KC | 2.3 | 2 | 3 | 0.47 | 2 | 2 | 3 |
| 3 | Evan Engram - NYG | 4.3 | 2 | 6 | 1.70 | 5 | 6 | 2 |
| 4 | Zach Ertz - PHI | 4.3 | 3 | 7 | 1.89 | 3 | 3 | 7 |
| 5 | Jimmy Graham - GB | 4.7 | 4 | 5 | 0.47 | 4 | 5 | 5 |
| 6 | Greg Olsen - CAR | 6.0 | 4 | 8 | 1.63 | 6 | 4 | 8 |
| 7 | Trey Burton - CHI | 7.7 | 6 | 10 | 1.70 | 10 | 7 | 6 |
| 8 | Kyle Rudolph - MIN | 8.7 | 8 | 9 | 0.47 | 8 | 9 | 9 |
| 9 | Delanie Walker - TEN | 9.3 | 7 | 13 | 2.62 | 7 | 8 | 13 |
| 10 | Jordan Reed - WAS | 9.7 | 9 | 10 | 0.47 | 9 | 10 | 10 |
| 11 | George Kittle - SF | 12.0 | 11 | 13 | 0.82 | 13 | 11 | 12 |
| 12 | O.J. Howard - TB | 12.0 | 4 | 17 | 5.72 | 17 | 15 | 4 |
| 13 | Jack Doyle - IND | 12.7 | 11 | 15 | 1.70 | 11 | 12 | 15 |
| 14 | David Njoku - CLE | 14.0 | 12 | 17 | 2.16 | 12 | 13 | 17 |
| 15 | Tyler Eifert - CIN | 15.3 | 14 | 16 | 0.94 | 16 | 14 | 16 |
| 16 | Austin Hooper - ATL | 18.0 | 17 | 19 | 0.82 | 18 | 17 | 19 |
| 17 | Vance McDonald - PIT | 19.0 | 11 | 23 | 5.66 | 23 | 23 | 11 |
| 18 | Charles Clay - BUF | 20.5 | 14 | --- | 5.52 | 14 | 20 | --- |
| 19 | Jared Cook - OAK | 20.5 | 15 | --- | 5.21 | 15 | 19 | --- |
| 20 | Cameron Brate - TB | 21.0 | 19 | 22 | 1.41 | 19 | 22 | 22 |
| 21 | Eric Ebron - IND | 21.3 | 18 | 25 | 2.87 | 21 | 18 | 25 |
| 22 | Mike Gesicki - MIA | 22.3 | 18 | 25 | 3.09 | 24 | 25 | 18 |
| 23 | Ricky Seals-Jones - ARI | 22.8 | 16 | --- | 4.94 | 25 | 16 | --- |
| 24 | Dallas Goedert- PHI | 23.0 | 14 | --- | 6.36 | --- | --- | 14 |
| 25 | Austin Seferian-Jenkins- JAC | 23.5 | 21 | --- | 2.86 | 22 | 21 | --- |
1. Rob Gronkowski - New England Patriots
Jason's #1: Gronk provides a difference-making advantage at the most unpredictable position in fantasy. His injury history is truly scary, but the risk can pay off if he remains healthy. He has monster TD and target upside while the Patriots are without Julian Edelman for the first four weeks.
Brian's #1: As long as he and Brady remain on the field for a full season, Gronk will end up as the No. 1 fantasy TE, as he's been in three of the past four seasons.
Josh's #1: If you assume that he'll have a healthy full season, this is the only choice for No. 1.
2. Travis Kelce - Kansas City Chiefs
Jason's #2: His per-game target average has risen in each of the past four years, up to 8.1 last season. Sammy Watkins adds competition for targets, but new starting QB Pat Mahomes could use Kelce as his safety blanket. A case can be made that he should be the No. 1 TE overall.
Brian's #2: Can Pat Mahomes keep the good times rolling for Kelce? I think so. We should see more deep-seam shots and big gains for the Cincinnati alum.
Josh's #3: Here is the problem at tight end: I literally have doubts about every tight end on this list, starting with Kelce. He has been a stud, but with a new, gunslinger QB, are things going to be the same?
3. Evan Engram - New York Giants
Josh's #2: Engram is another one of those game-changers, like Tarik Cohen and Tyreek Hill, that everyone needs to wake up on in a hurry or get left behind.
Jason's #5: He put up a 64-722-6 line in his rookie campaign, exceeding expectations. His target count will likely take big hit with return of Odell Beckham Jr. and the drafting of Saquon Barkley but expect his efficiency to increase. Engram has top-three upside at his position. We'll see how he recovers from his recent concussion.
Brian's #6: He has more upside Jimmy Graham or Greg Olsen, but with Odell Beckham Jr. healthy and with Saquon Barkley added to the mix, I believe Engram's production will dip in his second year.
To win your league, start by winning your draft. Draft Analyzer can make you a champion! New in 2018 - full sync to all leagues!
4. Zach Ertz - Philadelphia Eagles
Jason's #3: A high-floor tight end who had a career year in 2017, posting a 92-1,016-9 line, including playoffs. Alshon Jeffery's possible absence would help Ertz's productivity. He's the last of the truly elite TE options.
Brian's #3: Ertz may very well be the Eagles' top receiving target -- no matter who is under center -- for as long as Alshon Jeffery is on the mend.
Josh's #7: I'm guessing this is the one all the Twitter folks will be upset about, but I see Ertz as more of a back-half TE1 rather than a frontline-type of player. He has some serious concussion issues, and rookie Dallas Goedert is good enough to put a dent into Ertz's value.
5. Jimmy Graham - Green Bay Packers
Jason's #4: Graham is the best TE Aaron Rodgers has ever played with. Graham's red-zone chops plus Jordy Nelson's departure makes the former Seahawk a candidate to lead the NFL in receiving TDs. Green Bay's historical non-use of the tight end is a slight concern.
Brian's #5: He's clearly not the same athlete that he was in New Orleans, but I'm banking on Graham registering 8-10 TDs again this season.
Josh's #5: Graham should notch enough touchdowns to be a top-five TE once again. There is room for upside here, but it didn't look like he had a lot of legs left last year.
6. Greg Olsen - Carolina Panthers
Brian's #4: Olsen's repaired foot is reportedly fully healed, and Panthers OC Norv Turner is going to work his tight end whisperer magic on him.
Jason's #6: Olsen was an ironman who played 16 games in nine straight seasons before last year's foot fracture from which he never seemed to recover. He's the Panthers' clear No. 1 target when on the field. At 33 years old, his age is a growing concern.
Josh's #8: Age is finally catching up with Olsen. He had one foot out the door during the offseason as he showed interest in a broadcasting job. I don't know how much gas he has left.
7. Trey Burton - Chicago Bears
Josh's #6: Another guy whom you don't expect in the top half of the TE1 range, but I am once again betting on talent.
Brian's #7: I thought I was too optimistic on Burton -- and then I saw Josh's ranking. I fear that we are making too many rose-colored assumptions about what this Bears offense is going to look like this season, but if Mitch Trubisky can just be a competent QB, Burton will eat. He's a star in the making.
Jason's #10: Burton recorded stat lines of 5-49-1, 2-19-0, 2-41-1 and 5-71-2 in four spot starts through the past two seasons. His skill set fits best with young QB Mitch Trubisky playing style, and Burton is seeing tons of targets during the preseason. Breakout candidate.
8. Kyle Rudolph - Minnesota Vikings
Jason's #8: A safe TE1 who scored 15 TDs over the past two years. He was fantasy's No. 2 TE in 2016, No. 8 in 2017 and figures to finish somewhere in between those rankings this fall. Keep in mind that new Vikings QB Kirk Cousins targets TEs well above the league average.
Brian's #9: Like Delanie Walker, Rudolph is boring as all get out, but there's nothing wrong with a player with a top-12 floor. It would be nice if Kirk Cousins could favor him as much as he favored Jordan Reed and Vernon Davis, but don't get your hopes up.
Josh's #9: Rudolph is the guy you always talk yourself into loving. However, he just is OK. Never great, but almost never bad.
9. Delanie Walker - Tennessee Titans
Jason's #7: An always-underrated weapon, Walker should be the main beneficiary of some positive TD regression for the Titans. He has surpassed 800 yards in four straight years. He is playing for his last big contract and always seems to play through injuries.
Brian's #8: A top-10 fantasy tight end four years running, Walker is a safe pick. Like everyone else in this offense, he should be helped by Tennessee's new, less old-school scheme.
Josh's #13: I'm very high on second-year Titans TE Jonnu Smith's talent. No more exotic smashmouth and more three-WR sets for Tennessee leads me to wonder if Walker is still a TE1.
10. Jordan Reed - Washington Redskins
Jason's #9: The riskiest TE option on the board, it all comes down to health with Reed. He should be top-five TE1 if he plays at least 12 games. However, Reed has appeared in more than 12 games only once in his career.
Brian's #10: You know the story here: If Reed plays even 12 games this season, he'll finish ahead of this rank. He is one of my favorite mid-round picks to gamble on.
Josh's #10: If not for his injury issues, he would be my No. 2 overall TE. However, his injury issues are quite severe.
11. George Kittle - San Francisco 49ers
Brian's #11: I'm not too worried about his shoulder injury. He could create a lot of value profit for his fantasy owners if he plays in 2018 like how he wrapped up 2017 with Jimmy Garoppolo.
Josh's #12: A preseason shoulder injury stops his forward momentum perhaps. But Kittle is slated for a huge role in an up-and-coming offense.
Jason's #13: There is some risk here as Kittle is already injured, but he is expected to return from his separated shoulder by Week 1. A hot finish to his rookie season leads to some breakout chatter as Kittle is clearly the Niners' top TE.
12. O.J. Howard - Tampa Bay Buccaneers
Josh's #4: I understand this ranking feels insane and honestly, it probably is. However, if I am going to go down with guns blazing, I will do so on talent. Howard is the most purely talented TE in the league not named Gronkowski. Can Cameron Brate really hold him down?
Brian's #15: The Bucs asked Howard to do a lot of blocking as a rookie. He was not good at it, but it doesn't sound like the plan has changed much in 2018. That plus Cameron Brate's presence squashes the ceiling of a talented player.
Jason's #17: Howard put up amazing efficiency numbers when healthy in 2017. He picked up the pace during the middle of the season prior to an injury, registering 21 catches, 325 yards and five scores on 27 targets from Weeks 7-15. A breakout candidate, but one who does spend a good portion of his field time blocking instead of running routes.
13. Jack Doyle - Indianapolis Colts
Jason's #11: He took a big step forward in 2017, finishing as TE7 with 80 receptions and four scores. A short-yardage specialist, Doyle's yardage and TD totals should improve if QB Andrew Luck is healthy. Be aware that Eric Ebron will steal some targets.
Brian's #12: Man, the low-end TE1 range is pretty dull this year, isn't it? Doyle should be serviceable as long as Luck is available. I don't really like the player, but he's become a decent red-zone weapon.
Josh's #15: Doyle may be too low here, but his upside is limited.
14. David Njoku - Cleveland Browns
Jason's #12: At 6-foot-4, 250 pounds and with great speed, Njoku is an intimidating presence in the red zone. His breakout is coming after a hot-and-cold rookie year. He ended 11 games last season with two catches or fewer and his upside is capped by the Browns' low-volume passing offense.
Brian's #13: No matter if it's Tyrod Taylor or Baker Mayfield, I think Njoku will have some huge fantasy weeks this season. However, he's also going to have a greater number of duds because this offense is going to be inconsistent at best.
Josh's #17: The upside for this second-year player is immense. However, his hands need to be more dependable.
15. Tyler Eifert - Cincinnati Bengals
Brian's #14: As with Jordan Reed, it's all about health for Eifert. Since he's missed more than 60 percent of all possible games over the past four seasons, I'm not expecting much once again. He's worth a dart-throw as a TE2.
Jason's #16: Eifert is a high-impact fantasy contributor when healthy, but he has never played a full season. He has missed more than half of all possible games since he entered the league in 2013. He claims to be at 100 percent now but proceed with caution. There is still some upside here if his health cooperates.
Josh's #16: I assume Eifert will get hurt right away, wasting this projection. If he lasts half a season, this is where he will end up. If he somehow lasts a whole season, he is a top-five dude.
16. Austin Hooper - Atlanta Falcons
Brian's #17: There are too many mouths to feed in Atlanta's offense for Hooper to be a TE1, but he's a solid TE2.
Jason's #18: This popular preseason breakout pick in 2017 didn't produce as expected, finishing as TE17. Hooper is still a sleeper who should be helped out by a Falcons offense that is expected to bounce back following a TD dip last year.
Josh's #19: Can AS-J take some of the red-zone pressure off of Leonard Fournette?
17. Vance McDonald - Pittsburgh Steelers
Josh's #11: Again, this is a bet on talent, not on previous production. I believe if Vance can stay healthy, he can be elite.
Jason's #23: A bad knee limited him to six games in 2017 and he is already dealing with a foot injury that has his Week 1 status in question. McDonald led Pittsburgh with 16 targets during its playoff loss to Jacksonville. Ben Roethlisberger targets the tight end more than the league average, so McDonald has some high-level TE2 appeal when healthy.
Brian's #23: Really, McDonald doesn't have to do much to hit this ranking by season's end. He definitely has the skills to be a worthwhile TE2.
18. Charles Clay - Buffalo Bills
Jason's #14: A fringe TE1 when healthy, Clay is Injury-prone and virtually guaranteed to miss games. When healthy, he pulls in about 20 percent of the targets in Buffalo's low-volume pass offense. He has never topped 560 yards or four touchdowns with the Bills.
Brian's #20: I was to be higher on Clay, but I think that Bills' offense is going to be an abject disaster in 2018.
19. Jared Cook - Oakland Raiders
Jason's #15: Cook is a high-end TE2 coming off a career-high 54 receptions. He can disappear at times and his role could change under new head coach Jon Gruden, but he's also the only pass-catching TE on the roster. Two 100-yard performances in 2017 highlight his upside.
Brian's #19: An annual tease, Cook will always provide a couple of week-winning performances. But will you be starting him when they come? Unfortunately, he commonly lays an egg directly after those type of games.
20. Cameron Brate - Tampa Bay Buccaneers
Jason's #19: A fantastic pass-catcher who signed a long-term deal in the offseason, Brate was a top-10 fantasy TE last year and has scored 14 times over the past two years. O.J. Howard will primarily be used for blocking, but his mere presence limits Brate's upside.
Brian's #22: Brate's biggest fantasy impact this year will most likely be angering O.J. Howard owners.
Josh's #22: No, I didn't forget about Brate. Since I have O.J. Howard as a top-five tight end, I think this is as high as Brate can go.
21. Eric Ebron - Indianapolis Colts
Brian's #18: He'll vulture a few touchdowns from Jack Doyle. Maybe more than a few. Other than that, Ebron hasn't shown much good in the NFL.
Jason's #21: It's hard to see where the production will come from for Ebron following his TE13 finish in 2017 with the Lions. Since tight end Jack Doyle will dominate for targets, the only hope is the Colts switching to TE-heavy scheme to make up for their lack of trusted WR options.
Josh's #25: As long as he stops dropping everything in sight, Ebron could have some value.
22. Mike Gesicki - Miami Dolphins
Josh's #18: I hope I am wrong here as this guy was a big target for me in other fantasy drafts. However, This Dolphins offense doesn't excite me much.
Jason's #24: This is a shot-in-the-dark upside pick since rookie TEs rarely make a consistent impact. Gesicki, at 6-foot-5 and 250 pounds, is a physical freak out fo the slot but has suspect blocking skills. There's a large range of outcomes for 2018 here. Most likely, he will be an erratic producer.
Brian's #25: In general, don't depend on rookie tight ends. But if you want to tie your cart to one particular horse this season, here you go.
23. Ricky Seals-Jones - Arizona Cardinals
Brian's #16: RS-J was productive in very limited playing time last year. There's no doubt he's the No. 1 tight end in Arizona now, and I expect him to make a jump. He is one of my favorite deep sleepers.
Jason's #25: Hard to know what he will produce in 2018, but Seals-Jones should see more action due to the limited number of options in Arizona's pass offense. He showed a spark as a rookie with a couple of big games but then quickly disappeared. Desperation play only.
24. Dallas Goedert- Philadelphia Eagles
Josh's #14: This ranking kind of assumes that Ertz will miss some games or at least be scaled back, but I think Goedert plays a major role.
25. Austin Seferian-Jenkins - Jacksonville Jaguars
Brian's #21: A big end-zone target, AS-J is a decent bye-week fill-in. He needs to score to really have any fantasy value.
Jason's #22: Coming off a career year with the Jets, AS-J will play a similar role in the Jags' run-heavy offense. So I'd expect very similar numbers in 2018.
To win your league, start by winning your draft. Draft Analyzer can make you a champion! New in 2018 - full sync to all leagues!

Never miss ASL's latest fantasy sports news. Send us an email at This email address is being protected from spambots. You need JavaScript enabled to view it. and list the sports you are interested in (NFL, NBA, MLB, NHL, EPL) to start receiving ASL's newsletter.