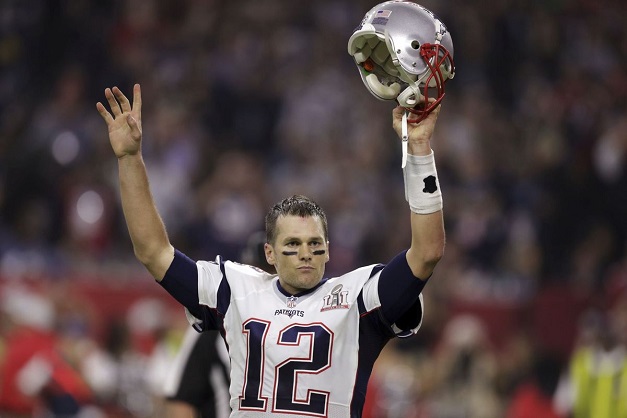 Written by Brian Murphy
18 January 2018
Super Bowl LII is about two weeks away, but this is the final weekend for you to get your NFL DFS fix. I've been kicking around a few lineups for conference championship weekend, and I think I like this one the best for cash games on DraftKings. I had $200 remaining.
QB: Tom Brady, New England Patriots; $7,700
Look, if you want to take a chance on Nick Foles or Case Keenum or Blake Bortles in order to build your lineup around other positions, be my guest. I'm completely fine with paying up for the only QB I can possibly trust this weekend. Brady costs $1,100 more than any other QB on the board. Given the difficult matchup and his hand "injury," Brady's ownership might be lower than usual, making him OK for GPP contests as well. 
RB: Jerick McKinnon, Minnesota Vikings; $5,100
The NFC game pits the two teams that allowed the fewest fantasy points to running backs against one another. However, the Eagles gave up 5.7 receptions per game to RBs during the regular season, and the Falcons' backs caught six passes last week in Philly. McKinnon is the best pass-catching back in Minnesota, so he's got a decent floor in DraftKings' PPR scoring.
RB: Jay Ajayi, Philadelphia Eagles; $5,200
I could have chosen Leonard Fournette, but I feel like the Pats will sell out and not allow him to be the reason why the Jaguars win. For that, his $7,200 price tag is a little rich for me. I could have chosen a Patriots running back, but with Rex Burkhead expected to return this weekend, good luck in guessing how that three-man committee will break. So, even against Minnesota's very tough front, I'll pick Ajayi, who is actually $200 cheaper than Burkhead. Ajayi touched the ball 18 times last week and 16 times in his regular-season finale. Despite the negative matchup, the Eagles will find ways to get the ball into his hands often because they don't want Foles to lose this game for them. 
WR Dede Westbrook, Jacksonville Jaguars; $3,900
Man, that is a LOW price. Too low for a game in which the Jaguars will probably be forced to throw more often than they prefer. All bets are off when it comes to how successful Bortles will be against a faulty secondary, but Westbrook has the ability to turn the shortest slant into a long TD. I talked about his 2018 prospects here.
WR Danny Amendola, New England Patriots; $5,500
When facing the Jaguars, you want to stay away from the boundary corners. Amendola was consistently open last week against Tennessee, catching 11 of 13 targets for 112 yards. You should see more of the same this Sunday.
WR Alshon Jeffery, Philadelphia Eagles; $4,600
There are obvious concerns about Jeffery this week. Can Foles get the ball to him? Will he find any open spaces while being covered by Xavier Rhodes? I get that. But this is another case of where the price makes a player this talented too tempting to pass up. Jeffery costs $200 less than Nelson Agholor and $400 less than Chris Hogan. He is still one of the 15 best wideouts in the game, so I think you've got to have faith on him at that cost.
TE Rob Gronkowski, New England Patriots; $7,900
I'll pay up for Brady and I'll pay up for the only pass-catcher whom you can trust in these two games. Who is really going to stop Gronk?
Flex: Brandin Cooks, New England Patriots; $6,100
What's that I said about avoiding the Jacksonville corners? Yeah, but ... if I have an opportunity to add a top-10 wideout to this lineup, I'll take it. Don't forget that Antonio Brown scored twice versus AJ Bouye last week. Granted, those passes were absolutely perfect, but perfect passes from Tom Brady isn't novel.
D: Minnesota Vikings; $3,800
The Vikings are the most expensive defense on the board, so you can change the look of your lineup if you pick the Patriots at $3,500, the Eagles at $3,000 or the Jaguars at $2,800. Really, I have no problem with any of those choices. It would be bold to take the Jags in New England, but that price takes away a lot of the risk, especially for the best defense in the game. However, I'll go the other way and take the defense that I consider to be the safest option.


You can follow, ask fantasy questions and yell at Brian on Twitter: @Spokes_Murphy
Never miss ASL's latest fantasy sports news. Send us an email at newsletter@advancedsportslogic.com and list the sports you are interested in (NFL, NBA, MLB, NHL, EPL) to start receiving ASL's newsletter.