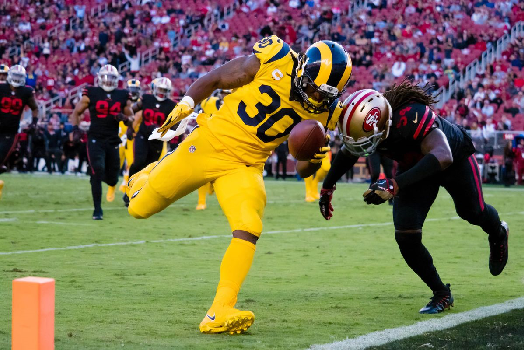 Written by Brian Murphy
26 December 2017
Sad that the NFL season is ending? Don't be. Make your own offseason prop bets here.
Todd Gurley's 2017 season shouldn't have caught you off guard. Everyone has known how talented he is; it was just a matter of everything falling into the right place, and it certainly did this season.
The coaching was better. Jeff Fisher can try to take some credit for the Rams' success, but he stifled Gurley last season with an old-fashioned offense. Then first-year head coach Sean McVay came in and played to Gurley's strengths.
The offensive line was better. A lot of people blamed Gurley for his 3.2 yards-per-carry average last season, but he didn't lose any of his speed or skill; he just had nowhere to go. With the addition of a Pro Bowl-quality player such as left tackle Andrew Whitworth and the improvement from left guard Rodger Saffold, the Rams' O-line went from being ranked 29th last year in run blocking to being ranked third this year, according to Football Outsiders.
The skill players are better. Under McVay, Jared Goff went from looking lost to looking an actual top draft pick. Defenses couldn't stack the box to stop Gurley because Goff had a couple of reliable possession receivers -- Robert Woods and Cooper Kupp -- as well as a field-stretcher in Sammy Watkins to keep them honest.
Oh, and did I mention Gurley's talent? Let's start with what he can do as a receiving back. Gurley has seen the fourth-most targets of any RB this season, trailing only Le'Veon Bell, Alvin Kamara and Christian McCaffrey. His receptions total ranks fifth in the league behind Bell, Kamara, McCaffrey and Duke Johnson. Three of those four backs are generally considered to be catch-first players, but who racked up more receiving yards than each of them? Gurley. His 788 receiving yards paced the position.
And then there is Bell, widely considered the best and most complete running back in football and for good reason. But he might be losing his title to Gurley. Consider that Bell has touched the ball 406 times through 15 games this season and has gained 1,946 yards from scrimmage. Not bad at all. But with 343 touches -- 63 fewer than Bell -- Gurley has gained 2,093 yards from scrimmage.
Gurley is obviously the fantasy MVP for 2017 when you factor in what he did during the most important time of the season, Weeks 14-16. In those three games, he scored an incredible 107 fantasy points. But Gurley's season wasn't built upon three outstanding weeks in the fantasy playoffs; he was the most consistent offensive player all year long. In standard leagues, he was held to fewer than 11 fantasy points only once and tallied more than 20 fantasy points eight times. It helped that the Rams stuck with him in every game as Gurley never handled the ball fewer than 16 times in any week. 
Bell and Steelers teammate Antonio Brown look like the main competition for Gurley for that No. 1 overall spot. You could certainly add in the Cardinals' David Johnson and the Cowboys' Ezekiel Elliott to the conversation, but Johnson is still recovering from a wrist injury he suffered in Week 1, and Elliott, besides not being comparable to Gurley as a receiver, needs to prove that he can keep his nose clean for a year. With those two Steelers, you have to wait and see what Ben Roethlisberger does. He seems to threaten retirement following every season, but he's going to be serious one of these years soon. That would obviously deal a major blow to Bell and Brown. Also, you have to be wary of what a 400-touch season could mean for Bell's future. He's already not the sturdiest of players (he tore a knee ligament in 2015 and dealt with a sports hernia for most of 2016), and the physical futures of players who took on such a large workload aren't pretty.
Gurley has his own injury concerns -- he tore an ACL in college and has picked up the usual NFL bumps and bruises -- but he has played in 32 consecutive games now as we head into Week 17. He is a true dual-threat running back. He is consistently productive. He doesn't turn 24 until August. He is complemented by coaches who know how to use him and players who help him. And he should be the No. 1 overall pick in your fantasy drafts next summer.

You can follow, ask fantasy questions and yell at Brian on Twitter: @Spokes_Murphy
Never miss ASL's latest fantasy sports news. Send us an email at newsletter@advancedsportslogic.com and list the sports you are interested in (NFL, NBA, MLB, NHL, EPL) to start receiving ASL's newsletter.