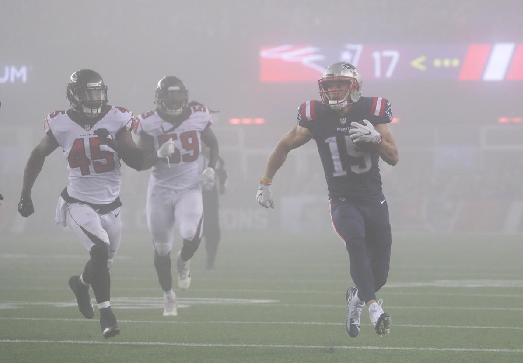 Written by Levi Andrew
24 October 2017
What a crazy Sunday Night game, looks like NBC was getting ready for Halloween. Alright well let's get to the weekend at hand and look forward to Week 8. Here's to hoping you had a great Week 7 and are still in contention.
(All fantasy points are based on standard scoring and 4-point QB TD, unless noted)
Dallas Cowboys 40 – San Francisco 49ers 10
What a barn burner of a game!!! Actually, I was highly invested in this game, due to being a Niners fan and having a lot of Cowboys on my fantasy teams. Dak Prescott single handedly took my dynasty team to 7-0, having scored 35 fantasy points (in 6point TD league). Throwing for 234 yards and three scores, while rushing for a TD and 26 yards. Ezekiel Elliott took a screen pass from Dak 72-yards for a score. Zeke finished the day with over 200 yards from scrimmage and three scores. Dez Bryant had another double-digit fantasy day, scoring once and catching 7 balls for 63 yards.
The 49ers are looking to take the 1st draft pick from the browns in 2018. As a fan I fully support it with the stacked QB class in the 2018 draft. C.J. Beathard isn't the answer in my opinion. The Niners also have more fantasy appeal with Brian Hoyer at the helm. Pierre Garcon was still targeted seven times but only came away with five catches for 49 yards. The hot hand in Week 7 was Carlos Hyde, rushing 14 times for 68 yards. Hyde was also tied for a team high eight targets.
Takeaways: Zeke is a stud and did what a great RB is supposed to do against a bad defense. I wrote over the summer about how I thought Zeke's case would carry on to 2018, due to the complicated matter at hand. It came out Monday that Zeke will play Week 8, as his court date is set for October 30th. Dallas has Washington up next, which is always a great game but if Josh Norman doesn't play again in Week 8, Dez could have another great day.
The targets are there for Garcon to be a dependable WR3. Marquise Goodwin had 8 targets but only came down with four balls. Goodwin is a big play threat and a WR4 going forward. I would continue to start Hyde over Matt Breida. Yes, Beathard had a rushing score but aside from that, he had 8 points.
Buffalo Bills 30 – Tampa Bay Buccaneers 27
Not only did LeSean McCoy score his first TD this year he scored two, finishing his day with 91 yards on 21 rushes, also catching five balls for 31 yards. Deonte Thompson caught all 4 of his targets taking them for 107 yards, leading the Bills in receiving. The QB turned back up TE Logan Thomas caught Tyrod Taylor's lone TD throw. Taylor only threw for 268 yards on 20 completions, while also rushing six times for 53 yards equating to 19 fantasy points for Taylor.
Most experts said not to play Jameis Winston this week, if you would have looked at my QB ranks this week you would have saw I had Winston at QB10 after the Thursday game and wasn't afraid of the match up. Winston threw for 384 yards, three scores and one INT. Mike Evans was targeted a team high 10 times and securing 7 for 88 and a score. Rookie TE O.J. Howard caught all six of his targets for 98 yards with two scores, proving to be an asset on a team full of fantasy options. Even Doug Martin is catching passes out of the backfield, catching two of three targets for 31 yards, while rushing 20 times for 49 yards.
Takeaways: I don't trust any pass catcher other than McCoy for the Bills, Jordan Matthews returned this week and was targeted 3 times catching 2 for 10 yards, I wouldn't think about starting him anytime soon. Tyrod is a good QB2 or someone to make a trade for if you had Aaron Rodgers.
As I said above, Tampa Bay looks to be full of fantasy assets, DeSean Jackson is a WR3 going forward, while both Cameron Brate and Howard are TE2 with high upside. Even Lavonte David is a fantasy stud for IDP purposes, having got 14 total tackles this week.  
Chicago Bears 17 – Carolina Bears 17
Chicago has a defense that's better than we all think. Their front seven is great at applying pressure when needed and getting sacks. Chicago's two TDs came on a fumble recovery and an interception both by Eddie Jackson. The Bears are playing it super safe with their rookie QB Mitchell Trubisky, letting him only attempt 23 passes the last two weeks. At the same time, they are running their second year RB Jordan Howard nonstop, rushing 36 times last week and 21 times this week. Howard has done well on his last 3 outings against stout front seven's, gaining 65 yards against Carolina's run stopping defense.
Alright, Alright, I know I have been touting Cam Newton as the second coming of superman. Yet he goes, and scores 7 fantasy points this week for you. I also had Cam in my top 10 of QB's this week which I should have looked at the match up better. We all have bad calls. Newton also lead the team in rushing this week, which shows you how good the Bears defense is.
Takeaways: At some point The Bears are going to have to start throwing the ball more. With that I think the best bet for targets will be a rookie name Tanner Gentry, he played 95% of snaps in Week 6 against the Ravens. Howard in my opinion is the real deal and can still play against good defenses, next week against the Saints he should have a better day.
Cam's struggles are due to the Bears having such a good defense. The offense just isn't clicking, once they can get that rushing going outside of Cam this offense will get rolling and Cam ill come back to double digit points. Let's see how he does in Week 8 against the Tampa Bay Buccaneers.
Oakland Raiders 31 – Kansas City Chiefs 30
What a comeback victory!! This was one of the best football games I have seen in a while. Derek Carr went out there with a broken back and showed why the Raiders made the playoffs last year. Carr threw for 417 yards with 3 scores, leading to 29 points for your fantasy team. Two of those scores went to Amari Cooper, who proceed to come to life and secure 11 of his 19 targets for 210 yards and those two TDs. Michael Crabtree came down with three catches for 24 yards and the game winning TD. Also causing a crucial OPI on a would be game winner also.
Andy Reid can't just commit to giving Kareem Hunt the touches. Reid is constantly subbing running backs in and out. If he would give him more touches, we could be singing an even bigger tune on Hunt. Hunt did go over a 100-yards from scrimmage once again in Week 7, but still no TD. Tyreek Hill is a little DeSean Jacksonese in his scoring, UP one week, DOWN the next. Alex Smith connected with Albert Wilson for a 63-yard TD pass, but was not targeted a single time last week. He is a hit or miss WR5.
Takeaways: With Marshawn Lynch suspended for Week 8, the Raiders look to deploy a RBBC with Jalen Richard and DeAndre Washington. Each back rushed for nine times and was targeted 4 times in the passing game. Washington just happened to get the end zone rush to score a TD this week. I'm holding Lynch in leagues, due to the fact that If Cooper isn't a fluke, defense's will have more to worry about giving Lynch more running room.
With the Broncos on the schedule for the Chiefs next, I foresee them using Hunt quite a bit out of the back field in both passing and rushing. This could be the week us owners are rewarded with a TD fnally. I would start Hunt and Travis Kelce next week, and will be down on Smith and Hill as we know how the Broncos can be in the passing game.
Quick Snaps:
Pittsburgh Steelers 29 – Cincinnati Bengals 14
Tyler Kroft looks to be a decent bye week fill in for your TE spot, as he caught 4 passes for 23 yards and a score against a stingy defense. For some reason the OC went away from A.J. Green and the passing game in the second half costing the Bengals the game.
Le'Veon Bell continues to dominate the game rushing for 134 yards on 35 carries and catching all three targets for 58 yards. Bell is one of the most patient runners ever, stopping and waiting for the block then hitting the hole. Ben Roethlisberger had a decent day in Week 7 posting 16 fantasy points. Next week is a road game at Detroit, I wouldn't think about starting Ben on the road.
Miami Dolphins 31 – New York Jets 28
Kenny Stills value will be on the rise this week. With Matt Moore under center I think his value goes up, even if DeVante Parker comes back from injury this week. I would pick him up off the Waiver Wire. Moore could be a decent streaming QB also.
The Jets look good they just haven't been able to finish strong. Josh McCown could be on the upswing and be a viable starter going forward. Posting back to back 20 fantasy point games. Austin Seferian-Jenkins didn't do much till the 3rd quarter, when he caught a 10-yard TD pass. As he is still doing great as a TE2.
New Orleans Saints 26 – Green Bay Packers 17
If you are a Mark Ingram or an Aaron Jones owner, this game was some serious rejoice for your fantasy team. Both rushed for over a 100-yards and a TD. Jones has fully taken over the starting job in Green Bay and Mike McCarthy is going to ride him every game going forward. Now he needs to get Brett Hundley going to get back on track.  


As always follow me on Twitter: @LeviAndrewFF
Never miss ASL's latest fantasy sports news. Send us an email at newsletter@advancedsportslogic.com and list the sports you are interested in (NFL, NBA, MLB, NHL, EPL) to start receiving ASL's newsletter.