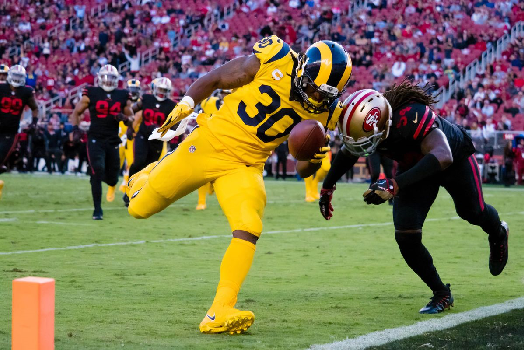 Written by Levi Andrew
25 September 2017
Chicago Bears 23 – Pittsburgh Steelers 17
If you were one to bench Jordan Howard, raise your hand. You can't see it, but I'm raising mine as well. I benched him after last week's goose egg. This week, he showed why he is Chicago's workhorse. Not only did rip the Steelers for 138 yards and 2 TDs on 23 carries, he also secured all five of his targets for 26 yards, leading the Bears in receiving and rushing. Tarik Cohen had 12 rushes for 78 yards and caught all four of his targets for 24 yards. He could have had a bigger day, but the refs said he stepped out of bounds on his way to what would have been a 73-yard, game-winning touchdown in overtime. There wasn't enough evidence to overturn the call, and then Howard cashed it in from 19 yards out two plays later. Should have worn those orange cleats, Tarik.
Ben Roethlisberger's home-road splits have always been poor. This game added to the discrepancy as he finished his day in Chicago with 235 yards and one TD. You were fine if you had Antonio Brown or Le'Veon Bell as both finished with decent days. Bell tallied his first score of the season to go along with 21 touches for 98 total yards. Those are quality fantasy numbers, especially in PPR since Bell caught six passes. Brown totaled 110 yards and a score on 10 grabs. With those 10 catches, Brown became the fastest player in NFL history to reach 650 receptions.
Takeaways: Howard is back into must-start territory. Yes, he gave you a zero in Week 2, but he has scored three times in three games. Cohen remains a flex option but no better than that. The Bears travel to Green Bay for a Thursday night game this week; after watching the Bengals work over the Packers' defense, I'm not benching Howard again.
The Steelers are on the road again in Week 4, so look for Big Ben to have another down game against the Ravens. However, we saw what Blake Bortles and the Jaguars did to them in London,  so I would still start all stud Steelers.
Indianapolis Colts 31 – Cleveland Browns 28
T.Y. stands for Thank You. T.Y. Hilton came to life against the Browns, putting up seven catches, 153 yards and a TD on nine targets. He had racked up 106 total yards entering Sunday, but Jacoby Brissett brought some life to the Andrew Luck-less Colts. Brissett finished Week 3 with 259 passing yards and one TD, but he also scored twice more on the ground.
DeShone Kizer looked like the rookie he is. Although he tied for the team lead with 44 rushing yards and accounted for three touchdowns (two passing, one rushing), he was picked off three times and completed just 22 of 47 throws. Isaiah Crowell rushed for 44 yards on 15 carries and lost playing time to Duke Johnson, who was hauled in six of his seven targets for 81 yards. He added two carries for 23 yards and a touchdown, too. The No. 1 waiver wire add from last week, Rashard Higgins, was targeted six times but caught only two passes for 10 yards.
Takeaways: I think it will take some time, but Kizer and Higgins should build a great connection. I'm not starting Higgins anytime soon, but he is a great stash. If you have been sitting on Duke like I have, I think it's time to start him. He has been getting more and more work each week.
There was a report Sunday stating that Luck plans on being back around Week 6. If that's the case, my question is: Why not stash him on the PUP list to start the season? Fantasy owners now have three weeks to acquire Brissett and use him if needed. Now that Brissett has had a few weeks to learn the playbook, I think Hilton will be just fine until Luck gets back. No need to worry about sitting him until then.
New England Patriots 36 – Houston Texans 33
Tom Brady shows yet again why he is the G.O.A.T. and why Week 1 was a fluke. Brady, guns a-blazing, carved up Houston's defense for 378 yards and five TDs. Two of those touchdowns went to Brandin Cooks, including the game-winner with 23 seconds left. Rob Gronkowski and Chris Hogan also had big days: Hogan gained 68 yards and reached the end zone twice. Gronk, who didn't look to be hampered by his groin injury from last week, racked up 89 yards and a touchdown on eight catches.
Houston's defense is full of IDP stars if you play in that type of league. They have J.J. Watt, Jadeveon Clowney, and Whitney Mercilus, just to name a few. On the offensive side of the ball, it's starting to come together. Week 3 saw Deshaun Watson score 25 fantasy points, which included 301 yards passing, 41 yards rushing and a pair each of touchdowns and interceptions. Watson has grown accustomed to throwing to DeAndre Hopkins, targeting him a team-high eight times Sunday. Running back D'Onta Foreman stayed involved this week, rushing eight times for 25 yards and catching two of three targets for 65 more yards.  
Takeaways: Foreman is starting to steal more and more touches from Lamar Miller. Look to pick him up in standard leagues as he could become a valuable flex option in the coming weeks. Once the Texans' defense gets rolling, they are tackling machines. Look to roster anyone from this defense, from the linebackers to the cornerbacks, in IDP formats.
The Patriots are on a Take Over The World tour. After that Week 1 meltdown, Brady and Co. aren't going to take it easy. The only takeaway I really have here is Mike Gillislee looks to be the back to own in New England.
 Tennessee Titans 33 – Seattle Seahawks 27
Last week, I said I would start Russell Wilson "if I had no other choice." Well, I had no other choice this week, and he came through with a 33-point fantasy performance. Wilson passed for 373 yards and four TDs. He also rushed seven times for 26 yards. Running back Chris Carson got the start and further solidified his spot atop Seattle's running back depth chart as Thomas Rawls and Eddie Lacy combined to play one snap. Doug Baldwin (10 catches, 105 yards, one TD) and Jimmy Graham (seven catches, 72 yards) got rolling along with Wilson as well.
Marcus Mariota showed why he is a top-five fantasy QB, and my offseason love for him is being rewarded. He threw for 225 yards and two scores while showing more courage to run as he took seven carries for 27 yards. If you look at the box score, you may say my call on Derrick Henry being more valuable this week than DeMarco Murray was wrong, but take Murray's 75-yard TD out of the equation and he is left with just 40 yards on 13 carries. Henry rushed for 54 yards on the same amount of work. Murray just so happened to get good blocking on that one play.
Takeaways: Mariota has so many weapons around him, it's insane. Titans wideout Jonnu Smith has scored in back-to-back weeks but has only three catches for 54 yards on the season. He's not a huge get for your redraft team, but Smith is a great asset for your dynasty team if he's available. If you're not crazy about your current QB situation, look to trade for Mariota before he gets hot.
On Seattle's side of the ball, I still don't trust anyone on this team other than Carson. He has been running great and looks to be the Seahawks' starter. Look for him to be a high-end flex or a low-end RB2 moving forward.
Quick Snaps:
Kansas City Chiefs 24 – Los Angeles Chargers 10
Kareem Hunt is crazy talented. Having scored 39, 22 and 24 fantasy points in each game respectively thus far. He's looking like the top pick in 2018.
Melvin Ingram is another great IDP star that you should have on your team. Ingram sacked Alex Smith three times on Sunday and now has 5.5 sacks through the first three weeks.
Minnesota Vikings 34 – Tampa Bay Buccaneers 17
Stefon Diggs and Adam Thielen didn't need Sam Bradford to be relevant in Week 3. Diggs scored twice for the second time this season.
Tampa looked so good in Week 2 against the Bears. This week, the Bucs kind of did nothing. DeSean Jackson was the one player who made good this week but you can't trust him next week against the Giants
Green Bay Packers 27 – Cincinnati Bengals 24
Aaron Rodgers won his first overtime game in his eighth try.  Yes, he finished with 25 fantasy points, but he did a lot of work to turn the game around.
A.J. Green complained following the Bengals' Week 2 loss that he needed to get the ball more often. Well, the squeaky wheel got oiled this week to the tune of 10 catches for 111 yards with one TD. New offensive coordinator Bill Lazor also gave Joe Mixon all the carries he could handle. The rookie finished with 18 carries for 62 yards and was second on the team with three receptions and 39 receiving yards.
Los Angeles Rams 41 – San Francisco 49ers 39
Todd Gurley is back! Head coach Sean McVay knows how to use him in ways 7-9 Jeff Fisher didn't. Plus, McVay is turning Jared Goff into an actually competent QB. Sammy Watkins and Robert Woods look to be highly targeted in the coming weeks.
Pierre Garcon recorded 21 points in PPR formats and showed why he will end up being the biggest steal in drafts this year. Head coach Kyle Shanahan likes to heavily target one wide receiver. That's why he wanted Garcon with him in San Fran.
As always follow me on twitter @LeviAndrewFF
Never miss ASL's latest fantasy sports news. Send us an email at This email address is being protected from spambots. You need JavaScript enabled to view it.
and list the sports you are interested in (NFL, NBA, MLB, NHL, EPL) to start receiving ASL's newsletter.