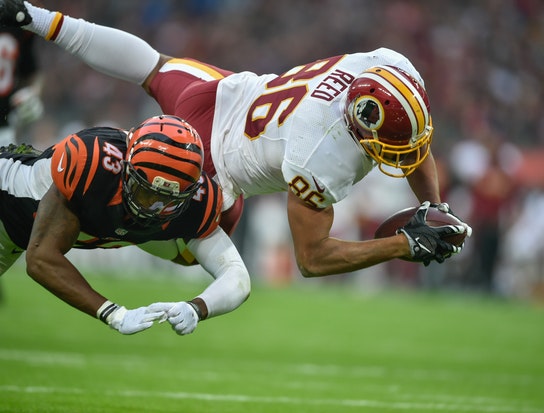 Written by Brian Murphy
03 August 2017
Training camps are here and so are the injuries
Here are even more reasons to never draft your fantasy football team this far away from the regular season. A couple of wide receivers went down on Wednesday. The New York Giants' Sterling Shepard looked to be in a bad way when he was carted off from the day's practice with what was initially called a leg injury. The visual of Shepard crying on the cart had everyone fearing the worst. Fortunately, initial tests showed that he suffered just a low-ankle sprain. He's not quite out of the woods yet, but this is looking like a crisis averted.
The more significant injury from Wednesday occurred to Houston Texans WR Will Fuller, who broke his collarbone and is expected to miss at least two months. That means he won't play until at least Week 5 against the Chiefs. The team could wait to bring him back until after its Week 7 bye. Either way, I wasn't a huge fan of Fuller in his second year for fantasy purposes. He's definitely off my list now.
Colts QB Andrew Luck doesn't guarantee that he'll be ready for Week 1
The media expect football players to have unbridled self-confidence, so when Luck declined to say Saturday that he will undoubtedly play in the Colts' season opener on Sept. 10, it set off some alarm bells. Furthermore, CBS Sports' Jason La Canfora wrote that there are "plenty of rumblings" that Luck may begin the season on the Physically Unable to Perform list, which would cost him six weeks. Who knows what to make of this situation? Even if Luck makes it back for Week 1, there's too much uncertainty here to draft him as a top-three quarterback right now. 
Here's something different: Redskins TE Jordan Reed is hurt
The good news is that it's not another concussion. This time, Reed is dealing with a toe problem that's been bothering him for a couple of weeks along with a sore ankle. That second injury apparently occurred last week. Right now, he's considered day-to-day, and the team is hoping Reed can return to practice next week. But let this serve as a reminder that Reed has never made it through more than 14 games in any of his four pro seasons. He's uber-talented, but buyer beware.
Chargers rookie WR Mike Williams may not play this season
Will the No. 7 overall pick in this year's draft be out for the entire season? Chargers head coach Anthony Lynn was asked that question about Williams on Sunday. His answer wasn't exactly comforting:
"I'm hopeful that he's not. But who knows? ... I don't know."
This kind of falls into the same category as Luck's statement -- how much value do you put into a non-committal answer? But with Luck, the concern is regarding his Week 1 availability. With Williams, it's about the entire season. He has already been ruled out for all of training camp due to his back injury, and the team is trying to do what it can to keep him from going under the knife. This sounds fairly dire, especially this early in the year. It's a huge bummer for dynasty drafters, although the Chargers should be able to survive given their depth of talented receivers. Expect another update on this story next week.
Cowboys want RB Ezekiel Elliott to get more receptions
From Mark Ingram to Todd Gurley to everyone in New England and others, there were a ton of stories this past week about running backs trying to become more involved in their team's passing attack. That type of dual-threat capability is nearly required in today's NFL if you want to stay on the field. But the most interesting name of the bunch is Elliott. After catching 32 balls as a rookie, Zeke is being put all over the field -- in the slot, out wide, from the backfield to the slot, etc. -- in an effort to create mismatches and to get the ball to him more often as a receiver.
If Elliott can be more productive in that area, he would put a lot of pressure on Le'Veon Bell and David Johnson for the No. 1 overall spot in fantasy drafts. Those two hauled in 75 and 80 passes last year, respectively.
Saints rookie RB Alvin Kamara gets compared to Marshall Faulk
The comparison came Sunday from New Orleans head coach Sean Payton, who noted similarities in the players' intelligence and route-running. It's a comparison to take with a grain of salt, but Kamara certainly has every-down skills. That's why he sits pretty high up ASL's dynasty rookie rankings. Granted, he will probably have a reduced role this season behind Mark Ingram and Adrian Peterson. 
Packers RB Ty Montgomery gets the "stud" label
And here's some more adulatory comments from a head coach about one of his players. This is what we get in spades in August. But in defense of Montgomery, he is currently underrated in drafts. He's being taken as a mid-range RB2 even though the only real threat to his carry count at the moment is fourth-round rookie Jamaal Williams. Montgomery, as a former collegiate receiver, has tremendous hands and enough bulk to go between the tackles. No, he doesn't have a long track record in this role, but he was mighty impressive as a runner last season -- 5.9 yards per carry, more than 800 total yards on just 122 touches -- and the Packers should look to highlight him when possible. 
Get ready for an RBBC in Tampa Bay
Which Buccaneers running back will fill Doug Martin's shoes while he's serving a three-game suspension to begin this season? According to general manager Jason Licht, it probably won't be just one player. He said recently that the team is "leaning toward" a running-back-by-committee approach in place of Martin. That's never any fun for fantasy owners, but Jacquizz Rodgers is the man I'd bet on if I had to pick somebody here. Martin, who averaged just 2.9 yards per carry last season, isn't guaranteed the starting job upon his return, so Rodgers might be quite the valuable deep sleeper if he impresses early.
You can follow, ask fantasy questions and yell at Brian on Twitter: @Spokes_Murphy