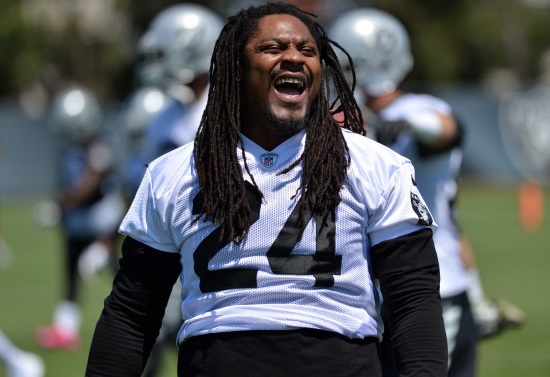 A few weeks ago, ASL listed 11 bust players that will likely disappoint in relation to their current ADP.  This week's list of players are players you should avoid altogether. With all the highly-valued players on this list that might not last the season, you might want to visit ASL's sleeper and deep sleeper lists. 
One note: All mentions of average draft position come from ESPN Fantasy's ADP chart. 
Dak Prescott – QB, Dallas Cowboys
By Chad Samuels: Dak was a darling last year as a rookie. The Cowboys did not overload his plate and he performed well. Dallas is a run-first team and will continue to be so. Second-year quarterback regressions are not unheard of so there is some risk even if he is a mature young man. Dallas will not KISS (Keep It Simple, Stupid) him this year. People are drafting him as a starter. I don't want him as my starter or a backup for that matter.
Marshawn Lynch – RB, Oakland Raiders
By Joshua Rabbitt: Can someone explain to me what the appeal of drafting a 31-year-old running back with back problems who was retired last year is? Add to that a line that was below average last year. Toss in some RBBC with the other backs Oakland has and let me know what the upside is. What part of "really old, broken down running back" don't you all understand? You guys were probably the ones drafting Arian Foster in my league last year as well. Once "it" goes for an RB, it's gone in a hurry. Lynch looked like he was running with Eddie Lacy on his back in 2015. I can't imagine that has gotten better as he has gotten older. Thanks for the donation to my children's college fund.
By Brian Murphy: Fantasy owners are very happy to have Lynch back in the game. So much so, it appears they can't wait to get their hands on him. Beast Mode currently owns a third-round ADP as the No. 11 running back off the board, which is just nuts. Let's be aware of some recent history. Lynch -- NEWS FLASH -- didn't play in 2016. He's played one game since November 2015 and missed nine games during that season due to injuries. Lynch is now 31 years old and while I understand the pros of owning him -- the long rest may have re-energized him; the Raiders boast a potent offense and a fantastic offensive line -- putting him in the RB1 range immediately upon his return is much too rich. Those drafting him in that area are expecting Lynch to touch the ball 250-plus times. That is simply not going to happen. With capable backs Jalen Richard and DeAndre Washington already in tow, I think Lynch could turn into a glorified red zone pounder while his smaller, quicker, younger, more versatile teammates handle a lot of the work between the 20s.
Robert Kelley – RB, Washington Redskins
By Joshua Rabbitt: Let me guess: Last year, you were all about Jeremy Langford. Lead RB in an offense that could be really awesome. What could go wrong? Well, carbon copy any warning you may have heard about him last year and ramp it up about tenfold. This year, everyone has you all excited about a running back whose nickname is FAT ROB. If you are drafting a running back whose best-known quality is his weight problem and who's fighting off one of the best talents in the draft, Samaje Perine, you deserve what's coming to you. I mean, what excites you about this guy? We are talking about a guy who accumulated 1/3rd of his fantasy points against the Packers in one week. Let's not forget that during that week, the Packers were about one injury away from calling me up to come play linebacker for them. Guys, trust me: Fat Rob will not touch the top 30 running backs this year.
By Chad Samuels: Kelley was an undrafted free agent who burst onto the scene last year after Matt Jones lost his starting job. UDFAs normally do not keep their job for long in the NFL. We see that happening already with Washington drafting big back Samaje Perine. Kelley may open the season as the starter. It is very unlikely he will finish it as so. I want fantasy points at the end of the season to help me win a championship, not Week 1. Kelley is ranked in ESPN's top 100 for 2017. I will pass on him


Eddie Lacy – RB, Seattle Seahawks
By Joshua Rabbitt: Lacy made it off my "bust" list because he was too obvious. Don't worry, Eddie; I got you like bacon on a breakfast buffet, baby. You are all over my do not draft list. Let's start with what we know: Eddie Lacy was the most ineffective back in the league last year. At least the most ineffective back that saw carries. I'm not talking about some fancy advanced metric here. I am talking about what my eyes tell me. Did anyone watch the Packers with Eddie Lacy in the offense? I can sum it up in two words, but my editor won't let me use them, so let's just say it was bad. Then Green Bay put a converted WR in the backfield who had no idea what the hell he is doing and the offense was suddenly magic again. Now Lacy is a year older and fatter, and he is going to light it up behind a terrible line in Seattle? Thanks once again for your donation.
Dalvin Cook – RB, Minnesota Vikings
By Levi Andrew: With an ADP of 61.4, Dalvin made my DO NOT DRAFT list. For one, he is a rookie with an unproven O-line in front of him. He has a history of shoulder injuries since high school. Dalvin was also hampered by hamstring issues in 2015. The RB room is kind of crowded in Minnesota too. Yes, Cook is the favorite for the starting job, but don't count out Latavius Murray or Jerick McKinnon. I will sit there and let guys like Frank Gore, Danny Woodhead, Mike Gillislee, Tevin Coleman and LeGarrette Blount fall to me with lower ADPs.
Carlos Hyde - RB, San Francisco 49ers
By John Adams: Fantasy players should steer clear of Carlos Hyde as long as he is playing for San Francisco. Ever since Kyle Shanahan rode into town, he and his coaching staff have trash-talked Hyde, insisting again and again that he does NOT fit the Shanahan running system. The 49ers really have it out for Hyde and now the rumor mill indicates that the team may actually cut their top back during training camp. The last thing fantasy owners need to worry about is uncertainty and hysteria surrounding one of their running backs. Hyde might be worth a look if he ends up with a new team, but for now, his volatile situation makes him a fantasy liability.
Jamaal Charles - RB, Denver Broncos
By John Adams: "Just say NO" if you have any wild thoughts about adding Jamaal Charles to your fantasy roster. He may only be 30 years old, but his two surgically repaired knees belong on a 50-year-old. Charles believes he has real breakout potential coming into this season, but the smart money is on another season of heartbreak and injury. Charles has been an injury nightmare, playing in a total of only 8 games over the course of the past two seasons. Charles has been known to throw in an impressive game or two, but there's no way to know when that might happen. There will be plenty of people taking Charles far too early in the draft; just make sure you are NOT one of them.
Todd Gurley – RB, Los Angeles Rams
By Daniel Brown: He had a great 2015 but 2016 was a down year, or at least a reduction in stats for Gurley, with an average yards per carry of just 3.2 (down from 4.8 in 2015). He also had only six touchdowns, reaching the end zone more than once in only one game! Gurley has ability, but the Los Angeles Rams aren't good enough yet to maximize it and the only thing that kept Gurley fantasy-relevant last year were his pass-catching skills. We will probably see more of the same this year until Jared Goff proves he is able to effectively throw the ball downfield and force more defenders out of the box. With an overall ADP of 23 and as the 10th RB off the board, there are many more "safe" options I would rather target than Gurley.
Frank Gore – RB, Indianapolis Colts
By Daniel Brown: Gore has had a great career, both in San Francisco and in his twilight in Indianapolis. While he appears to remain the starter heading into camp and likely the season, his ADP of 61 while being the 23rd RB taken is too rich. This ADP tells me that running back is going to be a position of need this year as opposed to the past few years when many experts were endorsing the no-RB draft strategy. While I agree that RB is an important position and I think it is thinner in terms of talent than the WR position, Gore is reaching the end of his life as a useful fantasy asset. He will still have a few solid weeks this season, I expect that he will gradually become more involved in an RBBC scenario, with more touchdowns going to other players. Therefore, I am avoiding him at his current ADP and would prefer to draft either the Eagles' LeGarrette Blount (ADP 83, RB31) or take a chance on a player such as the Chiefs' Kareem Hunt (ADP 121, RB41) in a much later round.
Keenan Allen – WR, Los Angeles Chargers
By Levi Andrew: Keenan Allen is a ticking time bomb, in my opinion. He has never played a full-16 game season, ending '14, '15, '16 on IR. His 2013 rookie campaign was his best season, finishing with a 71/1,046/8 line. Since then, he has not surpassed 800 yards or 4 TDs. Granted, in 2015, eight games into the season, he had 67/725/4 before he went down with a kidney injury. Since his rookie year though, he has broken his collarbone, suffered that kidney injury, then had a torn ACL in 2016. Ticking time bomb, yes. Injuries like Allen's are freakish, but he's still injury-prone. Now he's rehabbing that ACL and may not ever have the same step. The Chargers are loaded at WR too. Tyrell Williams came on strong last year. At Allen's current ADP of 45, I won't be drafting him. I'd rather have Terrelle Pryor at his ADP of 48. Pryor will outperform Allen this year.
Dez Bryant – WR, Dallas Cowboys
By AJ Schreiver: Dez has made my list of do-not-drafts the past 2 years. We know Dez is an unbelievable talent but that doesn't always transfer to fantasy dominance. I expect Dak Prescott to take a step back this year as NFL teams have a full year of tape on him. He only completed 30 percent of passes between 30-40 yards downfield and only attempted one throw over 40 yards last year. This certainly limits Dez's big-play ability. Dez averaged seven targets per game from Dak, which resulted in only a 52 percent catch rate. I see the same usage from Dez this year to go with his inconsistent availability; he has missed 22 games in his last 2 seasons. I will stay clear from the flashy but inconsistent receiver in my drafts for 2017.
Jordy Nelson – WR, Green Bay Packers
By Chad Samuels: Jordy is 32 and I have to wonder if his most productive seasons have already passed. For the last three seasons -- sandwiched around his washed out 2015 due to an ACL tear -- Nelson has caught no fewer than 85 passes and at least 1,257 yards receiving. There are younger talented receivers on the Packers, and Jordy just turned in his lowest yards-per-catch average (13.0) since 2010. I believe it is likely Nelson will be in store for a decline and while another Packers receiver steps up. Nelson is a risky pick in Round 2 of redraft formats. I will be passing on him then and long after.
Julian Edelman - WR, New England Patriots
By Brian Murphy: Someone needs to explain this to me: Edelman ended the past three seasons, starting with 2014, ranked 26th, 37th and 24th among all wide receivers in fantasy. Yet he is being selected as the No. 18 wideout in ESPN drafts with a fourth- or fifth-round ADP. It seems his lofty slot is being buoyed by name recognition and the company he keeps much more than logic. The Patriots added Brandin Cooks to much fanfare and with all of the qualified receivers in their offense -- I count at least seven, conservatively -- we're supposed to believe that will ultimately help Jules turn in a career-best season? Edelman isn't a bad player; he's just supremely overrated right now and with that name recognition, it's doubtful his stock will drop much before the games begin.
Rob Gronkowski – TE, New England Patriots
By AJ Schreiver: Three simple reasons I am going away from Gronk. Yes, he is a big ball of entertainment, but he flat out is not worth the risk and expense. He has missed 24 games the past 5 seasons. He will undoubtedly go in the first two rounds, where you just can't afford to have a bust of any sort that holds down your roster. The Patriots were very aggressive in free agency, acquiring players who fit the Patriot way (Dwayne Allen, Rex Burkhead, Mike Gillislee and Brandin Cooks while re-signing James White and Julian Edelman) The Patriots aren't counting on Gronk to be a big part of their offense and neither should you.
Jordan Reed – TE, Washington Redskins
By Chad Samuels: I am a 'Skins fan and it pains me to tell you that Reed is off my draft board. He is super talented but he cannot stay healthy. If I am going to invest in a top receiving tight end, I want him on the field. That is something Reed seems incapable of doing as he has yet to play a 16-game season. I don't want him clogging up a roster spot when he is not playing. I also don't want to spend a fourth-round draft pick or higher to take a player who is almost a lock to miss time. I will draft someone else and let another owner deal with his injuries.