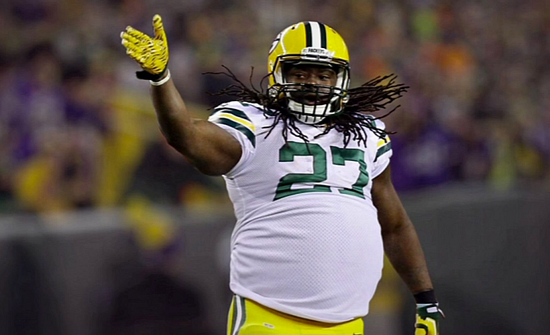 Each year, dozens of players perform below their average draft position and leave their fantasy owners with nothing but regret. Whom should you avoid this fall? We asked each of ASL's writers to present their top two or three players who they think will disappoint in relation to their current ADP.


Matt Ryan - QB, Atlanta Falcons
By Brian Murphy: One stupendous season does not make Ryan a top-five QB, but that's where he's slotting in a lot of early drafts. Offensive coordinator Kyle Shanahan is out of Atlanta, Julio Jones is recovering from yet another foot operation, and Ryan's secondary receivers don't inspire much confidence. Last season was the best of Ryan's career, but don't expect him to pull off a repeat while working with his third OC in four years. Remember that as good as he was, Ryan was fantasy's No. 19 QB in 2015. Get ready for some significant regression to the mean. Entering this fall, Ryan is closer to holding low-end QB1 status than being a member of the top-tier elites.


Eddie Lacy - RB, Seattle Seahawks
By Brian Murphy: For some reason, Lacy is still being drafted as a starter-worthy RB2 in many 12-team leagues. But it's no longer 2014, and Lacy has been a fantasy albatross since then. He has been consistently dogged by weight issues and just when it looked like he had gotten fit and trim, he suffered a major ankle injury last season. Sure, the Seahawks run the ball a ton, but Lacy will no longer be a workhorse, having to share touches with Thomas Rawls and C.J. Prosise. Plus, Seattle's offensive line is a massive drop off in quality from what Lacy has known. Select him as nothing better than an RB4. Or save yourself the trouble and just ignore Lacy on draft day.
By John Adams: For a player who is overweight, injury-prone and playing in a crowded backfield, the fantasy gurus are putting a lot of faith into Seattle's newest running back, Eddie Lacy. Far too much faith if you ask me. Lacy is expected to post RB2 numbers coming into the 2017 season, but I think that's a shot in the dark for a player who hasn't had a decent season since 2014 and isn't getting any younger. Lacy might be 27-years-old, but he's still dealing with ankle issues and just barely achieving his financial weight-loss incentives. No kidding, they paid him $55,000 to sneak in at under 250 pounds in June. Besides that, Lacy has plenty of competition for the starting role in Seattle. Thomas Rawls is a hungry and motivated player on the comeback trail from a broken ankle in 2015 and sophomore C.J. Prosise is always a threat on the off chance he can stay healthy. Lacy is an RB3 at best and there are much better options out there.
David Johnson - RB, Arizona Cardinals
By Levi Andrew: I bet you read that and said to yourself "What the Hell is this guy thinking????". But think, what weapons does Arizona have other than Johnson? Carson Palmer's play declined a lot last year and Larry Fitzgerald is another year slower, I mean older. I can see more stacked boxes and an extra safety there just to watch Johnson. I don't see him coming anywhere close to his total yards from scrimmage from last year. We all know head coach Bruce Arians is a pass-first coach too. Also, if the Cardinals are playing from behind that's going to hurt Johnson too. I just don't see him finishing top 5 this year which would make him a Bust.
Carlos Hyde - RB, San Francisco 49ers
By John Adams: The new coaching staff in San Francisco has shown hostility and a lack of respect for the team's leading running back, Carlos Hyde. Long before the first snap of the preseason, the Niners have made it crystal clear that Hyde does NOT fit into their offensive scheme. Hyde may very well start the season for the 49ers, but he probably will not finish it. Hyde is one of the most elusive running backs in the NFL, but that didn't stop the Niners from drafting rookie running back Joe Williams in the fourth round and adding free agent Tim Hightower. Hyde suffered a season-ending torn MCL during Week 16, but still finished the year with 988 yards on 217 carries to go along with 6 rushing scores and 3 touchdown receptions.
Lamar Miller - RB, Houston Texans
By Chad Samuels: At 5-foot-10, 220 pounds, Miller meets the size criteria for a lead back in the NFL. To start the season, he has that role once again in Houston. At 26, he has some juice in the tank. Still, I think Miller does not have a stranglehold on the starting job. The Miami Dolphins never really gave him a chance for full-time duties and let him leave for Houston in free agency. This year, Houston took RB D'Onta Foreman in the third round of the draft. Usually, where there is smoke, there is fire. In the NFL, where running backs are devalued, a Day 2 running back eventually gets a chance to start at some point. If that happens here, Miller busts.
Melvin Gordon - RB, Los Angeles Chargers
By Josh Rabbitt: ADP 1.08 RB#4:  Melvin Gordon has an ADP on MFL of 1.08. I can't imagine what the people taking him this high are seeing to make this call. Yes he was RB#7 last year in an injury shortened campaign. But look at some of the underlying numbers. He averaged 3.92 yards per carry. Yuck. It's not like this is some outlier; in his rookie campaign he averaged 3.5. Gordon also represents a higher than average injury risk. He has been hurt off and on in his career dating back to college. I'm not sure that he can hold up to the pounding of being an every down NFL back which is what he is being drafted as. I imagine most people look at the barren wasteland that is the Chargers RB depth chart and think 12 TD's will probably be in the cards again for Gordon. Unfortunately for Gordon, as bad as that depth chart is, I think carries will be given to either Branden Oliver, Kenneth Farrow, or even Andre Williams (whoever makes the team) near the goal line. Gordon simply wasn't that effective near the red zone and I don't think the Chargers will give him too large of a leash before someone else gets a shot. Take away his red zone attempts and you have a below average RB. I think Gordon will be in the RB2 range. More what you would look for in a 5th or 6th round pick than a first. I just don't see the upside here, I firmly believe we have already experienced the best that Gordon can produce.
Devonta Freeman - RB, Atlanta Falcons
By Josh Rabbitt: ADP 1.10 RB#5: Oh Devonta, how I despise you. I don't know if there is a player in the league I like less than Devonta Freeman. Why you ask? He is so incredibly average it pains me every time he runs. That normally wouldn't bother me as I see that from every Melvin Gordon carries as well. Why do I find it so troubling from Devonta then? Well he has a nuclear weapon behind him in Tevin Coleman. I get it. Devonta has pretty good underlying stats. He puts up yards. He puts up TDs. He is on the field a ton in an explosive offense. My belief in Devonta's fall is based on a few overlooked (by most) factors. #1 A new OC isn't beholden to giving Freeman carries over Coleman. Coleman's natural talent (if he stays healthy) should shine through early in the season, and move more carries into Coleman's wheelhouse. #2 A potential holdout from Freeman. If Freeman is upset with his contract (which he has chirped about several times) and doesn't show up to camp Coleman will take over. Given a lead on Freeman in camp I see no way Freeman can recover to end up in anything more of a timeshare. My thought is Freeman ends up with Gordon in the RB 2 range. Again, more deserving of a 5th or 6th round pick than a first. Do you really want to take the second best back on his team in the first round?
Brandin Cooks - WR, New England Patriots
By Levi Andrew: Too many cooks in the kitchen in NE for Cooks for me. Tom Brady now has one of the greatest group of skill players at his disposal. I feel like that's going to hurt everyone but Gronk. With Malcolm Mitchell and Chris Hogan coming on strong last year and of course Julian Edelman being there I just don't see how the target shares are going to work out. Cooks may be too big-catch dependent this year, until the Pats make some skill player changes. I personally traded Edelman when the Cooks news broke. I have him at WR12 in my rankings but I can easily envision him finishing in the 20's this year. Also, due to his comments about not getting the ball as much as he would like last year, I think Bill Belichick had a good conversation with him about the Patriots way. So, you won't hear much from him on that front I feel.
Michael Thomas - WR, New Orleans Saints
By Josh Rabbitt: ADP 2.01 WR#7:  This is your bonus bust, because I am not going to let the "man" keep me quiet on this one. Everyone in the world loves Michael Thomas. He plays with Drew Brees. He had an AWESOME rookie year. Great. Now you are drafting him before Jordy Nelson? I get it. I really really do. Now let's pause for a minute and ask a question. Is he really that good? What if Brandin Cooks was drawing double teams all of last year, and Thomas was just the beneficiary of teams slanting coverage that way? Can Thomas really separate from a #1 NFL corner? Are you willing to pay an incredibly high pick to find out? The Saints pass enough where Thomas should end up a WR2 or 3. However, I really can't imagine he is in the top 12 WR's this year. You are much better off spending your late 1 or early 2 on Nelson, Cooks or about anyone else not named Michael Thomas.
Tyreek Hill - WR, Kansas City Chiefs
By Chad Samuels: According to MyFantasyLeague, Hill has an average draft position of 44 and is the 20th wideout off the board on average in redraft leagues. That is a little scary for a player who supplemented his fantasy production with special teams work last season. Jeremy Maclin is gone, and the good news is Hill will not be returning kickoffs any longer, which should keep him fresher. Head coach Andy Reid said Hill will be the Chiefs' No. 1 wide receiver. But keep in mind that role is not as juicy as some would believe. Alex Smith is still at quarterback and while he is efficient, he doesn't throw for a lot of yards. His yardage high since joining the Chiefs was his 3,502 yards from last year, 22nd-most in the league. Also, Kansas City's best receiver is TE Travis Kelce; he will receive Smith's first look in the offense. There is also rookie RB Kareem Hunt to feed as well. Let someone else invest in Hill.  
Hunter Henry - TE, Los Angeles Chargers
By Levi Andrews: OH, THE HYPE!!! Henry has all the hype this offseason. I just got Gronk off a Henry owner in my Dynasty league. Sucks for that guy. Gates is still there and is Philip Rivers' go-to guy as he always has been. Plus, all the Chargers WRs are healthy this year. I just don't see him taking that next leap this year. Maybe in 2018 when Antonio Gates isn't on the team Henry can make the leap. Gates finished as the #10 TE last year and Henry finished #11. I foresee them finishing maybe a little lower this year due to not having all the injuries they had last year with the WR's. Henry will be too touchdown-dependent for me this year.