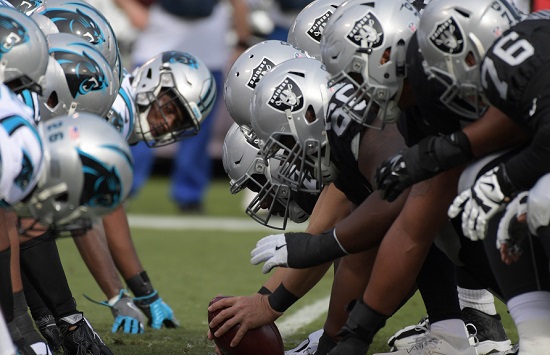 Written by Josh Rabbitt
28 July 2017
I got beat up a bit on social media for a contribution I made to ASL's "Don't Draft" article. I admit I dropped a bombshell talking negatively about one of the league's respected offensive lines and didn't do anything to back it up. Those of you who got done beating me up on social media, thank you. You deserve a pat on the back for calling me out. The good news for you is that you are right. The bad news for you is that you are also wrong.
Here's where you are right: The Raiders have a GREAT pass-blocking offensive line -- one of the best in the league -- made even better by Derek Carr's fantastically quick release.
However, I would argue the Raiders are VASTLY overrated as a run-blocking unit and are, at best, average. Let's start with the major problem. The Raiders have a huge hole at right tackle. In fact, the Raiders are maybe one of three teams in the conversation for worst run-blocking RT in the NFL. I am fairly sure even the guys wearing all the fancy gear in the Black Hole agree with me here, but I will present some numbers shortly to back this up.
I would also argue these upcoming numbers are a black mark on fan favorite right guard Gabe Jackson, who my eyes tell me is vastly overrated in the run game. Now, Rodney Hudson is a good center. Kelechi Osemele is, in my opinion, a GREAT left guard and their best run blocker by a mile. I would argue that despite Pro Football Focus' high marks for him, left tackle Donald Penn is a negative in the run game because he simply doesn't move well enough. I have never been impressed with Penn as a run blocker and consistently think he is one of the more overrated linemen in the NFL. I will show some numbers that will play this out as well. If I am correct in my vision of this line, Oakland has one good and one great run blocker to go with one terrible and two below-average run blockers. Adding that all together, this line isn't terrible. But I would argue it's not great by any stretch. I think below average is in the conversation. Let's get to those numbers.
Football Outsiders does a great job of looking at offensive lines. They break down tape and look at where RBs help an offensive line look good. Using those numbers, they have Oakland as the No. 11 ranked offensive line. That isn't quite at my below average claim, but it's certainly closer than my new Twitter friends have argued. Personally, I feel they are a little worse than this and think Penn is going to be even worse this year. It is also going to be hard for Jackson to block while he carries those bags of money, but that is neither here nor there. My favorite stat is Adjusted Line Yards (ALY), which tells us how effective a team is when it runs the ball in a certain direction. 
Running outside the left end: Oakland had an ALY of 3.47. This is good for 25th in the NFL. I think this does a pretty good job of proving my point about Penn when he has to move. It simply doesn't work.  
Running at the left tackle: This is where Penn is strong in the run game and where Osemele can really maul people. Here, Oakland averaged 4.86 ALY, third-best in the NFL. They are really great here. I can't argue that.
Running in the middle: Clearly the strength of the team, Oakland averaged 4.19 ALY, fifth in the NFL. Personally, I feel that Latavius Murray had more to do with this than he is given credit for. Murray has been pretty well ignored by the football community, but I think he is one of the more underrated talents in the league.
Running to the right tackle: Oakland averaged 3.25 ALY, 25th in the NFL.
Running to the right end: Oakland averaged 2.37 ALY, earning an epic ranking of 31st in the NFL
Let's look at one more metric, because I know this one is coming. The Raiders have these MEAN NASTY offensive linemen who are going to bust up the opposing defense in short yardage, right? That's Marshawn's specialty! Well, if you are thinking that, I claim you are a bit off base. The Power Success metric calculates the percentage of first downs achieved when a team runs the ball on third or fourth down with two or fewer yards needed to convert. It also looks at how good a team is at punching the ball into the end zone on first or second down from 2 yards out or closer. These are the "money" downs for successful interior lines. Oakland had a 59 percent Power Success rate last season, good for 23rd in the league.
When I throw that together with what I see when I actually watch the games, the Raiders don't look like they have an epic run-blocking line to me. Father Time ticking down on Penn, and Gabe Jackson being really well paid are problems. Murray being replaced with a 31-year-old retirement home-ready Marshawn Lynch are problems. So I am going to stick to my guns, that the offensive line in Oakland won't be doing Lynch any favors. Those of you who still think I'm crazy, please continue to draft Lynch. Make sure you are in my league first though!