Written by Mab Sidam
10 November 2022
Mab Sidam's most explosive: QBs | RBs | Receivers
The following chart plots the NFL's top receivers' yards after the catch versus the number of runs of 20 yards or more: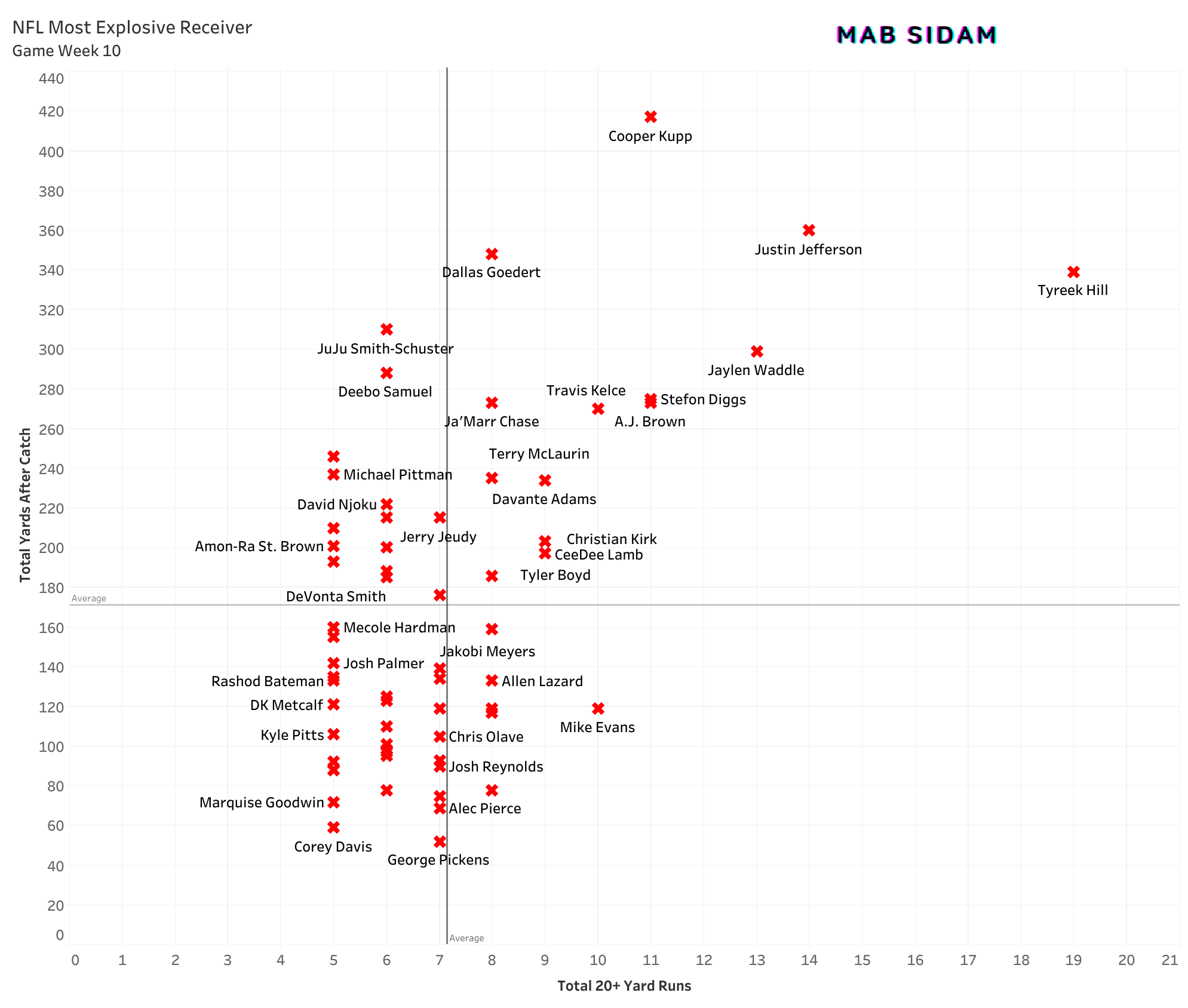 #1: Tyreek Hill - 19 Runs of 20+ Yards 
When the Miami Dolphins signed Tyreek Hill many had questions of the fit. Many thought the star receiver was a product of Andy Reid's system and Mahomes's brilliance. The former Chiefs standout took a risk when leaving an established winning situation to join a first time head Coach and a questionable young QB. The early season signs may justify Hill's decision.
Half way through the season Hill has comfortably been the NFL's most explosive wide receiver. The star wideout is one of the NFL's deadliest playmakers excelling in yards after catch and being the league's most dangerous downfield threat. 
The scariest part of Hill's play is that he could be even more productive if Tua Tagovailoa could become a more accurate deep ball thrower.


#2: Justin Jefferson - 14 Runs of 20+ Yards 
The Minnesota Vikings are on a surprise tear and the play of star wide out Justin Jefferson is a big reason why.
Jefferson is one of the most complete wide outs playing today. He excels with both physical attributes and skill. Jefferson is a great route runner with mismatch height, a long frame and solid hands. Jefferson has great leaping ability and body control downfield. The Vikings receiver is a burner using his quickness to get downfield and challenge defenses. 
Kirk Cousins isn't renowned for his deep ability. He gets the ball in playmakers hands and let's them do the rest. Jefferson is a great example of this.


#3: Jaylen Waddle - Miami Dolphins - 13 Runs of 20+ Yards 
Another Miami Dolphin makes the list. The explosive Jaylen Waddle has been a great compliment and disciple to Tyreek Hill.
The 2nd year receiver is currently enjoying a breakout year under coach Mike McDaniels dynamic scheme. Hill and Waddle create a sort of field bending gravity with their speed and do a great job playing off the attention the other commands.
Waddle is also excellent at tracking the ball in the air as he makes his way down the field. As for yards after catch Waddle is a dangerous runner in open space due to being a shifty hard-to-bring-down runner with the ability to take the top off a defense.


#4-6, A 3-Way Tie: Cooper Kupp, Stefon Diggs and AJ Brown - 11 Runs of 20+ Yards
The final spots are taken up by three explosive receivers. Each receiver acts as the prime target for each offense in different ways.
Cooper Kupp is a player in the middle of an iconic run. Stretching back to last season Kupp has been a menace for defensive backs all over the NFL. When it comes to routes Kupp is a certified technician, consistently finding himself open to serve as Matt Stafford's defacto safety blanket. After the catch he is one of the NFL's most productive runners, constantly slipping past tackles for more yards. At times Kupp has been the only bright spot in an otherwise mostly bleak Rams offense.
Steffon Diggs, the Bills star receiver is known throughout the league for his elite route-running abilities. Diggs pairs his uncanny ability to get open with very secure hands, this has seen him emerge as Josh Allen's favorite go-to target. Diggs is a physical receiver who excels at in-the-air contested grabs and toe slides by the sideline. In the open field he is a powerful runner with a long stride who is hard to get down when given a chance to build momentum. Steffon Diggs often makes the difficult plays look easy.
AJ Brown, the Philadelphia Eagles star receiver hasn't looked out of place in his new offense. Brown was a god-send for young QB Jalen Hurts and his playmaker presence has taken the offense to the next level. At 6' 2" 225 lbs, Brown is built like a running back with the speed and skills of a wide receiver. The star receiver is a combination of elite speed, power and a great catch radius. Brown is great at using his body to win contested catches and is a nightmare to bring down in the open field.
Brown has added an explosive vertical dimension to the Eagles elite run game, helping round out the offense.