Written by Mab Sidam
03 November 2022
Mab Sidam's most explosive: QBs | RBs | Receivers
The primary role of a running back is to ease the playmaking burden on the quarterback. The best running backs don't simply move the chains, they provide a burst that ripples through the entire offense. Taking simple handoffs from the quarterback and making game defining plays. Breaking the best performing part of the following graph into 3 clusters here are the top 5 most explosive running backs.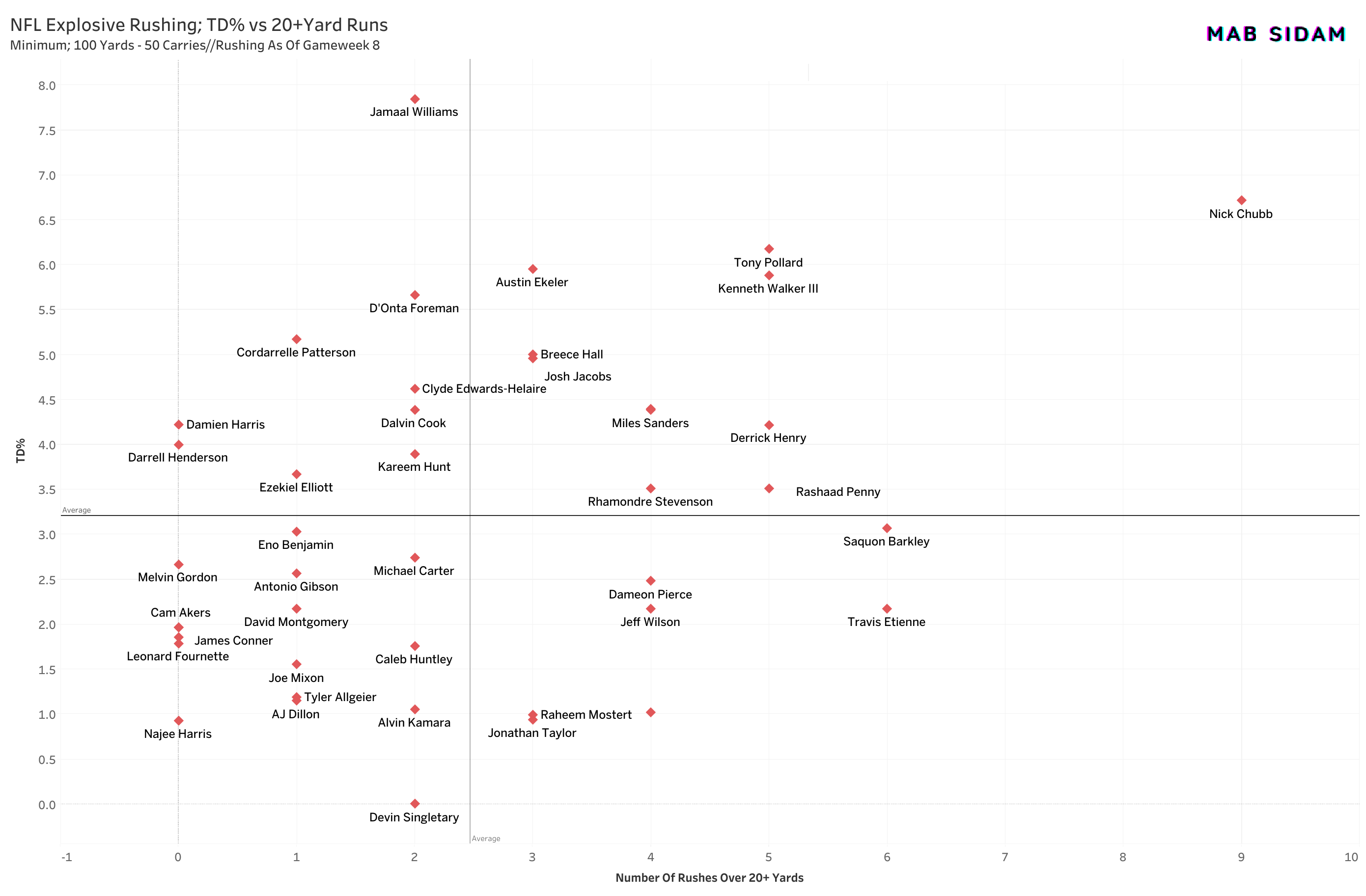 Far Out And Away #1: Nick Chubb - Cleveland Browns
The Browns have lacked their starting QB all season and have redesigned their entire offense around their running game. The biggest benefactor of that has been star RB Nick Chubb who is having a career year. Chubb is the NFL's most explosive weapon out of the backfield, whether it's deep gashing runs down the field or a nose for the end zone Chubb just gets it done for the Browns.


Close Tie #2: Tony Pollard/Kenneth Walker III - Dallas Cowboys/Seattle Seahawks
Two unlikely sides of the same coin. Pollard is a career back up while Walker III is only a rookie but both have emerged as some of the NFL's most explosive RB's. Both Pollard and Walker serve in multiple RB systems where they share the rushing responsibility.  
As a Cowboy, Pollard's explosive style compliments the steady chain mover mentality of Ezekiel Elliot.
Walker III and Rashaad Penny combine to form an explosive run unit for the Seahawks.


Best Of The Rest #3:
The emergence of Kenneth Walker III may have clouded a career year from Rashaad Penny. The former first round pick seems to have fully emerged.
Rhamondre Stevenson has popped off in his 2nd season. The former Sooner has emerged as a key playmaker in the Patriots offense. His presence has helped ease a questionable QB situation under coach Belichick.
Miles Sanders combines well with QB Jalen Hurts to create one of the most productive rushing units in the NFL. 
Rookie Breece Hall was emerging as one of the NFL's most explosive runners before a torn ACL ended his season.
Josh Jacobs and Austin Ekeler are producing despite the dysfunction of their current teams due to injuries or bad coaching.
Derrick Henry is one of the few explosive running backs that doesn't get much help in the rush game. Most other RB's in this zone either play in a multi-back system or with a dual threat QB who helps ease the rushing burden. Derrick Henry thrives without either.
 Gashing But Not Scoring; Saquon Barkley And Travis Etienne