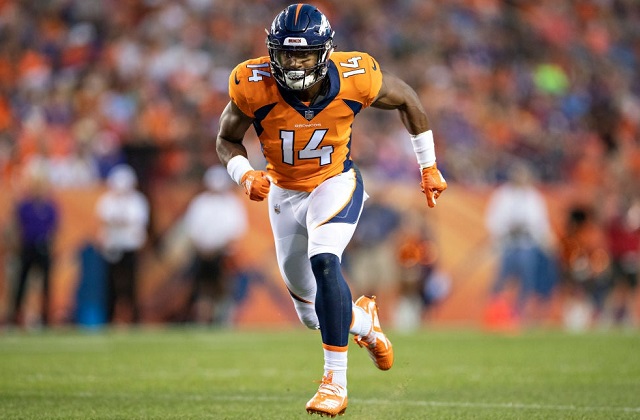 Written by Chris Hexter
26 December 2019
Congratulations to all who will be walking into the New Year with a fantasy title! For those who have one week left, your fight ends this Sunday! I said this in last week's article and I just wanted to reiterate once more before the season ends.
If you can, rid yourselves of Week 17 fantasy football. I know we want as much fantasy football as we can get, but this last week is a deterrence toward season long results. What I mean is, if you rode players like Lamar Jackson, Mark Andrews, Dalvin Cook, Josh Allen, you may be without them in the playoffs. Other players like Julio Jones, Christian McCaffrey, Joe Mixon, and other talented names on bad teams are subject to lose a large amount of touches to reduce the risk of any potentially serious injuries. There is also the chance that rookies or backups get a chance to prove themselves before the offseason.
These are the risks you shouldn't set as the foundation for your championships. With all of that said, to those of you still fighting for something in Week 17, let's bring you a championship trophy!
Starts
QB - Daniel Jones | New York Giants (vs Eagles)
The Eagles will be fighting for the playoffs and will likely put up points against this Giants defense. Enter the guy who has to keep them in the game. Jones was incredible last week against the Redskins and now he gets to face a poor and beat up Eagles secondary that allows an average of 19 points to the position. Jones will also benefit from the Eagles' heavy focus on Barkley out of the backfield. Jones is a great replacement for the Jackson owner.
RB - Latavius Murray | New Orleans Saints (@ Panthers)
Kamara and Murray have been sharing the workload fairly even this year (besides last week). But with the Saints certain of their playoff future, they get to face the hopeless Panthers. The Saints will most likely keep this ball on the ground to protect Brees and Thomas. Sean Payton has been conservative with Kamara so it would make sense that Murray shoulders the majority of the work on the ground. And if anything is certain, the Panthers have a terrible rushing defense. This will be a conservative game for Payton who may even rest his starters after the half. You can confidently flex Murray in your flex spot (especially if you are a Vikings RB owner).
WR - Courtland Sutton | Denver Broncos (vs Raiders)
Sutton has been a target hog this year and once Locke came in, we questioned if he would continue to dominate the target share in Denver. Well, there is no question now. He has the safest volume of any wideout going into this week and faces a banged up Raiders secondary. If you got to the Championship with Sutton, he very well might get you that trophy.
TE - Dallas Goedert | Philadelphia Eagles (@ Giants)
The Eagles are banged up on offense. Wentz has virtual no targets to throw to at this point. With Ertz nursing a rib injury, we saw last week that Goedert will control the target share. Even if Ertz goes this week, Goedert is a great start at tight end and even better if Ertz doesn't suit up. The Eagles will be aggressive in this must win game, Goedert will be the driving factor.
D/ST - Pittsburgh Steelers (@ Ravens)
No, I'm not saying the Steelers win this game. But the Steelers are still fighting for the last spot in the playoffs and will have all of their defensive starters out there against a Ravens offense that will not have Lamar Jackson, Mark Andrews, Mark Ingram and other key offensive players.They are a safe play this week and even the Ravens defense is a good play against a very bad Steelers offense. This will be a low scoring affair and be heavily determined by the defenses.

Sits
QB - Robert Griffin III & Devlin Dodges | Ravens & Steelers Quarterbacks
(See D/ST start). This will be a low scoring game and you don't want to touch the backup options with limited weapons going up against top five defenses. RG3 is a bad pivot for Jackson owners and his work on the ground will not be enough to bring you a title or happiness.
RB - Devonta Freeman | Atlanta Falcons (@ Buccaneers)
I have been using this spot primarily for running backs who face the Bucs or the Eagles. Why? Because they are great against the run. Plus, Freeman won people titles (or brought some to the title game) and now we feel obligated to play him. The truth of the matter is, Freeman has not looked good all year and when he does, it's because he faces a terrible run defense (like the Jaguars). Put him on your bench where he will help you win again.
WR - DJ Moore & Curtis Samuel | Carolina Panthers (vs Saints)
In terms of passing defense, the Saints have been pretty bad. Almost any quarterback can have a nice fantasy output against them unless your name is Will Grier. I would rather not have the wideouts catching passes from Grier. Moore may even sit out the last week with a concussion since it isn't worth risking him anyways. That would leave Samuel as the main beneficiary to catch bad passes from a third string quarterback.
TE - Darren Waller | Oakland Raiders (@ Broncos)
Waller is great. But he doesn't get the attention he deserves when Hunter Renfrow is in the lineup. Air Yardage, targets and Redzone usage all drop when Renfrow plays. Oh, and Renfrow is playing this week. The Broncos are also good against tight ends and have allowed the second-fewest touchdowns to the position. It isn't looking up for Waller this week.
D/ST - Los Angeles Chargers (@ Chiefs)
The Chargers have such a star-studded defense, but they haven't produced anything for fantasy. Now, they get to face the Chiefs who would like to hold on to a first round bye. The Chiefs won't back down until this game is in the bag and for your championship game, playing the Chargers defense is essentially suicide.