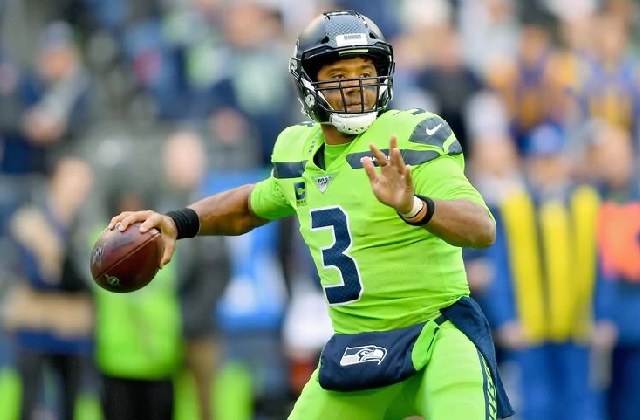 Written by Chris Hexter
19 December 2019
For most, Week 16 marks the last week of fantasy football. This has been a truly interesting year. I hope this article has helped you all persevere through the ups and downs of fantasy football and that a lot of you are fighting for a fantasy title. I will still be doing the Starts and Sits for Week 17 for those who are in leagues that extend that far. My two cents, however, is to talk to your commissioner and have that changed. I see a lot of people with great players on great teams get them to championship games only for their stars to be rested. Week 17 is, a lot of times, more so a pain for fantasy leagues. But, I digress. Without further ado, here is Week 16's 5 Starts and 5 Sits!
Starts
QB - Russell Wilson | Seattle Seahawks (vs. Cardinals)
Russell started this season off hot. But since Week 7, he has been mostly a let down to your fantasy teams. But now, he can win you a championship. He has the Cardinals defense that let's every position burn them. The Seahawks are still fighting for something too. They are the number one team in the NFC and look to maintain that first week bye and home field advantage. A win here, does just that. Play Dangeruss Wilson and smile.
RB - Marlon Mack | Indianapolis Colts (vs. Panthers)
Mack killed some owners last week. But the Saints have a good rush defense and it didn't help that the Colts were down 100 points by the half. Now, he gets to face a terrible rushing defense that is the Carolina Panthers. I could get 100 rushing yards on this team - but seriously, they are bad. Mack is still the back who will get the carries on this offense and I see them with a lead in this game. Forgive Mack and throw him in your lineups this week.
WR - Breshad Perriman | Tampa Bay Buccaneers (vs. Houston)
Winston has been averaging over 400 yards and multiple touchdowns over the past couple weeks. It's not like Winston won't be able to throw a football without Godwin or Evans on the field. Perriman will be heavily involved here and should see a safe amount of targets, plus, he is still one of the fastest in the league and can break a long gain at any point in the game. Perriman has the most upside on this offense and that's who you should put in your flex against a bad Texans secondary.
TE - Austin Hooper | Atlanta Falcons (vs. Jaguars)
Since his return from injury, Hopper has been nothing but a let down. That being said, they faced two good defenses and Hooper has seen 12 targets over that span. Now, he gets a middle of the pack defense that is actually much worse now that they have lost Myles Jack for the season. Sanu is gone and Ridley is done for the year, Julio can't take all of those targets. Look for Hooper to find his way back into the endzone this week.
D/ST - Denver Broncos (vs. Lions)
The Broncos are one of the best streaming options this week at defense (as well as the Colts and Seahawks). They get to go home and face a visiting David Blough, who has been the worst quarterback in football since he took over. He averages almost two turnovers a game and can be counted on to throw some here against a top ten passing defense.


Sits
QB - Josh Allen | Buffalo Bills (@ Patriots)
Josh Allen is here again. Like last time, it is due to a tough matchup. Allen has been a modest passer but has done most of his fantasy damage with his legs. However, this week I do not see him salvaging a good game against the best defense in the league (who will not be resting any starters). This will likely be a lower scoring game, don't rely on Allen to win you a championship in this one.
RB - Carlos Hyde & Duke Johnson | Houston Texans (@ Buccaneers)
Tampa is still good against the run. Hyde has been fairly decent this year (especially in Standard formats) and Johnson has been mostly irrelevant. Hyde does have an injury and hasn't been practicing. If he goes, I don't want a hobbled Carlos Hyde against one of the top rushing defenses. If he doesn't go, I also don't want Duke Johsnon to determine the last week of the fantasy playoffs. Look elsewhere.
WR - Odell Beckham Jr. | Cleveland Browns (vs. Ravens)
OBJ hasn't been the wideout we have come to know in fantasy. He has been hobbled for a while now and has to deal with poor quarterback play (although, he has been his whole career). It doesn't help that this year he has had the most drops in a season besides only one other year in his career. Now, he faces one of the best defenses in the league. He's been nothing but a disappointment this year and if you have better flex options, go that way.
TE - Jason Witten | Dallas Cowboys (@ Eagles)
Witten started off last weeks blow out with a 19-yard touchdown grab. Whoever played him, congratulations. Now drop him. His average of 3-4 targets and matchup against a top three tight end opponent waves red flags. The Eagles will be beat elsewhere, Witten won't have an exciting game.
D/ST - Tampa Bay Buccaneers (vs. Texans)
Don't fall for Tampa's recent success. They have scored three touchdowns over the last four weeks. Now, they face a strong Houston offense that differs greatly than the Blough led Lions they faced last week. Don't get cute, you're looking to win in fantasy, remember?