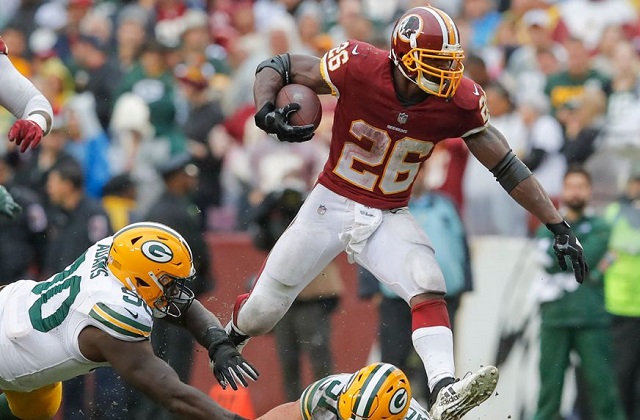 Written by Chris Hexter
10 December 2019
Last week has left us with a lot of names to cover for Week 15, so get comfortable as we cover the most notable injuries from Week 14.
Atlanta Falcons


Injury
Calvin Ridley (O-Abdomen)

Opportunity
Julio Jones (WR1)
Russell Gage (WR3)
Ridley leaves 2019 performing as a nice WR2. This opportunity should open the gates of touchdown heaven for Jones, a place he had not seen since Week 3! If there is any time for his touchdown percentage to rise… it's now. Gage should fill in the 'Ridley role' and should be an average WR3 play. He steps into flex consideration although he isn't a trustworthy option to put into a championship lineup.
Seattle Seahawks
Injury
Rashaad Penny (O-Knee)


Opportunity
Chris Carson (RB1)
CJ Prosise (RB4)
Penny was finally getting into a groove late this season and showing us that he wasn't a first round bust. However, his breakout was cut short as he suffered a season ending knee injury. Carson figures to regain the dominant share of touches in Pete Carroll's run heavy scheme, firmly placing him back into set-it-and-forget-it territory; especially against a bad Panthers run defense. Prosise will be more of a passing option and may come in to help give Carson a breather. He isn't worth a spot in lineups during playoffs.
Washington Redskins
Injury
Derrius Guice (O-Knee)


Opportunity
Adrian Peterson (RB3)
Chris Thompson (RB4)
Guice can't catch a break as he suffers yet another injury and will miss next week (and most likely the season). Adrian Peterson will take over the run game in Washington but gets a tough Eagles run defense. He's a low-end flex play, especially given that he doesn't catch many, if any, passes at all. Thompson could see a few more rush attempts but will be more utilized in the passing game. I would like to see him used more here before starting him. He's best left alone.
Tampa Bay Buccaneers

Injury
Mike Evans (O-Hamstring)
Jameis Winston (Q-Thumb Fracture)


Opportunity
Chris Godwin (WR1)
OJ Howard (TE2)
Well, at least Evans didn't leave you with a dud. However, it looks like you will be without him for the remainder of the season. Godwin looks to receive a bump in targets to what is already a WR1. If you have Godwin, I can't imagine you sitting him. I could name other wideouts but Howard seems to be the only name relevant at this point in the season. With the tight end landscape as it is, some GM's may be desperate. And although I would recommend Ian Thomas (if Olsen is out), Evans leaves an array of targets and Howard will get the biggest bump. He can be picked up in leagues and if you need the play, he can be serviceable as they will go up against a Lions defense that ranks 25th against tight ends.
New York Jets
Injury
Ryan Griffin (Q-Ankle)
Bilal Powell (Q-Ankle)
Ty Montgomery (Q-Foot)


Opportunity
LeVeon Bell (RB2)
I'm not interested in a third string tight end to determine my fate in the fantasy playoffs. Bell has been listed as a full participant; he has to be in lineups, even if he really hasn't performed the way most have expected. Even if all of these options are able to go, he still presents a tremendous upside and the Jets offense has been playing well over the last few weeks.
Miami Dolphins
Injury
Devante Parker (Q-Concussion)
Albert Wilson (Q-Concussion)


Opportunity
Patrick Laird (RB3)
Allen Hurns (WR3)
Parker was finally living up to the first round capital the Dolphins spent on him years ago as he broke out in 2019 with Fiztmagic at the helm. This bodes well for his stock in redrafts, but for now we have to sit and wait. If Parker and/or Wilson are unable to make it through the NFL's five-step concussion protocol, Hurns will be the main beneficiary of their absence(s). The Dolphins have juicy matchups for the remainder of the fantasy playoffs, so it isn't crazy to consider Hurns a flex option. Still, he hasn't shown enough for GM's to trust him. I would look elsewhere. Laird saw 19 total touches last week and will get the New York Giants next week. He could be flexed in deep PPR leagues, but in any 8-10 team leagues, he isn't worth the risk.
New Orleans Saints
Injury
Jared Cook (Q-Concussion)


Opportunity
Josh Hill (TE3)
Like Evans, at least Cook left owners with a TE1 performance. This is a situation to monitor. If Cook is unable to go, this leaves Hill as the tight end and that isn't anyone fantasy GM's should even consider. This helps all pass catchers and even Kamara, who has been underwhelming this year. Monitor this closely. If he goes, Cook is in your lineup.
Jacksonville Jaguars
Injury
DJ Chark (Q-Foot)


Opportunity
Dede Westbrook (WR3)
DJ Chark was one of this year's best rookie wideouts, but he was seen in a walking boot which doesn't bode well for his chances next week. Considering viable fantasy options, it looks like Westbrook would be the main beneficiary. This presents nice WR2 upside for Westbrook who is the only person on this offense willing to catch passes (besides Fournette). However, he is a low end WR3 with opportunity to bust. He is a risky play, but if you are desperate, you can flex him as he saw seven targets last week and opportunity reigns king in fantasy.
Denver Broncos
Injury
Noah Fant (Q-Foot)


Opportunity
Jeff Heuerman (TE2)
Fant has been a boom-or-bust tight end this year (primarily busts), but should be in line to play next week. If he is unable to go, I don't see anyone fighting to play Heuerman. Fant is a risky play every week, but if he is able to go week 16 (Lions), Fant could win in PPR leagues.
Pittsburgh Steelers
Injury
Vance McDonald (Q-Concussion)


Opportunity
Nick Vannett (TE3)
McDonald had the golden matchup, but with Hodges as his QB, wasn't able to get anything before leaving early with a concussion. Whether he plays or not, don't play any of these tight ends on the Steelers.
Baltimore Ravens
Injury
Mark Andrews (Q-Knee/Thigh)
Lamar Jackson (Q-Quad)


Opportunity
Hayden Hurst (TE2)
Nick Boyle (TE3)
Andrews is a top tight end option who has benefited the most from Jacksons breakout campaign. If he is unable to go in this high flying offense, Hurst is the main fantasy option and can be played in deep leagues. He is an incredible talent who will do well in the Andrews role. Boyle is more of the run blocking tight end and figures to take a back seat to Hurst. Jackson was added to the injury report on Monday, Harbaugh said Jackson is dealing with a quadriceps injury and will take a "wait-and-see" approach. This is not what Jackson owners want to see in the midst of playoffs. They have a quick turnaround, so monitor this closely. If Jackson is unable to go, this offense as a whole is downgraded and any wideout is borderline untouchable.
Cincinnati Bengals
Injury
Auden Tate (Q-Knee)


Opportunity
Tyler Boyd (WR2)
With Andy Dalton back behind center, the pass catchers receive a positive bump in upside. With the big-bodied Tate out of the lineup, Boyd will be the player you want. He should be a serviceable option as a flex play.
Kansas City Chiefs
Injury
Patrick Mahomes (Q-Hand)


Opportunity
Matt Moore (QB2)
If Mahomes is unable to go, this offense becomes a little more suspect as they have matchups against the Broncos and the Bears next. However, I see him playing and although he has tough matchups, GM's should go down with him in the playoffs.
Tennessee Titans
Injury
Derrick Henry (P-Hamstring)


Opportunity
Dion Lewis (RB2)
Henry should be good to go here and if he plays, you play him too. If he suffers a setback, Lewis appears to be the next man up. He has elite quickness and great pass catching abilities. If he is the feature back, he becomes a low-end RB2. Lewis is a good play if Henry is unable to go.
Dallas Cowboys
Injury
Dak Prescott (P-Hand)


Opportunity
Ezekiel Elliott (RB1)
Prescott sprained his left hand but should be good to go next week. If he can't go, the offense as a whole are downgraded besides Elliott. The game plan will be simple, ground and pound and this only benefits Elliott here if Dak is out.
New England Patriots
Injury
Tom Brady (P-Elbow)


Opportunity
Sony Michel (RB2)
Michel hasn't been much recently and after last week's disappointment against the Chiefs, it's hard to trust him. I don't blame you. But if Brady can't go, Hoyer will hand the ball of a lot. Luckily, Brady should be fine and will look to suit up next week.